I hope you love the products I've recommended below, just a heads up that as an Amazon associate, I earn from qualifying purchases. This means I may earn commissions on products bought via links on this page.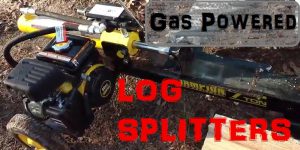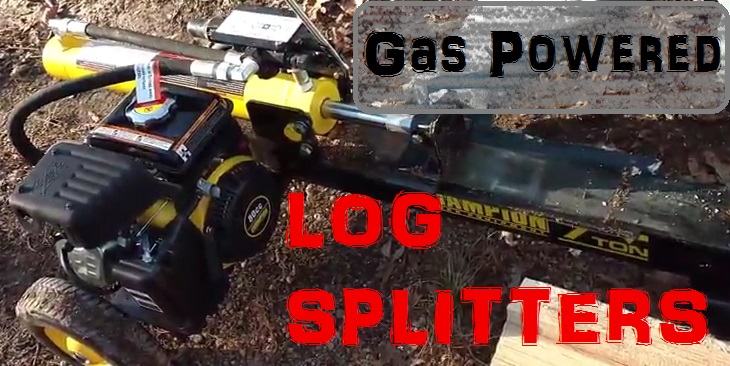 It's no easy feat trying to find the best gas log splitters in 2018 with so many models and reviews available online. It can get overwhelming quite quickly. Especially when you consider the great range of ton ratings these machines can go up to. So I bet your thinking…"Where to begin…". Right here!. With plenty of experience on board, I believe our team of testers and researchers have got it spot on when it comes to choosing to buy a top rated gas log splitter that may last a lifetime.
Are You Sure You Want To Buy A Gas Powered Wood Splitter?
So what are the advantages to owning a gas powered log splitter over the other types available? There are a lot of advantages to owning a gas powered log splitters. The most obvious difference is that they are more powerful then there electric counter parts which makes splitting those hard to split logs full of knots much easier. You will also not have to worry about needing an electric outlet nearby, or have to worry about having a power outage then not being able to split logs so you can keep yourself warm.
A Quick Buyers Guide
When it comes to gas powered log splitters, there are plenty of choices available to you. This however can make it difficult to know which is the best suited to your needs. Fortunately, we have already done the research for you. From our own experience and knowledge, we have found what we consider to be 2018's best gas powered log splitters. Which includes models ranging from 7 ton all the way up to the incredible 35 ton. By including multiple ton ratings, we hope to ensure all peoples needs are met.
| | Vertical Splitting | Ton Rating | Our Rating | Check Price |
| --- | --- | --- | --- | --- |
| | Yes | 35 Ton | 9.4 | Check Price On Amazon |
| | Yes | 22 Ton | 9 | Check Price On Amazon |
| | Yes | 37 Ton | 9.8 | Check Price On Amazon |
| | No | 7 Ton | 9.2 | Check Price On Amazon |
The Best Gas Powered Wood Splitter Reviews


First on this list we have the heavy hitter, the Yardmax YS3567 35 Ton Half Beam Gas Log Splitter. Not everyone is going to need such a strong splitter, a 35 ton log splitter is for those who will go through a lot of cords in a year or even have a business where you need a log splitter. You could be like me and just want to make life easier for yourself by owning many machines that are over kill for what I intend to use them for. It's nice not having to worry about if my splitter will split a log because it isn't strong enough, so I personally prefer such big machines. But you however may not have the space or need for such a machine.
The Yardmax YS3567 does have a horizontal and vertical position like most heavy duty log splitters. But because this model is a half beam instead of a full beam, it makes it lighter. So in turn makes the machine a lot easier to put into a vertical position. If you don't know what a half beam is, it means that the cylinder is mounted via a trunnion mount. By doing this, it makes the cylinder move with the wood causing less stress on the cylinder. It also makes the log splitter easier to operate, because it's not as wide so you can operate from both sides.
With an average cycle time of 13 seconds it doesn't matter if the wood is green or how big or small the log is because this splitter performs like a beast no matter the job. Another really handy feature that is a quality of life improvement is the auto return function, and the ability to not have the wedge go so far back for when you're splitting a smaller log so it will save you time.
Why I Recommend This Petrol Powered Log Splitter
Half beam log splitters are where the industry is going, and this model shows why it's a good thing. The ability to split logs from either side while splitting is such a great quality of life improvement that it makes it very difficult to go back to a full beam.
The ability to split every log I've come across without any real worry, really stubborn logs I do in multiple splits.
Since it's a half beam, it makes it lighter, so it didn't require to people to assemble, and it's easier to move around.
A Negative Review
There is one thing that while it doesn't affect me, it might affect you. If you're someone who will be traveling a lot and taking your log splitter with you, being a half beam means it isn't as wide as a full beam making it more difficult to travel with. The half beam is perfect if you're just going around town, but maybe look into a full beam if you will be traveling a lot.
YARDMAX 35 Ton Half Beam Gas Log Splitter

The Best 22 Ton Petrol Log Splitter On The Market


The Lumberjack by WEN is the best 22 Ton Gas Powered Log Splitter we have had the pleasure of using. This is the log splitter that I believe is made specifically for the firewood dependent family. If you heat your home primarily wood, or use more wood then the average family would, the LumberJack is the model I suggest. Being 22 ton puts this log splitter roughly in the middle in terms of power. But don't make that put you off, it will still get through the majority of logs most people will use.
The size of log you can split with this log splitter is quite varied, while the manufactures say it will split logs up to 14 inches in diameter and 25 inches in length in under 14 seconds. We found after testing it ourselves that it can get through logs that are a bit larger in diameter fairly easily, if you don't mind splitting them in sections it can split up to 30 inch in diameter logs(while in it's vertical position), which we believe is still a very decent size that will suit most peoples needs.
As with most larger model gas powered log splitters, the Wen 56222 does come with a 2 inch tow hitch. This is very handy when you are clearing wood or live on average so that you can tow it to where you need to split wood. Also very handy if you have family or friends who don't own there on log splitter but need fire wood over the cold season. While the manufactures say it can go up to 45 mph, we still recommend going a bit less just to be on the safe side.
What I Like About The Gas WEN 56222
I like that it's gas powered, so there is no need to rely on electricity to get the log splitter starter.
For the size of this log splitter, I was pleasantly surprised at the size of the logs that this log splitter got through, and with how easy it did so.
The vertical position made life easier when it came to splitting the larger type of logs we came across.
Having the tow bar feature certainly is a plus for my personal situation.
WEN Lumberjack 22 Ton Gas Model

The Best Log Splitter To Split Everything You Need



If you need to split some of the hardest logs going around. Then you will need something with a lot of power. There aren't many log splitters that are more powerful then this NorthStar 37 ton log splitter. You will need to go to a professional grade, if you want something stronger.
With this 37 ton log splitter you will turn a 3 week job, into a one day job. When you combine 37 tons of force, with a 14 second cycle time. You end up with this beast of a splitter. This doesn't even mention the fact it has a vertical position as well. S0 it can split even larger logs.
What Powers This Beast?
While most companies try and hide who makes there engine. Since most are made in China, which is an issue for some people. NorthStar made the incredibly smart decision, by using a Honda. Honda make some of the best small engines on the market, including this awesome GX270.
The pump on this splitter is a 16GPM (gallons per minute) American made pump. This is really important since the pump would be equal to the heart of the machine. So having such a well made pump, makes a big difference compared to others on the market.
Variety Of Options
Normally when I review a log splitter I treat each individually. Since most companies different options are very different. While one machine will be amazing the next won't be. This isn't the case with NorthStar, all of there options have been incredible over the years. With the 37 ton being there finest work.
I really like that all there splitters are really good quality. Compared to Boss Industrial, whose 7 ton is amazing and there 9 ton isn't as good in my opinion. I can rest easy with the series of NorthStar log splitters.
Is Price An Issue?
Price is a big deciding factor for a lot of people. This is something I can completely understand. If money is tight then it might be better to go with one of the other options on this list. But if you can justify the money on this splitter, I highly recommend it. It's one of, if not the best performing log splitter on the market in my opinion. The price is the only reason I can't fully recommend to everyone.
NorthStar 37 Ton Log Splitter GX390

Most Affordable Gas Wood Splitter



Last but not least, the Champion 90720 7 Ton Portable Log Splitter. What I like to consider the dream machine for the average home owner. While it's the smallest log splitter on this list doesn't mean it's bad by any stretch of the imagination. What it does mean is that this 7 ton beast is a workhorse that punches quite significantly above it's weight. It's in my opinion the most affordable gas powered log splitter going around.
Made by Champion, one of the most respected brands in the game (In my opinion). I find the Champion to be one of the easiest machines to operate (Which you can see in the video review below), which is one of the reasons I think it is well suited to just about any American family. I highly recommend this log splitter if you are after a 7 ton gas powered log splitter, it has no trouble getting through the amount of wood the average person will need during the colder months.
We were quite surprised when we split some wood that was still a little bit green, we didn't allow enough time for them to dry properly. Which I don't recommend doing very often. While we did manage to cut logs up to 20 inch in diameter it required us to turn the logs around and split in about 4 different sections. The common thing you will find with this machine is just how much it beats expectations in terms of the size and ease of logs it gets through.
There really is only one downside to this machine which will affect some people, and that's how low to the ground it is. So while it is certainly much easier then splitting logs the old fashioned way, it may help some people if they put it up on bench or something similar, so they don't have to spend so much time bent over. The other downside is that there is no trailer hitch, but as you see in the video below, its very easy to make your own.
Video Review Of A Log Splitter That Uses Gas
Champion 7 Ton 80 CC Best For Home

My Final Thoughts On Gas Log Splitters
Gas log splitters are some of my favorite tools going around. They just make life that much easier, even when you have to deal with maintenance. If you are tired of splitting logs the old fashion way, or need more power then an electric log splitter. Then a gas log splitter will be the answer to your problems.
Out of the log splitters on this list, which do I consider to be the best? If price is not an issue, then it's the NorthStar splitter every time. It's just such an impressive log splitter. If price is more of a problem then the Yardmax is the way to go. They are my personal preferences out of the gas log splitters on the market. This doesn't make the other log splitters bad, they just don't meet my requirements. They are still high quality log splitters.