I hope you love the products I've recommended below, just a heads up that as an Amazon associate, I earn from qualifying purchases. This means I may earn commissions on products bought via links on this page.
Cub Cadet has made a name for themselves with their incredible tractors and mowers so I wanted to see if there log splitters lived up to their high standards. I'm a little late to the party on Cub

Cadet log splitter reviews as there aren't as many on the market as there used to be but now there is more information on them than ever which is a big positive for you.
There is no denying the quality that Cub Cadet puts into all their products with them being market leaders in a number of outdoor power equipment sections. This makes their attempts to join the log splitting industry make a lot of sense since it's becoming more and more popular to split your own logs.
With that in mind, it's time to get into why you're here and find out just how good Cub Cadets log splitters really are!
Cub Cadet 33 Ton Log Splitter Review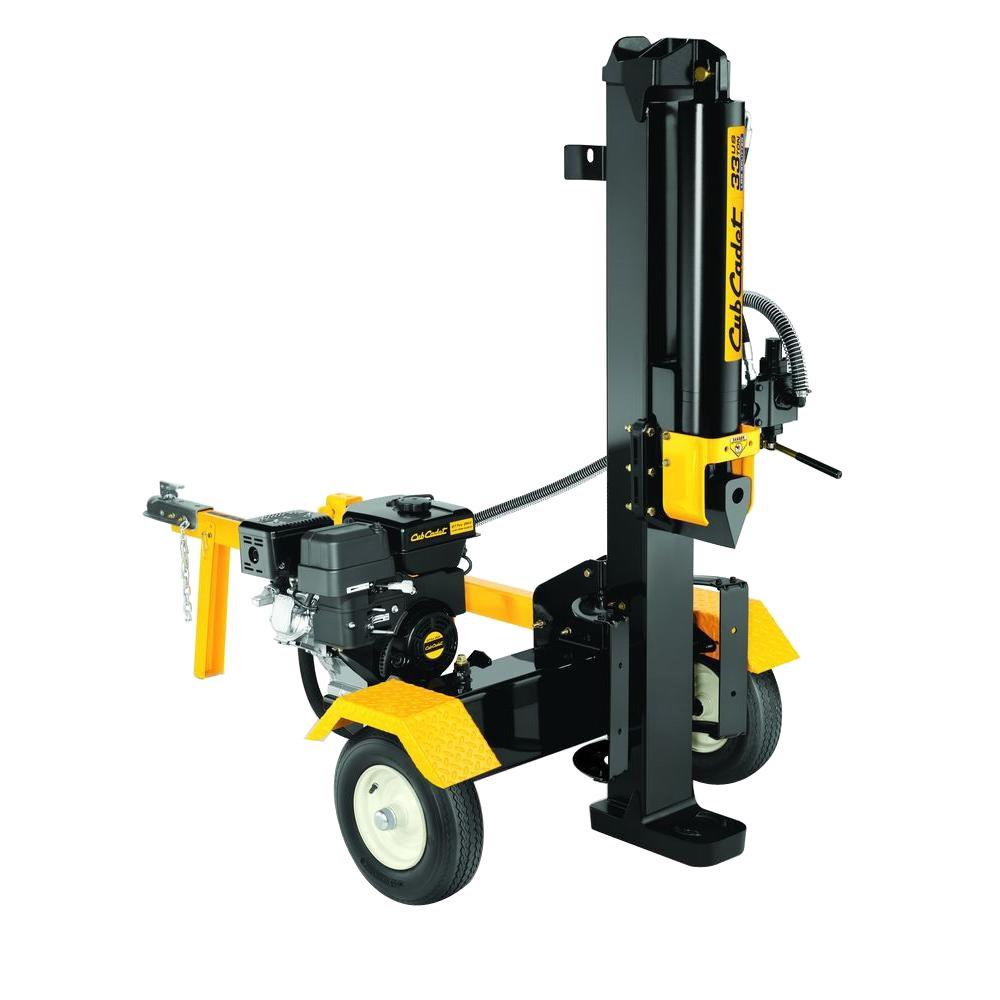 When it comes to Cub Cadet log splitters, their 33-ton model is their top of the line model that will handle practically everything you throw at it. This is the model you go with when you take your log splitting more seriously and have to split some knotted hardwoods that your standard log splitters would struggle on.
Power That Takes No Prisoners
Thanks to the incredible 277cc Cub Cadet 4-cycle OHV engine this log splitter will split anything you throw at it. With it easily having the splitting ability to split some impressive 30″ wide knotted beechwood like it was some kind of cottonwood.
With this kind of power, the worry of not being able to split something is rarely ever there in my opinion. This is exactly what you want in a 33-ton log splitter which some companies seem to struggle to do so I was glad to see Cub Cadet get this aspect right.
Vertical Splitting Capabilities
Easily one of the best features of any large log splitter with the ability to split vertically. So I was glad to see that this 33-ton log splitter has this feature as it will allow you to split even larger logs and even make splitting logs easier on your back. Since you don't have to pick the logs up and you can just roll them over.
Getting it into the vertical position and back is a really simple process that practically anyone can do. All you need to do is pull the horizontal beam lock out of its position and put the splitter into a vertical position and then lock it with the vertical lock and vice versa to get it back into horizontal.
Extremely Quick For Its Size
A lot of the times when you get the larger log splitters with higher splitting ton ratings you often sacrifice speed with many taking over 20 seconds for a cycle. Cub Cadet has managed to keep this down to an impressive 15 seconds which makes it really stand out in the higher end of log splitters.
This is thanks to the 15 GPM pump combined with the engine that works really well together which is important for any log splitter. Sadly, a lot of companies get this wrong and end up hurting their product so it really stands out when someone gets it right as this 33-ton splitter does.
Portability Is Essential
With these larger wood splitters, you need to be able to transport them around since you should be storing your wood away from your house since it can be a big fire hazard. In my opinion, this makes it essential that it has a hitch which this model does with it being a 2-inch hitch.
To take this even further, Cub Cadet included D.O.T approved tires so you're able to tow it on the roads safely. This is a great feature, just be prepared for family members asking for help splitting their wood from now on! Jokes aside, this is a very useful feature for getting the splitter to where you need to split.
How Is Assembly?
Depending on your own skill level, the assembly can be varying degrees of difficulty which makes it hard to give a proper opinion on it. If you're good at following instructions and a little mechanically minded then assembly should be fairly easy for you. If not this could be an issue for you and I'd recommend getting some help.
Is There A Downside To This Log Splitter?
There is no such thing as a perfect product in my opinion, and this is true of this Cub Cadet log splitter. I do admit it's a little nitpicking on my part but there is no option for a 4-way splitting wedge and if you do modify the wedge it will void your warranty. This is a little disappointing but understandable from a business perspective and is far from a deal-breaker in my opinion.
The Specs Of The Cub Cadet 277cc 33 Ton Log Splitter
Dimensions
Maximum Log Diameter – 25-Inches
Maximum Log Length – 25-Inches
Log Splitter Height – 26-Inches
Log Splitter Depth – 85-Inches
Log Splitter Width – 42-Inches
Log Splitter Weight – 750lb
Details
CARB Compliant – CARB Compliant
Power Type – Gas
Cycle Time – 15 Seconds
Engine Cycles – 4 Cycle
Engine Displacement – 277
Engine Make – OEM Branded
Engine Torque (ft.-lb.) – 0
Engine Type 4-Cycle OHV
Towable – Yes
Vertical Splitting – Yes
Final Thoughts On The Cub Cadet 33 Ton Gas Log Splitter
There is a lot to love about this monster log splitter with it have very little downsides in my opinion. Not being able to get a 4-way splitting wedge is only a minor nitpick on my part and shouldn't discourage you from considering this log splitter. In my opinion, all the other positives of this machine make it an easy recommendation and will only make your life easier if you choose to go with it.
Cub Cadet 33 Ton Gas Log Splitter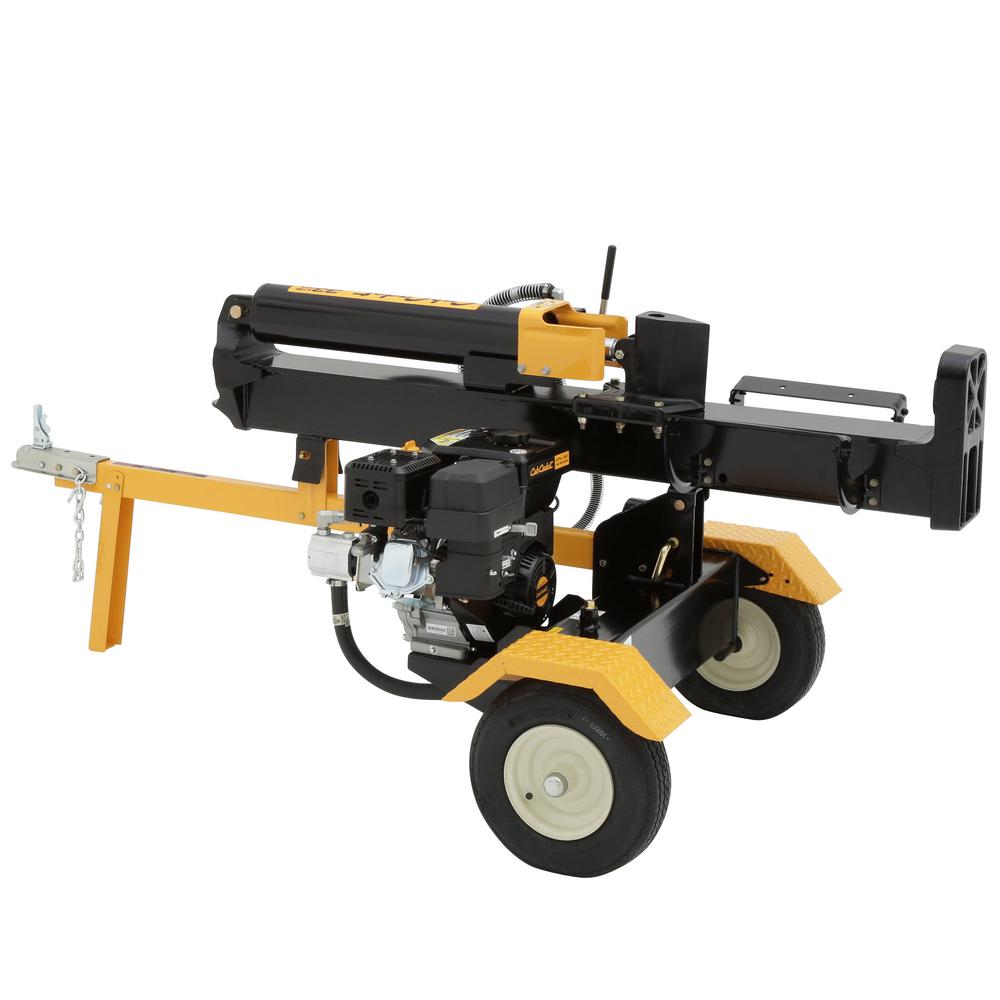 27 Ton Log Splitter Review – Where Is It?
I know the 27 ton model for Cub Cadet is really popular and is highly requested but there is some news for this model and why it's not here. The reason it's not here is that Cub Cadet has

discontinued this model at the Home Depot so you won't be able to get it there anymore.
I'm unsure of the reason for this but it does mean that I won't be reviewing it until it comes back sadly. I believe you can still get it on the official Cub Cadet website, so that is an option if you absolutely must have the 27-ton model.
About Cub Cadet
Personally, when I look for a product I always do some research on the company itself since it can often lead to a number of reasons as to why I will or won't support them. At times finding out of they're just a small family-owned company can be enough to sway a choice for a lot of people, so it's important to learn about the company.
Being an old American company that's been around since 1961 does show that they have been making products that are of a high enough quality that the company is over 6-decades old. This can sound like a small thing but the number of companies that go under every year makes it a lot more impressive.
Not to mention they've toughed it out in the tractor industry which is a difficult industry to get a foothold in considering some of the larger tractor companies out there. It's kind of impressive that Cub Cadet has stood for so long and made a name for themselves.
Cub Cadet didn't start releasing log splitters until quite late into there company life span which can be a good or bad thing. It comes across as bad as it seems like they haven't spent the time designing them like some other companies. You could argue that log splitters have currently peaked with their gas design so Cub Cadet doesn't need to do much to build one.
That last section is where most people will either walk away from Cub Cadet or push forward with going with them. I don't mind a company trying to expand into something a bit later in their life span as most of the hard work is done for them which allows them to focus on adding their own touch to it.
Where Is Cub Cadet Log Splitters Made
There is a question that most companies try and hide from since it can often make or break a sale, and that's where are their products made. As soon as companies mention that their products are

made in China, most people walk away which is something I can understand.
Cub Cadet knows this and to a lot of peoples sighs of relief, they make their log splitters in the USA. This is good news for a lot of folks who consider this to be one of the most important questions. There are a few others that are made in America if you're interested.
Do You Need A 33 Ton Log Splitter?
If there is one question you need to answer before making a purchase, it would be this one in my opinion. Log splitters are expensive tools, and when you get to this ton rating you will end up spending even more since the components get a lot more expensive.
Working out if the high upfront cost is worth it for your situation is important since I think most people could agree saving several hundred would help. Money is an issue for most families and spending this amount can be an issue, tho thankfully sometimes you can financing for it so it's a bit more doable.
What You Will Be Splitting?
Depending on what you're splitting or what you will be splitting is a good question to ask yourself as it can tell you a lot about what you will need. A 33-ton unit will split practically anything you throw in front of it which makes it a good choice for those who are constantly splitting large hard rounds.
If your someone who is a bit like me who wants to be prepared for anything then going with a larger log splitter isn't a bad idea if finances allow it. It can get frustrating when you're splitting wood and you come across a number of logs that just won't split forcing you to get more involved.
If you're only splitting occasionally or only splitting softer woods you could go with a smaller log splitter and save yourself some money. It will come down to your situation and what you're like personally as to whether you should get a larger 33-ton log splitter.
Where Do You Split Your Wood?
Most seasoned wood splitters I've met over the decades split wood away from the house and have their own ATVs to tow their log splitters. This is great if you have these capabilities, but if you don't, having such a large log splitter could be an issue. Splitting close to the home isn't to much of an issue and really shouldn't affect your choice either way.
My Final Thoughts On Cub Cadet Log Splitters
Cub Cadet has left me really impressed with its 33-ton log splitting option with it being one of the best models on the market currently in my opinion. Usually, when you get to this level of log splitting you're prepared to spend far more than what this model costs with several I've seen break the $4000 mark.
Combine this with Cub Cadet making their equipment in America is another big plus towards the company and the log splitter itself. It ticks a lot of the right boxes and I could see it easily becoming one of the more popular log splitters out there.
The 27-ton model being discontinued from the Home Depot is something that's piqued my interest and has me wondering if a new model is coming, or is Cub Cadet moving on from log splitters. This is something that I wish there was a clear statement on at the time of writing this so I could figure if there will be more Cub Cadet log splitters in the future.
No matter what the future holds for Cub Cadet, it doesn't take away from just how incredible the 33-ton model is. It's a great log splitter that splits well, doesn't break your wallet, and makes life easier so it's an easy recommendation from me.