I hope you love the products I've recommended below, just a heads up that as an Amazon associate, I earn from qualifying purchases. This means I may earn commissions on products bought via links on this page.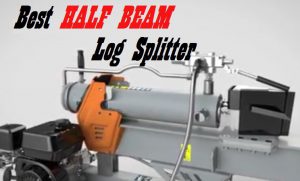 Now more then ever you will hear people talking about half beam log splitters compared to the normal full beam log splitter, which may leave you asking what is a half beam log splitter and what is the best half beam log splitter in 2018?. The quick answer to this is based on my personal experience using these machines. The most reliable and sturdy half beam I've used is the YardMax 25 Ton Capacity. It's a beast of a machine and one that I highly recommend.
From a performance point of of view, there is  no difference between a half or full beam. But when it comes to ergonomics I believe the half beams to be the superior to there counterparts. They aren't as wide so you can stand closer to where you have to operate your splitter, which will make life a lot easier. The cylinder sticks out in a different spot compared to a traditional splitter, on a half beam the cylinder comes out of the end of the log splitter. Where as a full beam has the cylinder sit on it's full beam.
One of the biggest differences between the two is definitely the cost. Since a full beam splitter has more materials it will obviously cost more to make, which will then of course end up costing you more. So if you're looking for a cheaper machine that won't break the bank, with the same amount of power, I would highly recommend a half beam log splitter. Since there is less materials on a half beam they are lighter then a full beam. Which makes them easier to move around and generally cheaper to ship.
There is one downside to a half beam splitter and that is, since they're not as wide as a full beam they aren't as good for towing. A half beam is fine for just going around town and things, but on long trips I found it easier to just to put it on the back of my truck. If you do need to transport a machine like this frequently, I have some reviews for portable log splitters perfect for the job.
The Best Half Beam Log Splitter Review


This Yardmax 25 ton half beam log splitter is a very impressive machine. This is the one splitter that made me change my mind about half beam log splitters. When I got the chance to use this machine I was blown away by its user friendly design.
Since it isn't as wide as a full beam splitter, I was able to stand a lot closer to it's operation levers. It felt really comfortable and there was no need to stretch out so it made life a little bit easier. While this may not be a big thing for some people, it really stuck out to me. Anything to make life easier on the body is always good in my books. I find the YardMax is designed with ease of use in mind.
The most important thing when it comes to buying a log splitter is just how powerful is it?. Will it be able to handle large hardwood or is it designed for smaller logs with speed in mind?. To find this out I tested this machine on a variety of oak logs with some being very easy to split, and some really knotted oak logs that were quite difficult.
This splitter was able to split logs that were 18 inches in diameter pretty easily, it didn't struggle at all for me. When I upped the size to 24 inches there was some struggle, but the machine never stopped. I find these to be extremely good numbers for a 25 ton log splitter, I used "stronger" machines and got lower results.
Half Beam Vertical Log Splitter – You Betcha!
I then put this splitter into it's vertical position to test it there, and the first thing I noticed was that this splitter has a handy lock. I really like this lock it keeps the beam from falling back to it's horizontal position, making this a much safer splitter. When I tested what this piece of equipment could do in it's vertical position, I found it could split larger logs then in it's horizontal position. This is pretty normal for most log splitters with this feature, and I wish it came on all splitters. While this machine did struggle on 24 inch logs above, when it was in this position it was able to get through larger logs that were 26 inches in diameter.
Since it doesn't have such a wide base like a full beam machine, you maybe worried that when you split a log it will fall and damage the tires or something else. Thankfully the people at Yardmax have thought ahead and have added these two fenders on the side. This will help prevent logs falling onto the splitter and damaging it's tires or your feet.
What I Liked The Most
The lock that Yardmax have included for when it's in it's vertical position makes life that little bit safer, so you don't have any worry about the beam falling.
Being so ergonomically designed has just made using this machine so comfortable, and makes it quite difficult to use full beams again.
I really like the catchers Yardmax have added to the sides, which means you don't have to keep picking logs up off the ground.
Very decent price (Check Latest Price On Amazon Here) for a 25 ton rated wood splitting machine. To have the vertical position included with the price is a steal.
Yardmax 25 Ton Half Beam Gas Log Splitter

Why The YardMax Half Beam Is The Best
One of the very first things I loved about the Yardmax half beam log splitter was it's simple assembly. I know that once you assemble, it's pretty easy to maintain from then on. But so many people get frustrated trying to assemble these kinds of machines. Then they end up spending money on a mechanic to put it together. This is why the Yardmax is so good. Don't worry about spending any extra money on assembly becasue Yardmax has you covered.
Check out the quick and easy assembly of this half beam log splitter put together by Yardmax to help it's customers.