I hope you love the products I've recommended below, just a heads up that as an Amazon associate, I earn from qualifying purchases. This means I may earn commissions on products bought via links on this page.
When it comes to choosing a log splitter whether it be for home use, farm use, or down at the factory, there are certain machines that suit certain needs. Kinetic is one of the better options to choose from in my opinion.
But what are the best kinetic log splitters and how do you know if they are suited to your personal needs?. By going through this 2019 buyers guide you will encompass a few of what I consider to be the top-rated kinetic wood splitting machines available. From a powerhouse electric model to a more budget-friendly version to suit most American households.
Choosing The Best Kinetic Log Splitter

They Are The Fastest Of Log Splitters
So what are some of the advantages of a kinetic log splitter compared to their hydraulic counterparts?. You may or may not have experienced both hydraulic and kinetic styles before.
So in order to fully understand why you need a kinetic machine, it's a good idea to see the benefits of choosing a wood splitter of this kind.
There are a lot of advantages to a kinetic log splitter, one of my personal favorite things about kinetic log splitters is their cycle time. On hydraulic models, their cycle times can range anywhere from 10 seconds and all the way up to 30 seconds.
This of course depends on the machine and how many tons it is. Comparing that to a kinetic log splitter where they can have a cycle time as little as 1 second. Kinetics is a much faster wood splitting option compared to hydraulics.
I find kinetic log splitters a whole lot easier to maintain than the hydraulic version. When you take out the hydraulics and the need for hydraulic oil, I found no leaks or any oil problems with a kinetic machine.
The only really maintenance you will need to do with the kinetic machines is to give the engine a tune-up every now and then. It certainly isn't all good news for kinetic machines, a common trend is they will get stuck when it comes to particularly knotted wood, whereas most of the best hydraulic log splitters won't have the same trouble.
The Fastest Electric Kinetic Log Splitter 2019
Generac G10 Kinetic Electric Model



After countless hours of research and scanning reviews online, I managed to drill down the list of the best kinetic wood splitters to just 5. The one that stood out the most to me was the Generac G10 kinetic log splitter. In my opinion, this is one of the best kinetic log splitters on the market in 2019.
Once you get used to this crazy machine I refer to as "the Flash of Log splitters" you can start to imagine how much more productive your splitting is going to be this season.
I found the Generac to get incredible cycle times of 1 second, which is incredible and all. But, I always recommend safety first. So don't try and push this machine faster than what you feel is safe. Take it a bit easier if you feel safer that way.
While you won't be able to split logs that are 20 inches in diameter we found we could do up to 15 inches safely. These rounds weren't particularly knotted either. If you need a more heavy-duty machine, but still want to stick with a kinetic, Power King 34 ton kinetic is a better choice. But that does cost more which I will go over further down the page.
While you can't measure kinetic log splitters by a ton rating like you can with a hydraulic, we found that the Generac could out split many 10 ton hydraulic machines on the current market in 2019.
One feature we really liked with the Generac was the automatic ram retraction, that made splitting logs even faster. The G10 does require 2 hands to operate it, with one hand lifting the safety interlock lever, and then with your other hand engage the top lever, making it so your hands aren't nearby when you're splitting making it safer to operate.
This is an electric log splitter, so it has an advantage that we like, and that's since there is no noisy gas-powered engine fuming up the area, you can split wood from the comfort of your own home. Just make sure you have a 15 amp outlet nearby or a good extension lead for maximum splitting power.
We recommend always having logs split in case of an emergency, like losing power, so you don't have to worry about losing heat. I personally have a generator at home for such an occasion so that is something to consider if you think it's a good investment.
What I Liked About The G10
The cycle time on the G10 kinetic is just insane, it made cutting half a cord of logs a breeze and had it done in no time at all, leaving me free to do other things. Like, sit around the fireplace with a cold one.
While it is still a heavy splitter at 132 pounds, it's quite small so it made it easy to store away for when you will need it.
We really enjoyed being able to split wood inside our basement, without having to worry about the cold outside.
Watch How Fast The G10 Really Is – Be Amazed!
Generac Kinetic Electric Log Splitter

The Best Value Kinetic Log Splitter On The Market
Timber Champ Kinetic Review



When it comes to log splitters, quite often the price is a big drawback for a lot of people. Which is fair enough as they can be quite expensive. But for the American on a budget, that's where the Timber Champ comes into the picture. It isn't the cheapest on the market, but we strongly feel it is one of the best value for your money.
Especially in the kinetic wood splitting industry. If you are really looking for cheaper I would suggest looking into manual log splitters, which are often the cheapest on the market due to there lack of components. But don't let this fool you, they can still be quite powerful, just require a small amount of elbow grease.
Being a kinetic log splitter you can expect extremely fast cycle times as with the G10 above. While the G10 could be as low as 1 second the Timber Champs comes in around 2 seconds which is still ridiculously fast.
Trust me, you will notice just how quick this thing is and how much time you have saved as the splitter is sitting there waiting for you because you can't keep up with it.
We found that we could split freshly cut oak that was 15 inches in diameter and 18 inches in length, I'm not going to tell you that I didn't struggle on some of those logs, but the fact is they did still get split by this machine.
We did find one problem while operating this machine and that was, while splitting sometimes it wouldn't go all the way through requiring us to either swap the log around or forcibly break the log apart. A simple fix for this would be a 2×4 in front of the log you're trying to split, which will push the log you're trying to split further back splitting it better.
The Positives
We will never not be impressed with just how fast this machine is, really took the hard work out of it.
The ability to split logs that even some of our older 20-ton gas-powered splitters couldn't split.
The customer service at Timber Champ seems impeccable. From our experiences we find them to be very supportive.
Timber Champ Kinetic Log Splitter

The Top Rated Kinetic Wood Splitter
Stark Electric Kinetic Review


When we started to test this unit, we didn't expect a whole lot and boy were we surprised with just how much of a workload this thing could handle. While we were able to split logs up to about 13 inches in diameter, what impressed us was the length we could split and that was an incredible 20 and a half inches.
There was only one drawback to that, the ram only travels about 15 inches so you will have to swap the log around to get all the way through such incredible long logs.
One thing that we found that this particular kinetic by Stark is that it excelled at splitting logs down to the size you need for kindling, making it excellent for people who use wood stoves and need to have their timber a bit smaller. Being a kinetic log splitter this will take half the time it would take to split by hand or by using a hydraulic log splitter.
I highly recommend this unit to people who aren't fully reliant on timber but like some of my family members who only need wood for the fireplace, or for there wood burning stove.
I consider this kinetic log splitter to be the best for home use and not commercial, if you're looking for a commercial I would certainly recommend something much larger, but always 3 to 4 times the prices.
Stark Electric Kinetic Log Splitter

The Best Value For Money Kinetic Log Splitter
Performance Built Kinetic Review



This Performance Built kinetic log splitter is one of the more recent log splitters on the market. I really like this kinetic splitter, it is perfect for someone who needs to split more than your average user. It's also capable of splitting larger, more hardwood logs then the previous splitters.
This is thanks to its 20-ton force rating. This 20 tons of force is powered by a reliable Briggs & Stratton 127cc engine. Being a B&S engine, you know you will be getting a quality engine. The only way they could maybe improve on this engine is if they went with Honda, but that is a bit biased since my love of Honda engines.
So it can split larger hardwood logs, and make short of softwood. The important question for a kinetic splitter is how fast it's cycle is. The specs of this model say it's about 3 seconds, which I found it more to be around 4 seconds(Which is still impressive). While not the fastest splitter on this list, it still dominates a hydraulic splitter. This still makes it a beast of a log splitter.
One thing I do like about this log splitter is it has a few nice accessories, that make it great value for money. The first thing is a little specific, I have an ATV and use it to tow my splitters. So the fact that this model comes with a pin-style hitch, made life significantly easier.
You can also change this to allow it from tow, to push type. It also has a 33-inch work table which I'm a big fan of. It helps take some of the back pain out log splitting. This would provide useful if constantly bending over is an issue for you.
What I Like About The Performance Built
One thing that I like is safety features and this machine has a 2 hand operation system. This makes it one of the safer splitters on the market. With this, there is no chance of getting your own hand caught, and injuring yourself. At a 4 second cycle time, this is important.
I really like the power of this kinetic splitter. Depending on the type of log you're splitting, you should be able to handle logs that are roughly 15 inches in diameter.
While I'm a Honda fan when it comes to my small engines, I was really impressed with the Briggs & Stratton engine. It was a really reliable engine, that was easy to start. Which is a nice bonus for a gas engine.
Performance Built T20 Kinetic Log Splitter

Heavy Duty Kinetic Log Splitter Review
Power King Kinetic Review
After using the other kinetics on this list, getting to use the Power King was a real pleasure. It is easily the most powerful kinetic log splitter on the market in my opinion. As I said you can't really put a ton limit on kinetic splitters, but this beast easily keeps up with the 34 tons it's rated at.
This is thanks to the very powerful 7HP Kohler engine on this unit. This power easily allows it to split almost anything you throw at it, with only the most knotted logs causing you to take two attempts. It will easily handle most logs that are 30 inches in diameter.
There is one feature on this splitter that I really love and helps take the hassle out of splitting in the winter. I don't know how many times I have struggled with splitting in the winter, the cold just makes it more difficult. But thanks to Kohler's intelligent engineering their engine is made for this.
It has a snorkel that has a winter and summer mode. Turn it towards the engine in the winter, and it will run hot air keeping the engine warm. In the summer you turn it the other way, so the hot air isn't cooking the engine. A very simple thing, but great quality.
Since this is a kinetic splitter you will want to know just how quick this thing is. While it definitely isn't the quickest on this list, it is still insanely quick coming in at about 3 seconds.
A cycle time of 3 seconds and the power of a 34-ton log splitter combined, makes one of the finest splitting experiences I have ever had. It barely took 20 minutes to fill the back of my pick up with one person loading the logs, and myself splitting the logs.
A Small Update On The Power King 34 Ton Kinetic Log Splitter
From the research I've done, it does seem that Power King is discontinuing this log splitter and you might not be able to find it in stores from now on which is disappointing since it's a high-quality machine.
If you really like the idea of a powerful kinetic log splitter then I recommend the model below, also made by Power King. It's a powerful kinetic log splitter and one of the most powerful on the market in my opinion.
What I Like About The Power King
I would be crazy if I didn't say how much I loved the power of this log splitter. Such power and speed together make it difficult to go use a hydraulic, or smaller kinetic now.
The genius engineering by Kohler with there snorkel for the engines summer, and winter mode has really stood out to me. Anything that makes life easier when splitting is a big plus in my eyes.
Its ability to handle larger logs did surprise me a little since most kinetics don't have this kind of power. It was a nice change of pace that has turned me into a big fan of Power King.
Powerking 34 Ton Kinetic Log Splitter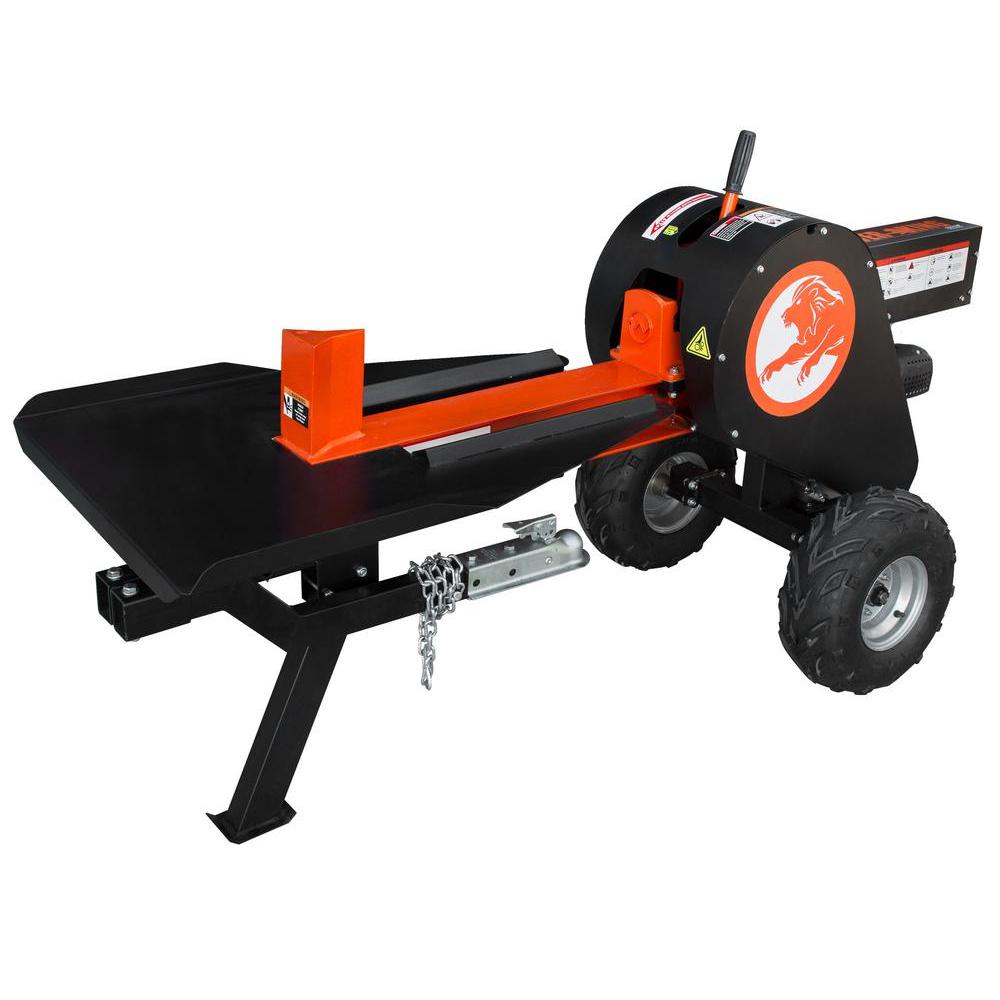 The Most Powerful Kinetic Log Splitter On The Market
Power King 42 Ton Kinetic Log Splitter Review

Power King seems to like constantly outdoing themselves since every time I think they'ver created the most powerful kinetic log splitter, they go and up the ante. This is precisely what they have done with this 42-ton kinetic log splitter, yes you read that right, 42-tons of splitting force!
One of the first things I feel like I should mention is that this isn't going to be for everyone as it's extremely powerful and on the expensive side. It's not for your casual wood user and more for your serious wood users who need this much power that the 7 HP 208cc Kohler engine provides.
Still Has The Incredible Speed Of A Kinetic
Unlike hydraulic splitters speed where they get slower when you increase the ton rating, kinetics manage to keep the speed when you go with something of a higher ton rating. With this model having a 1-second cycle time which works well when combined with the 42-tons of force it has on offer.
This, in my opinion, makes it not only the most powerful but also one of the fasted log splitters on the market. This does continue the notion of it's not for your standard user which is a shame because it would make a lot of people's lives easier and much more efficient.
Can Be Transported
There is no doubt that a lot of heavy wood users often split from their homes and have family members who ask for help with there. This is something that I and many other heavy wood users have to happen often so it becomes essential to be able to tow your log splitter.
The clever design of the hitch on this splitter is something that I think most people will like as it easily folds away when you don't need it. Then it's just as easily folds back out for when you do need to tow the splitter which is just a nice quality of life improvement.
Smart Table Design
One issue that can arise when using a kinetic log splitter is that since you're splitting so fast that when logs fall off the splitter it can really slow you down. Power King has helped eliminate this by including a large tray on the splitter so the logs won't fall off making your splitting experience easier, and faster.
Combining this with the maximum log length of 21-inches and you can split larger logs easier and quicker. This is something I think everyone can appreciate as it will allow you to have more time to yourself so you can spend your time doing more enjoyable things.
What I Like About The 42 Ton Power King Kinetic Log Splitter
The speed and power combined with the large table that's on the log splitter make it one of the smoothest splitting experiences on the market in my opinion.
With how the hitch folds away so it's not in the way when your splitting makes splitting that little bit safer since it's one less thing to trip over.
Auto Ram Return is a feature that's almost impossible to live without when you're using a kinetic log splitter and the one on this model is reliable and works well.
Power King 42 Ton Kinetic Log Splitter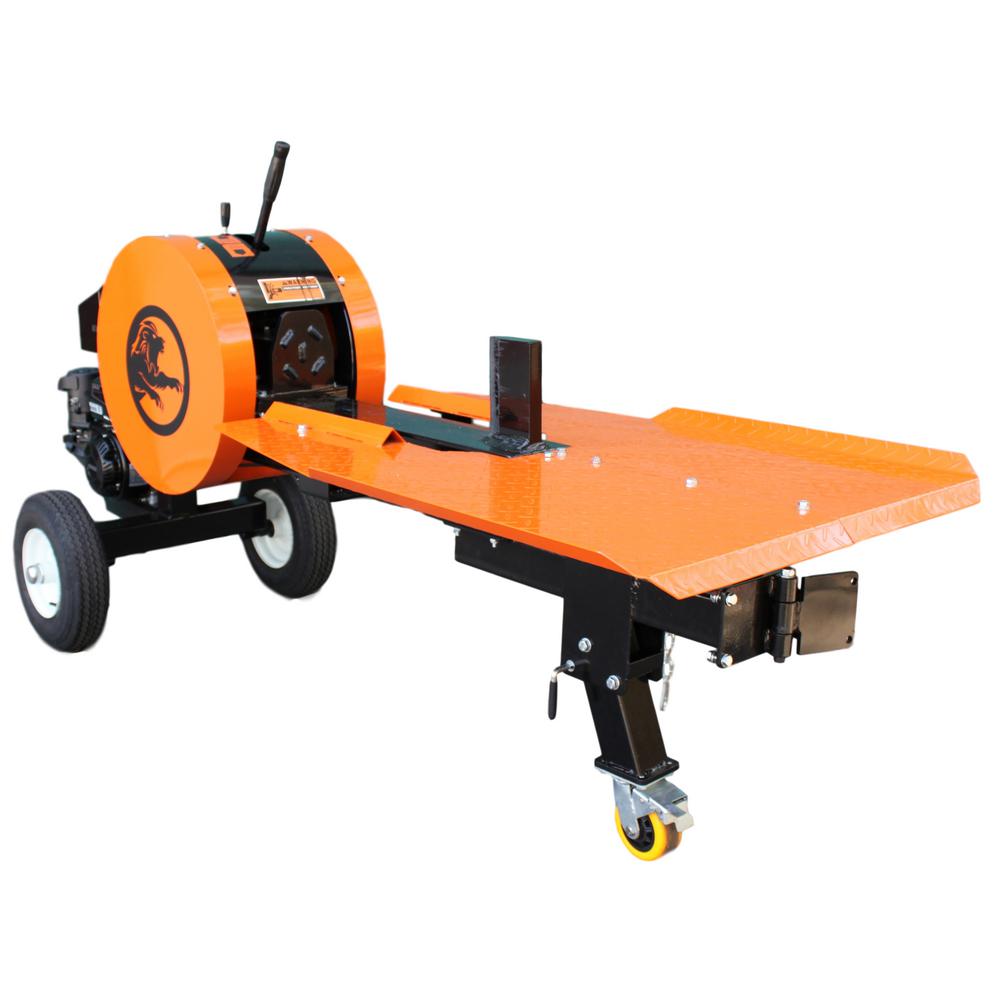 What Is A Kinetic Log Splitter?
A surprising number of people don't know what A kinetic log splitter is. Kinetic splitting use to be the way people split wood until hydraulic splitting became the main thing. This might of been a case of "improvements" not actually being better in my opinion.
You can't doubt the power of a hydraulic splitter, I'm not crazy enough to say that. But they're slow, and there is some powerful kinetics nowadays. So what exactly is a kinetic log splitter?
How Does It Work?
If you've ever looked into how a kinetic log splitter works before, then most of what I'm going to say you've most likely read. They don't have hydraulics or oils to deal with, instead, the engine will power two flywheels. Depending on how your splitter, these will vary in size. The flywheel spins and stores energy, and depending on the weight they'll store more energy.
The flywheels do turn a pinion gear, that when you use the handle of the splitter. Will make the rack drop down onto the pinion gear, which then pushes the ram out at intense speeds. This will generate a lot of power, and speed.
This is why you'll often find most kinetic splitters have low cycle times of 3 seconds, or lower. Which really does put hydraulic splitters to shame in terms of speed.
Ton Rating?
This is a hard question to answer since this is normally how you talk about how powerful a log splitter is. But since a kinetic splitter uses speed, instead of hydraulic pressure. They don't have a ton rating, and most companies will make a comparison rating. So if it says it's a 10 ton kinetic, it has a similar strength to a 10 splitter.
So there is nothing to worry about, they're powerful and quick tools. That is making a strong comeback, especially with how much gas is costing in this day and age.
Why You Should You Buy A Kinetic Energy Wood Splitter
When purchasing a log splitter there is a lot to consider, so it's never an easy question to answer. Especially when most are a heavy financial investment. Having to spend thousands on a splitter, isn't an easy choice to make. I will say once you take the leap and get a log splitter, you won't


be able to go back to splitting logs the old way. I feel this applies to kinetics as well, it's hard to go back to 15 second cycle times.
So the question is why should you choose a kinetic splitter over a hydraulic splitter. The easiest and most common answer is speed, and understanding how much of a difference that makes. Being able to split 4 cords to 1 in some cases, is one heck of massive plus. This will leave you with a lot more extra time on your hands. So if you're time poor then kinetic is a great choice.
The obvious downside of the kinetic is that it does lack some power behind a hydraulic splitter. This is an important factor and something you need to consider, before purchasing. Just what will you be splitting, will you be wanting to split some massive 20-inch hickory logs? Then going for a hydraulic splitter is probably the better option. Tho in most cases you will have to pay quite a bit up front.
There is less maintenance with a kinetic splitter, which will give you even more extra time. This is even more so if you go with the electric option.
So kinetics are faster, not as powerful as a hydraulic, and can be a cheaper alternative to a hydraulic splitter with less maintenance overall. These are really the main things when you think about purchasing a kinetic splitter. Speed or power? Which is the option you want? Having a faster splitter has made quite a big difference in my experience.
Gas Or Electric Kinetic Wood Splitter
It's funny that no matter how many times I review log splitters, this is always one of the first things I hear. Which one should I get? While I can't answer this question for you since your situation is most likely different from my own. I can go over the advantages and disadvantages of both types. I hope this helps informs your purchase decision.
The Gas Advantage
I am a little biased in this area because I do prefer gas splitters. Generally speaking, gas-powered splitters have more power than their electric counterparts. They also allow you to split far from home, so you're not tethered by an extension lead. This offers up more freedom on where to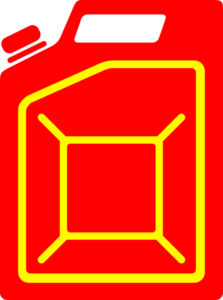 split. If you're mechanically minded and something goes wrong with your gas engine, you might be able to fix it yourself(this can voids warranty tho).
It's funny it doesn't seem like gas has a lot of advantages overall. But in my opinion, those advantages are pretty high ranking ones for me personally. I need to split larger logs, and I need to tow my splitters when I need to split on my acreage. I also don't mind having to mess around with an engine or two, I enjoy it personally.
What are the downsides of gas splitters? The need to make sure you always have gas is an inconvenience if you ever forget and are not prepared. They are also extremely noisy, so they aren't good for small neighborhoods. They can also be difficult to start, which is every gas engine at some point in their lives. This is especially true in the colder months.
While maintenance isn't an issue for me, I know some people don't like the idea of it. So having to add more maintenance is definitely a problem for some, I can see why that's off-putting for some. This can be especially if it's your first log splitter, and you're unsure what you're doing. It can be overwhelming if you don't have a history with gas engines.
The Power Of Electric
I have changed my opinions of electric log splitters of late, while they still aren't as powerful as gas. They have still come a long way in such a short time. Without a doubt, one of the best things about an electric splitter, is there are no fumes. So you can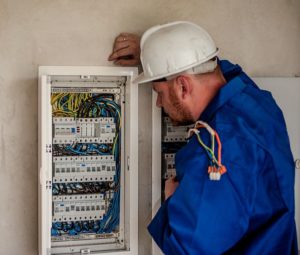 split inside, and not have to deal with the outside cold. Don't think there is a lot of people who like to split outside in the cold.
Electric is also really quiet, which is a nice change of pace from a gas machine. There is a lot less maintenance with an electric splitter, which helps free up some time for you. While it doesn't bother me personally, I know a lot of people love this. While there is the issue of an extension lead, you don't have to worry about having gas around. So generally you don't have to worry about your splitter just shutting down mid split.
The elephant in the room is the need for a power outlet, needing extension leads, or a generator. There are definitely ways to help negate this being an issue. With extension leads being the easiest option, but not always viable. Or a generator that solves the problem, but at a higher cost with the need of a generator.
As I said before gas is more powerful, and probably will be for the next few years. Electrics have come a long way tho. I still remember when the idea of splitting a 20-inch log with an electric splitter, was next to impossible. And now there are electric splitters that can split this and more. They are also a better option for those who are a bit greener since they don't produce fumes.
What Makes A Good Kinetic Log Splitter?
There is a lot that goes into a good kinetic log splitter, so finding out what makes a kinetic good is essential. So what does go into a good kinetic log splitter? One of the most important things for a kinetic log splitter, or any tool, is quality components.
Having quality components will lessen the chance of your splitter breaking. This alone won't prevent your splitter from breaking, but it helps. This leads to the next important thing for a kinetic log splitter.
Maintenance
Depending on if you go with a gas or electrical kinetic splitter, it will determine how much you have to do with this. If you go with a gas engine, then you will have a bit more to do. Which is pretty standard stuff for gas motors, which is giving them a service.
But if you go the electric route which is my personal favorite for kinetic log splitters. Is that they don't require the maintenance that a gas model does. So with an electrical kinetic, you'll save some time. Which I find Important.
Is Speed King?
There is no doubt that speed is important for a kinetic splitter, it's one of the best features. So it's hard to argue that speed isn't important. But considering even some of the worst kinetic log splitters, are faster then most hydraulic splitters. Speed is almost not as important as it sounds.
Is Power Key?
Power is hard to measure in a kinetic log splitter since you can't measure it in the same way as a hydraulic. But that doesn't mean it's not important. For me, if you have to constantly reset the log you're trying to split.
Because your splitter can't do it in one or two hits, then it's not saving you time. So power is pretty important in my opinion and will make life easier if you go the more powerful route. That is if you can afford it since the cost can be an issue.
Budget
I know budget can be a big deciding factor for a lot of people, so you should definitely stick within your budget. I say this because no matter how good your splitter is, something can go wrong. If you need to get it repaired, and it's a top of the line splitter. There is a good chance that getting repaired will cost a lot more.
So What Is It That Makes A Good Kinetic Log Splitter?
For me the most important factors are quality components, that's fast, and that reliable splits. These are the most important factors for my situation. There is as I mentioned a big factor in the budget since these splitters can be expensive.
I believe the splitters I have reviewed on this page cover a wide variety of budgets. So hopefully there is something there for you.
My Final Thoughts
When I originally thought of kinetic log splitters, I use to think they lacked power, were less structurally sound then a hydraulic machine. But after this, I have come away a fan, and have had my previous opinion completely disproved. They are quality machines, that are making a strong return in the wood splitting market.
As to which model on this list should you get? I can't answer, I have provided the information to help make your opinion more informed. But for me personally I really like the performance built, and Power King. The extra bit of power really gave me peace of mind, knowing I can most likely split what I need. But really you can't go wrong with any of the splitters on this list, they all excel at what they were designed to split!
Save