I hope you love the products I've recommended below, just a heads up that as an Amazon associate, I earn from qualifying purchases. This means I may earn commissions on products bought via links on this page.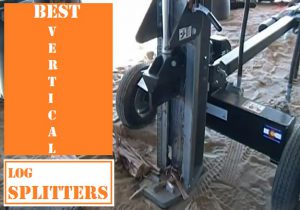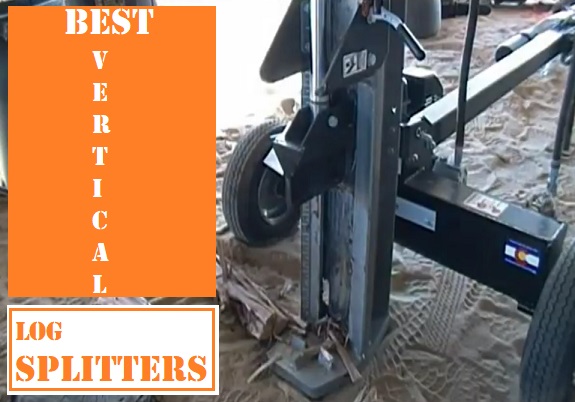 When it comes to log splitters and their many features, there's one feature in particular that really gets my approval.  That is the ability to swap from horizontal to a vertical position. However, this is not a simply must have for some folks, so for those that want to buy the best vertical log splitters in 2019, feel free to continue on reading this buyers guide.
The main advantage of having a log splitter that can go into a vertical position, is how it can make a splitter be able to split much larger then the manufacturers recommendations. The ability to split logs up to 40 inches in diameter will suit almost anyone from small household to farms to commercial industries.
With the machine in a vertical position, positioning the logs becomes a lot easier. Another great advantage to a vertical log splitter is that there is less bending over while splitting, which makes it a lot easier on your back in the long run. Not too mention no having to pick the heavy log up to waist height to put on the deck.
A Quick Buyers Guide For The Time Poor
There are many reasons to own a vertical log splitter, but the main advantage is just how versatile they are, they can split large or small logs and considering what they can do will save you money and pain in the long run. All the splitters on this list will have the ability to go from horizontal to vertical with the flick of a switch.
| | Ton Rating | Engine | Our Rating | |
| --- | --- | --- | --- | --- |
| | 25 Ton | Champion 224cc | 9.3 | Check Price On Amazon |
| | 37 Ton | Honda 270cc GX270 | 9.9 | Check Price On Amazon |
| | 22 Ton | DHT 196cc 6.5 HP | 9 | Check Price On Amazon |
*Note: Theses are GAS powered. If you don't like the idea of gas, perhaps you should check out the Electric Vertical Log Splitters.
The Best Vertical Side Catcher Wood Splitter
Champion Power Equipment 25 Ton Full Beam Towable Log Splitter



First on this list is one of my personal favorites vertical log splitters, the Champion 25 ton full beam towable log splitter. There are many things I like about this splitter, but one of my favorite features is the side log catchers that it has.
The side catches help prevent the split logs from falling to the ground and creating more work for ourselves. This is obviously only effective in the horizontal position, which makes it easier and safer to use in this position. It has a removable pin that is very easy to access so you can swap between horizontal and vertical without any dramas.
I found this log splitter very easy to tow, while the manufacturers state it has DOT approved tires so it can go up to 45mphs, it is still recommended to not really go over 40mph to be on the safe side. It was easily towed behind our atv around our acreage, we just had to be careful going over slightly uneven land. When it came to assembly it would certainly help if you were a bit more mechanical minded, it took us about an hour with all the tools, so it may take you longer without the tools or if you don't have 2 people.
The Things We Liked
We really liked how easy it was to put into it's vertical position and how stable it was while in this position. Being able to switch between the two settings so quickly is important to me.
The ability to tow it around town is really helpful, especially if you have some acreage and need to split logs further away then your back yard. Or if you own a cabin and need firewood temporary.
The side catchers when it's in horizontal position, while not really helpful in its vertical position were a nice feature not found on every other log splitter.
Champion 25 Ton Gas Log Splitter

The Best Vertical Log Splitter On The Market In 2019
NorthStar Horizontal/Vertical Log Splitter – 37-Ton, 270cc Honda GX270 Engine



When it comes to log splitters one thing that a lot of people want as a requirement and that is it needs to have a 270cc Honda GX engine. That is because it is one of the best if not the best engine going around. The Northstar splitter here is proud to be a Honda badge wearing machine.
When it comes to power, I simply can't get enough. Especially with log splitters. I'm a big fan of having more power then I actually need, and you don't get much more powerful then this incredible machine.
Just how much power and how fast is this beast?. Well depending on your physical condition and your determination to work hard and fast, I found the ability to get through a cord in a little over an hour was not a far fetched dream at all. When I knew that this would take many other log splitters quite a bit longer.
With the NorthStar having the brilliant Honda GX270 270 cc engine, you will find that this log splitter will start on the first pull almost always. It's just an extremely reliable engine that won't let you down. Plus it has the Honda badge. You will want to keep the maintenance on this engine quite regularly just to keep it in top shape. This can easily be done using your own tools in your own shed or garage if you are custom to servicing a lawn mower for example.
Same as the Champion model above, this powerful vertical log splitter also has the ability to be towed. If you're on uneven land you will want to be careful as this machine has a rather high center of gravity so you'll want to be careful in such areas so it doesn't tip. Last thing we want to be doing is breaking an expensive beast of machinery like this. While this machine may cost a bit more then the others on this list, you may find the extra power and peace of mind knowing you will be able to split just about anything you throw at it.
What We Liked
The Honda GX engine is one of the surest pulling engines I've ever had the pleasure to use on a log splitter.
We really liked not having to worry about the logs we put against this log splitter, it went through all of them without worry.
For the size of this machine we found it was actually quite quiet, which is impressive considering just what it can do.
NorthStar 37 Ton Log Splitter

Value For The Money & Split Wood Vertically?



This log splitter by Dirty Hand Tools took me and my Wife by surprise (Yes she loves to get her thing on and split a few rounds every now and then), so much so that we just had to have it on this list. I was quite amazed with what I saw from this 22 ton log splitter.
The first thing that really impressed us was just how much power this 22 ton log splitter has. Not really going in with too many high hopes as this machine was quite affordable compared to high end models (in my opinion), we managed to split logs that were 36 inches in diameter. This of course was while in it's vertical position.
While the above machines can split logs that are a few inches larger, this machine is more affordable.  So if you don't need something that can split logs that are 40 inches and don't mind sacrificing a little bit of power, then the Dirty Hands Tool machine may just be what you were searching for. While some of the tougher logs made this splitter slow down, it didn't actually stop the splitter. Which is a good sign of a tough heavy duty engine.
Even tho its engine isn't a Honda, the DHT 196cc engine also surprised us with just how easy it was to start. If it didn't start the first time it almost always started on the second try (which may be quite rare as you may know). It also has an adjustable throttle which is very useful when it comes letting the unit warm up and cool down, which makes life just a bit easier. The assembly of this log splitter really does vary quite a bit, it took some people up to 3 hours but they weren't very mechanically minded, and it only took us roughly 45 minutes.
What We Liked
We were very impressed with just how much this machine could split, I've used splitters that are meant to be stronger split less.
Extremely good value for money in my opinion. Unless you are someone that has to have the best of the best, then the vertical wood splitting machine by Dirty Hand Tools is a great choice.
The customer service from Dirty Hand Tools is outstanding, we had a part break and they shipped a replacement free of charge, and within a few days our splitter was up and running again.
The engine really caught us off guard with just how good it was, and again quite surprising how quiet it is. Seemed to work seamlessly no matter the size of wood it was churning its way through.
Dirty Hand Tools 22 Ton Horizontal/Vertical Log Splitter

Save
Save
Save
Save