The Best Electric Log Splitters With Reviews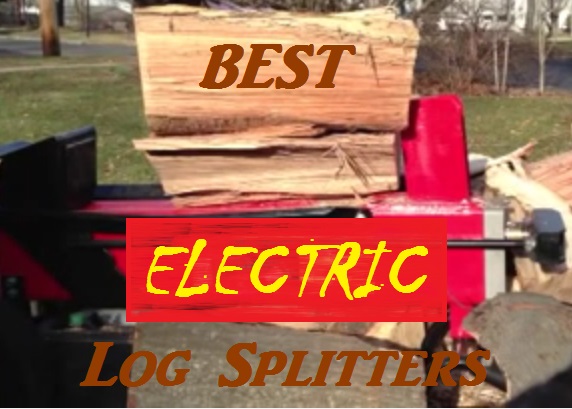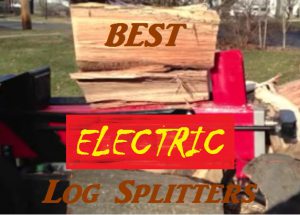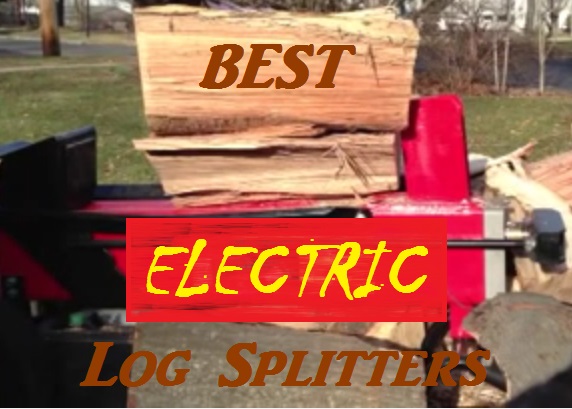 Trying to find the best electric log splitters in 2017 can be a challenging task to say the least. With all the various models and scattered reviews online, choosing the right machine to meet your needs can be quite overwhelming. Fortunately for you, the type of splitter is already decided. That is, it must be an electric machine to split your wood. Buying an electric model has both positive and negatives. But it safe to say that an electric model is a great log splitter for the first time user(Beginner).
Provided you have access to electricity, you can quickly set up and start the log onslaught immediately.  To help with choosing the right timber splitter powered by electricity we have done the research for you. After countless hours reviewing various models and based on several of our close friends real life experience.  We have narrowed the list to just 3 top rated electric log splitters for 2017. But first what are the advantages to owning an electric log splitter?
Advantages To Owning An Electric Wood Splitter?
One key advantage to an electric log splitter, is that you can use them inside your home, which is really useful during the cold winter months. This is also a popular type of splitter to have for the casual user of the fire place. This is becasue you don't need much room to set up and you also don't have to have a lot of wood split in advance.
Since it's electric it doesn't produce unhealthy amounts of carbon dioxide, so you can use it inside knowing you will be fine.
 They are the perfect machines for small homes, or for people who don't necessarily rely on wood year round, they will still save your back (and wallet) from having to split timber with an axe.
While there are many advantages to buying an electric splitter there's also one major concern for remote living people. That is that you will require a power source. So if the unfortunate happens and the power goes out it would be wise to have logs already split in case of an emergency. Nothing worse than shivering through a freezing winter with no fire place. Typically people that live in a remote location will have measure s in place anyway. The serious prolonged case of having no power is to have a generator on hand. I have found the generators by Champion to be best suited to an log splitter.
The Best Electric Log Splitter On The Market
Swisher LS22E 22 Ton Log Splitter

The first thing you will notice with this machine is just how much more powerful it is then all the other splitters on this list, with it's powerful 120V electric motor capable of putting out 22 tons of force. This allows this unit to split some of the largest logs available to a electric log splitter. To me this wood splitter gets rid of one of the biggest disadvantages of a electric unit, and that is its splitting capability. But apart from the powerful motor giving it tremendous splitting force, it makes it insanely quick with an incredible 13 second cycle time. This makes it one of if not the quickest electric log splitter in my opinion.
The biggest advantage that this splitter has over the competition is that it has a vertical splitting position which is an incredibly good feature, that is essential when you want to split larger logs. Which is exactly what this impressive unit will do, no more will you have to worry about can your splitter handle that 20 inch round. This splitter will get through it and much larger logs with this position. To split larger logs I would highly recommend using the vertical position since that is what it is designed for, plus it is a lot easier on the back since you don't have to lift the logs up onto the splitter. You can just roll them over to the splitter itself.
With such a large splitter surely it must be difficult to move around? This is not true with this amazing splitter. The people at Swisher made the intelligent design choice to put a 2 inch ball coupler, and 2 DOT approved tires on this unit. What this means is that you can tow this unit behind your pick up, or even ride on mower. The tires themselves allot you to tow this splitter up to 45 mph on a smooth road, which is great if you need travel with this unit. Tho if you're towing this splitter off road I wouldn't recommend going to fast and use your best judgement on the right speed for the terrain.
One of the best things about this splitter and the brand itself Swishers, is that there log splitters are made right here in the USA. Which if you're like me this is a very important thing, and something that is sadly becoming more and more rare. While maybe this isn't important to you I feel this was very important to mention. This kinds of companies should be supported especially when they are releasing brilliant machines like this.
What I Like About This Incredible Electric 22 Ton Wood Splitter
First and foremost I love how much power this unit has, it gives me peace of mind that I can split most logs I will throw at it. Especially in the vertical position it was designed for the larger rounds.
For such a large splitter it is incredibly quick which I'm a fan of, the quicker this unit splits wood the more time I have to do something I enjoy like having a beer!
Being able to tow this unit has been a really useful feature that has made me really popular with friends and family who can't afford there own splitter, and would like to split logs without breaking there back with a splitting maul.
I really love the fact that this log splitter is made right here in the USA, which as I said I feel is important, helping to keep jobs here for our future generations to come.
Swisher LS22E 22 Electric Log Splitter
The Best Rated Electric Log Splitter
Boss Industrial ES7T20 Electric Log Splitter, 7-Ton

The Boss Industrial is really great for first timers who have never actually used a log splitter before. Even the casual splitter will love this machine. The really simple and easy design make it quite the pleasure to set up once it arrives on your doorstep. Within an hour or so you'll be ready to start splitting logs with one of the best electric versions on the market. Since it is an electric log splitter, you don't have to deal with the issues of a gas log splitter not starting, or stalling out because of a blocked fuel line, or something else preventing it from starting.
The Boss Industrial is a 7 ton machine, meaning it's on the lower end of the rating scale. Great for the beginners and home owners needing to stockpile wood for the winter. While it is considerably lower than some Gas powered models on the market like Champion, it still packs a punch. Electric may never be as powerful as Gas, but this is not to say it can't do the job.
By this I mean the Boss should get you through most logs of the appropriate size.. The only difficulty you may or may not have is, if the logs you're trying to split have a lot of knots in them. It's best to keep in mind this unit is for personal use and not meant for a professional business who will go through quite a few cords of wood a year. If you're going to cut through logs bigger then the manufacturer recommends, which this thing can do, I recommend doing it in pieces.
What I Like About This Electric 7 Ton Log Splitter
Being electric it starts up every time without any worries.
Wont be caught out with no Gas when it's needed.
It's very quiet compared to a gas powered log splitter.
The manufacturer is in the USA so the parts are easy to get if required. Which is something I highly encourage folks to look into. Where to buy the parts, Is the Log Splitter made in the USA?.
It can cut through extremely tough pieces of wood for it's size. Good bang for the buck.

The Not So Good
One of the two problems that I've found with this machine is, since it's wheels are rather close together, that it can become a little difficult to move over uneven surfaces. Getting a second person to help carry the machine is a good solution to this problem. As it weights 128 pounds, a second person should be used when transporting anyway.
This second issue I never had but I know some others have had, and it's a common problem with a lot of log splitters, is that it's close to the ground which might be difficult for those with back problems. Tho because it is low to the ground you don't have to lift the logs as high, so depending on who you are, that could be considered a helpful thing. But overall, the Boss Industrial is one of the best electric log splitters on the market in our opinion.
Boss Industrial 7 Ton Splitter
The Best Portable Electric Log Splitter
Powerhouse XM-380 Electric Hydraulic Log Splitter, 7-Ton

Don't let the slightly lighter weight (104 lbs) fool you here. This is one of those times where the lighter the machine, the easier it is for you. Without sacrificing quality and performance of course. Voted one of the best log splitters in 2017 by my staff and colleagues it's no surprise it's mentioned again here.
I feel the brand name is absolutely perfect for this electric log splitter, because it is literally a powerhouse of a log splitter.  While the Boss Industrial ES7T20 manufacturing book says it does up to logs that are 10 inches in diameter, meanwhile the Powerhouse XM-380 manufacturing guide says it can do logs that are 12 inches in diameter. I can honestly say both machines can do bigger then that, just do them in pieces.
In fact, you may find that this electric log splitter could surprise you in many ways. With just how much and how easy it is to get through big thick logs. I have found the Powerhouse will get you through several cords a year without any signs of slowing down. No more needing to worry about having no warmth if you lose power and no more having to buy fire wood every winter season, which will save you money in the long run. Who doesn't like saving money?.
 What I liked About the Powerhouse XM-380 Electric Log Splitter
One simple feature which isn't on all splitters for some reason, is when you press the on button it stays on, unlike some I've used where you have to hold it on while you split logs
Very simple to use, and takes a lot of the manual labor out of splitting logs, making it perfect for the older ones in your life.
Doesn't take up much space, so it's easy to store upright, so you don't need much room.
My Only Issue
I had only one issue when it came to the Powerhouse XM-830 Electric Log Splitter, and it has nothing to actually do with the splitter itself. It was the manufacturers guide, it was quite terrible with a bad English translation. An example would be instead of the word "tool" it was written as "fool" which only made me feel like a fool for reading it. Overall a great electric log splitter that I would recommend to anyone who doesn't require a massive 25 ton log splitter.
Powerhouse XM-380 Electric Hydraulic Log Splitter
Best Cheap Budget Log Splitter
WEN Lumberjack 56206 6-Ton Model

One of the biggest misconceptions people have with log splitters is the amount of force required when it comes to splitting logs, having a big cylinder means a slower movement speed but with more force, I've seen more "powerful" splitters with the same size cylinder as this machine. My point being, The Lumberjack is certainly not lacking in force. It will still split up to 10 inch in diameter logs and a bit bigger if required.
This is one of the cheaper electric log splitters currently on the market, so it's perfect for people who are on a bit of a budget and can't afford one the $1000 machines out there. A lot of people do seem to agree that removing the wheels and putting it on a bench does make it easier to use. This is results in a less stressful session on your back.That's a winner for me immediately. Suffering chronic lower back problems all my life has made me be more aware of product that assist in everyday activities. Such as choosing a splitter that wont bust my back out.

One of the best things about this particular electric log splitter is it's fairly small, so you can store it away in small spaces or even in your basement, and since it's electric you don't have to worry about fumes, just one of the many benefits to electric log splitters. The Lumberjack is an affordable yet powerful machine. If you are on the fence about shifting from the axe to a  splitter, this may just be the machine for you.

The Lumberjack By WEN
Woods Cut, Now Lets Stack!

Save
Save