I hope you love the products I've recommended below, just a heads up that as an Amazon associate, I earn from qualifying purchases. This means I may earn commissions on products bought via links on this page.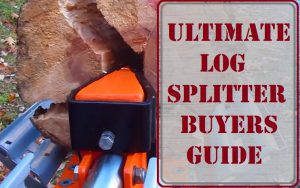 With how much of our lives we spend working, and doing chores around the house. The last thing I need is to be stuck spending countless hours breaking my back splitting logs. My axe and my body have had enough. There's only so much an ageing body like mine can take before it's time to realize that investing in one of the best log splitters 2019 will prove to be one of the best decisions I've ever made.
So to save time and money I decided to purchase a log splitter many moons ago. Truth be told, I have a few too many of these machines if you ask the Wife. Knowing what I know now, I can look back and understand how confusing it can be to buy a top rated log splitter which meets and exceeds expectations. With so many different types to choose from it can get a little overwhelming to say the least. Especially if you have never used one of these machines before.
So if you are sick of paying over the top prices for fire wood and want to cut out the middle man, you need to invest in a wood splitter. There's no question about it. The only question you need to ask is which log splitter is right for me?. Well that's where I come in help you make an informed buyers decision.
The Ultimate Buyers Guide
Here at the Split Wood Club we have taken the hard work out, by doing the research for you and sharing our personal experiences. With this buyers guide we discover what are the best log splitters for 2019. My aim is to have complied a list of resources to cater to just about anyone's needs. Whether you need a big machine powered by gas, or a smaller electric model suitable for first time users.
| | Power Source | Ton Rating | Our Rating | Check Price |
| --- | --- | --- | --- | --- |
| | Gas | 25 Ton | 9.9 | Check Price On Amazon |
| | Gas | 37 Ton | 9.8 | Check Price On Amazon |
| | Electric | 7 Ton | 9.6 | Check Price On Amazon |
| | Manual | 10 Ton | 9 | Check Price On Amazon |
| | Gas | 7 Ton | 9.4 | Check Price On Amazon |
The Ultimate Log Splitters Guide
Because this is going to be the Grand Daddy of all log splitter buyers guides, I am covering all types of log splitters. But what is the ultimate log splitter and will it be enough to handle the amount of wood at your disposal?. This is to help inform new wood cutters of the options available, how they work and what to expect. No I won't be covering DIY log splitters. I only recommend the safest and best machines on the market right now in 2019.
Here's A Quick Run Down:
Gas Powered = Powerful Machines
The most common type of wood splitter are the gas powered models. For a few very good reasons. Gas powered units have many advantages to them. The most obvious and most useful advantage they have is pure power. They generally have a lot more power compared to electric, and manual powered models. Log splitters are measured by Tonnes of pressure, the higher the number the larger amount of pressure build up to split the wood. So a 25 ton is going to have more force than that of a 7 ton machine for example.  Also being a gas powered log splitter, you get the added benefit of splitting off the grid. This means you won't have to worry if you have a power outage because  gas is the means of running the motor. This is especially important during winter if you need logs to keep you and your family warm. Obviously make sure you have the gas on hand.
Since gas powered log splitters are more powerful then there counterparts, they really are designed for people who are going to split several cords a year and don't want to have the worry if there machine can keep up. But as I said previously, you can get 7tonne machines that are ideal for farms and home use as well.
While generally gas machines are more expensive, you will find that the extra money you spend is worth its weight in gold down the track. Due to the extra power the gas powered versions offer, longer lasting engines and freedom of splitting you can produce greater yields than that f any other kind. No longer will you have to worry about being unable to split a log because your splitter isn't strong enough.
Who Is The Gas Splitter Best Suited For?

In my opinion, anyone who depends on heating via a fireplace during the colder months should own a gas log splitter. It doesn't have to be a mighty powerful 22 ton splitter either. A 7 ton gas powered beast will do the job just fine as a temporary back up splitter when electricity fails. Other types of people that would benefit from a gas powered log splitter are people that need a portable machine. The benefit of being gas is that it can be taken anywhere. So if you live Rural and travel long way to split the rounds, then gas will be your best friend compared to an electric model. Many gas models can be towed and or used on tractors. So with that in mind. below is what I consider to be the best gas powered log splitter available on the market in 2019.

The Best Gas Log Splitter On The Market In 2019




The Champion 25 ton full beam tow able log splitter is an incredible machine with a very reputable company backing it. That is the Champion Power Equipment. There is a lot to love about this gas powered log splitter, that makes it essential to people who will be splitting a lot of cords every year and especially during the colder months. It has one of the easiest pull engines I've ever had to start, it started the first time and every time after that without any dramas (Touch Wood).
When it comes to the size of logs you can split with this log splitter, I find it difficult to give an accurate number due to the ability to put this log splitter in a vertical position. The vertical position really takes the back ache out of splitting logs and makes it a lot easier to split larger logs then you could ever imagine. When you're splitting larger logs with this machine, we found that if it started to struggle that it was best to start splitting from the edges and work our way in.
The ability to be able to tow your log splitter without the need of a trailer is also a very useful feature. This is very helpful if you have a holiday cabin on acreage and you need split logs and where you split logs isn't nearby. Or if you have family or friends who need to split logs but don't either own a log splitter or they don't have the physical capability to split logs themselves. With the Champion 25 ton log splitter you won't have to worry about this, with it's department of transportation approved wheels that let you travel up to 45mph. Mighty fine touch in my opinion.
Champion 25 Ton Gas Log Splitter

The Best Heavy Duty Log Splitter On The Market In 2019



The NorthStar 37 ton log splitter is the heavy wood users dream splitter. It's 37 tons of force is powered by a excellent Honda GX390 engine. This is one of Hondas finest engines in my opinion. It is one of the best starting engines I have come across in my decades of log splitter use. This isn't for your average wood splitting user. It's designed for the people who will be getting through a serious amount of cords a year.
It's also fast for this size splitter, coming in at roughly 14 seconds for it's cycle time. So it's fast and powerful machine, that makes all the others on this list look small. Certainly doesn't mean those splitters are bad, more this splitter is just so good. It also does come in a slightly cheaper version with a smaller engine. And a version with this engine and a log lift, which costs more. So Northstar gives you a few options, which is something I really like.
This splitter also has the capability to go vertical and split in that position. This like others can makes, saying what it can split difficult. I personally didn't come across any log it couldn't split. This included some pretty impressive 30 inch in diameter hardwood logs, such as hickory and oak. So you don't have to worry about not being able to split what you need split.
One thing I really like about this Northstar log splitter is the pump they included. Which is a 16GPM (Gallon Per Minute) pump, which is made in America. This is something that I know will make quite a few people happy. It also has a low oil shutdown system, which gives you peace of mind when operating this splitter.
Electric Powered – Are They The Best Kind Of Wood Splitter?
Next up we have the reliable electric powered log splitters. Electric powered versions may lack the power of a gas model, but they make up for it with reliability. Unlike a gas powered log splitter which can be temperamental at times, the electrics won't struggle to turn on due to temperature, or a block in the fuel line. You don't get that problem with an electric powered log splitter. They start first time nearly every time and you don't have to tear you shoulder out of your socket with a pull start engine.  A downside to this tho, is if you run out of power you can't split logs without a generator, or do it the old fashioned way with an axe. So we highly recommend always having some logs split in case of an emergency.
With the lack of heavy components of a gas powered log splitter, it does make electric splitters a lot more versatile and easier to move if needed. They can still weigh over 100 pounds, so it maybe easier with 2 people depending on who you are. Being a smaller machine does make them better suited to people who don't have a lot of space, and can store them away. One real big advantage to electric powered log splitters is the fact they have no fumes, so you can split inside the comfort of your own home, and not have to deal with the cold outside.
Who Is The Electric Log Splitter Best Suited For?
It's in my opinion that if you may not fully rely on heating, or cooking via a firewood stove, but it's essential to have a log splitter. Then most likely an electric powered log splitter is for you. Electric log splitters are also perfect for people who need to split there logs into kindling, which is a lot easier to do with an electric log splitter, considering how much easier they are to set up compared to a gas powered log splitter. The benefit of having an electric motor makes the splitter a lot more quiet then there gas counterparts. Great for home use.
The Best Electric Log Splitter On The Market In 2019



The Boss Industrial ES7T20 electric log splitter is without a doubt the best electric log splitter in my opinion. I found this log splitter extremely easy to use, so much so that we would recommend this log splitter to those who have never used a machine like this before. Especially if the thought of operating a gas powered monster sends shivers down your spine. It's really easy and simple design made it quite quick to set up. Within the hour I was loading this thing up with logs to split.
While this is a 7 ton machine, I was pleasantly surprised with output. How much it could handle and the size of the logs it could split. I managed to split logs that were larger then the manufacturers specifications at the impressive feat of 18 inches in diameter, and 16 inches in length,which is quite incredible for an electric log splitter. But don't follow in my lead, stick to the guidelines and do what you feel comfortable cutting.
The only time we had to admit defeat with this splitter was when we tested it on some extremely knotted wood. Which is to be somewhat expected, electric just doesn't have the power of a gas powered machine. But that doesn't mean it's not a great log splitter, just that it is designed for a different audience.
Boss Industrial 7 Ton Splitter

Manual Powered Wood Splitters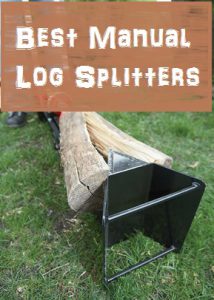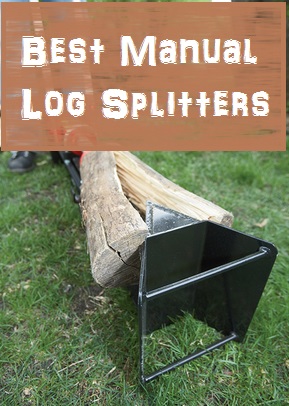 A manual log splitter is much more physical then the likes of a gas or electric version. However, it's still a lot less physical and quite a lot quicker then using an axe, or a splitting wedge and sledgehammer. There are some really good advantages to manual log splitters. One of the advantages is the lack of engine and extra parts. Which does make them lighter and easier to transport then gas and electric splitters. Making them extremely easy to move around and store, perfect for people who don't have a lot of space in there house. This also makes manual log splitters very helpful when it comes to helping friends and family, who don't own there own log splitters.
No Power, No Worries!
Since manual log splitters don't rely on gas or electricity to run, that gives the manual log splitters a pretty big advantage. No power source other than your own body is needed to split logs faster and less strenuous than swinging an axe.  No need to worry about a power outage, or running out of gas. The lack of a gas engine means there is no fumes, so you can split inside all day long with no worries.  There is one thing to consider if you are interested in the manual log splitters, and that is they really lack the power of electric and gas powered machines. This doesn't mean they're bad, just that may not suit your needs.
Who Are Manual Log Splitters Best Suited To?
When it comes to choosing a log splitter, there are many factors to consider when deciding. One of the biggest factors to consider is cost. Which is a relevant factor to consider, especially in these trying financial times. Fortunately, manual wood splitters won't cost you your mortgage as the are the cheapest kind available.
So if you're on a tight budget and are prepared to put some elbow grease into splitting logs, then a manual log splitter might be for you. While gas and electric are recommended to people who are going to go through several cords a year, I highly recommend a manual log splitter for those who may only go through one or two at max cords a year. Manuals are also really suited to splitting your logs into kindling, even more so then an electric, so if kindling is what you're after then the manual log splitters are for you.
The Best Hand Powered Log Splitter On The Market In 2019
Sun Joe LJ10M Logger Joe 10 Ton Hydraulic Log Splitter


When it comes to manual hand powered log splitters, the Sun Joe log splitter is what I consider to be the best on the market. One of my absolute favorite thing about the Logger Joe, is the way the two levers work together.
The way it works is one lever is designed to do a lot of your normal log splitting, and the other lever is designed for particularly knotted and difficult logs. Which makes the whole chore of splitting wood, that much easier, and will save you time overall. We also really liked how quick and easy it is to set up, just take it out of the box and add your levers and you're ready to start splitting logs.
This manual log splitter is really useful for people who have a fire place but don't have the energy to constantly split logs with an axe. This log splitter is very quick and easy to use which makes it not feel like a chore, so you'll find yourself having your fire place going a lot more often. There is one down side to this log splitter, that I feel I should mention and that is when it comes to splitting smaller logs, the ram won't push all the way through and you will have to turn the log to split the other side.
Pro Tip: I recommend putting a smaller piece of timber in front of the smaller log so it pushes the smaller log further and get a better split.
Logger Joe 10 Ton Hydraulic Log Splitter

The Best Log Splitter For Home Use In 2019
When it comes to home use, there so many variables that there is no one option to suit everyone's needs. So what we have done here at the splitwoodclub is chosen what I consider to be the best all round log splitter for the average home. If you require something a bit bigger, I recommend checking out all the home use log splitters. When we think of home use most of the time our thoughts don't go straight to 25 ton and up log splitters. In general most people aren't going to require something so large and powerful. So instead we did a lot of testing and research to find the perfect log splitter for general home use.
In America every year more and more people are turning to wood for heating to help cut the cost of bills. While it certainly is more physical to rely on wood to heat your house and the upfront cost of purchasing a log a splitter may deter some. But be assured that you are making a sound investment in your future when you buy one of the ses machines.  While cutting costs is already a great reason to swap from electricity to wood, a log splitter will remove the physical part of swinging an axe.
What Is The Average Home Use For A Log Splitter In 2019
With more and more people turning to wood for heating in 2019, the need to have a log splitter is getting more and more necessary. The average home owner will find themselves going through a few cords a year and require a reliable log splitter that has enough power to get through the most stubborn of logs. The last thing you want when splitting logs is to be stuck on some logs then require to split them with the help of a splitting wedge or something along those lines. With the log splitter we have chosen to be what we consider to be the best for home use, you won't have to worry about this.
The Best Log Splitter For Home Use Review



Another one of the powerhouse machines that is Champion,  this 90720 7 ton model is what I consider to be the best log splitter for home use. After testing and researching for countless hours, this Champion stood out from the rest of the pack and came out on top for a variety of reasons.
There are countless reasons as to why this unit was chosen that sets it apart from its competition. Just one of the reasons is the brand of champion, who have shown time and time again how reliable and great there products are. This 7 ton wood splitter is no different.
Now I know some will be worried about the fact that it's only a 7 ton machine, but we can assure this log splitter will get through many of the toughest logs you can throw at it. I managed to split logs that were 20 inches in diameter. Do note that it did require me to turn the logs around and on the occasion split the log in 3 to 4 different sections. Starting from the edges and working my way in.
It is a gas powered log splitter which means it will be stronger then almost any electric, or manual powered log splitter. Combine this with the reassurance of reliable gas power and you got yourself a pretty decent home wood splitting machine.  There is one thing I should mention about this log splitter and that is how low to the ground it is. While that isn't a problem for myself it is something I should still mention for the folks that hate operating close to the ground. A smaller Yardmax electric splitter with a built in stand may be better suited if this is the case.
Champion 7 Ton 80 CC Best For Home

Hydraulic Or Kinetic Log Splitter
With log splitters there are two types of mechanisms you need to consider, one being kinetic and the other more common type; the hydraulic system. As with anything in life, there are pros and cons to both types.  I will be giving a brief run down on both systems and why one is better than the other and vice versa.
The more common of the two are the hydraulic machines. When it comes to hydraulic log splitters, there really aren't to many downsides to them. The biggest downside to hydraulic log splitters is that they are slower then there kinetic counterparts, and since they are more mechanical then a kinetic log splitter you will need to look after it more compared to a kinetic. But you should always look after your tools either way.
The pros of hydraulic log splitters, easily outweigh the negatives tho. While the cycle times re dramatically slower, there power certainly makes up for that tenfold. A hydraulic log splitter can range anywhere from 5 ton all the up to 80 tonnes, but generally such high force splitters require a tractor or are someones home job. So hydraulic log splitters will cover a wide variety of peoples needs in comparison to a kinetic log splitter.
Kinetic Log Splitter Available In 2019
While hydraulic log splitters have incredible power, a kinetic log splitters have ridiculous speed that can go as fast as one and a half seconds. Which at that the speed you will often find yourself being so far behind this machines speed you can't help but be impressed.While in reality you are simply struggling to maintain the solid pace of the machine.
While a hydraulic log splitter can take anywhere from 10 seconds all the way up to 30 seconds. Now you maybe wondering what is the trade off is for that speed, and sadly it is power, with a kinetic log splitter you won't be splitting 36 inch logs. So kinetic log splitters are perfect for people who won't be needing logs year round, and will need a lot of smaller logs split to use for kindling.
Since it doesn't have a lot of mechanical components as a hydraulic log splitter, they don't require anywhere near as much maintenance. So if maybe you aren't the most handy of people, kinetic might be a good option for you.We found that you really only needed to give the engine a bit of a tune up every now and then, and with no hydraulic oil there was no need to worry about leaks and trying to find out where it's coming out. So if you're interested in learning a bit more about kinetic log splitters, you can read our reviews on what are the best kinetic log splitters in 2019 here.
Don't Just Buy Any Log Splitter!
The problem with buying any ole log splitter is that you don't know if it suits your particular needs. Without the proper research you could end up paying hundreds if not thousands more for a machine that is simple not applicable to your lifestyle.  A 25 ton gas powered log splitter is completely overkill for someone who is just going to split half a cord of logs a year. Or someone who does need to split several cords a year, a manual powered log splitter isn't going to help anyone in that situation.
An electric log splitter won't be of use to someone who needs to be away from a power outlet to split logs, unless you want to spend hundreds on a decent generator to operate it. Like with everything in life there is not one thing suits all situations. This is exactly why I have put this buyers guide together to help you.
Save
Save
Save
Save