I hope you love the products I've recommended below, just a heads up that as an Amazon associate, I earn from qualifying purchases. This means I may earn commissions on products bought via links on this page.
Using a chainsaw in a tree is a dangerous job that should be treated with the highest level of respect, so you'll want the best tree climbing chainsaw you can get your hands on. Having the right tool for this job is important because it's so dangerous.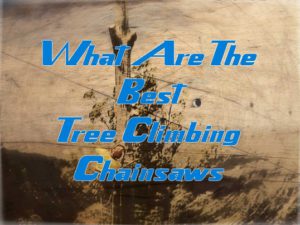 Cutting trees while you're in them isn't something just anyone can do and you should have some experience before attempting this. But hopefully using one of the chainsaws on this list will make your life easier and safer, since they were designed to be used in a tree.
There is something to mention with a tree climbing chainsaw and that is it needs to be a top handle chainsaw. Anyone who recommends a rear handle chainsaw for this job really doesn't have to much of an idea, so please keep this in mind when researching.
The Top Rated Tree Climbing Chainsaw
Echo Top Handled Gas Chainsaw Review
Echo is one of those brands that if you've ever spent a little bit of time looking at chainsaws then you would of heard of Echo. They're right up there with Stihl and Husqvarnas in my opinion, and in some cases Echos are better in my opinion.
This is one of the few chainsaws that are still manufactured in Japan. This gives it a level of prestige other chainsaws can't compete with, thanks to the high industry standards Japan has. For some people just being made in Japan instantly makes it an easy recommendation, myself included.
The engine on this chainsaw is impressive and you shouldn't be put off by seeing it only has 26.9cc. There is an impressive amount of engineering in this chainsaw that lets it out preform a larger sized engine, which is an impressive engineering feat.
Lightweight & Portable
Having a longer bar when you're up in a tree is actually a disadvantage in my opinion. Since you're in a tight space and need that extra bit of room having a smaller bar is preferred. Since this saw has a 12 inch bar makes it well suited to cutting up in a tree.
The weight of the powerherad of this chainsaw is about 6.6lbs and around 9lbs when everything is attached and dry. So this makes it a great weight for when you're up in a tree.
If there was one downside to this chainsaw is that the chain brake is something I don't like. If you're not paying attention and you push the chain break you can bend and your hand can slip. This can be extremely dangerous and something that you should watch out for.
While it does have that one downside that can be prevented by paying close attention while you're cutting, which you should be doing anyway. This chainsaw is hard to pass up it's an extremely high quality chainsaw that is a market leader.
Echo 12 Inch Chainsaw

12 Inch Gas Climbing Tree Chainsaw
Tanaka Top Handled Gas Chainsaw Review
There are certain manufacturers who can't put a foot wrong when it comes to chainsaws. Tanaka are one of those companies in my opinion I've never come across one that isn't extremely good at what they were designed to do.
A big reason as to why Tanakas chainsaws are so high quality and reliable is because where they were originally made. They were originally designed and manufactured in Japan tho it seems now days they're made in China. Normally this would be a bad thing for some people, but in this case it's fine.
This chainsaw has 32.2cc engine that has been optimized to give maximum power for such a small engine. This engine works really well with either the 14 inch or the 12 inch blade you can get with this chainsaw. For being up in a tree the 12 inch bar is preferred in my opinion.
The weight of this chainsaw is 11.9lbs when it's dry. So it's not a very heavy chainsaw for most people but might be heavy for some. Personally I don't find this to heavy to be used in a tree and you should always be careful when operating in a tree.
Good Cold Starter
Starting this saw when cold isn't a difficult task which is a nice change of pace from most other gas saws on the market. Once you're warmed up it starts even easier and is one of the big selling points to this chainsaw in my opinion.
For some of the more experienced tree climbing chainsaw enthusiasts this makes a great back up saw. Which I know some professionals do like to have this chainsaw as a back up since it is so reliable. This doesn't take away from this chainsaw but there is a difference between a pro grade saw and this.
Overall it's a great chainsaw and is one of my personal favorites. It's an easy recommendation for me to make to people who are wanting a quality, reliable tree climbing chainsaw.
Tanaka 12 Inch Gas Chainsaw

Are Battery Powered Chainsaws Any Good For A Tree Climbing Chainsaw
Makita XCU06T Battery Powered Chainsaw Review
Makita are easily the market leaders when it comes to battery powered tools in my opinion. They make a lot of quality tools and constantly make best of lists and for good reason. There tools might be a bit expensive but you do get what you pay for with there quality tools, and this chainsaw is no different.
There is a lot to like about this chainsaw it's a quality saw with a good amount of power combined with a good balance. Which is one of the reasons it makes a good tree climbing chainsaw. Having a good balance and being top handled are a necessity for tree climbing saws.
It's powered bu a single 5.0Ah battery which packs a lot of power that gives it a high chain speed. When the chainsaw is going its maximum speed it's going at 720 FPM (feet per minute) which is incredible fast for a battery saw.
If a chainsaw is to heavy it's almost an instant no for tree climbing in my opinion. This chainsaw only weighs roughly 7.1lbs so it's a very lightweight saw that's easy to carry. It's surprisingly light for a battery powered chainsaw since they usually have some weight to them.
Professional Grade
This might revoke my chainsaw license by saying this but I'd say this chainsaw is good enough to be used for a professional Arborist! I wouldn't say it could replace all your chainsaws but it makes an excellent back up saw, and can handle the smaller jobs easily.
One thing to remember with these battery powered chainsaws is that you're not going to be running them all day of one battery. It's always a good idea to have a spare battery for those bigger jobs in my opinion. This will make a big difference to efficiency but will cost you money upfront.
Overall Makita have knocked it out of the park with this incredible 10 inch chainsaw. It's a fantastic chainsaw that has changed my mind on just how good a battery powered chainsaw can be!
Makita XCU06T Chainsaw

What To Look For In A Tree Climbing Chainsaw
There are a lot of chainsaws on the market so finding the right one is a difficult task. The last thing you want while doing this dangerous job is to have some second rate equipment breakdown on you. So there are a few things to consider before purchasing your chainsaw.
Rear Or Top Handle Chainsaw?
This is actually an easy question to answer and that if you're going to be cutting while in a tree, you need a top handle saw. There is no real other option here as this is what they were designed to do. As I mentioned above if someone recommends you a rear handle saw for this job, they don't know what they're doing!
A top handled chainsaw is designed so you can operate it one handed when you need to. They're small and maneuverable which is good for when your up in a tree with limited space. Which is one of the reasons rear handles are bad for this, they're longer and aren't as well balanced.
Is Gas Your Only Option?
A decade ago you would only be able to get a gas top handle chainsaw which isn't the case anymore. This is in big thanks to companies like DeWalt and Makita who are leading the way with battery powered chainsaws. Are they any good for while you're up in a tree?
The oversimplified answer is yes they can be good for when your up in a tree, but as with most things chainsaw related it comes down to what you need to cut. If you need to cut a much larger branch then a gas chainsaw is most likely the better option.
Both of them have the similar issue of making sure it's ready to go before your up there. Fully fueled/ battery charged and oiled before you go up there. Gas has the slight advantage here since if you forgot to charge your batteries, you could be waiting several hours.
Does Price Matter?
The cost of a good chainsaw is expensive and isn't a possibility for everybody. Chainsaws are one of the few products that you get what you pay for, and it's best not to try and go the cheap route in my experience.
So the simple answer is yes price does matter, and it matters a lot. This doesn't mean you should rush out and go buy the most expensive chainsaw out there. It's just as important to find one that'll suit your needs first.
Do You Need A Chainsaw?
What I mean by this question is that a top handle chainsaw is only good for when you're up in a tree. They're actually quiet dangerous to operate when on the ground, yes more dangerous then a normal chainsaw. Which makes it quiet useless if you're not in a tree.
So what I mean is how often will you need this chainsaw? Is it worth spending several hundred on a chainsaw instead of paying someone to do it for you. Personally I prefer to do these things myself as it keeps my tools in good shape.
My Final Thoughts On Best Tree Climbing Chainsaws
Any of the chainsaws on this list are incredible tools that are worth your time considering using them. They're all high quality tools that are designed to do there job at a high level without completely breaking the bank in my opinion. They can all cut while being in a tree and do this job well.
People often like to know which model I prefer when I put a list together and this one will be no different. I often find it hard to just choose one since the chainsaws I pick are the best of the best in my opinion.
The Makita is one of the best battery top handle chainsaws on the market in my opinion. It's also extremely hard to pass up a Tanaka, they make incredible chainsaws. But for me it has to be the Echo chainsaw! The quality of the saw and where it's made are to hard to pass up and is my personal favorite.