I hope you love the products I've recommended below, just a heads up that as an Amazon associate, I earn from qualifying purchases. This means I may earn commissions on products bought via links on this page.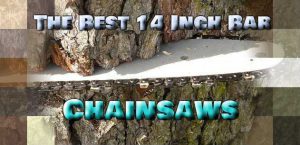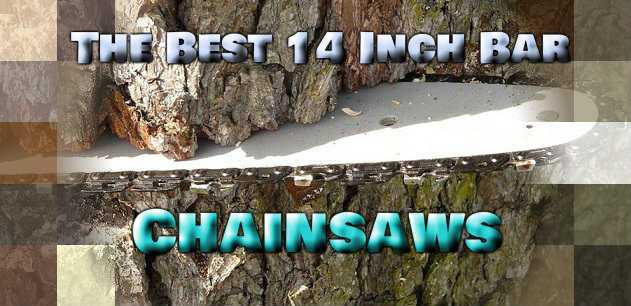 Buying a chainsaw can be a daunting task if you have no clue what your looking for. A common deciding factor is the bar length. In particular the 14 inch variety. Within these reviews for the best 14 inch chainsaws I hope to eliminate your confusion and set you on the right path to buying the best quality chainsaw you can afford.
I completely understand how overwhelming it can actually be due to the shear number of chainsaws on market. That's without trying to decipher through the types, bar size, and the ones that come with a variety of features. So finding the best chainsaw for your needs can give just about anyone a headache. Which is where I come in, I have spent countless hours researching and testing. Just to find what is the best so you don't have to.
With there being so many types of chainsaws that are all powered differently, choosing the right one is difficult. The difference just between a gas, electric, or battery powered can make the choice hard enough. Then you have features like auto oiling, and tool less chain tensioning systems, and even self sharpening. So finding the right one for you can be difficult, what works for someone else might not work for you. So knowing what you need done is the best place to start.
Why Go With A 14 Inch Chain Saw
This can be a tough question which is often over complicated and deter some people from even considering a chainsaw. The very simple answer is that; chances are you don't need some 20 inch 70cc beast that will take down the toughest trees known to Man. So why spend $500 on a saw that you will only need to de-limb some trees, or cut up some fallen branches every few months.
While that isn't always the case, it is the most common feedback I get from people interested in buying a 14 inch chainsaw. But if you still aren't fully convinced a 14″ bar is right for you, there are some good benefits of going with a 14 inch instead of something larger.
For one they weigh less, so carrying them and operating them for longer periods of time is easier. Being smaller they can fit into tighter spaces where don't have as much arm room.
Yet they can still handle larger tasks if need be. This of course will come down to your experience with a chainsaw and your cutting technique. The last thing is price, while not always cheaper generally they are.
If you feel that a 14 inch bar is just that bit too small, perhaps you should consider a chainsaw with a 16 inch bar.
Best 14 Inch Electric Chainsaw


When it comes to budget chainsaws I find Poulan have become masters of being affordable, but still maintaining a good level of workmanship. This is the kind of saw you pick up when you need a small job done once, only to be looking for an excuse to use it again.A compact and fun to use chainsaw.
When you use this 9 amp chainsaw for what it was designed for, you will find you have a quality and reliable machine. But don't expect miracles from a 14 inch electric chainsaw. Use it for size relevant tasks and the Poulan will be your new best friend.
The Features I Love
One thing I wasn't expecting was this chainsaw to have an automatic oiler, which is a really nice quality of life improvement. If you don't know what an automatic oiler is, it is very simple. It will oil the bar and chain for you, so it doesn't overheat while using and damage the chainsaw. As long as you have it filled with oil of course.
While it doesn't have a automatic chain tensioning system, I find it's still easy to tighten the chain yourself compared to some of the more bulkier chainsaws. It does come with a tool to make this easier, but there is no spot to keep it on the saw. That is more of a minor nitpick, and doesn't take anything away from the saw overall.
Overall Opinion: Poulan 14″ Electric Chainsaw
While it definitely isn't the most powerful chainsaw, I find the 9 amp motor excels at what it was intended to cut.
I wasn't expecting there to be an automatic oiler on a chainsaw at this price, so it is a nice little addition.
While I had the small nitpick of there being no where to store the tool for tightening the chain, it was still really easy to tighten the chain.
I'm very impressed with how much this saw weighs, it only weighs about 10.7lb. That is with the bar and chain attached which is impressive. If you have weaker arms, this lightweight chainsaw is a godsend.
Best Battery Powered 14 Inch Chainsaw
The Makita XCU03PT1 36V Chainsaw
I'm going to be upfront with this chainsaw, it is expensive and should only be considered if you can justify the upfront cost. Needless to say that this is a very high quality battery powered chainsaw, but it is the upfront cost which makes it hard for me to recommend to everyone.
However it is one of my personal favorite battery powered chainsaws as it is so darn reliable and powerful. The freedom of being cordless while having the power and stamina to do the tasks I need is priceless.
How Much Battery Power Do You Get
The version that I went with has 4 batteries included, that is because this saw uses 2 at a time. It uses two 18V batteries for a combined power of 36V. It does have the option to come with 2 batteries, and be a bit cheaper. This is what gives the Makita such a good run time before needing to recharge the batteries.
One thing that I really like about this is saw, is just how quick and strong it is for a battery saw. Easily getting through trees that were 12 inches in diameter in about 30 seconds, and doing this for over two hours. So the batteries drain a little quick, especially compared to the Greenworks. But it's easily the more powerful and quicker saw, when it comes to actual use.
One thing that should be mentioned is just how quick this batteries charge, taking roughly 45 minutes. And since this version comes with 4, you will never have an issue. This also allows you to tackle more intense jobs that drain the battery quicker, since you have 2 ready to go at almost all times. I will say that this saw isn't for beginners, it is for people who can appreciate higher build quality saws. Who are prepared to pay the cost upfront.
What I Like About The Makita
The charge time of the batteries was incredible, and really helps remove that worry of running out of charge when you need it.
It has plenty of power and can cut through things very quickly, just have to remember that it isn't meant to replace a 24 inch gas beast.
The incredible quality of this saw is hard to pass up, and is equal to Husqvarna and Stihls, which is saying something.
What To Expect From The Makita 14 Inch 36 Volt Chainsaw
Best 14 Inch Gas Chainsaw Review
The Husqvarna 240 14 Inch Chainsaw
When reviewing any chainsaws you just can't help but come across a Husqvarna saw. They are very well known brand, even if you have never used a chainsaw before. There is a good chance you have heard of them before, and that is because they are one of the best manufactures on the market. And that is precisely what this little 240 chainsaw is, one of the best 14 inch gas chainsaws ever.
As long as you remember this is a saw meant for light duty work, you will have a faithful companion for years. It does have a good amount of power with its 2HP motor, which has Husqvarnas X-Torq system in place. Which means lower emissions and will be more fuel efficient. Using less fuel is always a benefit, help cutting down on costs.
It is on the heavier side of small chainsaws weighing about 10.3lbs without its cutting equipment. And closer to 12lbs with it all, far from being heavy but still noticeable compared to the Poulan 14 inch mentioned above.
But it does have a vibration dampening system which does make this saw easier to maneuver. This also makes it easier to operate for longer, I don't know if you have ever had to hold onto something that vibrates a lot for awhile it can be tiring and quite painful after a while.
What I Like About The 240
I was very impressed with how much power this chainsaw had, while it is for light duty. It always felt like it could go through more.
It has an air system that helps prevent debris getting to the air filter, which made a noticeable difference when it came to cleaning it up after use.
Personally I really like its vibration dampening system, it really helps with user fatigue. Which really makes a difference when you can be cutting for hours at a time.
Top Rated 14 Inch Bar Chainsaw
The Greenworks 14 Inch Battery Powered Chainsaw
I wasn't overly familiar with Greenworks as a brand, and had only used one or two of there saws before this one. This is the chainsaw that turned me into a fan of there work, it is a very impressive little saw. It is really well made and is surprisingly powerful thanks to its 40V 2.0aH battery. The battery and the charger do come with it, which is why it is slightly more expensive.
Since it is battery powered it does have the problem of no charge, no cutting. But I will say that this battery is very impressive and can hold its charge between 2 to 3 hours. Depending on the type of work you're putting it through. It also charges really quick as well only taking about 2 hours to charge to full. While not always feasible, having a second battery would make life even easier, and remove the biggest issue of battery chainsaw.
While this chainsaw isn't going to replace your 60cc gas saw, it is a great addition to such a saw. Have your bigger saw remove the tree, and use this one to cut up the smaller bits. This works really well if you have two people, have one person doing the larger stuff, and the other using this machine. This is the perfect saw if you are worried about using a gas saw, which is understandable. Not everyone one is 6'5 280lb viking, so this saw is small and light enough for anyone.
What I like About The Greenworks
Normally batteries worry me with chainsaws, but this was one of the best experiences I've ever had while using a battery powered saw.
As I said above, it won't replace a big gas chainsaw. But it certainly has some great power and works really well, being paired with a larger saw.
I was impressed with how much it weighs considering the battery itself weighs just under 3lbs. In total it weighed around 11lbs.
Blue Max 14 Inch Gas Chainsaw Review
The Blue Max 8901 Gas Chainsaw
This Blue Max chainsaw is the most powerful saw on this list, with an impressive 45cc engine. Which is a lot of power for a 14 inch bar, but this model does also come with a 20 inch bar as well. So if you're looking for saw that can handle the smaller jobs, then need it to handle something bigger. This is a great deal that kills 2 birds with one stone.
While you won't be getting the quality of something like the Husqvarna, it's still fairly decently built. But it can be a little difficult to start at times, but that is most gas saws. While these are things you should consider, they certainly don't take away from the overall feel of this saw.
The thing that impressed me the most with this saw, was just how much work it put in. Felt like I was cutting for hours and never had an issue, and it wasn't overly thirsty when it came to oil consumption. Which is always a nice touch in my opinion. Overall it is a decent saw, and if you need a more powerful saw, and are on a budget it is a good unit to pick up.
What I Like About The Blue Max
The price for this amount of power is really great, you will be hard up to find something of equal quality, and power as this saw.
The addition of the extra bar is one of the biggest selling points of this saw for me, being able to handle the smaller and larger jobs in one saw is a big advantage.
While a little difficult to start, once it did. It works like a champion just cutting through everything that was put in front of it.
What Types Of 14 Inch Chainsaws Are Best
While there is no "best", there are certainly are advantages and disadvantages to all three types. So this is something to you will need to think about, when you first decide on getting a chainsaw. Knowing what tasks you need done will really narrow down what you will need. Like if it's close to a power outlet for example, then electric is a good option. Especially if you are planning to use a 14 inch bar chainsaw.
Is Gas Really The Best Option?
Gas powered chainsaws are the most common type of chainsaw you will come across. This is generally because overall a gas chainsaw, is more powerful. While electric and battery saws have come a long way, they still aren't fully there yet in my opinion. Not only are they more powerful, but they are a proven design. A design which has worked for decades, that's a lot of engineering going into every saw.
In my opinion gas chainsaws have two real disadvantages, that are something you should consider. The first is that they require more maintenance then the other types of chainsaws. This is something you will learn over time, but can be overwhelming for someone just starting out. The next is that they are harder to start. Even after using chainsaws for longer then I care to admit, I still will get a stubborn gas saw from time to time. Which if you have shoulder problems, I would recommend giving gas a skip.
What About Electric?
Electric chainsaws have come a long way in the past few years, while still not as powerful as the gas above. They still have an advantage or two, that shouldn't be ignored. The first and biggest advantage in my eyes, is just how easy they are to start. No pull cord to worry about, just a button press and your good to go. Then there is the price, this is great for those who are on a budget. A good budget chainsaw can really make a difference, and something you shouldn't ignore because it's "cheap".
There are two disadvantages to an electric saw in my opinion, and one is only a disadvantage depending on the situation. Which is they do lack some power compared to a gas saw. But if you only need to cut some smaller branches then power isn't a big issue. The main issue with electric, is that your limited in how far you can cut from an outlet. Unless you have a generator, if you have some acreage and need to cut further away you don't really have an option. Having a heavy gauge extension lead will help a lot, and can generally let you cut upwards of 100ft away from an outlet.
Battery, The Compromise
I like to think of a battery power chainsaw as the middle ground between gas and electric, but this does normally come at a cost. Which I will go over below. Battery chainsaws let you have the ease of starting of an electric chainsaw, and the free range of a gas chainsaw. So they are great for people who don't want to deal with the starting issues of a gas chainsaw.
While it's great that battery chainsaws are a good middle ground, they do have one or two issues. The biggest issue is that you can only cut as long as your battery is charged. And if you want to cut something you need to have your battery on charge before hand. While this isn't the worst thing, it can be an annoyance. The other issue can be manufacturer based, and that is cost. Battery powered chainsaws have a tendency to have a higher up front cost.
Safety Gear For Beginners
I wasn't sure if I was going to include this section, but I know not everyone is experienced user. This is something a lot of experienced users have a tendency to forget about, I don't know how many times I've seen a "pro" not wearing the safety equipment. Most accidents happen when people get comfortable with a saw, and have a tendency to forgot it can be dangerous. So having the right gear is essential to keep yourself, and those around you safe. So find some of the best protective gear here.

The Gear
Protective Clothing/ Cut Resistant Clothes
I can't tell you how many times I've heard stories, and experienced first hand how important these things are. In my case it was a pair of cut resistant chaps, that were designed to tangle up the chain so it stops. Which is exactly what happened, and why such things are crucial. I know I wear them every time, you never know when something might happen.
Protective Gloves/ And Boots
While these may not seem so important to some people, having every bit of protection really helps. The boots are especially useful, in case something heavy drops and your feet are now protected. When you consider you will be delimbing trees, it is very possible for it to drop onto a foot. You shouldn't ignore having a good pair of slip resistant gloves as well. Chainsaws are dangerous and dropping one makes any situation worse.
Head Protection
Head protection is vital, especially if you're going to be cutting above your head. But not just a helmet, something to protect your eyes is also necessary. The eye wear are essential in preventing long term damage, from stopping debris getting in your eyes. I don't think I need to say how bad loss of vision is.
Ear Protection
This is something that gets over looked quite a bit for some reason, even tho almost any bit of promotional imagery always shows someone with ear muffs on. With how loud chainsaws can be, especially a gas saw. Having ear muffs will help protect your ear drums and help prevent damage.
My Final Thoughts
I wasn't sure how this was going to go when I first started, I've always been a fan of having the tools that are overkill for the jobs I need. So I was thinking I wasn't going to be to impressed with the chainsaws on this list, but I have never been so happy to be wrong. They are all great with there own strengths and weaknesses. If you remember what they are designed to cut, you will have a great addition to your workshop.
But if I have to pick a favorite, I don't think I could. There is a close tie at the top between the Husqvarna (being the gas chainsaw), Makita, and the Greenworks. Those are the three saws that really stood out to me, but the Poulan was a real sturdy saw as well. One thing I can say is, in my opinion you can't go wrong with any of the 14 inch chainsaws on this list. They all are great little saws that do what they were designed to do and should serve you well.