I hope you love the products I've recommended below, just a heads up that as an Amazon associate, I earn from qualifying purchases. This means I may earn commissions on products bought via links on this page.
In this day and age trying to get the best value for your money is essential, which is why I put this list together of the best value log splitters! There are a lot of log splitters on the market, so trying to narrow down which one is right for you is difficult.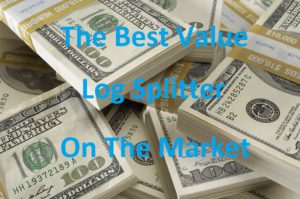 This is why I put this list together since a lot goes into log splitter and finding out what adds value is crucial. You could end up spending thousands on a piece of equipment that doesn't do half as much as one that was half the price.
What you'll find on this list are what I consider to be the best value log splitters on the market. There are a number of log splitters that could of made this list, but I don't think having 15 log splitters on this list would help anyone. With that in mind let's find out just what the best value log splitters are!
The Best Value For Money Log Splitter On The Market
NorthStar 37 Ton Log Splitter



I'm going to start by saying this is an expensive log splitter so I can understand some people might be put off from that. But what this 37 ton log splitter gives you easily pays for the extra upfront cost of this splitter in my opinion.
This log splitter has one of the finest engines a log splitter can have. They made the smart decision to include a Honda GX270 which is a great gas engine, made by one of the best small engine manufactures out there.
It's a heavy duty log splitter that can handle some heavy duty logs. While working out what a log splitter can split is extremely difficult because of the way logs are. Having 37 tons of force is going to get through almost anything you put in front of it.
One of my favorite features of any log splitter and something that should be on all log splitters is having the ability to split vertically. Having this feature helps with those larger logs that are too heavy to lift, and ones that would be to large to fit on the splitter horizontally.
While it splits really well and surprisingly quick for its size and power. It can be made to split even quicker if you get the extra wing accessory for the ram. This will help split the logs into more pieces at once which will drastically increase splitting time.
Being such a large powerful log splitter you would expect it to be lacking maneuverability. This isn't the case thanks to it have a 2 inch coupler for towing and it's high speed tires. Thankfully this allows you to maneuver it relatively easily into where you need to split logs.
Assembling this log splitter can be a problem if you're attempting to do it by yourself. It's possible but incredibly difficult. So it's highly recommended to get a second person to help put it together. This is only a minor complaint but it's something that's worth mentioning.
Overall there isn't a lot wrong with log splitter in my opinion. It excels at practically everything it was designed to do and can out split similar sized log splitters. You could end up paying for a more expensive log splitter that has only 22 tons of force. So it makes this an easy recommend in my eyes.
NorthStar 37 Ton Log Splitter

Best Value 25 Ton Gas Log Splitter
YardMax 25 Ton Full Beam Log Splitter



YardMax may not be a brand you have heard of but should take notice of. They have not one but two log splitters that made this list. This is because they make some quality log splitters without breaking the bank and not sacrificing quality.
When a company won't tell you who the engine is made by usually causes some concern. Thankfully that's not the case here with this Yardmax splitter. It has a 208cc Briggs & Stratton engine who are responsible for some fine small engines.
Because of this small engine and the good quality hydraulic pump this log splitter has a quick cycle time. With the manufacturers specs giving it a cycle time of 9.7 seconds. Which is quick for a gas log splitter and for this size. Most other splitters of this size usually take about 15 seconds.
There are a lot of other 25 ton log splitters on the market, but I don't believe a lot of them can beat this splitter for value. This is in big part to its excellent engine and all the bonus features that it comes with. It makes it really hard to pass up.
This log splitter comes with some extra features that make it hard to use any other log splitter. With my personal favorite the log trays that it comes with. It gives it that little more room for when your splitting, so when you split a log it doesn't fall on the ground and risk injuring yourself.
It also has another two things that all log splitters should come with. The 4 way wedge is extremely useful and it's appreciated it comes with one, instead of it being an extra.
It also has a spinning foot plate for when you have this log splitter in its vertical position. Which is really advantageous when splitting some larger logs. Having the ability to spin a larger log around without having to lift the entire thing makes a big difference.
Being a full beam log splitter makes it designed to be towed. Which will give you some peace of mind when you need to tow this beat of a log splitter.
If you really like this log splitter but would prefer if it had more splitting force, then I have good news for you. It has the option to of also coming in a 28 and 30 ton options. So they have some more heavy duty splitters if that's what you're after.
YARDMAX 25 Ton Full Beam Gas Log Splitter

Top Rated Value Electric Log Splitter
Yardmax 5 Ton Electric Log Splitter



When it comes to smaller 5 ton log splitters I don't think you could go pass this amazing wood splitter from Yardmax. It does seem Yardmax like to throw in a lot of bonus features that other companies seem to ignore. This is what makes them one of my favorite manufactures.
It's powered by an impressive electric motor that has 15 amps of power. With it being able to handle some impressive logs at this smaller size. While it's not going to get through some massive hardwood logs, it will still handle some pretty decent logs.
If you've ever used an electric log splitter then you will know that they have slow cycle times, unless you go kinetic. Sadly this wood splitter is no different with a rather slow 16 second cycle time according to the manufactures specs.
It's not a bad cycle time for such a small splitter and you can make it faster thanks to the stroke limiter. The stroke limiter allows you to set it so your ram doesn't have to go all the way on smaller logs. So it can be splitting quicker thanks to this feature.
Being a electric splitter gives it one big advantage over a gas splitter. It has no emissions when you use it so you can split inside. A lot of people like to put these smaller splitters on tables to split. Which is another reason I like this splitter since it comes with a stand.
Yardmax really like log trays and so do I, so there could be a chance I'm a little biased here. This log splitter comes with log trays so again you can split the same log multiple times, without bending over. This is a great thing for people who have problems with constantly bending.
They went with a two hand operating system which is great for people who want a safe splitting experience. Since the splitter won't move unless you have both hands operating, there is no chance of getting your hands caught while splitting.
While it's not really a downside in my opinion some people do think it's a bit to heavy. It weighs roughly 108lbs which is somewhat expected. It does have wheels for when you want to move it around. Lifting it by yourself can be an issue for just one person, and two is recommended.
Yardmax 5 Ton Electric Log Splitter

My Final Thoughts On Great Value Log Splitters
Since there are a lot of great log splitters on the market, narrowing it down to just these few was quite difficult. I'd hope to pick a wide variety of log splitters without putting to many on here, to hopefully give you a good selection. AS I said I don't like top 20 lists as they don't help anyone in my opinion.
In my opinion I don't think you can go wrong with any of these log splitters if they do suit your requirements. They're all made to a high standard and have great value for the money in my opinion.
A lot of people like to know which one is my personal favorite on any list that I make. This is never a simple answer as I generally like most of the ones I pick. If I had to pick one and I would go with the NorthStar splitter. Just to hard to pass up a Honda engine for me.