I hope you love the products I've recommended below, just a heads up that as an Amazon associate, I earn from qualifying purchases. This means I may earn commissions on products bought via links on this page.
With so many different types of axes on the market with only the slightest variations that make them different can be very difficult to know just what the best axes for chopping wood are.
This is a very understandable question and concern. The last thing you want is the wrong tool for the job, that kind of thing will only make things worse or cause injury which is not what we want. The ultimate goal of this buyers guide is to inform you of just what type of axe is best for splitting wood to help keep your house heated during the winter months.
Not everyone can afford to go out and spend large amounts of money on a log splitter so I find axes and mauls are a great alternatives. However is a lot more physical in terms of how you split your wood. If you are physically able to and don't mind the physical aspect of chopping wood, then an axe is the way to go. That isn't to say that some axes aren't expensive because there are some out there that can cost upwards of $400, but that kind of axe isn't for everyone.
You might only need a $40 work horse to keep you going season after season. With that said, I have tried to cover as many people as possible with this list and put only the best of each category.
On this post I will be covering the best types of chopping axes, so if you're looking for an axe to split logs, visit our reviews here.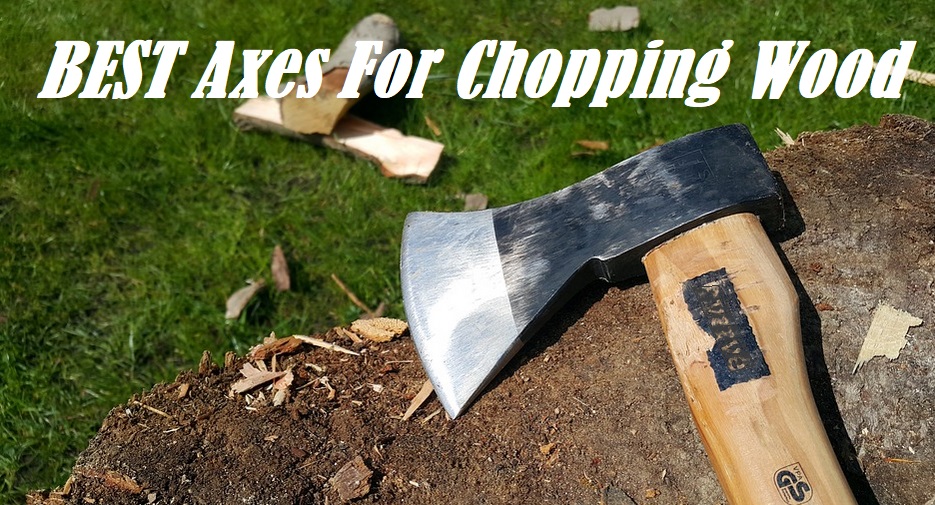 The Best Chopping Axe 2018
Fiskars X27 Super Splitting Axe
The 36 inch super splitting axe from Fiskars is perfect for tall people who need to split wood. The design of the axe is meant to emphasize efficiency and speed. You should experience more splits with only a single strike when compared to many competitive brands. Much of this efficiency comes from the power-to-weight ratio. The design can be compared to that of an aluminum bat. The speed of the swing greatly increases the power and thus allows for more single swing splits.
The blade is made of hardened forged steel so that it remains sharp after years of use. A coating on the blade helps it split wood without finding itself stuck inside. Fiskar uses a special proprietary grinding method that creates an extremely sharp blade that stays sharp for a long time.
The handle is lightweight, ergonomic, and extremely durable. It uses FiberComp technology that is stronger than steel. The inseparable connection with the head means you won't lose your axe head every time you split into a large piece of wood.
What Makes This Axe Good For Chopping Wood
Lightweight and extremely powerful
Proprietary grinding creates an unusually sharp blade
Designed specifically for taller users which can also be a con is you are shorter. But varying lengths are typically available to buy.
Fiskars X27 Super Splitting 36 Inch Axe

Husqvarna S1600 Composite Splitting Axe
Husqvarna is well known for creating high-quality tools and equipment. The same applies to this new S1600 23 inch composite splitting axe. You'll spend less time splitting wood and more time getting warm by the fire. It features a combination of comfort, durability, and power. It's fairly lightweight but is designed efficiently enough to ensure all of that weight is converted into power. The full power of your swing is focused onto the blade allowing for plenty of single swing splits.
The axe can be used either single-handed or with a dual hand grip. You'll obviously get more power from your dual grip swing, but sometimes it's a matter of what's comfortable to you. The handle itself is extremely comfortable and fiber reinforced.
As for the blade itself, it's Swedish forged carbon steel. It's durable enough to chop wood and take a beating, but don't expect it to last a lifetime. Another interesting point regarding the blade is its unique geometry. The blade is designed so that it can easily be used for other applications besides splitting logs.
Pros
Comfortable handle
Blade geometry makes it a multi-purpose axe great for chopping wood
Cons
The blade can break after extended use in extremely cold temperatures
Husqvarna S1600 Composite Splitting Axe

Helko Spaltaxt " German Splitting Axe"
The Helko Spaltaxt is what you would consider a high-end wood splitting tool. It's not the cheapest axe on the market for sure, but it consistently delivers and it can last for a very long time. The history of the components is rather unique as well It's handmade in the country of Germany with German C50 high carbon steel. The handle is American Hickory and is crafted in Switzerland. The end result is a unique and powerful splitting axe that's seen three different countries before being purchased.
The entire axe weighs six pounds with 4.5 pounds of that located entirely in the head. The handle is 28 inches long and weighs only a 1.5 pounds. This weight distribution allows for a lot of power to be delivered with high-speed swings. You shouldn't have any problems splitting each piece of wood with a single swing.
Unlike other axes that might focus entirely on the blade, the Spalktaxt has a refined blade as well as a finely crafted handle. The handle is hung with a softwood wedge, has a boiled linseed oil finish, and is smooth sanded with 150 grit sandpaper. The wood used for each handle is hand-selected for its density, the orientation of the grain, and the strength of the wood.
Pros:
– Beautiful, hand-crafted tool
Powerful and durable
Con:
One of the more expensive options available. However, with price comes quality and longevity.
Helko Spaltaxt

Estwing Camper's Axe
The Camper's Axe from Estwing is meant to be a versatile tool capable of splitting logs, clearing branches, and even chopping down small trees. It's a jack of all trades and does a great job with each of these tasks. It also happens to be highly affordable, which makes this the perfect tool for a new camper. If you're living off of the grid and need a splitting axe to chop wood every day, then there may be better options on the market, but if you just need a durable axe for occasional camping trips, then this is a great selection.
The blade is made of forged steel that is drop forged, tempered, and coated. You can find this particular axe available in 16-inch and 26-inch varieties. There are also two finish options available. One is a special edition black finish and the other is classic hand-polished steel. Each has a specialized leather grip designed to reduce shock and never slip.
The Only Con
Doesn't perform as well as axes designed specifically for one task
Estwing Camper's Axe

Leveraxe Classic For Chopping Wood
The first glance at this smart axe is likely to leave some confused. It doesn't look anything like a traditional axe. The blade is a bright red and curved on both ends. The edges of the blade fork in two directions as well. It looks odd, but all of the design choices serve a specific purpose. And the Leveraxe Classic happens to be one of the most efficient axes on the market for splitting wood.
The powerful, yet lightweight design makes this ideal for men as well as women. The head weighs 4 pounds and the rest of the axe weighs about 1.5 pounds. The unique shape of the blade creates a lever action upon strike (hence the name "leveraxe"). This makes it easier to quickly split logs even if you aren't the strongest person in the world.
Whats Good About This Wood Chopping Axe
Unique blade design makes it extremely easy to split wood
Works equally well for men and women
Cons:
Fairly expensive compared to other splitting axes
Leveraxe Classic For Chopping Wood