I hope you love the products I've recommended below, just a heads up that as an Amazon associate, I earn from qualifying purchases. This means I may earn commissions on products bought via links on this page.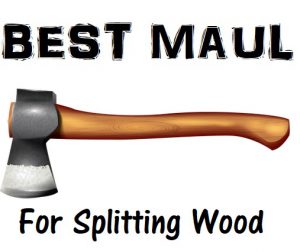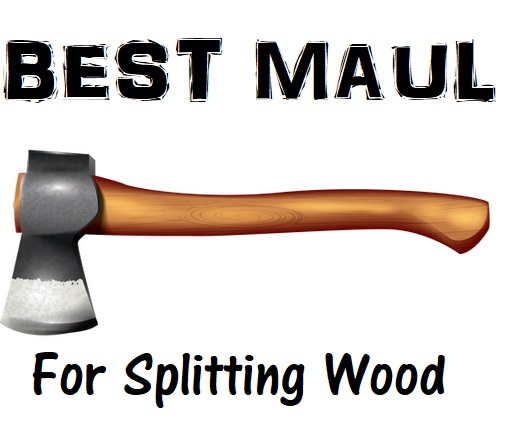 There are many ways you can split firewood from the powerhouse log splitter to the humble axe, and of course the ever popular splitting maul.  When it comes to splitting logs, the axe is not the best choice. The axe shines when it comes to chopping against the grain. The best mauls for splitting wood in 2018 are heavier and more powerful than the household splitting axe.
This is down to their design and functionality. A splitting maul is made to go with the grain of the wood, not against it. However, you can get combo mauls that do both jobs.  When you add that with the weight of the steel head, it will easily get through many logs you will put in front of it. But with so many options and choices available, how is the first time mauler meant to know what is best suited for their needs?. Easy, follow the guide below and read the best splitting maul reviews to uncover some pure beauties.
The Best Splitting Maul Reviews 2018
Fiskars Iso 8 lb Maul Review



If you are looking for a tool to let you perform some intense wood splitting, then this is the right maul for you. Weighing 8 pounds and measuring 3.2" by 7.8" by 36", the Fiskars Iso more is a powerful wood-splitting gizmo. This mini maul has an optimized blade geometry that gives you better penetration of your wood and boasts of more than enough power to slice even some of the most hard-hitting logs wide apart.
This is a maul that incorporates the IsoCore Shock System, a technology that will absorb all the strike vibration and shock thus reducing any impact effects on your hands while striking. Essentially, this maul's handle transfers less shock and vibration as compared to grips of other maul models. I find this to be the number one quality of the Fiskar. Intense vibration certainly takes its toll on you after sometime.
The maul's handle structure is also fitted with an insulation sleeve that is designed to trap the first strike vibration rather than the shock being transmitted to your wrist. Another reason to love this maul is that it has a riveted head that will never snap off or slide down the handle even when subjected to the strenuous of wood splitting tasks. And with a handle length of 36 inches, this tool is perfect for tall people who are not only looking to split wood but also drive stakes and wedges.
Why This Maul Is Perfect For Splitting Wood
36 inch handle is perfectly sized for someone around the 6 foot region. Was always going to be a favorite for me.
Blade geometry provides excellent wood penetration
The IsoCore Shock System absorbs shock and vibration. I can honestly say the manufacturers claims of being 2 times less shock than that of a wooden handle are pretty accurate.
The head appears to be very well-riveted head so it should stay in position for quite some time.
Handle texturing improves grip. I found that this design reduces the amount of slip, even in sweaty environments.
Glides through hardwood considerably well.
If I had To Complain About The Fiskar Maul
I found the protective collar under the head is not as durable as it could be.
It could feel heavy for anyone who is not strong enough or use to repetitive physical exercise.
Top Rated Splitting Maul
Wilton Tools 36-Inch Splitting Maul Review



Heavier again, the Wilton 50836 weighs 8 pounds and comes with a durable 36-inch heavy duty handle. This hand tool's design is based on a patented unbreakable technology that promises a high-performance tool. The maul head is made of steel to prevent breaking in the event of an over-strike. It's quite incredible how technology has improves what was such a simple device for splitting wood.
More so, this wood splitting maul has a safety plate that secures the handle hence preventing dislocation of the sledge. This brings an increased piece of mind that I admire, but even my Wife trusts this maul due to this feature. And if you are a professional wood splitter, you will naturally love the tools non-slip grip handle.
The handle is also well-textured to ensure that you have a firm grip anytime you strike. Better yet, this hand tool is fitted with a robust anti-vibe neck that guarantees safety in the job site. Even after continued use for hours, this handle still felt stable like it would budge any time soon. This maul also boasts a hi-visibility, green, wedged head that will crush through many a log that's put on its way.
This Heavy Duty Mauls Dominates Wood
One of the best non-slip handles Ive used on any kind of swinging device
The anti-vibe neck is second to none
Unbreakable handle technology is a bold claim, but seems to be living up to the title
Sharp straight out of the box
Funky green color
Customer service by Wilton is highly respected. If for some reason you get a loose head on your maul, Wilton will take care of you.
Cons
Too heavy to use for a long time if you weigh say less than 160 lbs. However, there is a 6 pound version available
The green color on the head might chip off. Yes I'm grasping at straws now becasue this maul is super tough.
Heaviest Maul On The Market?
Truper 12-Pound Splitting Maul



If you are looking for a gigantic splitting/smashing maul for huge logs, this is the right tool for you. This maul comes fitted with a 12-pound splitting head that's made from high-quality, fortified steel. Which is extremely tough steel used commonly in defensive structures during warfare.
The hammer and edge of the maul are well-designed for driving splits and stakes. An impressive feature of this hand tool is that it's has a strong handle that is made from fiberglass and fitted with a hardened rubber grip for better swing control and maul handling. Additionally, this handle is rubber protected for absorbing over-strike impacts so that you don't feel as much pain when splitting your logs.
To prevent an over-strike, this splitting maul has a bevel-edged striking face that prevents the head from going all into the wood when you strike hard.
What The 'Truper' Has Going For It
Having the over-strike protection feature is a huge benefit, especially considering this maul weighs 12 lbs.
Comes in a variety of handle sizes made from a variety of products. From 16 inches up to 36 inch fiberglass.
For the size, it has great shock absorption and grip to prevent the hands and arms from hurting too much on impact.
I found it to be rather affordable given the amount of damage this beast can do.
Durable is an understatement. This should be named the 'tank maul'.
Cons
The head angle is too steep for some wood splitting needs
Best Wooden Handle Splitting Maul
Husqvarna 32-Inch Maul



This wood splitting hand tool from Husqvarna is arguably one of the most powerful yet lightest mauls available. While the maul seems more traditional due to its wooden handle, it isn't entirely average. If you want something more manageable for someone who is new to splitting wood or averagely shorter, this could be the perfect hand tool for you. It is a reliable and efficient maul without being too awkward or heavy for the shorter splitters.
This mauls design allows it to be used for wood-splitting purposes as well as drive splitting wedges through logs. When using this maul, you are sure that the head will never come off or slide down since it is securely fastened on a hickory shaft using a steel and wooden wedge. This hand tool also comes with a leather sheath, an accessory you get at no extra cost which I found to be a nice little bonus.
Why Buy The Husqvarna
Can serve the purpose of a sledgehammer as well as a splitting wedge
Includes a leather sheath
This maul comes working sharp
Perfect grain orientation on its handle
The overall balance and quality is perfect in my opinion.
High carbon steel axe hand forged and then mounted on top of a hickory handle. Whats more do you need!.

Only con is that this maul it is not made in the USA. Made in Sweden.
Choosing A Maul To Split Logs
How To Swing The Maul 101
There are a few things to look for when choosing a splitting maul that's right for you. These are; what is the handle made out of, how long it is, and how heavy is it is. I know some people prefer the feel of a nice timber handle and some prefer a smooth fiberglass handle. Which is perfectly fine, there really isn't anything wrong with either. The only thing to worry about is a wood handle might not last as long as the fiberglass one. If you do prefer a wooden handle then I highly recommend you don't leave it outside in case it rains.
Then you have a steel axe witch is even more durable then the fiberglass, but it has a lower shock absorption rating which means it sends straight back to your hands. If you do choose to go for a steel handle, I highly recommend some leather gloves and rubber grip on the handle itself.
Weighing Up The Maul
The weight of a maul is an important thing to consider. What you buy could come down to what frame your body is. A heavier maul will split a lot easier then a lighter maul. This is becasue of the increased amount of force being penetrated into the wood. Using a lighter log splitting axe may be the next best thing if a maul is too heavy for you.
But the thing to consider is can you stand there swinging that heavy 12 pound maul over and over going through several rounds? If you have the upper body strength and the stamina to do so then that will be the best option. But if you can't do that then it is better to go to a lower weight like an 8 or even 6 pound maul. Remember it is more important to be able to actually swing the maul consecutively then it is to only swing once or twice, and be done. Not to mention causing harm to your body. Nobody wants that, that's why they invented non powered log splitters.
Can You Handle The Maul?
The length of the handle is a very hard question to answer since a lot of it has to do with your own personal height. So what may work for someone who is 6'3 won't work for someone who is 5'7. For me personally I find the right handle length for me to be 36 inches in length and I'm 6 foot tall. Tho I have spoken to people who are 5'9 saying that they also use the same length as me, so I feel for the average person will go for about the same. It gets a bit harder when your even taller or shorter to find the right size handle for you. If you're taller I would definitely recommend a longer handle and if you're shorter to use a short one.