I hope you love the products I've recommended below, just a heads up that as an Amazon associate, I earn from qualifying purchases. This means I may earn commissions on products bought via links on this page.
Having the best chainsaw for big trees requires you to have one of the best chainsaws on the market. Cutting down big trees is one of the hardest jobs a chainsaw can do, second to milling in my opinion.
So you require a powerful, and reliable chainsaw. That is built to handle the toughest jobs out there. Which is what you will find on this page, some of the best chainsaws on the market.
Here at Splitwoodclub we have done countless hours of researching and reviewing the best, so you don't have to. With that in mind it's time to find out just what the best chainsaws for big trees, on the market really are.
Buyers Guide For The Best Chainsaws For Big Trees
In this day and age I don't believe everyone has the time to spend hours reading thousands of words. Just to find out that the product just wasn't for you. So I put this table together so you can find out exactly, what is on this page. Then if you're interested in a particular model, you can read my review below.
| | Grade | Engine | Our Rating | Check Price |
| --- | --- | --- | --- | --- |
| | Pro | 61cc | 9.1 | Check Price On Amazon |
| | Home | 60.3cc | 9.4 | Check Price On Amazon |
| | Home | 59.8cc | 9.5 | Check Price On Amazon |
| | Pro | 64cc | 9.8 | Check Price On Amazon |
| | Pro | 70.7cc | 9.9 | Check Price On Amazon |
Runner Up Chainsaw For Large Trees
Dolmar PS-6100 Gas Chainsaw Review



This is a really quality pro style chainsaw, that is up with there with some of the best. You won't find any new Dolmar chainsaws anymore, since they produce under the Makita name. Which is why this and the Makita on the list are both excellent saws.
It is outclassed by the Makita on this list tho, but it's on par with the Husqvarna for sure. It's surprisingly close between the two, and the only reason that the Husqvarna is more recommended. Is that if something goes wrong with the saw, there are more Husqvarna dealerships to get it fixed.
The Power Is Incredible
If you're confident in your chainsaw use, and can handle the full chisel chain on this thing. You will have a fast and powerful 61cc chainsaw, that wont bog down on almost anything. This type of chain isn't for begginers, it's more of a pro chain.
Where Is It Made?
Where a chainsaw is made is one of the most commonly asked questions in the industry. With everyone fearing the made in China sticker. While I personally don't think they're to bad, I get why people do. This chainsaw is made in Germany which will give some peace of mind.
The Downsides
The biggest issue that I with this saw, isn't anything to do with the chainsaw itself. Which is if something does go wrong, and you need to get it fixed. Finding someone to fix it could be difficult. This is definitely a case by case situation. But something to be wary of.
While I really like this chainsaw, it is getting on in years. So it will be harder and harder to find. If you like the saw and can't find it, I'd highly recommend the Makita on this list instead.
The Specs
Engine Displacement – 61cc
Idle Speed – 2700 rpm
Max Engine Speed With Chain And Bar – 13800rpm
Guide Bar Recommendations – Minimum 18 Inches/ Maximum 24 Inches
Weight Excluding Cutting Gear – 13.22lbs
Chain Pitch – 3/8″
Dolmar PS-6100 Gas Chainsaw

Top Rated Chainsaw For Big Trees For The Home Owner
Husqvarna 460 Rancher Chainsaw Review



When it comes to cutting larger trees, I generally believe you need a professional grade saw. But since some of these chainsaws can cost up to and over $1000. They're not always an option for everyone. Which is where this 460 Rancher comes in.
This is one of Husqvarnas best chainsaws they've ever made, especially if you own some acreage. The question is can it handle big trees. The answer is a yes, but it will require to learn how to cut down this bigger trees.
The Power Is Good
It has a good amount of power thanks to it's 60.3cc gas engine. Which is a good amount of power, that works really well with the 24 inch bar.
The one thing you will need to do when cutting big trees with this chainsaw. Is to take your time with it, since it wasn't specifically designed for large trees. So it can handle them, but it will just take longer. Which is something to keep in mind.
Reliability Is It's Best Feature
This is what I really like about this chainsaw. It's extremely reliable and starts really easy. I've seen it countless times where people who have owned this saw for years, and never had an issues.
Starting a gas chainsaw can make a 10 out of 10 chainsaw, become a 3 out of 10. Some can be really stubborn and difficult, but thankfully this isn't the case with this saw. It's one of the best starting saws I've used.
My Thoughts On This Chainsaw
I really like this chainsaw, I think it's of a high quality, that feels comfortable to use. But for using it on big trees? While it can do it, it will struggle a bit and be a slower process. But it's a high quality saw for the price. So it's worth checking out if you can't afford a more professional level saw.
The Specs
Engine Displacement – 60.3cc
Power Output – 3.62hp
Bar Length Recommendations – Maximum 24 Inches/ Minimum 13 Inches
Weight Excluding Cutting Equipment – 13.2lbs
Idle Speed – 2700rpm
Maximum Power Speed – 9000rpm
Husqvarna 460 Rancher Chainsaw

Best Chainsaw For Big Logs
Echo CS-590 Chainsaw Review



I'm going to be upfront and say I really like Echo as a company, and this saw is a big part of why. It's a quality chainsaw, that is one of the most reliable on the market in my opinion. It's close between this Echo and the Husqvarna.
They're both very similar chainsaws in terms of specs. But it was the how comfortable and easy to use is why this is just ahead. It's anti vibration system really helped after extended periods of use. Which is useful when you can be using this saw for several hours.
Power Is Solid
While it's not the most powerful chainsaw on this list. It's how it uses the power is what makes it impressive, in my opinion. Normally I wouldn't recommend a chainsaw that is under 60cc, but it's only a little bit under at 59.8cc.
It runs really well once you get it started, and gets through most things really easily. I've used more powerful engines that couldn't cut as well as this saw.
Reliability Is Why This Saw Is So Good
If you look after this saw, you're going to have a beast of a chainsaw for years to come. Even with minimum maintenance it's still going to be reliable. Tho I always recommend performing maintenance regularly.
An Issue
While this issue didn't happen to me, I've seen it reported by a few people. Which is that people were having issues with it starting. This is something that didn't happen to me, as mine would start on the second or third try. But enough had mentioned it that I had to note it here.
The Specs
Engine Displacement – 59.8cc – 3.64 cu in
Bar Length – Minimum 18 Inches/ Maximum 24 Inches
Weight Without Cutting Equipment – 13.2lbs
Fuel Capacity – 21.8 fl oz
Oil Capacity – 10.2 fl oz
Echo CS-590 20 Inch Timber Wolf Chainsaw

Affordable Professional Grade Chainsaw For Large Trees
Makita DCS6421RFG Chainsaw Review



Makita are more know for there battery powered tools, where they are the market leaders in my opinion. So it comes as no surprise that there gas chainsaw is a powerhouse in the gas market. This is really an incredible saw, that is only beaten by the model below.
Where Is It Made?
This is an important question for a lot of people, which I can understand. When it comes to chainsaws there are three countries that are considered the best. Which are Japan, Sweden, and Germany. Which I was happy when I found out this was made in Germany.
Power Is Impressive
When it comes to large trees, power is important. I was expecting the 64cc engine to be impressive, but to be as impressive as it is really did take me back. It packs quite a punch and out performs many of the competition.
With it going toe to toe with the Stihl MS460 which use to be one of the finest chainsaws on the market. While the Stihl was still slightly better, it did also have a bigger engine. Which I think speaks for how good this engine is.
It's Fast!
Cutting down trees and cutting firewood is a slow and tiring job at times. Which is one of the many reasons I liked this chainsaw. While they weren't the biggest trees. It was tearing through 18 inch in diameter trees in under 10 seconds.
The Quality Is High
This chainsaw really did it's best to try dethrone the best chainsaw. With it only just falling short, because of one issue which I'll go over below. But it wasn't because of the quality, it's quality is high. This is thanks to being made in Japan.
The Only Downside
There is only one downside I experienced with this chainsaw. Which was it was difficult to start, and required a high number of pulls to start. This wasn't always the case, but it happened enough for me to take notice. So Just a word of warning.
The Specs
Engine Displacement (cu.in./cc) – 3.9 cu.in. (64 cc)
Power Rating – 4.7 HP/3.5 kW
Standard Guide Bar – 20 Inches
Chain Pitch – 3/8″
Chain Gauge – .050″
Fuel Tank Capacity – 24.5 oz
Oil Tank Capacity – 14.2 oz
Net Weight (w/o bar & chain) – 13.9 lbs
Makita DCS6421RFG Chainsaw

The Best Chainsaw For Big Trees
Husqvarna 372xp Gas Powered Chainsaw Review



I don't think you can do a chainsaw list and not include a Husqvarna, or a Stihl. But for me it was this 372xp that won me over out the two. It's an extremely reliable and powerful chainsaw, that can handle larger bars. Which is something you want when dealing with larger trees.
The Power Is Insane
This is a powerful chainsaw coming in at a massive 70.7 cc engine displacement. Which is roughly 5.5hp, which is plenty of power for what you'll need this chainsaw for. It'll make short work of the large trees you need to cut down.
This is a serious chainsaw for serious users only in my opinion. This is not the kind of chainsaw you get if you only plan to cut a tree or two. This is a professional grade chainsaw, that is designed for these heavy duty tasks.
Reliability
I've often heard people say it's not a reliable saw, then immediately followed up. With that they rarely performed maintenance. I find this frustrating since this is an extremely reliable machine. But like all tools, it needs to be maintained. If you do you'll have a great saw for years to come.
Comfort Is High
For such a high grade of a chainsaw I expected to lose some comfort. Which wasn't the case, even when using this chainsaw for close to 10 hours. Which is reassuring when you consider how long it can take, to cut down a large tee.
The Downside
As I mentioned above this is a professional grade chainsaw. This does come with the professional grade price. Which if you're prepared to pay premium, you will get a premium product. So if finances are the priority for you, then I'd recommend a different saw. Otherwise this is one of the best chainsaws on the market.
The Specs
Cylinder Displacement – 70.7 cm³/ 4.3 cu.inch
Power Output – 5.5hp
Bar Length Recommendations – Max Length 28 Inches/ Minimum Length 16 Inches
Weight Excluding Cutting Equipment – 15lbs
Idle Speed – 2700rpm
Maximum Power Speed – 10200rpm
Husqvarna 372xp Chainsaw

Dangers Of Cutting Down A Big Tree With A Chainsaw
Using a chainsaw is always a dangerous thing, even if you've been cutting for decades. They're dangerous tools, so that is just the risk that comes with them. This danger gets even higher when you're cutting down a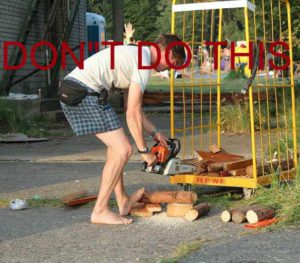 large tree.
There are a lot of things that can go wrong when cutting down a large tree. So there are things that you need to do, to make this job a lot more safer then what it was previous. It will always be dangerous.
What To Watch Out For
There are things you need to watch out for when taking a chainsaw to a tree. A lot of people think you can just walk up and start cutting. But this isn't the case there are a number of things you need to do to make this safer.
Surveying the area is one of the most important jobs you need to do when cutting trees down. You need to make sure there is nothing around the area you want your tree to fall. Such as houses, roads, fences and powerlines.
This is one of the things you need to do the most, since this is where a lot of the dangers comes from. I think we've all seen a video of someone cutting a tree down, then it falling on there house. I imagine none of us want to be that person!
Examining The Tree
Checking out the tree itself is helpful. Looking to see if it leans, or to check to see if it's diseased. These types of things can change the predicted path when falling, so this is something you need to do.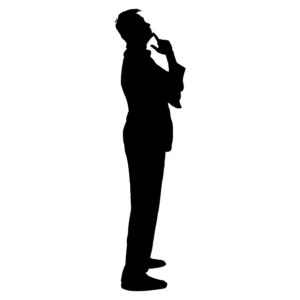 Trying to work out where the tree is going to fall is extremely important. As I said above you don't want it to fall onto something. To control the path it's going to fall in, you need to cut a notch in the side of the tree you want it to fall.
The Surrounding Area
This seems obvious but I know people do seem to forget, is to check the floor around you. The last thing you want is a random tree or rock to trip you up, while using a chainsaw.
You will want to plan an escape path, but not just one. You will want at least two or three escape options. This is common sense, but needs to be said.
Safety Gear Is Important



Wearing the correct safety gear is necessary. Having all the safety gear can help save some serious injury. There is a lot of personal safety gear you need when you're using a chainsaw. As someone who almost lost a leg, and was saved thanks to the right gear. I'm an advocate to safety gear.
There isn't a single piece of safety gear I wouldn't recommend. Since they're all important, so I'd highly recommend using them all. I personal like to use a full face mask compared, to a helmet, eye protection, and ear muffs.
Then there is cut resistant clothing which is what saved me. The last few pieces are protective boots, and gloves. They're all needed and you should wear them, even if you meet an old timer who said you don't need to!
What Size Chainsaw Do I Need For Cutting Down Big Trees
This is one of the most asked questions I get, since there is no real guide for it. It's one of those things that takes years to learn, and even then. A new chainsaw will come along and change how you think. So all you

can really hope for is guidelines in my opinion.
The size of the bar on a chainsaw is important, it helps dictate what the chainsaw can cut. A 20 inch bar should be able to get through a tree that is 20 inches in diameter. But this is a very basic level of thinking. Since if you take your time, you can get through larger things.
For Big Trees
For big trees the larger the bar, and more powerful the chainsaw the better in my opinion. I wouldn't even consider any chainsaw that couldn't handle a 20 inch bar, at the bare minimum. Larger the better in this situation. This is getting harder and harder to find. If you can find a chainsaw that can handle a 32 inch bar, that would be even better. But the cost of such a chainsaw is extremely high.
This is due to the restrictions there are on small engines. The Husqvarna 372xp is a great chainsaw, but it use to be more powerful. This doesn't take away from how good it is now, but it use to have more power. The current power of the 372xp and a 28 inch bar is an impressive combo.
Price Point
When it comes to chainsaws for these types of trees, there really isn't a budget option. The "budget" option is still around $500, which isn't cheap. So this is something to consider when deciding if you want to spend this much. Will you be using it weekly, or once a year.
This is something that you should think about. I personally couldn't live without a chainsaw, since I heat with firewood. So spending that extra amount is a necessity for me.
Should You Rent?
If it's available in your area, renting a chainsaw is a valid option. This can save you money in the immediate future, but may cost you more in the long run. Your situation is what will really decide this question. It again comes down to if you can justify the money.
For me if you own property you will need a chainsaw. So renting just doesn't really come into it for me. But do you need such a large chainsaws for those jobs, the answer is most likely not. So renting is a good option in this situation.
Final Thoughts On What Size Chainsaw Do You Need
This really is a situation of bigger is better, a larger bar, and more power will make life easier. In terms of what do you need, I recommend 20 inches and above. With a bare minimum of roughly 60cc for power.
Final Thoughts On The Best Chainsaws For Big Trees
This was a really enjoyable review to do, since I got to check out some of the best saws I've ever used. They're all extremely high quality saws, that provide plenty of power. I don't think I could just choose just one if I had to. It would be a struggle, since they all have there own charms.
If I was forced to make a choice and finances weren't an obstacle, I think I'd have to go with the Husqvarna. It's extra power and true professional grade really stood out. But the price tag is something I can see putting a lot of people off. It would be very close between it and the Makita tho, that chainsaw was just impressive. One of the most comfortable saws I've ever used.