I hope you love the products I've recommended below, just a heads up that as an Amazon associate, I earn from qualifying purchases. This means I may earn commissions on products bought via links on this page.
Ryobi is a company that almost everyone has heard of, they are one of the market leaders when it comes to power tools. But what I want to know is how good are their chainsaws, so I'm looking forward to doing these Ryobi chainsaw reviews. What I hope to find out is if Ryobi has the same standard for there chainsaws, as they do with all their other power tools. If they do then their chainsaws will be some of the finest I've ever used.
What I hope to cover in this buyer's guide is just how good Ryobi chainsaws are, and learn a bit about the company. I find this is important when making any kind of purchasing decision. Knowing about the company can really help inform you if you will trust their products. Finding out who owns them and where they're manufactured. These aren't the biggest things, but it all adds up.
Where Are Ryobi Chainsaws Made?
This is one of those questions that is getting harder and harder to answer, as more companies attempt to hide a made in China stamp. I can understand why this is important to a lot of people, but finding the answer is never so simple. Which is what happened when I started to research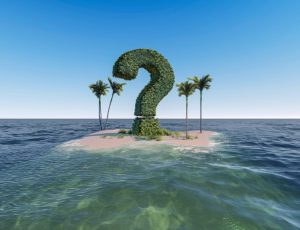 and attempt to find the answer to myself.
From what I have been able to find is that Ryobi is owned by the Hong Kong based, Techtronic industries that own a few other companies. From what I could find I believe they do almost all there manufacturing in China. This is no means 100% proven, but more what I found from researching.
Is being made in China still a bad thing? I don't fully agree with that question. Most of us have products throughout our house that are manufactured there, most of our televisions, etc. A big thing that does make a difference is who is in charge of the manufacturing plant in China.
If the factory is overseen by the actual company, it's less likely their products are bad. Tho this is still only something I can only make a theory since there are no straight answers.
Why Choose Ryobi Chainsaws?
There are a lot of different manufacturers on the market when it comes to chainsaws and trying to pick one is overwhelming. So why is Ryobi deserving of your hard-earned money? Why not go with a Husqvarna or a Stihl instead? The answer to this is quite simple in my opinion, with those brands you will be paying twice the price for a very similar chainsaw.
I find Ryobi is great for people who are on a bit more of a budget, and while they may not be on par with those companies. They are still very solid little chainsaws that you should consider.
If I had to find a downside with going with a Ryobi saw, it would have to be trying to find parts. No matter how much you spend on a chainsaw it will inevitably breakdown, yes that does include your Stihl! But you can find parts for one of those easily, but with Ryobi, it becomes a bit more of a problem. This is something you will need to consider and weigh up is it worth the risk to you personally.
Cordless Electric Or Gas Ryobi Chainsaw?
When it comes to comparisons it gets a little difficult because at times you're comparing apples to oranges, which you can't really do. It comes down to what you need to do most of the time, and sometimes personal preference.
Ryobi does have a corded electric chainsaw, but I felt it wasn't up to the standards of the rest of there chainsaws, and there are better corded electric chainsaws out there. Tho there cordless and gas chainsaws are a lot better in my opinion, which you will find from my reviews.
Cordless Electric Chainsaw
Cordless electric chainsaws have come a long way over the years, especially when it comes to there batteries. This was considered one of the biggest flaws of a cordless electric, but this isn't as bad as it used to be thankfully. They do have a few advantages over gas chainsaws in my opinion.
When it comes to starting a cordless electric chainsaw, it is so much easier than starting a gas chainsaw which can be an issue for some people. They also require a lot less maintenance than gas as well, which is great for first-timers and people who aren't the most mechanically minded.
The biggest issue with a cordless electric is that they are generally more expensive since you have to buy not only the chainsaw but the batteries and charger. They also have a little less power then a gas saw, which if you need to tackle the bigger jobs this can be an issue.
These are really the only two issues in my opinion, while some people think the batteries can be an issue. This can be an issue for some, but I feel they have come a long way so it isn't a big issue.
Gas Chainsaw
When it comes to personal preference I like gas chainsaws, I'm a big fan of having more power. This is one of the biggest advantages to gas chainsaws is they are more powerful, then the other kinds of chainsaws.
This is why they have been the most common type of chainsaws for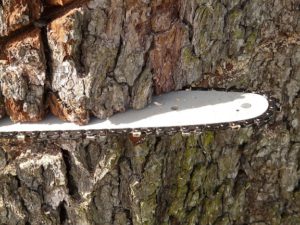 decades. They have very few disadvantages, in my opinion, I personally don't mind the maintenance required with a gas engine.
As I have said before the biggest issues for gas chainsaws, are more minor inconveniences and can be fixed rather easily except for one. When it comes to gas chainsaws the biggest issue is how hard they can be to start, this will happen no matter what saw you use.
The extra maintenance you have to do is only an issue until you learn how to actually do it. After that, it's how loud they are, which is only an issue if you're not wearing any ear protection. Which you should be doing anyway!
Ryobi 40v Chainsaw Review
Ryobi 14 Inch 40v Lithium-Ion Chainsaw Review
Ryobi has really made a name for themselves as being market leaders, with electric products. This chainsaw is a great example of just how good an electric chainsaw can be. It packs a surprising amount of power, which is something I wasn't expecting. As long as you know the limitations of an electric chainsaw, you will find this to be an outstanding unit.
A big part of this is due to its brushless motor and 40v battery. While it may not be as powerful as let's say a 50cc gas chainsaw or a 120v chainsaw, it still holds it's own. It exceeds what it was designed to do.
The advantage of electric chainsaws and the fact they need less maintenance is even more so on this chainsaw. Thanks to its brushless motor it has less moving parts, so less can go wrong. Because of this it generally will last longer, and won't need as much maintenance. This is great if you're not the most mechanically minded person or a beginner and worried about maintenance.
One thing that can make or break a battery-powered chainsaw, is the main part, the battery. For me this has been excellent, it would hold a charge for quite a while(up to 2 hours in some cases). Depending on how intense what you're cutting is.
It also charges really quick, this was thanks to the quick charger that comes with it. While it didn't happen to me, I have had comments that some people have had defective batteries. So that is something to consider when making your purchase. While there is no guarantee in any product you purchase, there will always be someone who gets a lemon.
What I Like About The Ryobi Ry40511
There was a lot I liked about this saw, it was light and powerful. Great for doing small jobs, and no hassle when it comes to starting. It also has a few extra features that I like, which I will mention in its specs below. If you look after this saw and go in knowing it isn't some beastly gas saw. You will have an excellent companion for many years to come.
The Specs
Power Source – 40V Lithium-Ion Battery
Bar Size Recommendation – 14 Inches
Oiler – Automatic Lubricator
Chain Tension – Side Access Tensioning
Chain Tensioning Tool – On-Board
Weight – 9.7 lbs
Ryobi 14 Inch 40v Lithium-Ion Chainsaw

Ryobi 18V Chainsaw Review
Ryobi 10 Inch 18v Lithium Chainsaw Review
I'd call the Ryobi P547 the little brother of the Ryobi chainsaw family. Being the smallest chainsaw on this list, but don't let you think that it's bad. While it's not going to be cutting massive trees, it will still handle 6 inches. Tho I'm not sure I'd push it much higher then that depending on the wood.
This still cuts a lot better then expected, and has impressed most people who have tried it. It won't replace your gas chainsaw, but it will make an excellent addition to your chainsaw family.
One thing that I really like about this chainsaw is how light it is. Only weighing roughly 6.5lbs, give or take. This makes it excellent for people who may not be able to lift as much. I don't know about you, but there have been times when I'm cutting using a bigger gas saw.
With my wife sitting there waiting, with this saw she is able to help out cutting the smaller things. Which helped her with her chainsaw confidence. Apart from that, this is a great saw for elderly people, who need to cut some branches since it doesn't weigh too much.
Even more so then the chainsaw above this is an amazing, entree level chainsaw for people. There isn't really any difficulty in the operation of the saw, and starting it is simple. As long as you pay attention and stay away from the pointy end, you will have a great saw for years to come.
The only real downside to this chainsaw is it doesn't last too long. Usually, 25 minutes if you're using it a fair bit. Tho, in my opinion, you really won't be using it for much longer than that, since it was designed for small jobs. This was with its compact battery I will add.
What I Like About The Ryobi P547
The biggest thing I liked about this saw, was how light and compact it is. Being so accessible to more people is a good thing, in my opinion, this can help you save money as well. Instead of having to pay someone to do some of these smaller jobs, you can now do them yourself. Not only that it will save you time if this is your first chainsaw, but you will also find it much quicker to get your chores done.
The Specs
Power Source – 18V Lithium+ Battery
Bar Recommended Length – 10 Inches
Oiler – Push-Button Lubricator
Weight – 6.5lbs
Ryobi 10 Inch 18v Lithium Chainsaw

Ryobi Gas Chainsaw Review
Ryobi 14 Inch 37cc Gas Chainsaw Review
While not the biggest chainsaw on the market, it's definitely the big brother on this list. Being the more powerful chainsaw on this list does mean you will be able to cut larger things. It was easily able to get through some 18-inch trees and some 24-inch ones.
Tho they required a bit more concentration when cutting those. But the 37cc gas engine held up really well and didn't have too much vibration which is a big plus. I don't know how many times over the years, that the vibration has caused certain things to loosen up too much. This doesn't seem to be a problem for this saw.
In terms of difficulty of starting, I never found it overly difficult, just as long as you don't pump the bulb too much. This will cause you to flood it, which is frustrating. I do find it to be on the easier side of starting for a gas chainsaw, which is a nice bonus.
One thing I've heard people complain about with gas chainsaws, is them stalling while idling. I can say from my time with this saw that I didn't have this issue.
It does have a few extra features that really improve the quality of life. The anti-vibration handle is one of my personal favorites, it really does make using this saw more comfortable. It also has an adjustable automatic oiler that is extremely useful, by far one of my favorite features.
When it comes to maintenance it has a few things that help with that as well. It's tool-free air filter cover, and side-access chain tensioner is the real standouts. Both make maintenance easier which is something I think we all will like.
What I Like About The Ryobi RY3714
It packs more power then I was expecting, and was able to cut some impressive things. Hard not love comfortable this chainsaw is, it really is one of the more comfortable chainsaws I've used. All the other extra features are a big plus for me as well, making maintenance easier, and helping to protect the bar and chain. There is a lot to like about this chainsaw.
The Specs
Engine Displacement – 37cc
Engine Type – 2 Cycle
Bar Recommendation – 14 Inches
Weight – 10 lbs
Filter Type – Mesh Filter
Ryobi 14 Inch 37cc Gas Chainsaw

My Final Thoughts On Ryobi Chainsaws
I went into this not expecting a lot and came out pleasantly surprised. Ryobi has done a great job with there current line up of chainsaws. The one thing I have noticed is that they're moving more towards battery-powered chainsaws. But that isn't a bad thing, in my opinion, all the battery ones I used on this list were great.
My own bias towards gas-powered saws is the only reason I'd go with the Ryobi RY3714, but the other two. Are both incredible chainsaws, that you should consider, you can't go wrong with any on this list.