I hope you love the products I've recommended below, just a heads up that as an Amazon associate, I earn from qualifying purchases. This means I may earn commissions on products bought via links on this page.
The size of the bar on a chainsaw is important, it can help dictate what a saw, can, and can't cut. For this I wanted to focus on the best 20 inch chainsaw, and find out what they were. Not only that but to also find out what exactly 20 inch chainsaws, are best for.
Since chainsaws can do such a wide variety of jobs, and there being thousands of chainsaws on the market. Finding what the best are is a difficult task.
So stick around to find what the best of the best really are. We've done countless hours of research so you don't have to. On this page you will find some of the most reliable, and high quality chainsaws on the market.
Buyers Guide For What The Best 20 Inch Chainsaws On The Market
Buying a chainsaw is a big decision, especially when you you're looking at a 20 inch one. Since they can be extremely expensive. So finding out all the information possible is a good idea.
But not everyone has the time, to sit down and read thousands of words. So I've made this table so you can see what the best 20 inch chainsaws are, in my opinion. If you see one that takes your interest, you can read my reviews below.
| | Bar | Engine | Our Rating | Check Price |
| --- | --- | --- | --- | --- |
| | 20 Inches | 59.8cc | 9.9 | Check Price On Amazon |
| | 20 Inches | 46cc | 9.3 | Check Price On Amazon |
| | 20 Inches | 60.3cc | 9.7 | Check Price On Amazon |
| | 20 Inches | 62cc | 9 | Check Price On Amazon |
| | 20 Inches | 52cc | 8 | Check Price On Amazon |
The Best 20 Inch Chainsaw On The Market!
Echo CS 590 Gas Chainsaw Review



This chainsaw isn't for those who only need a light be of trimming. This is a serious saw, for serious chainsaw users. This chainsaw is powerful enough to mill with, which is one of the hardest jobs a chainsaw can do.
Echo are responsible for some amazing chainsaws. In my opinion this is one of there finest. It's 59.8cc engine provides a lot of power to the 20 inch bar. Having such a large bar, does require having more power.
Starting Is Easy
Anyone who has used a gas chainsaw will tell you. How stubborn they can be to start. This is something that this Echo saw isn't. If it was a cold start, very rarely did it take more then three pulls. If it was warm, it was one all the time.
This really helps save the shoulders, which is a good thing. While the other chainsaws on this list start easily as well, this saw was noticeable easier to start in comparison.
Comfort Is Important
Using a chainsaw needs to be comfortable in my opinion. Since you can be using it for hours. I was impressed with just how little vibration it had. Which didn't give that annoying buzzing feeling in the hands.
The weight of the chainsaw is hard to get an accurate. Since once you fill it up, add your bar and chain, most likely it'll be different for everyone. It is on the heavier side, with mine coming close to 16 lbs. Which is definitely on the heavier side.
Once you get use to the weight, it's a very comfortable saw to use.
What Can It Cut?
The question is more what can't it cut. It can handle all but the most extreme jobs. But it can handle some of the toughest, like I mentioned milling before.
While I know a lot of people have cut larger trees down. I had it run through a variety of sizes, with it easily getting through a 20 inch in diameter oak tree. If you take your time and cut smart, it can easily handle larger trees.
The Specs
Engine Displacement – 59.8cc/ 3.64 Cubic Inches
Bar Length Recommendations – Minimum 18 Inches/ Maximum 24 Inches
Weight Excluding Cutting Equipment – 13.2 lbs
Oiling System –  Automatic/Adjustable (Clutch-Driven)
Fuel Capacity – 21.8 Fluid Ounce
Oil Capacity – 10.2 Fluid Ounce
Echo CS-590 20 Inch Timber Wolf Chainsaw

The Top Rated 20 Inch Chainsaw
Husqvarna 460 Rancher Review



You can't have a list on chainsaws, and there not include a Husqvarna. They're a market leader for a reason, and this 460 Rancher is one of there finest chainsaws. Which is why you'll find it on top of many chainsaw reviews.
Power And Quality
This is what you want in a chainsaw, plenty of power, with a quality design to go with it. The 60.3cc engine is one of the most reliable engine out there. It starts really easily, and only just eclipsed by the Echo a small bit.
Not only is it powerful, it's extremely well engineered. Whether it's the quick release air filter, or the automatic chain oiler. Then the side mounted chain tensioning system, were all designed to make your life easier. These systems with the Husqvarna quality make it a hard saw to pass up.
Designed With Choice In Mind
Something that I don't think this chainsaw gets enough credit for. Is how Husqvqarna used the industry standards for things like bar bolt positions, mounts etc. This means you're not forced to only buy Husqvarna accessories.
I really like this, it gives you a lot more freedom of choice. If you don't like the bar, and want an Oregon bar. You will be able to find one. This freedom of choice is something that I really appreciate.
I personally own 12 different saws. So being able to use some of my other bars with this saw, is really helpful. It also gives me a little bit of extra space, since I don't need as many extra things.
Smooth
One thing you will notice with this chainsaw. Is just how smooth it operates. This is something that is extremely noticeable. Even when it roughly weighs 16lbs. I was expecting it to be a bit rougher, but it wasn't.
The Specs
Engine Displacement – 60.3cc
Bar Length – 20 Inches
Chain Oiler – Automatic
Horsepower – 3.62 HP
Weight Excluding Cutting Gear – 13.2 lbs
Husqvarna 460 Rancher Chainsaw

Best Value For The Money 20 Inch Chainsaw
Remington RM4620 Gas Chainsaw Review


This was a tough choice between this Remington and the Craftsman CMXGSAMY426S. Which is a great chainsaw, but I feel this Remington just clips it out. It's one of the newer chainsaws on the market, which gives it a few advantages.
Being a lot more modern, allows it to have some quality of life improvements. Such as it's adjustable automatic oiler, and the clever decision. To make it have tool free access the spark plugs, to make maintenance easier.
Power Within
While it's nowhere near as powerful as the Echo above, it still has a solid 46cc engine. This is a little on the smaller size for a 20 inch bar, in my opinion. It can power the length of the bar, but it will be a little bit slower.
In terms of what it could cut, it was actually pretty reliable. It easily got through some 16 inch in diameter trees. It could handle some 20 inch trees, but was slower. I definitely wouldn't recommend going larger then that.
Comfort Is High
This is what made the difference between the Craftsman, and Remington for me. This was a much more comfortable saw to operate. It has some impressive anti vibration system. With a cushioned wrapped handle, which made a noticeable difference.
It's a surprisingly heavy saw, which did catch me off guard. With it's powerhead weighing 15 lbs, then adding everything else made it closer to the 20lbs mark. So it is a heavy chainsaw.
A Handy Accessory
Something that I really liked with this chainsaw, was that it came with a carry case. Since chainsaws are so expensive, this is a massive plus. It means you don't have to go buy one separately. It also gives you peace of mind, your saw is protected.
A Concern
While this didn't happen to me, it has happened to others. Which is it has a tendency to leak oil, when in storage. This can be a problem, and seems to have happened on a few units. It does seem luck of the draw.
The Specs
Engine Displacement – 46cc
Weight Excluding Power Equipment – 15lbs
Bar Size – Maximum 20 Inches/ Minimum 18 Inches
Oiling – Automatic
Saw Chain Pitch – 0.325 in
Saw Chain Guage – 0.050 in
Remington Outlaw Gas Chainsaw

Best 20 Inch Chainsaw On A Budget
X-Bull 20 Inch Chainsaw Review



I know not everyone can afford to spend $500 on a chainsaw. So I wanted to try a cheaper alternative, for those who can't. For the price of this chainsaw, it's actually surprisingly pretty good, with plenty of power.
The Power Is Impressive
It's a very powerful chainsaw, so it will get through some fairly tough jobs. This is thanks to it's 62cc engine, which is one of the most powerful on this list. While it's a solid engine, it doesn't run as well as the Husqvarna, or Echo.
Starting it was fine but not as safe as some other chainsaws. Since you have to have the throttle locked, this causes the chain to start right from the start. I personally wish they went with the more normal safer option, but this is something to keep an eye on.
Quality Is A Factor
This is where I feel that they did cut corners, as it does feel fairly cheaply made. The plastic casing does feel a little flimsy, and I do worry I'll damage it. When putting it down, or if I accidentally drop it for some reason.
Should this scare you off the chainsaw? I don't think it really should personally. If you're careful with it, you have a powerful cheap chainsaw. I would recommend getting another chain for it, since the one it comes with isn't very good overall.
It doesn't have the luxury like Husqvarna or Stihl. Of having countless stores around the country for fixing it when something inevitably goes wrong. So this is a concern.
Thoughts On This Saw
Apart from the cheap feel of it, I actually do like this chainsaw. Should you get it tho? This comes down to your situation, if you can't afford something more expensive. This is a great option. If you can I'd recommend it, since they are more likely to last you years.
The Specs
Engine Displacement – 62cc
Bar Length – 20 Inches
Weight Excluding Cutting Equipment – 14lbs
Chain Pitch – 0.325 in
Chain Gauge – 0.058 in
Sprocket – 0.325 in
X-Bull 20 Inch Chainsaw

Affordable 20 Inch Gas Chainsaw
AutoJare 20 Inch Gas Chainsaw Review



I didn't know what to expect when I got this chainsaw. For the price I didn't really expect a lot, and was pretty surprised. While what it lacks in quality, it does make up for it in terms of price, and decent power.
This chainsaw is something I'd recommend to someone who has had some storm damage. Who don't want to spend a lot of money on buying a chainsaw, but need more power then an electric.
Not The Most Powerful
Even tho it has a 52cc engine, it didn't feel like it could cut through things it should. With some people being able to get through trees that were 16 inches in diameter. It was easily handling smaller then that tho.
The Quality Is Questionable
This is probably the biggest downside of this chainsaw. It has that cheaply made feel, which does seem to be the case with Chinese chainsaws. The engine is okay, but the casing yet again just doesn't instill confidence.
While it didn't happen to myself personally, there are reviews that the trigger pin can fall out. There are also reports that the chain will start working without pulling the trigger, which is a big issue. Again didn't happen to me, but did get reports about it.
Thoughts On This Saw
Overall it's not a bad chainsaw, but it's very much the case of "get what you pay for" situations. For it's price it's surprisingly decent. I just don't think it will have the longevity of other saws.
The Specs
Engine Displacement – 52cc
Max Bar Size – 20 Inches
Weight Without Cutting Gear – 14.33lbs
AutoJare 20 Inch Gas Chainsaw

Chainsaw Safety Gear Is Important



Often considered the boring side of chainsaw use, but one of the most important. Is the chainsaw safety gear that you should wear when operating a chainsaw. You will come across people who say that people are being soft. One thing I notice with these people, is that they are often missing fingers, or a toe or two.
So not exactly the kind of people I'm going to trust on safety. Tho they probably know a thing or two about chainsaws. That are handy to listen too, to get some knowledge.
What Do You Need To Wear?
There are a few things you do need to wear, and in my opinion not negotiable. Especially when dealing with 20 inch chainsaws. Size really shouldn't matter, and you should wear it anyway.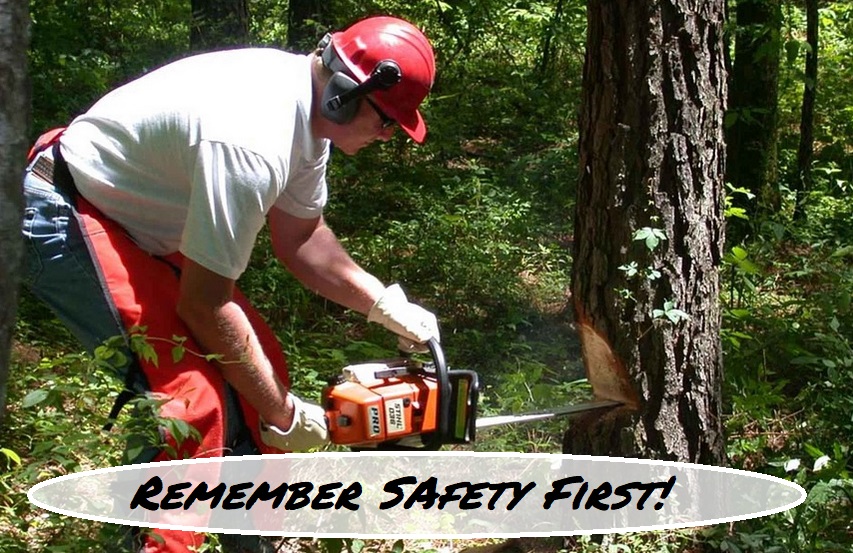 One of the first things I highly recommend is cut resistant clothing. This is something I consider to be the utmost importance. As someone who has had a leg saved by these clothing, I feel these are important.
Enclosed work boots are another important thing. You are operating a heavy tool, to cut heavy objects. So things can fall, and when they do. You want to be protected.
Gloves are something that are often overlooked. They do make a big difference, and offer a little bit of protection. They also help with the vibration, which can be an issue.
You want to protect your eyes at all costs. So safety glasses are an absolute must. I don't feel there is a need for explanation here. Ear muffs, and a safety helmet are also something you should wear. Again I feel these are both self explanatory.
You could opt to get a full safety helm, with ear and eye protection combo. This does make it easier to manage. There are quite a few good models on the market.
Do You Need A 20 Inch Chainsaw?
Since these chainsaws do cost a lot of money, some over $500! It can be hard to put these into the family budget. So the question is do you need a 20 inch chainsaw? I find a lot of people, myself included do like to get

larger tools then they need. If you can afford it and know what you're doing. I still say go for it.
But for those who maybe financially struggling, or just want to get the right tool for the job. Getting a 20 inch chainsaw may not be needed, and you can save some money. Let's be honest who doesn't like saving our hard earned money.
Doing Some Pruning And Trimming
If this is why you're looking for a chainsaw, I'd recommend going with something smaller. Maybe even an electric, is a good option for this. A 20 inch chainsaw isn't really that good for these smaller jobs. They're so large, and can be difficult to maneuver in small spaces. Pruning is almost a specialist task for particular chainsaws, so you will want the right tool for the job.
Trimming and delimbing trees is also another job, that having such a large chainsaw can be an issue for. While depending on the limbs you'll be cutting, having such a large saw will be cumbersome. While I'd still recommend a gas chainsaw for this job. I don't think I'd go larger then an 18 inch bar for this.
Small Trees
A 20 inch chainsaw will make such short work of a smaller tree, that it almost seems unfair. So you can certainly use such a chainsaw for this. But why spend $500 when you can spend $300, or even $200 and get the same job done. This is of course if you don't plan on cutting anything larger. If you're then something larger will be required.
Medium Trees
This is where a 20 inch chainsaw does make life a lot easier. I wouldn't really attempt to cut this type of trees without a 18 inch chainsaw at the minimum. It's possible with something smaller, but easier with something larger. So I'd go between a 18 and 20 inch bar. This will make life easier, and make it a little more justified to own a larger saw.
Firewood Cutting, And Large Trees
This is where it's required to have a 20 inch bar at the bare minimum. These are some tough thing this to cut, that you need a large bar, and powerful saw to get through. A 20 inch bar is the bare minimum I would use for this type of job. For this I'd use between a 20 and 24 inch bars. Anything smaller is just not going to make life easier. Which is the point of the tools in the first place.
Best To Own Or Hire A Chainsaw?
This could be an entire page by itself. I get this question asked more then I thought I would over the years. Especially if you're a beginner and are unsure on chainsaw use. Buying and using a chainsaw can be

intimidating. I was born into a family of chainsaw enthusiasts, so I never had that worry. But it's something I can understand. If you're that concerned and don't need to cut much, then hiring is a good option.
Personally I prefer to own a chainsaw, to do the jobs myself. But I've been using chainsaws since I was a teenager, so it's second nature to me. So I own an entire fleet of chainsaws, which is fairly common for most chainsaw users. It can be a little addicting using chainsaws.
So it comes down to your situation, and needs. If you don't need to cut a lot, and most likely won't need to in the future. Then renting a chainsaw is a good idea. If you're planning to do a lot of cutting, then I'd recommend buying one.
Final Thoughts On 20 Inch Chainsaws
20 inch chainsaws are designed to handle the bigger jobs. Which is generally why if your bar is 20 inches, you should be able to cut a tree that's 20 inches in diameter. Which is why you do want slightly more power then your average chainsaw. And more power is something I'm a fan of.
My Personal Pick On The Best 20 Inch Chainsaw
While the chainsaws on this list are all good at what they do. There are some real clear standouts, that easily are the best on the market. With the Echo and Husqvarna easily being the pick of the two on this list.
Out of the two it's the Echo which impressed me the most. Which does hurt being a Husqvarna fan. The Echo just felt better to use, and had plenty of power. The quality of the saw as well, was just slightly ahead of the Husqvarna.
So the Echo just clinched it, but only by a fraction. You can't go wrong with ether of those saws in my opinion, as long as it's within your budget.