I hope you love the products I've recommended below, just a heads up that as an Amazon associate, I earn from qualifying purchases. This means I may earn commissions on products bought via links on this page.
When it comes to power tools Makita are one of the leading manufactures around the world. When I was offered the chance to do some Makita chainsaw reviews, I jumped for it. I want to find out if there chainsaws are up to Makitas own high standards for power tools. You can't go to a work site and not see a Makita power tool there. They have spent years making amazing tools and marketing properly and not sacrificing quality is how they have done this. So what are the best makita chainsaws?. This is what we were hell bent on finding out and have presented them to you down below.
Makita have warehouses all over the world and ship world wide, so there isn't a country alive that hasn't heard of a Makita. So with that in mind it is time to find out just good there chainsaws really are. To find this out we have tested and researched for countless hours, reading thousands of user reviews, to find the truth the question. Are Makita chainsaws any good?.
But before we get to the Makita chainsaw reviews, lets have a little look into what Makita is all about and what they stand for. You can skip this if you already know Makita is top notch and want to go straight to the Makita chainsaw reviews.
Where Are Makita Chainsaws Made?
This is a question everyone always asks, no matter what brand it is. It's quite important to know where a chainsaw is made as this is a good indication of the quality and workmanship.
I found Makita to be quite a different and unique to answer compared to the normal 'Made in China' branding. What I mean by this is that Makita acquired Dolmar in 1991 and used them to manufacture there chainsaws. Dolmar are a German company who manufacture some amazing local chainsaws.
So the short answer is Makita chainsaws are made in Germany, which should tell you just how good of a quality they are. Germany is responsible for some of the finest engineering the world has seen, so knowing a Makita chainsaw is made there really makes purchasing one, an easy choice. But they are also made in China.
Why Choose Makita Chainsaws?
What makes Makita so good, what edge do they have over Tanaka chainsaws or even the highly popular Husqvarna brand. There are a few things that sets Makita apart from other companies. Which is what we will touch on now.
Makita are responsible for a lot of world firsts when it comes to battery powered tools, creating the first rechargeable tool in 1969. Then making the first nickel cadmium battery tool, first nickel hydride battery tool, and then again creating the first lithium-ion battery tool. So they are definitely specialist when it comes to battery tools, which in my opinion I don't think anyone else comes close to them in this regard. It's quite a title to hold when you think about how far battery powered tools have come in the recent years.
One of the most important things about any tool is where they're made, which is something that I covered earlier. But I still feel it is worth mentioning again that being made in Germany is a big deal. This is especially important if you're not a fan of the made in China stamp on most products now days. In my opinion the best chainsaws are manufactured in Europe, and Germany is made of the best engineers in the world. Europe has a lot of culture and a lot of trees. So they know a thing or two about the art of wood splitting.
So Makita are known for the innovation and their incredible manufacturing. But are there any downsides to there chainsaws?. There is one downside, but this depends on where you live to be honest. Makita don't have as many dealerships as say Huskie or Stihl, so this can make it a bit more difficult to get your chainsaw repaired. This is annoying for those who don't have a service center nearby, but worst case scenario you can send it back to be fixed. Other than that, I find Makita to be one of the most reliable and solid performing power tool brands ever.
Makita Gas Chainsaw Review
Makita 20in 61cc Gas Rear Handle Chainsaw
The Makita 66cc model is a professional chainsaw which combines high power to weight ratio. The Makita 20 inch 61cc gas rear handle chainsaw is easy to start and it produces less vibration when compared to other models of this size. The 61cc engine delivers up to 4.6HP making it powerful enough to cut through some serious hard wood. The spring assisted starter makes it easy to start. Because of the heavy duty air flirtation system, the filter life is greatly extended.
Durability is also in high regard due to the section of different parts which are highly durable. Touch and stop single lever allows quick shut off so that you can enjoy trouble free starts.
Other features included in the system include easy cleaning chain compartment. You can easily clear chips when cutting. Advanced vibration damping system is engineered to reduce vibration as you cut through wood.
Features Which Make This Chainsaw Stand Out From The Pack
Easy start – The spring assisted starter makes the chain saw very easy to start. Optimized engine management allows you to start the chain saw very fast. Even with little force, you can start the chain saw.
Powerful 4.6 HP – The engine is designed to produce low emission but assure you great power. Fuel efficiency is guaranteed due to the great design.
Magnesium housing – The housing is made out of magnesium to assure you great durability. Light weight design allows you to carry it the whole day so that you can improve your productivity.
Heavy-duty cartridge air filter – The air filtration system is made out of heavy duty materials to assure you the best operation. You enjoy improved life and durability upon buying the chainsaw due to the durable filtration system.
13,800 RPM – The chain saw accelerates very fast. It is highly efficient and performs very fast. This can greatly speed up your cutting experience upon using this chain saw.
Compact design – The surfaces are rounded to allow easy cleaning and operation. You are assured of great comfort upon buying the chain saw.
Easy to use – The touch and stop single lever control feature allows quick shut down of the engine. Just a simple touch and you will be able to stop the chain saw. You can configure slide out baffle for efficient cold weather operations making it one of the best cold weather chainsaws. Two point durable inertia and mechanical chain brake is very efficient.
Makita 20in Chainsaw

Makita Cordless Chainsaw Reviews
Makita XCU03PT 18V X2 (36V) LXT Lithium-Ion Brushless Cordless Chainsaw
If you like to carry out landscaping without any interruptions, then you're going to need a reliable and long lasting battery powered chainsaw. The XCU 18V is a cordless chainsaw which you can use without any worry of hazardous cords and poisons riddled gas operation which pollutes the environment. The brushless chain saw has zero emission and it is very powerful for a battery powered machine. It also reduces noise pollution making it a great addition to your home.
Being a cordless electric chainsaw means it has low maintenance, which makes it a great addition to your power tools. You do not need to change engine oil or any of the other usual maintenance you do on a gas engine. Which leaves you with more time to do things you enjoy. You can just plug it in and it will recharge, after which you can head out to cut and trim trees.
This particular package does come with a angle grinder which does increase the price a bit, but it is a tool you do use when it comes to cutting things. Especially if you are in the construction industry. There is a few more options to go with this particular where you can get just the saw and charger, or the saw and and 2 extra batteries.
Benefits Of The Makita XCU03PT Chainsaw
Considerably less maintenance – The careful selection of different materials makes the chain saw easy to maintain. It can be used to cut as well as in trimming applications. Use of two 18V LXT batteries produces enough power to run very fast.
Rotor Brushless motor – The rotor brushless motor makes it highly efficient. It can deliver more power just like its gas powered counterparts. The motor features an automatic speed change technology which allows you to achieve the best operation when cutting through different types of wood. You can vary the speed on the motor so that you can achieve different cutting operations.
Fast charging batteries – It is a cordless unit hence you need to recharge it after prolonged use. Thankfully the two batteries charge very fast so it will take a considerable small amount of time to recharge the batteries before you start the cutting operation. The speed can be varied to achieve the best cutting experience.
Low noise and zero emissions – It only produces 100db which your ears will thank you for. There are no emissions because it runs on electricity.
Highly Convenient – You enjoy great convenience upon buying the chainsaw. For instance, you will not need tools to adjust the chainsaw. Front hand guard is engineered to actuate the chain brake. For maximum productivity, you have an electric brake which is very effective and efficient.
Makita Electric Chainsaw Review
Makita UC4051A 16″ Electric Chainsaw
With the Makita UC4051A 16″ electric chainsaw you enjoy tool less blade and chain adjustments. The chainsaw is very easy to use and maintain compared to a gas model. Different design features on the chainsaw makes it stand out.
You will always enjoy peace of mind upon using this chainsaw. Ergonomic design assures you great comfort as you cut through wood, especially because of the rubberized grips.
Electric requires the least amount of maintenance out of all the chainsaw types, which is great for beginners. This is also very advantageous for people who aren't very mechanically minded, or who may not have the time to spend the extra time dealing with a gas engine. So this is a great saw for those people, and one of the better electric chainsaws on the market.
Why You need The Makita UC4051A Electric Chainsaw!
Rubberized grip handles – When it comes to handling the chain saw, you are assured of great comfort. It has a rubberized handle so that you can achieve a firm grip for you to enjoy cutting through wood.
Large trigger switch – The trigger switch is large enough to allow for easy and smooth startups. Even if it was your first time trying the chain saw, you can still enjoy great success in your operation.
Built-in current limiter – The current limiter helps to protect the motor from burning out. It reduces power to the motor when the saw has been overloaded hence acting as a preventive measure. This is great for first timers who haven't used a chainsaw.
Large oil reservoir -The chain should be oiled so that it can cut without overheating. You have a large oil reservoir to have enough oil so that it can cut as you check the level. Automatic chain oiler allows for heavy and continuous cutting operations.
Electric chain brake – The brakes are highly effective. You can stop the chainsaw in an instant which is a great safety feature. Zero emission design and reduced maintenance makes the chain saw an affordable investment. You will only have to recharge it and it will cut through branches for a long period.
Durable – There are several safety features on this Makita chainsaw such as current limiter which prolongs it lifespan. The motor can last long hence assuring you high performance. The current limiter is very effective in preventing motor burnout which can be a costly experience if you've ever experienced a burnt out motor before.
Makita 16 Inch Electric Chain Saw

What's The Best Makita Chainsaw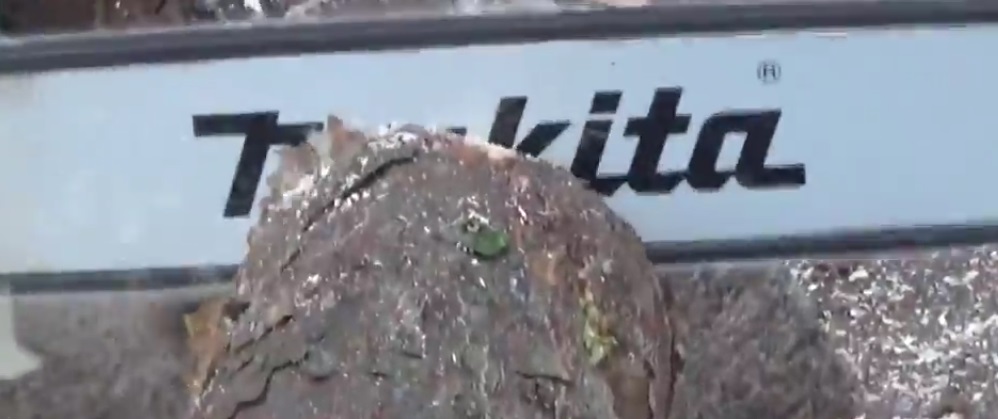 Makita is one of the few manufacturers who actually make all three types of chainsaws, since they understand that one tool doesn't suit all. Not everyone needs a 60cc gas chainsaw, and some people do, it's fairly simple. Yet so many manufacturers seem to ignore this issue, and choose to "specialize" in one or two types. So the question is which is right for you? This is a question only you can answer since the best way to find out is what you need to cut, this will narrow down what type of chainsaw you will need.
Gas Chainsaw
Gas chainsaws are the most common type of chainsaw which is for a good reason. They are well priced, have the most amount of power, and reliability. You're only limited by how much gas you have, but most likely if you own a gas chainsaw you will have the spare gas around. While they are the most powerful type of saw, they do have a few small downsides, nothing that makes them a deal breaker in my opinion tho.
The biggest downside to a gas saw is how hard they can be to start at times, you can have the surest starting gas saw to ever exist. And it will still on the occasion give you issues on start up, it just happens with gas engines. The other downsides are more minor inconveniences in my eyes and are easily fixed with time and a little bit of effort. The biggest thing that puts a lot of first timers off is the maintenance of the gas engine, which can be overwhelming for a first timer. This is something that you'll learn over time. The other issue is solved by earmuffs(which you should be wearing), and that is how noisy they are. Far from deal breakers in my eyes.
Electric Makita Chainsaws
Electric chainsaws have come a long way over the years, which is a good thing to me. Having more options is always a good thing. Electric chainsaws may not have the power of a gas chainsaw, but they are very much plug and play so to speak. There is a lot less hassle with an electric chainsaw. Electric chainsaws are genuinely cheaper then gas and cordless electric chainsaws, so if you're on a budget and don't need massive things cut. A corded electric is well worth investing in.
Electric chainsaws do have one pretty big flaw, but this is only a flaw if you need to cut a fair way away from a power outlet. I have used an electric chainsaw many times with 100 feet of electrical leads and been fine, anything further then that can be an issue tho. Unless you have a generator then using electric that far away might not be an option. Apart from that issue the only other thing they have going against them is that they are a little less powerful then there gas counterparts. But as I have said, depending on what you want to cut this may not be an issue at all.
Cordless Electric
Cordless electric chainsaws are what I like to think of the middle ground between a gas and corded electric saw. They aren't tied down by a cord like other electrics, and while not as powerful as a gas, they are certainly closer to them then a normal electric. It is also a good idea to go with a battery powered saw, if you use that brands power tools a fair bit. And they have the same type of battery, this can help with one of the disadvantages of a cordless electric saw.
There are a few downsides to a cordless electric chainsaw, but again I don't believe any of them are deal breakers. The biggest issue with these types of chainsaws is the battery themselves, with how long they can take to charge, and how long they hold a charge. This all varies from battery and charger type, also how hard you are making the tool work. This is where I believe Makita is great for contractors who use a lot of power tools. The odds of using the same battery in another tool is high. This does make battery chainsaws more expensive sadly, since you're paying for the battery and charger.
My Final Thoughts On Makita Chainsaws
When it came to Makita chainsaws, originally I thought they had a very high upfront cost. Which they do and that's something I can't deny, but do they justify that cost? In my opinion, yes they do. They are very reliable chainsaws and after having the joy of using the chainsaws on this list, Makita have turned into one of my favorite manufacturers.
All three of the chainsaws on this list are designed to do exactly what they're meant to, and they all go above and beyond. But since I'm a fan of gas chainsaws I can't go past that 61cc beast, I like having more power then I need. That way I'm always better prepared for what may pop up.