I hope you love the products I've recommended below, just a heads up that as an Amazon associate, I earn from qualifying purchases. This means I may earn commissions on products bought via links on this page.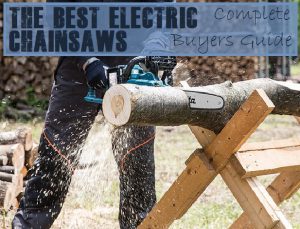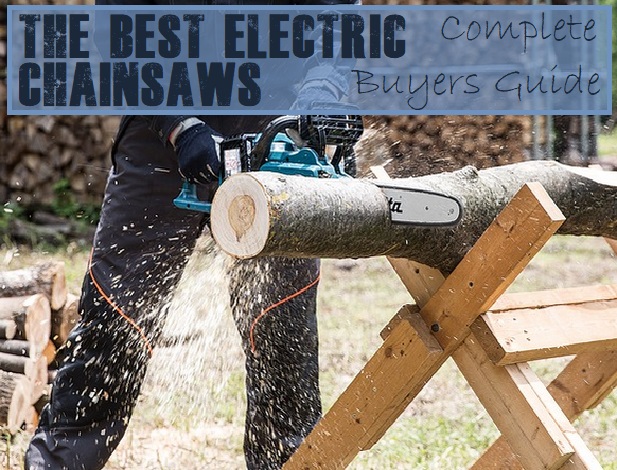 Electric chainsaws have come a long way in the past few years, so much so first time buyers get confused as to which one is going to be the right tool for the job. This can be overwhelming and frustrating when all you want to do is get the job done. In this article you can compare what I believe are the best electric chainsaws on the 2018 and 2019 market.
There was a time when you wouldn't even consider an electric chainsaw, gas powered models dominated the market and for very good reason. But thankfully technology has improved and now we can have the ease of using an electric chainsaw and leave those days behind us. Electric chainsaws in 2019 are a lot more powerful, with some of them even being comparable to a gas chainsaw. So lets quit the chit chat and jump straight into the top rated electric chainsaw reviews of 2019.
Best 16 Inch Electric Chainsaw
Makita UC4051A 16-Inch Electric Chainsaw Review


It is sometimes easy to justify spending a bit more for a high-quality product. When something smells cheap, looks cheap and sounds cheap, it usually is cheap. Resulting in an under performing chainsaw which just leave you more disappointed than ever.
Fortunately this is not the case with the incredibly easy to use and well-made Makita UC4051A 16-inch electric chainsaw. Makita is a well recognized world wide brand that are typically on the higher end in terms of price, performance and reliability.So cheap and nasty is not what you are going to get with this chainsaw.
High Performance Electric Chainsaw
Electric chainsaws usually feature plastic components mainly, which makes them appear less than capable for the task. However, this is not the case with this Makita since it has its fair share of metal parts that give it a tough and durable feel. A chainsaw that is made from heavy duty components like this Makita is set to be a long term friend in your shed or garage.
Makita made the smart design choice in making this a 16-inch electric chainsaw capable of cutting incredibly fast and is easy to maintain. It has an incredible speed of 2,900 FPM to ensure efficient cutting. Which is quite intense for an electric chainsaw.
The added advantage of the machine is the in-built timer that protects its motor from burn-out when it is overloaded. This feature is going to save you much headache and money in the long run. It even comes with an electric chain break.
Ergonomic Design
I found the Makita 16 inch to be a extremely well-balanced and easy to handle electric chainsaw. Being so gentle on the hands makes using it a pleasure rather than a task. The motor is centrally located and the saw itself has wonderfully designed handle grips made of rubber, a reduced kickback Oregon chain, and a 16-inch guide bar.
All these features make it incredibly comfortable to handle and capable of cutting though brush and trees with a diameter of up to 16 inches.
The Electric Motor Components
The UC4051 is powered by a powerful 14.5A motor generating over 2 Horsepower, which puts its cutting power on the same level with several other smaller gas chainsaws. However, there is no start cord to pull, no gas and oil to mix, and most importantly no fumes to deal with.
This 16 inch electric chainsaw also comes with an adjustable automatic oiling system. Something first time and casual users simply demand these days but sadly not all chainsaws boast this awesome features.
The Makita UC4051 is one of the best all-round electric chainsaws currently on the market. If you don't have any problem with the cord and don't mind using an electric chainsaw that has a bit more weight than the cheaper plastic models, then this is the right saw for you.
The Good
Impressive cutting ability for a 16 inch bar
Very reliable and easy to start
Very well-made and solid chainsaw
Easy to use and nicely balanced
Soft-start, adjustable automatic oiler, and other amazing features
The Bad
It is somewhat expensive but well worth it. Just out of reach for some users.
It is a bit heavy for an electric chainsaw
Best Affordable Electric Chainsaw
WEN 4017 16-Inch Electric Chainsaw Review


While the WEN 4017 is not a top contender for the best chainsaw in the world, it definitely works as any good saw should. It also has a price tag that's guaranteed to bring a smile to your face and is one of the quietest chainsaws on the market.
If you have a lot of firewood and large trees that need to be cut, the WEN 4017 is definitely not for you. However, this electric saw is ideal for light cutting jobs around your home. Perfect for the casual homeowner needs.
It comes with a 16-inch Oregon bar, which means that it is capable of cutting through wood with a diameter of 14 inches with just a single pass, even with its somewhat smaller, 12A motor.
The WEN 4017 is fairly easy to operate and comes with an automated oiling system that's self-lubricating, which keeps its operation smooth and improves the overall lifespan of the saw. I find it incredibly easy to use. All you have to do is plug in the cord and start cutting away.
One impressive addition is the cable strain relief since it helps you keep the cords tidy when using the machine. This is a very handy safety feature, one that I believe should be on all chainsaws.
The WEN 4017 might be capable, quiet, and easy to handle, but is constructed primarily of plastic, which makes it somewhat less robust than other saws on this list. However, its lightweight design, cheap price tag, and quite operation more than make up for its shortcomings.
Overall, it is a great product sold at a reasonable price and even has the added advantage of coming with a 2-year warranty.
The Good
It comes with a 2-year warranty
It is easy to use and lightweight
One of the quietest chainsaws I have experienced
It cuts incredibly well for its price and motor size
A very affordable electric chainsaw that performs well above its pay grade.
The Bad
– Chain slippage has been reported by some users
– It is not as durable as other models on this list
Top Rated Electrical Chainsaw
Oregon CS1500 Self-Sharpening Electric Chainsaw


If you are a chainsaw owner or have ever operated a chainsaw, you are probably aware of just how inconvenient it can be to have to stop and replace a dull chainsaw before the cutting job is complete. The Oregon CS1500 aims to solve this problem.
The Oregon CS1500 will get you back to cutting in under a minute. You don't even have to remove the chain. All you need to do is simply pull a small lever and the blade sharpens automatically. This is what makes this device unique and special.
Perfect for the first time user that wants to avoid as much maintenance as possible.
Very Easy To Use
The Oregon CS1500 scores highly in terms of ease of use and cutting power. It is manufactured by Oregon, which is one of the leading brands in the industry, so it is well-built and guaranteed to last for a long time. It is also capable of handling a wide variety of cutting jobs.
The CS1500 is comfortable to use since it is well-balanced and lightweight too. It has low vibration and has a comfortable handle. Despite its 18-inch guide bar and powerful 15A motor that ensures fast cutting, it is not very noisy during operation. The Oregon CS1500 comes with a 1-year professional warranty and 2-year consumer warranty.
It is easy to use the easy adjust chain tensioning system by simply turning the red knob. The device also starts immediately once you pull the trigger. The CS1500 has a very affordable price and even comes with a chain brake for enhanced safety. The brake works automatically and turns off once the unit encounters any issues.
The Good
I love the instant start feature. No more spending 10 minutes trying to get the chainsaw to turn over
Solid construction
Self-sharpening chain system means less work you have to do
Tool-less chain tensioning system for a more productive cutting session
Incredible cutting power for a electric chainsaw.
The Bad
Hard to reattach chain if it does manage to come off
Chain has to be checked and tensioned regularly to avoid slippage
I found it uses more oil than other electric saws
Best Corded Chainsaw 2019
WORX WG304.1 Electric Chainsaw Review


Whether you are looking for a chainsaw that guarantees professional performance or want one for residential use, the WORX WG 304.1 is what you need.
It has minimal operating costs compared to gas-powered models and doesn't produce any harmful emissions. It is ideal for quick and easy cutting jobs, such as trimming trees, cutting firewood, clearing bushes, and more.
"It Just Worx"
This chainsaw is one of the best-selling electric chainsaws on the market today. Mainly down to the fact it has some pretty impressive features.
It comes with a 15A motor and 18-inch low-kickback Oregon bar and chain. However, it is still lightweight and compact. It has a top speed of 2,360 FPM, which is good for an electric chainsaw in this price range. Especially considering its just over 600 FPM short of the much more expensive Makita.
One feature I really like is that this comes with a tool-less chain replacement and auto-tension system, which makes it very user friendly. Many people avoid buying a chainsaw because they think it's too difficult to maintain. These features make life for the beginner much more user friendly.
Small & Compact Design
The WORX WG 304.1 has a small and compact body, which makes it easy to use for long hours without getting tired arms and hands. It is also equipped with all the standard convenience and safety features, except for anti-vibration provisions, which are required only in powerful, gas-operated chainsaws.
The fact that this unit is sold fully assembled, means that you can start using it immediately it arrives at your door. You can start working to clear your garden from the mess after a hurricane or for doing various other cutting tasks around your house. The chainsaw also comes with a low-kickback bar.
The WORX WG304.1 might be small, but it can still be used to cut down hardwood trees such as cottonwood and oak wood without any difficulty. It comes with an automatic oiler that provides constant lubrication to the chain and bar to prevent overheating and drying up. It is a great tool to have around your garden, house, or farm for cutting wood among other objects.
The Good
Kickback safety brake
Automatic chain oiler
Large knob for easy tension adjustment
Powerful 15A motor
The Bad
Chain can easily become disengaged
Uses a large quantity of oil
Plastic gear easily wears out
Best Electric Chainsaw For Trimming Trees, Bushes etc
Remington RM1425 14-Inch Limb N Trim Electric Chainsaw Review


The Remington RM1425 is a handy tool that comes equipped with user-friendly features and rugged construction. It is ideal for trimming/cutting small limbs and saplings in just a few minutes. The RM1425 is an electric chainsaw that promises clean and accurate cuts. You can rely on this incredibly durable tool for any cuts.
The Remington being an electric chainsaw eliminates the need for mixing oil and gas. It comes with a robust 8A that comes roaring to life with the simple squeeze of a trigger. The best thing about this amazing machine is the fact that its motor provides low maintenance benefits as compared to the conventional chainsaw motor designs.
Lightweight Electric Chainsaw
They made the right decision in making this a lightweight design and electric motor, which makes it easy to use with minimal fatigue. Its compact design means that it leaves a small footprint in your working area. It is actually the compact and lightweight design that makes it the ideal tool for your cutting and trimming needs.
The RM1425 also comes with ergonomic handles for maximum comfort. The sleek and stylish design of the chainsaw makes it the ideal addition to various cutting jobs. The wrap around design ensures that your hands are safe from debris while the 14-inch bar and chain are sufficiently robust to handle maintenance procedures along with residential jobs.
The Good
Powerful motor for heavy duty tasks
Incredibly lightweight compared to other electric chainsaws
It comes fully assembled
It has an oiler button
A manual is provided to help you use it properly
The Bad
Users have complained of the chain oil leaking after certain operations
Best Budget Electric Chainsaw
Greenworks 14-Inch Electric Chainsaw Review


Greenworks is a brand that's synonymous with mechanical tools. Whether you are looking for an economical but powerful electric chainsaw or you just want to escape the hassles of using the traditional gas-powered chainsaw, the Greenworks 20222 is the best solution for your needs. The machine makes quick work of branches, logs, limbs, and even firewood.
The Greenworks electric chainsaw comes with a 9A motor that's incredibly powerful and starts within seconds to provide reliable power for all your cutting needs. It requires just minimal maintenance especially when compared to conventional gas-powered chainsaws. This is what makes it perfect for various cutting projects including cutting branches and stockpiling with impressive results.
Greenworks 14 Inch Chainsaw Demonstration
Easy Clean Up Function
The 14-inch bar provides added convenience since it makes it much easier to clean up. The tool-less tensioning is a wonderful feature that allows for quick adjustments, which means that you can focus at the job at hand without being sidetracked by such mechanical activities. The chainsaw also comes with safety features to ensure optimal performance irrespective of the work being done.
I really like how they gave this a wrap around the handle that ensures maximum comfort especially when it comes to cleaning debris. The wrap also has the added benefit of doubling up as a safety feature for enhanced performance. The machine even comes with an automatic oiling system that guarantees optimal lubrication to ensure the best cutting performance every time.
This chainsaw offers amazing features at very pocket-friendly rates. It is a blend of comfort, convenience, and ease, which is desired by all users. However, it is important to note that it is a corded chainsaw, which means that you may require an extension to reach the electricity source or socket. Still, the Greenworks is an excellent investment for all your DIY stockpiling and cutting needs. While the chain is sometimes prone to damage, the overall performance of the chainsaw makes it the perfect addition to your projects.
The Good
The automatic oiling system ensures optimal lubrication
The wrap around handle ensures maximum comfort
The powerful 9A motor is great for rugged projects
The tool-less tensioning allows for quick and easy adjustments
The Bad
The chain is susceptible to damage at times
What Are Some Of The Advantages Of Using An Electric Chainsaw?
Have you ever tried to start a gas-powered piece of equipment, but you had no luck? Yeah, it happens from time to time for sure, and that in itself highlights one of the advantages of an electric chainsaw. Gas-powered chainsaws are said to be more heavy duty and ready for large tree trimming jobs and the likes, but hey, let's look at both sides of the equation. There are the pros and cons of each, and right now, it's time to introduce you to the benefits of using an electric chainsaw for your projects.
Not only can you easily start one of these chainsaws, but ease of operation is a benefit in general. The only thing that wouldn't be easy about using one of these chainsaws is if you were several hundred yards away from a power source. Then again, there are cordless versions, and those would save the day as well. It really depends on your needs, as you might imagine, but now you know that these chainsaws are easy to use all the way around.
If you have ever primed a gas powered mower and still had no luck, that first benefit is making you think twice. Those electric-powered chainsaws are starting to sound better and better, aren't they? Now let's talk about kickbacks. Kickbacks are certainly a possibility with chainsaws, and that is a safety concern. However, with electric chainsaws, safety chains help to prevent kickbacks. That's not saying that they won't happen, but they are much less likely.
The downside to that advantage is you are going to be using a chainsaw that is considered to be a little less powerful. Yes, gas-powered chain saws emphasize the word 'power,' but that doesn't mean you can't get the job done with a different type of chainsaw. You definitely want to place a priority on safety and security no matter which type of chainsaw you purchase, and buying an chainsaw that operates using electricity puts a checkmark in that box.
What about the fuel that gas-powered chainsaws use? That's something to consider because chainsaws that use electricity need no fuel at all. They will, however, be using a power source, which means they contribute to your energy costs for that month. Still, you would think that the electricity used wouldn't quite total the costs of buying gas for that other chainsaw. So far, which one do you think you would want to use? There are as mentioned pros and cons for each, but those electric powered chainsaws are certainly something to consider.
You can also count on them being less noisy. Plus, they aren't as difficult to store as their counterparts. Are you ready for the kicker? The kicker is that they are also less expensive. You get to save money, and that certainly sounds like a win-win. What do you think? I think personally that an electric chainsaw would be safer and better, as long as it is able to handle the job that you need to get done.
FAQ
When reviewing so many electric chainsaws I noticed there were a few questions that people kept asking. So I thought I would put together this FAQ section to help answer some of these questions. Some of these questions are pretty simple to answer and some are a bit more difficult to answer. But there is one question that I see more then any other question and will be the first one I answer.
What Type Of Extension Lead Should You Use?
This is the most common question I see when people are looking into an electric chainsaw. Having the right heavy gauge cord will be a life saver. This is an interesting question that isn't as difficult at some people seem to think. One thing to note is that the further away you are from the power point, the heavier duty extension cord you should use. I wouldn't use a cord that doesn't have a amp rating of at least 30 amps.  The gauge can be a little more tricky to get a straight answer, tho I live by having more protection then necessary. So I would recommend having a extension cord that has at least 12 or 10 gauge, this should prevent most issues some people have.
What Protective Gear Should I wear?
Operating a chainsaw is a dangerous job and you should always wear protective gear. The first thing I would recommend wearing is eye protection that has side shields on them, these are pretty self explanatory. Chainsaws are loud tools and can cause damage to your ear drums if you're not careful, so you should wear some ear plugs or ear muffs to be safe. Some for of leg protection is a great idea, such as some chaps or cut resistant pants.
You should wear some steel capped boots to protect your feet, the last thing you want is something dropping on your feet while using a chainsaw! I would recommend wearing a hard hat, especially since a lot of your cutting can be above your head removing tree limbs. The last bit of protection I highly recommend is some protective gloves. Especially gloves that have some kind of grip surface, since this will help with holding the chainsaw. These are the 6 items I would highly recommend wearing when using a chainsaw.
Can I Use A Generator With A Electric Chainsaw?
Using a generator with an electric chainsaw does help with one of the issues with an electric chainsaw. It removes the limit of needing longer and longer extension leads which is nice. But considering one of the best things of an electric chainsaw is the lack of maintenance you need to do on them. So instead of doing maintenance on a chainsaw, you have to do maintenance on a generator. So you can use a generator if you would like, but I wouldn't go lower then a 2000 watt generator.
Does The Chainsaw Come With Chain Oil?
This is a very simple question to answer and it is a disappointing no. When ever you purchase any chainsaw they won't come with oil and you will need to purchase some extra. So you should always pick up some oil at the same time if possible.
Should I Get An Extra Chain With My New Chainsaw?
I would recommend picking up an extra chain in my personal opinion. You're chain will eventually need replacing so I would recommend killing two birds with one stone as the saying goes. This is more just a time saver and just make your life a little easier.
Should I Get A Protective Case For My Chainsaw
Yes, yes, yes, and yes is the simplest answer to this question, you should always protect your tools. This is not something I see a lot of people recommending, while chainsaws are tough pieces of equipment. They aren't invulnerable and can still break so protecting the chainsaw and the bar is important.
My Final Thoughts
Electric chainsaws were designed with a job in mind, and they do those jobs extremely well. If you're looking to down a 30+ inch in diameter hardwood tree then going electric isn't going to cut it, and you would best with a gas chainsaw. But if you only want to handle tree limbs and trees that are roughly 10 inches in diameter, then electric is a great cheaper alternative that is a lot easier to start then a gas. If you have a backyard with trees then I recommend having a electric chainsaw, which will help make your life easier and even save you money in some cases.