I hope you love the products I've recommended below, just a heads up that as an Amazon associate, I earn from qualifying purchases. This means I may earn commissions on products bought via links on this page.
Husqvarna are responsible for some of the best chainsaws of all time in my opinion, so finding the best Husqvarna chainsaws isn't an easy task. Trying to find the best of the best when they create so many top rated and high quality chainsaws is a pleasure and a curse at the same time. Having to pick the best from such a company is exceedingly difficult.
So sadly, some impressive models didn't make the cut which really speaks to the quality of the saws Husky makes. So I think it's safe to safe if a chainsaw has the Husky badge on it, you're heading in the right direction.
With that said, I have hand selected a few which I believe are good enough to please just about any user. Below you can compare Husqvarna chainsaws and find reviews to see which model is best suited for the type of work load you need.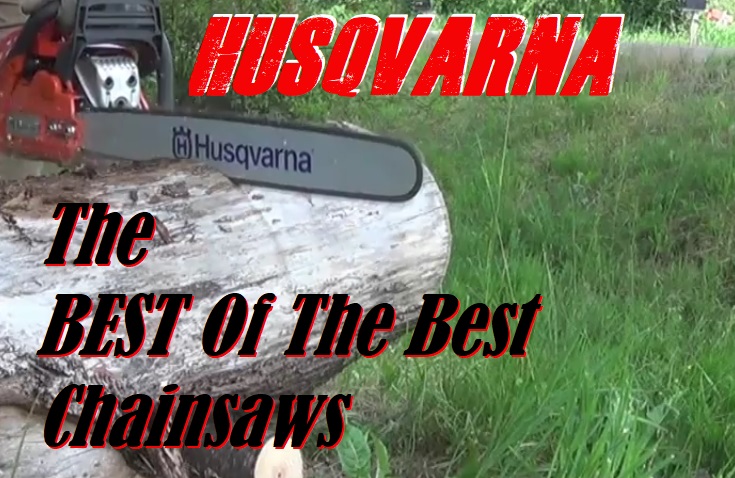 Compare Husqvarna Chainsaws With Reviews
Husqvarna 120i With 14 Inch Bar Review



The Husky 120i is a very impressive unit that packs a surprising amount of power for its size. This chainsaw is powered by a 40V 4Ah battery which holds a good amount of charge, as long as you aren't constantly cutting and holding down the trigger. Thankfully they do include the charger with this unit, which still surprises me when some companies don't offer this with all there units. This does have e-Save mode which helps keep the battery last longer, tho I didn't notice a massive difference when pushing this saw. But the battery did last me a good hour and a half with some pretty heavy constant use.
This chainsaw is able to cut an impressive amount of things, and get through a lot of work which I think makes it perfect for home use. It was easily able to handle tree branches that were 6 to 12 inches in diameter which is perfect for the yard. But the thing that really impressed me with the power of this unit is how it was able to buck a 25 inch in diameter hickory tree. It was certainly slower then a gas chainsaw which was expected, but it certainly doesn't lack any power.
Being a battery powered chainsaw did give it two really great advantages in my opinion. They are how quiet the saw is compared to a gas saw, and how much easier it is to start a battery powered chainsaw. Even after starting gas chainsaws for decades, I can still appreciate having this easier option.
What I Like About The 120i
The battery life on this chainsaw is very impressive when you put it in its E-Save mode and don't push the chainsaw hard, making it last up to 2 and a half hours.
Being able to buck that hickory tree really surprised and impressed me, which is something that I highly recommend to anyone wanting a great battery powered chainsaw with some serious power.
This chainsaw has an auto chain oiler which is great on its own, but it also doesn't use a heavy amount which means it doesn't go through as much oil as you will other saws.
Husqvarna 120i With 14 Inch Bar

The Best Mid Range Husqvarna Chainsaw
Husqvarna 455 Rancher With 20 Inch Bar Review


When most people think about Husqvarna chainsaws they will think of something like the 455 and for good reason. It is one of the most reliable and one of the most powerful mid range chainsaws on the market in my opinion. This is thanks to its 55.5cc engine which is plenty of power for what this thing can do. I do like that this is a rear handled chainsaw which makes life easier in certain situations. It makes life easier when removing trees but they aren't the best for being up in the tree trimming, which is something to keep in mind.
Reliability is one of the most important things for a chainsaw to me, nothing more annoying when you're cutting and something goes wrong after an hour. This is something that frustrates anyone who has used a chainsaw. With the 455 rancher this is not something I faced, I ran this thing for over 6 hours straight cutting a large tree into pieces. Through that whole time the chainsaw didn't over heat or sputter, it just put its head down and worked so to speak. IF you want a powerful reliable saw, then the 455 rancher is for you.
There is one thing I have to mention with this chainsaw since I see it in so many reviews, and that is that it leaks oil more then the usual saw. This isn't true and there is a very simple reason why this happens to a lot of people and the fix is simple. Most people when they finish cutting don't clean the saw, so the dust gets left behind and the oil gets absorbed into making it seem like it leaks a lot. The very simple fix is to actually clean the the saw after use, which should solve the problem. If you want to take it further you can take the saw apart and go even further with your cleaning, but I really only recommend that to the more experienced saw user.
What I Like About The 455 Rancher
I'm a massive fan of how reliable and sturdy this chainsaw is, starting easy and not spurting after many hours of use is something that really appealed to me.
In terms of power the 55.5cc engine and 20 inch bar will allow this beast of a chainsaw to get through most things the average person can throw at it.
Having the rear handle was great when it came to cutting down trees and then cutting them into smaller pieces of wood.
Husqvarna 455 Rancher With 20 Inch Bar

Most Powerful Husqvarna Chainsaw
The 460 Rancher With 24 Inch Bar



The Husqvarna 460 Rancher is one of if not the best chainsaw on the market in my opinion, especially when you consider some other chainsaws cost upwards of $1000. It is great value for money and it gets better with this version coming with two extra chain replacements which is really convenient.  I wish more people would do this, just adding a few things when you pick up a chainsaw it's a nice touch that can make the difference between a recommendation or not.
This is a really powerful chainsaw and easily the most powerful chainsaw on this list, being the only chainsaw on this list I would recommend for milling if you're on a budget. This is thanks to its 60.3cc engine that puts out 3.7hp which easily makes it stand out from the pack with that power. There really isn't a lot this chainsaw can't get through, only the most difficult of tasks will give this thing trouble. So if you have some big tasks that need the power then you can't go wrong with the 460 rancher.
There is one thing I would recommend if this is your first time using such a high end chainsaw, and that is to use high quality non ethanol fuel. Since this is a fairly expensive chainsaw you don't want the problem of replacing a carburetor and costing you more money. So using a decent fuel will help prevent this problem, and something I would highly recommend for such a high end tool.
What I Like About The 460 Rancher
I liked getting the two extra chains which was a nice convenience and didn't mean I had to go out and buy some spares.
The power of this chainsaw is something that I will never forget and will make it difficult to go back to something smaller after using this beast.
I did find the quick release for the air filter was a nice touch for when I did need to replace it, it was a nice quality of life improvement.
While just outside the $400 Chainsaw bracket, it's still the better choice in my opinion. Spend the few extra bucks to get one of the most powerful Husqvarna's on the market.
Husqvarna 460 Rancher Chainsaw

Why Should You Choose Husqvarna Chainsaws
One of the things that I really like about Husqvarna is just how much experience they have in the industry, with the company being around for over 300 years. While not all of this time was specifically designing chainsaws, it does show that the company do create quality products to have survived for so long. Also being based in Sweden is a big plus in my eyes, there isn't a lot of countries that requires chainsaws then Sweden in my opinion. So if it can handle Sweden, it can handle here.
While Husqvarna specialize in gas chainsaws they do offer battery powered as well which is extremely useful, since a gas chainsaw isn't for everyone. While I know some people don't like battery powered chainsaws, having the choices is important since what works for you, may not work for someone else. So I like Husqvarna giving the extra options.
Going with such a well known brand has a few other advantages that I think most people over look when purchasing a chainsaw. Which means if your chainsaw ever breaks down which chances are will happen one day, having a decent brand chainsaw increases the odds of having a local mechanic who is a partner with Husqvarna. So getting repairs and parts will be a lot easier for when something goes
Having so many options is one of the many reasons I really like this brand, so with all that in mind it is time to find out just what the best of the best Husqvarnas really are.
What To Expect When You Buy A New Husqvarna Chainsaw?
This short video demonstrates what to expect as you open up a new 460 Rancher, assembly and using it for the first time. Great video to watch if this is your first time using a chainsaw.
My Final Thoughts
Husqvarna is a personal favorite manufacture when it comes to chainsaws for me, which made picking the top 3 Husqvarna chainsaws really difficult. But the three on this list I feel just stood out that little bit more, whether it was due to extra power or cost they all deserved to be on this list. But if it came down to my personal pick out of the three I would go with the 455 Rancher, I found it was the best all round chainsaw overall which didn't hurt the wallet to much.
Husqvarna have acquired Jonsered chainsaws and proudly make these chainsaws with teh Husqvarna badge represented on the label. If these Husqvarna chainsaws don't meet your requirements you should give the chainsaws by Jonsered a go, you wont regret it.