I hope you love the products I've recommended below, just a heads up that as an Amazon associate, I earn from qualifying purchases. This means I may earn commissions on products bought via links on this page.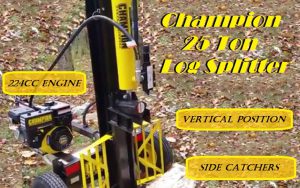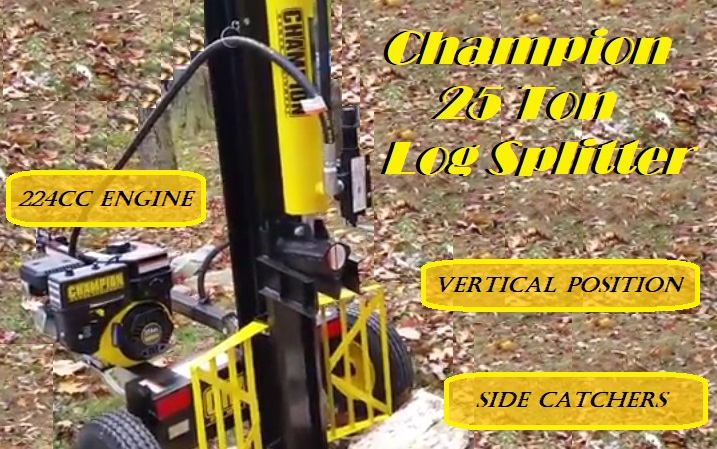 From these Champion 25 ton log splitter reviews, it's becomes easy to see why this machine stands out from the pack. They're tough, reliable, easy to use and mechanically sound. Which are just some of the aspects you will discover within this review. But there are some pitfall which you should be aware of if you are at all interested in buying the (New model: 100326 replaces older model 100251 ) 25 ton log splitter by Champion Power Equipment.
There are quite a few reasons why this machine is at the top of the list for 2018. So in saying this, it's important to go over what makes this splitter so good, and some of the downsides to this wood splitter as well. While there certainly isn't too many downsides to this piece of equipment, I still feel they have to be mentioned to give you as much information you need to make this important decision. After all, these aren't just some cheap $50 toys.
What I will be covering in this review for the Champion 25 ton log splitter is the many features this machine has, ranging from it's power, maneuverability, it's accessibility, and a few other features this splitter has. With this in mind, it's time to get on with this review. Time to find out why exactly do I rate this model as one of the best 25 ton log splitters, from one of the most reliable brands on the market Champion.
Who Makes Champion Log Splitter Engines?
This is one of the most common question I see asked about champion log splitters. The simplest answer to this question is that the engine is an in house brand, made by Champion themselves. Tho I find it to be quite similar to a Briggs & Stratton, which is a quality engine.
Does this really matter? To some people this will be a deal breaker, but I implore you to reconsider. This is a quality engine and a high quality log splitter. While Champion make the engines themselves, I can't seem to find where they are made. Which makes me strongly suspect it's made in China, which doesn't personally bother me. There is a lot of high quality manufacturing coming out of China, this log splitter included! So if you like the idea of Champion log splitters and want some reviews on some other log splitters, click here!
How Much Power Does This Champion Splitter Have?


One of the first things I look for in a log splitter is just how much power does it have, because I need some hard knotted woods split so I need some fairly heavy duty machinery.
The power for this machine comes from its 224 cc Champion single cylinder OHV Engine which may cause some people some concern, because it isn't a Honda engine. I can understand this worry since Honda produce some of the best wood splitting engines out there, and some of the best period. But with my testing of this machine I found this fear to be unwarranted, it was very reliable and produced plenty of the power I needed.
Considering this 4 stoke engine by Champion is relatively new to the scene, it's had some great appraisal from customers across the States. The engine sleeve is also cast iron, which as you know is extremely durable and a tough nut to crack. The HP (Horse Power) is estimated to be between 5 -6.5hp) As you can clearly see in this short video below:


What Size Log Can The 25 Ton 100326 Champion Handle?
From My Testing:
In The Horizontal Position
Soft Wood (pine) = 24 inches in diameter
Hard Wood (Oak) = 18 inches in diameter
In The Vertical Position
Up to 30 inch in diameter hard wood oak.
Recommended Log Size By Champion Power Equipment
24 Inches in length
100 pounds in weight
Now of course the important reason to have power is just how big of a log you can split. The 100326 25 ton log splitter has two positions you can put it in and depending on which position you have it in, will make a very big difference in terms of just how large of a log you can split. Those two positions being the standard horizontal and the vertical.
First I will go over it's horizontal position and just what I could split with this magnificent splitter. I decided to use a soft wood and a hard wood just to cover more bases for more people. With the softwood pine that I used I was able to get through logs that were 24 inches in diameter, with no trouble at all. When I used hardwood I used oak which is one of the harder logs out there, this splitter blew me away by getting through logs that were 18 inches in diameter.
One of my favorite features on any log splitter is its ability to go into a vertical position, and one of the main reasons for this is that it lets you split logs that you normal couldn't. When I put this machine into its vertical position its splitting increased a fair bit, more then any other 25 ton splitter I have used before.
I wanted to really test this mode out and decided to use some very large hardwood oak logs that were a massive 30 inches in diameter. And to my great surprise this splitter got through these logs, it did slow down a bit at times but it never came to a complete stop. When you do split such large logs it is highly recommend to work your way from the edge to the inside, which makes life easier with such big logs. But the thing that I didn't mention with such large logs is how heavy they are, so in a vertical position you don't have to lift them up, you can simply roll them over.
Pros & Cons

The Good
Reliable 224cc Champion Engine
Auto Low Oil Shut Off
3900 PSI Hydraulic Pressure
Horizontal/Vertical Positions
Log Cradles Included
Tow-able with extendable tongue for ATV/UTV
Splits hardwood effortlessly
Awesome Customer Service
Great Price For 25 Ton
The Bad
Loves to drink. Hydraulic fluid that is
No Log Lift (Compensated with Vertical however)
Champions Features For The 25 Ton Wood Splitter
This Log splitter has few features that I really like and one that you don't see very often on machines of this size, and that is it has 2 log catchers attached, one on either side. While this isn't the biggest thing in the world I found it very useful when splitting in a horizontal position. What this does is when you are splitting logs they don't just fall to the ground, and you can rest smaller logs there. Which means there is a lot less bending over which does help save the back, which is great when you consider how much a log splitter already saves your back compared to using an ax.
Like most log splitters of this size this machine is also tow-able, which is a must for a lot of people who split there own wood. If you have a bit of acreage or family and friends who need logs split, having the ability to tow your splitter is invaluable. Thankfully Champion have installed this splitter with two 16 inch DOT pneumatic
approved tires. What this means is that you can legally tow this splitter on the road up to 45mph, tho I wouldn't recommend going over 40mph and even slower. This model is also EBA certified with a 2 inch ball hitch which also has a tongue extension to fit most ATV/UTV.
As I mentioned up above this splitter has two positions which is extremely helpful, not just from splitting performance but also with ease of use. Not having to bend over and picking the logs up makes a big difference for people who have bad backs, and it's an easy task to switch the the splitter in between the positions, and switching this machine over is remarkably easy.
The Not So Good
There really isn't a lot wrong with the Champion 25 ton log splitter in terms of design, power and pure reliability. However, it's not perfect. Some of the issues that I find with it may not be that much of an issue for you either. It does have something I like to call the Champion issue and that it is a very thirsty machine for hydraulic fluid, which seems to be a thing for Champions splitters I have noticed. The other issue comes up with the log catchers. That is they can feel a little flimsy and made me not want to put logs that are to heavy on them. While they never broke, I was just concerned about how strong they really were.
The other thing that I was a bit surprised at was that the return hoses had clamps instead of JIC fittings, which after about 10 hours or so of use they came off and spilled everywhere. So I would highly recommend that you check the clamps every few of hours during use, and you shouldn't have that worry. While this does sound like a pretty big issue the clamps coming off only seems to be limited to a few people, and I happened to be one of the unlucky ones.
My Overall Thoughts On This Champion 25 Ton Log Splitter
The Champion (model 100326) 25 ton gas powered log splitter is a great splitter that has a few minor set backs. The lack of a Honda engine will put a few off, but I'm glad I kept an open mind about the engine it came with. Being relatively new compared to the brand name Honda, they have big shoes to fill. But overall, I was impressed with the overall engine performance.
This log splitter has plenty of power for almost all users and only the most heaviest of heavy duty user would need something stronger. Its ease of use really impressed me, splits wood without any effort at all. I had zero issues when I had to start it, first or second pull and it started right up. Champions customer service is second to none which really helps when you are buying a hefty purchase like this. Overall I stand behind the 25 ton Champion log splitter and I hope my review shows this. I highly recommend it for anyone who needs there logs split without any headaches whatsoever.
Champion 25 Ton Log Splitter (100326)