I hope you love the products I've recommended below, just a heads up that as an Amazon associate, I earn from qualifying purchases. This means I may earn commissions on products bought via links on this page.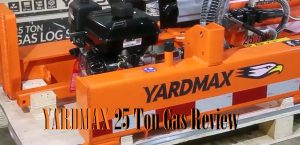 After reading my Yard max 25 ton log splitter reviews, its becomes apparent as to why they are some of the best value for money log splitters in this category. It's extremely difficult to find a 25 ton splitter in this price range where you don't sacrifice some amazing features and poor quality. Thankfully this beast of a machine doesn't sacrifice what really matters, while incorporating some pretty cool features.
Many 25 ton machines will set you back anywhere from $1200 all the way up to $3000, which is a very costly upfront investment. IF you don't know what you are buying, you are blindly investing in something that 'might' work. Fortunately the Yardmax 25 ton full beam log splitter won't cost you an arm and a leg. (Check Price On Amazon Here).  Which as I mentioned earlier is quite a good buy. But the price of this wood splitter isn't the only thing making it worth buying. After all, we want something that is going to stand the test of time and service us through cold winter after cold winter.
In this review for the Yardmax YU2566 Gas log splitter, I hope to be able to give you the information you need to make an informed choice as to whether this is the right machine for you. For now and the foreseeable future. So with the price point being very reasonable, how well does it perform. That is what we are about to discover as we dig deeper into this Yardmax 25 ton log splitter comparison review.
Reviewing The Yardmax's Power Capabilities


The first thing to note on this 25 ton model is its engine. Which is the 6.5HP 208cc Briggs & Stratton engine. Which is a very impressive engine for one that is made in China, I know this may cause some to worry but this is one of the finer quality builds that I have ever used that was made in China. But if you look past where it is made you will find it is a very reliable and provides plenty of power to split all but the largest most knotted logs. Which is what we have come use to from the American owned Briggs And Stratton.
The only issue that I had with this wasn't actually the engine itself but the bolts that were used for mounting., they became loose overtime and just need to be done up tight again every now and then. A small issues and certainly not a deal breaker for me.
Splitting Logs With The 25 Ton Yardmax
Horizontal Position
When it came to splitting logs with the 25 ton, it managed to do some impressive tasks. In both it's horizontal and my favorite the vertical position. But first I will go over just what it could do in its horizontal position. Being a 25 ton unit it will get through quite a few varieties of wood and sizes in the horizontal position. The Yard Max only really struggled on some of the larger more knotted hard wood logs like eucalyptus. But to my surprise it did manage to get through these logs when they were 20 inches in diameter. These logs did take multiple attempts to split which was to be expected with such hardwood logs. When it came to some softer woods like pine, I was easily able to split logs that were 24 inches in diameter.
Vertical Position
This is where the fun started for me. I really like splitting logs in the vertical position, there is just something enjoyable about splitting logs that this size log splitter shouldn't be able to get through. Any wood splitter that has a vertical position instantly goes up in ranks in my books. The vertical option is such a great feature that needs to be on every splitter of this size.
I put some massive 30 inch in diameter and 24 inches in length oak logs under this thing and after a few splits it was in pieces ready to make into kindling. If you have used a log splitter before you will know that if you wanted to split a log like that in a horizontal position, you would be looking at something that is in the 35 ton range. Which goes to show just how powerful the combination of the Briggs & Stratton engine and the vertical position.
YARDMAX 25 Ton Full Beam Gas Log Splitter

The Best Features Of The 25 Ton Yardmax Log Splitter
Many folks may see a log splitter as just a means to split logs. But others like myself see the true value in time saved and less fatigue on the body. One of the best features of this log splitter is just how quick it is for a 25 ton log splitter. I was quite blown away to be honest. Most splitters of this size take between 12 to 15 seconds a cycle. This Yardmax has an incredible quick cycle time of about 9.7 seconds which is pretty far ahead of the pack. So much so the Yardmax 25 ton gas splitter even made it onto our fastest log splitters page. Which is quite a feat when coming up against lightening fast Kinetic machines.
To a lot of people a difference between 9.7 and 12 may not sound like much, but after several cords the amount of time you will have saved will be quite substantial. To make splitting even quicker they have included there 4 way wedge piece, which will help split logs 4 times quicker.


This Log Splitter Stands Out, Here's Why
I have found Yardmax are a very smart company when it comes to the accessories that they include with there log splitters. This log splitter comes with two log cradles, one for either side. These log cradles are especially handy and sturdy when mounted for some larger sized logs. While this may not seem like the most exciting thing in the world, it is very important in my eyes. Not having to bend over and pick up logs after splitting, and letting them rest makes life a little easier on your back and knees. I also find it decreases your splitting time since you aren't constantly having to pick logs off the ground.
I mentioned above how much I love the vertical position on log splitters, but the Yardmax has taken the number one spot for one of the best vertical and horizontal splitters for me. What it has at the end of it is a metal spinning plate, and what this does is it helps you turn the logs when splitting and helps reduce the stress on the beam. So not only is it a nice quality of life improvement, it will make the splitter last longer from reduced stress. Great combination right there.
Overall Thoughts On The Yardmax 25 Ton Log Splitter
With so many 25 ton machines on the market I thought it would be difficult to put this on the list of the best. But with a little bit of time and experience, I got to use to using this splitter. So to my surprise I found that this is one of the log splitters that I would easily recommend to anyone. It has plenty of power, is very quick and will get the job done for most people.
It has quickly become one of my favorite splitters and Yardmax are now a company that I hold in high regard. If I had only one negative to say and that was the bolts that were used to mount the engine, as I said before they did come loose a bit but it was an easy fix. A small problem on such an incredible splitter is only a minor setback to me. When you step back and look at what exactly you are getting for a low amount of money (in comparison to some of the high end machines), its easy to see why it is simply one of the best in town. If you have read this Yard Max 25 ton log splitter review all the way to the end, I think you know what you should do now. Don't hesitate, it really is that good.
YARDMAX 25 Ton Full Beam Gas Log Splitter

Assembly of the Yardmax is also rather simple. This short video below will pet you know exactly what you are in for before you buy one.