I hope you love the products I've recommended below, just a heads up that as an Amazon associate, I earn from qualifying purchases. This means I may earn commissions on products bought via links on this page.
Having the right tool for the job is key to making life easier, this is especially true when it comes to chainsaws for ripping logs. This is one of those jobs that can put a lot of stress on the chainsaw. So you don't want to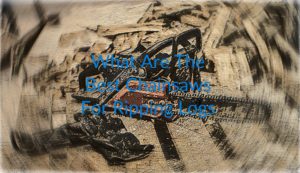 buy the wrong one, and not be able to do your job.
There are a lot of things that goes into ripping logs, that can make it complicated, if you don't know what you're doing. Which is what I hope to cover here, finding the right tool for the job, hopefully without breaking the wallet.
Buyers Guide For The Best Chainsaws For Ripping Logs
There are a lot of chainsaws on the market, so finding the right one can be a difficult task. I also know not everyone has hours to spend reading thousands of words for a review. So I made this table to show what I consider the best chainsaws for ripping are. My full reviews for the individual chainsaws are below if you want to know more.
| | Engine | Bar | Our Rating | Check Price |
| --- | --- | --- | --- | --- |
| | 70.7cc | 24 Inch | 9 | Check Price On Amazon |
| | 64cc | 20 Inch | 9.6 | Check Price On Amazon |
| | 81cc | 27 Inch | 9.9 | Check Price On Amazon |
Husqvarna Chainsaw For Ripping Logs
Husqvarna 372xp Chainsaw Review



In my opinion you can't put a chainsaw list together without including a Husqvarna, and to probably a few peoples surprise, not the Husqvarna they expected. Most people really like the 390xp, but I prefer the 372xp instead. It just appeals to me a bit more then the 390xp, which is also a great saw.
Power Is Good
This is a great chainsaw that would of taken the number one spot if the two models below didn't exist. But don't count it out yet, it has an impressive 70cc engine that is capable of ripping logs. This particular model comes with a 24 inch bar, but you can run a 28 inch bar on it.
One thing that really stood out with this chainsaw was that it was a bit of a slow starter. Which I was initially disappointed in. But once you ran a few tanks of gas through it, oh boy did this thing really start to tear through logs. It was asking for more wood to cut through. This is one of the things that really impressed me with this chainsaw.
Quality Design
The weight and feel of a chainsaw is important, almost the most important thing in some cases. What's the point of a saw you can't lift, or isn't comfortable to use. Which you may of noticed by now I like my saws to feel comfortable. Which is what I got here, running this beast for 10 hours straight. I tired out quicker then the saw!
But this is expected when you have the Husqvarna brand name, there is a reason they're market leaders. There is an actual advantage to go with Husqvarna, and not just because brand recognition. It's the fact that tools break down, or have issues. It doesn't matter how well you maintain them. So there is a high chance you'll have a local mechanic who can fix it. Instead of having to search for hours trying to find someone to help.
The Specs
Engine Displacement – 70.7cc
Pitch – 3/8
Gauge – .050
Weight Excluding Cutting Equipment – 14.6lbs
Bar Recommendations – 16 Inches Minimum/ 28 Inches Maximum
Husqvarna 372xp Chainsaw

Affordable Chainsaw For Ripping Logs
Makita DCS6421RFG Review



Makita are more well known for there battery powered tools, so this gas model came as a bit of a surprise. After a bit of researching I found Makita had purchased Dolmar, and have started making there chainsaws under the Makita name. So if you like Dolmars, this is what they're now.
This doesn't take away from this chainsaw, it actually adds to it in my opinion. One of the more annoying issues when it comes to chainsaws, is when something goes wrong and you need to get it fixed. So having a bigger company making the chainsaw, generally means there are more places to get your saw repaired.
Power Is Incredible
When it comes to ripping logs you'll need a good amount of power, which this Makita has in spades. An impressive 64 cc gas engine provides you with a great amount of power, that will help you on the toughest logs. Without going to a pro shop you're not going to get much stronger then this saw, especially at this price point.
This particular model comes with a 20 inch bar which is a decent size, but it can handle a larger bar. Which you may want to do, depending on the size of the logs you'll be ripping. If you're interested in more power, then they do offer a 79cc saw as well.
Runs Well In Any Weather
The biggest issue with a gas chainsaw is how hard they're to start, and how well they run in cold weather climates. This chainsaw ran extremely well in 20°F temperatures, and starting was never an issue for me personally. Very rarely ever requiring more then two pulls to start.
This was one of the biggest selling points of this chainsaw for myself, is just how well it ran. Having such a reliable engine that never struggled or bogged down, made life easier and removed some worries.
Smart Engineering
One of the biggest problems in a lot of modern saws is the housing is made out of cheap materials. Which could lead to some worrying issues such as the exhaust burning a hole in your oil reservoir, or muffler failure. So it's a great design decision by Makita to make the housing out of magnesium, which eliminates these issues.
Small Warning
One thing that did come up a few times, when I got others to try this saw out. Which was that they were shocked at how heavy this saw was. A lot of them being experienced saw users, and a few who do it professionally. So this is something to consider when looking at this chainsaw.
The Specs
Engine Displacement – 64cc/ 3.9 cu in
Power Rating – 4.7Hp/3.5kw
Standard Guide Bar – 20 Inches
Pitch – 3/8″
Gauge – .050″
Fuel Mixture – 50:1
Weight Excluding Cutting Equipment – 13.9lbs
Makita DCS6421RFG Chainsaw

The Best Chainsaw For Ripping Logs
Echo CS-800P Chainsaw Review



It's very hard to not know about Echo in the chainsaw industry, they're responsible for some of the best chainsaws on the market. With this 800P being king of there chainsaws in my opinion. It's an extremely high quality chainsaw, that has a lot of power, and reliability.
High Powered Saw
While the other chainsaws on this list are great saws, this Echo is just a cut above the pack. It's beast 81cc engine, with 27 inch bar are incredible and will get through anything you can throw at it. Which is what makes it perfect for ripping logs and milling in my opinion.
As I've said countless times, ripping and milling are the two most strenuous tasks for a chainsaw. So if your chainsaw can handle these tasks, then you have a great saw that deserves high praise. But this chainsaw can rip logs a lot easier then most other chainsaws on the market, which is why it's my personal favorite pick.
Bar Size Matters
Having a larger bar means requiring more power to be able to cut effectively. Since the size of the bar does determine what the chainsaw can cut, without making it take longer then it should. So I'm happy to report that this saw can handle a 36 inch bar. This makes it excellent for ripping and milling, which again is why you're here.
Heavy Chainsaw But Comfortable
Considering this chainsaw is 16.8lbs at it's dry weight, you can imagine how heavy it is when fully loaded. So it's definitely on the high end of the weight spectrum, but for the power it has, this isn't to heavy in my opinion.
Even tho it does weigh on the higher side of things, it's surprisingly comfortable to operate. Which I think speaks to the quality engineers at Echo.
Value For Money
This chainsaw is often compared to two of the finest chainsaws on the market, with that being the Stihl ms661, and Husqvarnas 390xp. Which are some of the best saws on the market, but they are also $600 more then this Echo. With this Echo already being on the high end for some people. I consider it to be a bargain, with how great it is.
This chainsaw feels like an old school chainsaw in some ways when cutting. While it doesn't have the chain speed of some of the other higher end chainsaws, it has that old school torque. So when cutting into something deep, you can just sit on it and it will keep pulling. Which is something you don't get with a lot of chainsaws anymore.
The Specs
Engine Displacement – 80.7cc/ 4.92 cu in
Bar Size Recommendations – 24 Inches Minimum/ 36 Inches Maximum
Dry Weight – 16.8lbs
Oiling System – Automatic/ Adjustable (With Manual Override)
Echo Cs-800P Chainsaw

What A Ripping Chainsaw Needs?
Since ripping logs can put a lot of stress on a chainsaw, you will need a high power chainsaw that can handle the largest of trees. This does change a little if you're not going to be ripping larger logs. So you could go with a smaller cheaper option, if you will be ripping some smaller things.
Tho I'm a big believer in having more power then I'll need. Having that peace of mind I have the right tool for anything that comes up.
How Important Is The Chain?
This is a hot topic in the chainsaw forums, and everyone has there opinions on it. This is for good reason, since you do have chainsaw chains that are specifically designed for ripping. They are designed for ripping, and they do the job well. They are a little slower then the other type of chains.
Once you have one on your chainsaw, it's now only for ripping. Since they're more dangerous then other types of chains. But using a ripping chain is cheaper way to start milling lumber.
You can rip logs with other types of chains, or even convert your chain into a ripping chain. It'll just be more difficult, and you'll need your chains to be extremely sharp. So the chain is important and having several is necessary for ripping logs in my opinion.