I hope you love the products I've recommended below, just a heads up that as an Amazon associate, I earn from qualifying purchases. This means I may earn commissions on products bought via links on this page.
Chainsaw carving is one of the finest jobs a chainsaw can do, and for it you need the best. So what exactly are the best chainsaws for carving? This isn't an easy question to answer, since there are a few requirements.
While you could use almost any chainsaw for carving. Having the right chainsaw is always better. Generally when it comes to chainsaw carving, you will have multiple chainsaws.
One to handle the bigger cuts. Then a smaller chainsaws with a dime tip bar. You shouldn't use a carving bar,as a complete novice. This is something I would recommend if you want to take chainsaw carving more seriously in the future.
A Quick Guide To The Chainsaws On This List
The chainsaws on this list are more aimed for beginner carvers, compared to a professional. Since there is a lot more that goes into chainsaw carving, then just buying a chainsaw. Knowledge is something you will learn over time.
| | Power Source | Bar Size | Our Rating | Check Price |
| --- | --- | --- | --- | --- |
| | Gas 38.2cc | 16 Inches | 9.5 | Check Price On Amazon |
| | Gas 55.5cc | 18 Inches | 9.7 | Check Price On Amazon |
| | Electric 14.5Amp | 16 Inches | 9.4 | Check Price On Amazon |
| | Battery 36V | 14 Inches | 9 | Check Price On Amazon |
The Best Small Gas Chainsaw For Carving
Husqvarna 120 Mark II 16 Inch Gas Chainsaw



This is a great little carving chainsaw, that is a little on the heavy side for my personal preference. But not enough to be off putting in my opinion. Weighing about 10.7lbs with the cutting gear, and more around the 12 or so pounds depending on the bar.
I actually think the 16 inch bar, for this size chainsaw is perfect for carving. You could opt for a smaller bar, if you wanted, and it would still be excellent.
The Power
Normally on a smaller chainsaw I prefer 35ccs. Which this particular saw is 38.2cc, which does make a bit of a difference. I actually liked having this extra bit of power, but I'm a dinosaur stuck in my ways.
If you'd prefer a 35cc chainsaw, I'd recommend this one. While personally I haven't gotten to use it. I've had a few people I trust recommend it to me, and Makita are a very reliable brand.
Why I Recommend This Chainsaw
One of the important things with chainsaw carving for me, is comfort. Since I can be at it for hours, having something that is comfortable to use. Is almost a necessity for me. With this Husky being extremely comfortable to use, for extended periods.
The Specs
Cylinder Displacement – 38.2 cc
Power Output – 1.4 kW
Chain Speed At Max Power – 16.8 m/s
Weight Excluding Cutting gear – 10.7lbs
Bar Length Recommendations – Maximum 18 Inches/ Minimum 14 Inches
Husqvarna 120 Mark II 16 in

The Top Rated Gas Chainsaw For Carving
Husqvarna 455 Rancher Gas Chainsaw



Another Husqvarna, and another quality chainsaw. This is a theme for chainsaw carving, you want quality and reliable. This is what you get with the 455 rancher. This is most likely going to be the chainsaw you do the bulk of your carving with. So you want quality here.
The Power Of This Chainsaw
For this type of chainsaw I have the requirement for it to be a 55cc saw. Which is exactly what this model is, which is what first caught me eye. While this model has an 18 inch bar, I'd swap it out for a 16 inch bar. This will give it better speed to the individual tooth.
Why Is This Recommended For Carving
There are a lot of 55cc chainsaws on the market, so why did this one win out? For me it's the quality and feel of Husqvarna chainsaws. I know a lot of people prefer Stihls, but personally they just don't feel comfortable for me. This is an extremely reliable saw, that stood out.
I find it comfortable to use, and cut with. It does weigh a little on the heavier side. Weighing 13.2lbs without any of the cutting gear. With it being more around the 14lbs plus mark with it. I find it an acceptable weight, but might be a bit heavy for some.
The Specs
Cylinder Displacement – 55.5 cc
Power Output – 2.6kW
Chain Speed At Max Power – 20 m/s
Weight Excluding Cutting Gear – 13.2lbs
Bar Length Recommendations – Maximum 20 Inches/ Minimum 15 Inches
Husqvarna 18 Inch 455 Rancher Gas Chainsaw

The Best Electric Carving Chainsaw
Makita UC4051A 16 Inch Electric Chainsaw



Most people right off electric chainsaws for carving. But I find they're excellent for beginners, or people who live in small neighborhoods. Since it's electric it takes a lot of beginner worries out of chainsaws. Don't have to worry about mixing fuels, and deal with starting a gas saw.
What you gain by going with an electric saw, is safety. Since it's not as powerful as a gas saw, there is less likely to kick back on you. Tho you should always be careful with a chainsaw either way.
Why Did It Get Recommended?
One thing people don't consider with a carving chainsaw is where it's motor is. For an electric carving chainsaw I recommend the engine to be in line. Instead of on the side. This gives better line of sight, and easier to control in my opinion.
Another reason this was picked, is just how good it is. Being one of the best electric chainsaws on the market. It's great for beginners, and if you end up not like carving. It's a great chainsaw to use around the yard.
Power And Weight
It has a 14,5amp motor, which will help it get through softer woods like pine. Which isn't the softest wood, but a good wood to carve with, for a beginner. The amp of this chainsaw works really well with the 16 inch bar, but you could swap it to the smaller 14 inch bar if you wanted.
The weight of this chainsaw took me by surprise. I was expecting to be fairly light over all. To my surprise it weighed about 12.3lbs overall. Which was heavier then I was expecting, but it's definitely not to heavy to carve with.
The Specs
Amp Rating – 14.5 Amps
Max Chain Speed – 14.5 m/s
Weight – 13.3lbs
Bar Recommendations – Maximum 16 Inches/ Minimum 14 Inches
Watch It In Action!
Makita 16 Inch Electric Chain Saw

The Best Battery Powered Craving Chainsaw
Makita XCU03PTX1 36V Chainsaw



I was originally wary of choosing a battery powered chainsaw. But I was pleasantly surprised with this chainsaw, which was great overall. It does have a downside, which I will go over a bit further on. Overall tho, it's an impressive package.
What really took my eye with this chainsaw was the unique use, of two batteries at once. This gives it a lot more effective power compared to other battery models. Which gives it comparable chain speeds to the 455 rancher.
A Good Start Up Kit
Chainsaw carving is more then just a good chainsaw, you need a lot of tools. Which is why I like this combo. You get the chainsaw, batteries, charger, and a angle grinder. Which is another important tool for chainsaw carving. So it means having to buy less down the track.
The Power Is Amazing
The power of this cordless really caught me off guard. While the 455 still beats it out, it's incredible powerful for a battery saw. The two 18V batteries combined for 36V of power. It's possibly one of the strongest battery saws on the market.
As I've stated a few times, weight is important for a carving saw. I was expecting this chainsaw to weight quite a bit. But surprisingly it doesn't. It only weighs a little over 11lbs, which is a great weight for carving.
The Downsides
As I mentioned above, there is a downside to this chainsaw. Which is the battery life, when operating. They do last a decent time, but I found often enough it would drain before I was done. Which this is a problem, with an expensive solution.
Which is to get two more batteries and have them charge. While you use the others. This ends up being very expensive, and might not be affordable for most people. This is something I absolutely had to add to this review.
The Specs
Battery – 2X 18V LXT Litium-Ion
Net Weight With Battery – 11.5lbs
Guide Bar Recommendations – Maximum 16 Inches/ Minimum 14 Inches
Maximum Chain Speed – 20 m/s
What To Look For In A Chainsaw For Carving
There are a few things you should consider when looking into a chainsaw for carving. Most people make the mistake of going for the biggest they can. Which isn't always the best option.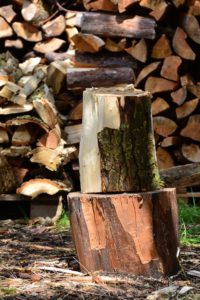 Having a more powerful chainsaw does certainly have it's place. It's useful for cutting the larger parts, where you don't need to be neater. I find it's better to go for a smaller chainsaw, with a smaller bar. For when you're starting out.
The smaller bar will give you more speed to an individual tooth. Which is more power. Being a smaller saw, has the other advantage of being safer. Since it's smaller, it pushes less weight against you. When you get kick back.
The Bar And Chain Are Important
The bar on a carving chainsaw is more important, then most things. A carving bar is generally referred to as a dime tip bar. This is for when you want to start taking chainsaw carving more seriously. As I said if you're a beginner, give this a miss. This is for when you have some experience under your belt.
The chain is also equally important since at a more experienced level, they need to be .050 gauge. Instead of the more common .325 pitch. If you want to have it broken down even further, I'd recommend this guide here. This is a good guide for those who want to take this hobby even further.
Do You Need More Then One Chainsaw?
When starting out, you won't need more then one chainsaw. Depending on how far you want to take the hobby, or even turn it into a job. Then you will need more then one chainsaw. Many chainsaw carvers have around six different chainsaws. This is mainly at a professional level tho.
They'll have multiple to do a multitude of jobs. They will have small, all the way up to the largest professional grade saws. With the irony being they will rarely use there professional grade saws. But it's there small and medium saws, that do most of there work. Even tho the pro saw cost them 3 times as much.
Gas/Battery/ Or Corded Electric?
This is normally a difficult question to answer, but in this case it's fairly easy. A gas chainsaw is without a doubt the number one pick, for carving. They have more power and chain speed, which is important.
This isn't to say electric, and battery powered don't have a place. They have a few advantages that are useful. They both can be used inside, which is useful. For a corded electric that's being powered by a generator, I'd recommend a generator of 3500w and upwards.
Battery saws are in a unique place, they're not to bad for a chainsaw, and getting better every year. Some people have created some incredible stuff, with a battery powered chainsaw. I just prefer a gas saw instead.
What Size Chainsaw Do I need?
This is a difficult question to answer. Since there is no one answer, with what I recommend, may not suiting you. For a smaller saw I'd say a 35cc saw is enough.  The medium in my opinion should be about 55cc. With the larger saw being between 65 and 70cc range.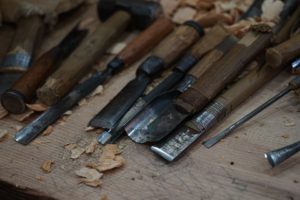 This is all just personal preference, but it does seem to be what a lot of carvers use. Eventually you will get your own style, and preferences.
Rear Or Top Handle Chainsaw?
For chainsaw carving, top handle saws are a 100% no in my opinion. Unless you have the the grip strength of a gorilla, it's just not viable. You also don't have the same level of control. So rear handle is an absolute must, in my opinion.
My Final Thoughts On Carving Chainsaws
This is a very interesting subject, and something that takes years to master. There are a lot of variables to take count of, which makes this such a difficult question. I hope the info I have provided is at least helpful for you. As in what's the best chainsaw for carving? I don't think there truly is one. Since you will eventually have multiple chainsaws, when you get more experience.
So in my opinion there is no best, and these are chainsaws that I'd highly recommend. Once you get more experience you will get your own taste, and will like your own chainsaw manufacturers. Tho once you start making your own creations, I'd love for you to post them in the comments!