I hope you love the products I've recommended below, just a heads up that as an Amazon associate, I earn from qualifying purchases. This means I may earn commissions on products bought via links on this page.
Within this article you will find two of the best Generac log splitter reviews which are both kinetic models. If you are on the fence about buying a Generac log splitter, then this article is a must read. The two reviews will cover any questions you may have about these splitters as well as a brief introduction to Generac if this is a first time hearing of the brand.
When you think of Generac you will naturally think of generators which is pretty understandable, since that is what they based there company off. Being the first company to engineer affordable home generators, but not only that but developing the first engine that is specifically for the rigors of generator use. So from this you can get an idea of what Generac are about, they want to be market leaders in everything they set there sights on. Which is something I can respect and something I hope they bring into there log splitters when they were designing them.
About The Generac Brand
One of the first things I did when I was coming into this review was to get a better understanding of what this company is about, which I feel is important when looking at purchasing any tool. I always find it a little better to know if the company is a leader in other areas, which is usually a great indicator that they have high standards of quality.
This is something you want with your log splitters, or any tool that you own to be honest. When I started to look into Generac that is exactly what I found. It became glaringly obvious to me that there is no better company for generators for home use than Generac. But not only that, they are a company that likes to give back to the community. Such as contributing more then half a million dollars to the United Way organization over the past 5 years, but also sponsoring events for the American Cancer Society. I feel this says a lot about the company and where their head is at.
With that in mind the main reason you are here is to find out just how good the log splitters are. This is a good question and one I will be answering for you below. The first thing to note is that Generac only make kinetic log splitters, which work in a different way to hydraulic splitters. However they are some of the quickest units around. So read on to find out just how good the Generac log Splitters are and if they are worth your time investing.
Generac K22 Kinetic Gas Powered Log Splitter Reviews


The first thing to note about this Generac K22 is that it is a kinetic log splitter which means it operates entirely differently to a hydraulic log splitter. Kinetic splitters operate by storing energy in there flywheels then they release all that energy in a single burst, which makes these splitters insanely quick.
This is the more powerful of the two Generac splitters,  also being more expensive (Check The K22 Price On Amazon) due to being gas and capable od splitting much larger logs.
Which to me is one of the biggest selling points to me with kinetic log splitters. And this is no exception with the K22.  it has an incredible cycle time of 2.5 seconds, this is the time of the ram to split and to return. This is just crazy how much faster this is compared to a hydraulic log splitter, which generally at there quickest are about 13 seconds. The Generac brand came in as the fastest in comparison from our testing.
The normal downside to kinetic splitters is that they are usually smaller models that do lack power in splitting larger logs, normally only being able to handle 12 inch logs. This is not the case of this beast kinetic unit, it is more on par with a 22 ton ram force log splitter. While the manufactures say that this splitter can get through logs that are 30 inches wide, I found this to only be true on soft woods. On hard woods it could still split an impressive 20 inch in diameter piece of maple. It can handle logs that are roughly 18 inches in length which I think is the right size for most splitters to have. The average firewood stove will generally only take 18 inch long bits of wood, so I feel this was a good decision.
This Generac kinetic wood splitter uses a 99cc overhead valve (OHV) engine that puts out an impressive amount of power for this task. The only thing I wish is that it would say where the engine is made since it wasn't recognizable, which I know can cause some people concern. But in my time using this impressive machine I found it to be extremely reliable that started really easy, and had plenty of power to split some decent sized logs.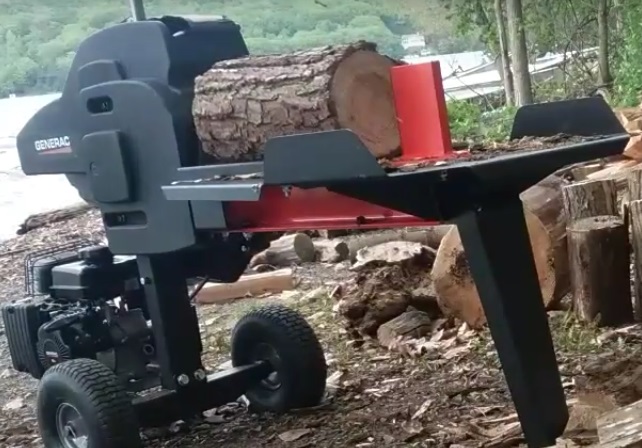 What I Like About The Gas Powered K222  Generac
Speed is the main course with this unit, at 2.5 seconds for its cycle time makes this one of the fastest log splitters on the market. Normally you will save a second here or there with different splitters, but this is saving you 7 to 10 seconds every split, it doesn't take long for that to save you hours.
My normal complaint with a kinetic unit is there lack of power, but this unit has just blown my thinking out of the water. Being able to split such large logs quickly has turned a 3 hour job into an hour job. Which leaves me with much more free time to do things that I enjoy.
I like the face that this kinetic is gas powered which means you don't have to deal with having an outlet nearby, but also not have to worry if your outlet has enough power to actually use your unit.
Generac K22 Kinetic Gas Log Splitter

Generac K10 Kinetic Electric Log Splitter Review


While the Generac splitter above is designed for people who need to split some seriously large logs at an incredible pace. This unit is designed for a different market, but don't worry the pace is still there. Being a more affordable (Check K10 Price On Amazon) household tool suitable for all types of users.
If you thought the K22 was quick then you will be shocked to know that this unit is even quicker!. While the unit above takes 2.5 seconds there and back, this unit makes it look slow coming in at an almost unimaginable time of just 1 second. This is something that I find to be incredible, to be able to split logs at such incredible speeds is crazy. I found to use this splitter at maximum efficiency it was best done with two people. It was the only way to keep up with such crazy speeds.
The downside to such speed is that it doesn't split the very large logs that some people require, so I would go with the K22 if you want larger log splits. This unit on the other hand is perfect for someone who has a small fire place and splits a bit more then the casual splitter, who is tired of swinging a maul. Tho you won't be able to split 20 inch cords, you will still be able to split some softer fir logs at about 14 inches in diameter, and a decent length of 16 inches. So it certainly still packs a punch, just not as heavy as the unit above, but still very respectable.
One of the things I do like about this unit is that it is powered by a 110V electric motor, which means it has a few advantages the unit above doesn't but one disadvantage. The disadvantage is you have to have a power outlet to split, so unless you have a generator you can't split away from the house. But the advantage of an electric unit is something that I really like, and that is there is no fumes. So apart from the small environmental reason, this allows you to split indoors. Which is something that when I got use to it, I found that I would go turn on the splitter and split just a few logs, so I could have my fire place going more then usual.
What I Like About the K10 Splitter
As with the K22, the K10s speed is just incredible and will never not be noteworthy, and something that should always be mentioned.
Most of the times I like having more power then needed when it comes to splitter, but I found having such an easy to use splitter on smaller logs. Let me have more fires going more often, much to the pleasure of the wife.
Splitting inside the garage and not having to deal with the cold was such a great advantage, that I really underestimated in the beginning and ended up being a massive fan of.
Generac Kinetic Electric Log Splitter

My Overall Thoughts On These Units
After countless hours of research and testing of these units I have come out with some real positive views on this Generac log splitters. Both of them are quick and that is something that I love and will be the gold standard going forward from here out.
But the thing to remember is both of these units have different target audiences. The K22 is for people who need to split a lot of larger logs for there home, or for even if they have a wood fire business. This splitter would make a lot of sense it is quick and strong which means more work getting done quicker.
The K10 on the other hand is for those who don't need to split such large logs, and only need a small amount of wood who are either tired of splitting the old fashioned way, or just want to split much quicker. Overall I don't think you could go wrong with either of these two units as long as you pick the right one for you.