I hope you love the products I've recommended below, just a heads up that as an Amazon associate, I earn from qualifying purchases. This means I may earn commissions on products bought via links on this page.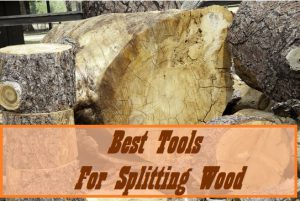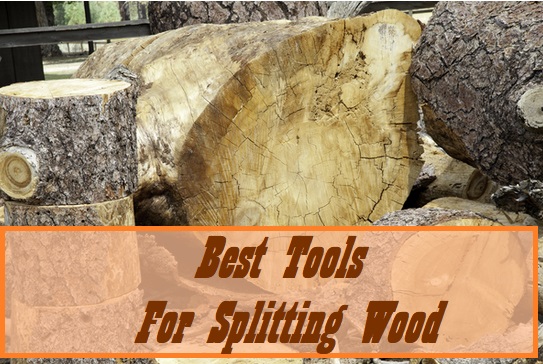 It's getting to that time of year again when our thoughts turn to a substantial task at hand. That's right, wood splitting time is here again! In fact, you may have a need to split various types of wood at anytime of the year, not just this season!
If you are already a weathered pro at wood splitting, you likely have your personal favorites when it comes to the tools you need to get the job done. However, if you are new to the wood splitting game, you may wonder where on earth you should start!
You will be glad to know that we have prepared a go-to guide for the best wood splitting tools. From the simple hatchet up to the more advanced superior cutting speed of a log splitter.  Ready to get started?
Log Splitters Are The Best Firewood Splitting Tools
If the thought of splitting firewood with an ax or maul sends shivers down your back, then you simply can't not consider looking at buying the best log splitter for your situation. Log splitters are machines that tear through logs like its nobodies business. Your back will thank you, your Wife will thank you, your hands will thank you. OK, I think you get the point. These powerful machines can split logs at speeds of 2 seconds per cycle. Which is incredible when you think about it.
Log splitters come in a variety of styles and sizes. Small to large powerful commercial models. For most households, an electric log splitter will do the job. They are small, portable and wont cost you the world. Yet they can split wood at rates your trusty ax could never handle.
A step down from electric are the manual log splitters. These are still a step up form swinging an ax (No swinging ever required), just slower and more physical involvement is needed compared to the electric models. Also the cheapest log splitters due to not having a mechanical engine. With these splitters you need to move the levers back and forwards in order to build up the pressure to split the log. Effective, but not ideal for larger logs and if you need to do many logs every day.
Show Those Logs Whose Boss!
For the serious heavy duty log splitsman (Yes that what I call myself), gas powered wood splitters are the absolute best choice, hands down. These beasts are run on a gas engine. What this means is pure power. If you have huge logs and want fast results. A gas log splitter is the best tool for you.
The best thing about a gas splitter is that they do also cater to the smaller splitsman. Meaning, if you want the power and convenience of gas but don't want to spend thousands on a big commercial machine, you don't have to. There are models like the Champion 7 ton log splitter which is smaller, but packs the power a gas typically offers. I highly recommend the Champion 7 ton as the entry level for any home owner wanting the advantages of using gas over electricity.
See The 7 Ton Champion In Action
The Trusty Old Hatchet Wood Splitting Tool
The hatchet is one of those all-around tools that should never be overlooked when it comes to tasks involving wood. You can use a hatchet to split small logs, ideal for kindling for fires. A hatchet can also be used to make shavings to start a camp fire, or your fire at home for that matter.
However, when it comes to splitting large logs, you are going to need more than a hatchet to get the job done in a timely fashion. But if you only need a small wood splitting piece of equipment, you cant go wrong with the hatchet (Provided you use it safely).
Most Common Wood Splitting Equipment
The Mighty Axe (AX)
When it comes to splitting wood, the mighty axe sure knows what it's doing. With the right technique and use you should easily be able to split small logs and have them ready in no time. However, if you intend to split large trunks, you may find yourself at the task a lot time before you actually get finished. Using a high quality splitting axe will ensure you get better results faster.
Just a word of caution regarding axes; if you are a beginner to wood splitting you may want to go for a longer handled axe. These tend to be safer for people with less experience as the swing range is further. Trust us, at the start you are going to miss your target quite a lot, so having the swing range as far away from your legs as possible is a really good thing!
The Supreme Circular Saw
Cutting blades are used to make direct line cuts in the wood. Most circular saws have a number of cutting choices, various speeds, a depth adjuster and a safety switch. If you are using a circular saw for the first time be sure to familiarize yourself with all of the features before you actually get started.
Using A Jigsaw To Split Firewood?
Another option in the world of wood splitting is a jigsaw. Since a jigsaw can be fitted with a variety of blades a variety of different types of wood can easily be split. This may include plywood, hardboard, chipboard and so forth.
There Are Many Tools To Use When Splitting Logs
Indeed, in the world of wood splitting there are plenty of tools to choose from. Which tool is right for you? To a large extent, that depends on your planned use. If you only plan to split a few logs or pieces of wood throughout the year, it would be pointless to invest a lot of money into a tool which is designed for frequent and extremely durable use (unless you have money to burn that is, in which case fell free to make such a purchase)!
However, if you have plenty of wood splitting to do and plan to use your tools every year for a considerable period of time, investing in tools which are designed for such a purpose like a log splitter may be well worthwhile. However, whether you plan to use your tools for a lot of work, or a little, always look for a high quality version of the tool you have in mind. Remember, wood splitting is a dangerous activity. Not only is it necessary to have the correct training and ability, it is also vital to have a high quality tool. Cheap tools can cause a risk both to the user and those within the vicinity.
If you are planning to buy wood splitting tools, take the time to review the guide above and be sure to make a choice that is right for your needs. With the right training, coupled by high quality tools, you will be successfully splitting wood in no time!
Save