I hope you love the products I've recommended below, just a heads up that as an Amazon associate, I earn from qualifying purchases. This means I may earn commissions on products bought via links on this page.
So finding a vertical electric log splitter may seem near impossible. Searching for an electrical log splitter that can also split logs in the vertical position is by no means an easy feat. This is becasue electric models are typically smaller and don't have the same impact a gas powered model can achieve with the vertical force. However, there's one reputable brand in the industry that does combine electric and vertical options. Which we will reveal in just a minute.
When it comes to electric log splitters the first complaint a lot of people have is that they don't have the power, of a gas powered machine. And a lot of the times this is often the case, electric do tend to struggle where a gas will power through. Thankfully electric splitters have started to change and start offering a vertical splitting position. If you have ever used a splitter with the vertical position, you will know that this will allow the splitter to split much greater logs then it could while in it's horizontal position.
After we get into the awesome electric vertical wood splitter option, lets take a quick peek at the advantages of combining the two. Both electric and vertical positions.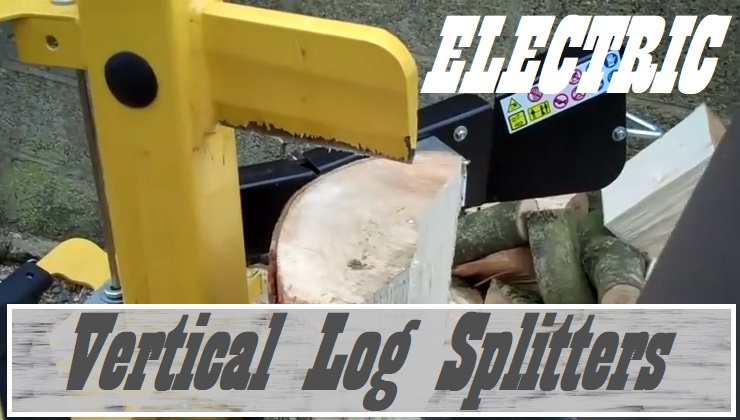 The Best Vertical Electric Log Splitter Review
Swisher LS22E 120V Timber Brute Eco Electric 22 Ton Log Splitter


When I first used the Swisher LS22E 22, I wasn't overly sure what to expect. I have covered many different types in the past, but this was my first electric splitter with the ability to be put into a vertical position. And boy was I impressed with this machine. It hasn't taken long at all to leave a great impression on me. In fact I'd go as far as to say it has become one of my personal favorite log splitters to use around the home and farm. The very first thing I noticed was just how quiet this splitter was, there is no gas engine going so it was pleasantly quiet while I started to split logs.
When it came to testing out just how powerful this wood splitter was, I used a variety of different logs and different sizes to test just what it could do. I found that this splitter in it's horizontal position some of the harder woods in the USA, such as some oak and dogwood but they were only 12 inches in diameter. The softer woods I found this splitter was able to get through much larger rounds coming in at 18 inches in diameter, which is a very decent size for this level of splitter.
Now when it was in it's vertical position, that's where this splitter really stood out, while it managed to split the hard woods at 12 inches in it's horizontal position. When I had swapped it over to vertical I was able to split logs that were about 16 to 18 inches in diameter. With the softer woods I tested this thing on which were some fir and some pine, I was able to split logs that were up to 24 inches in diameter which is extremely in impressive. Normally you would need about a 25 ton log splitter to be able to achieve such greatness.
What I Like
I was really impressed with how strong this splitter is, for a 22 ton electric model it performed well above what I had expected it to.
It's an extremely quiet log splitter which is a nice change of pace for myself personally, was enjoyable being able to split logs with some quiet.
This is one of the faster electric log splitters I've used that isn't a kinetic, it has a cycle time of about 13 seconds, I found it to be a little under that.
The ability to tow is a great feature and I'm happy that Swisher have added this feature. Which is quite rare to find on an electric model.
Swisher LS22E 22 Electric Log Splitter

Why Choose Electric?
There are a few reasons as to why you should choose electric over a gas powered splitter, and the first and most obvious answer is that it is overall better for the environment. But the real big advantage to an electric splitter in my eyes, is that you don't need to worry about having gas. Not having to worry about gas while splitting logs is something that really sold me on electric splitters, even using as many splitters as I have. I've still had times when I've run out of gas and had to make a trip to the local gas station to fill up.
Since there is no fumes when you use an electric splitter you are free to split inside, so it's perfect if you have the space in your garage or shed and want to split logs. At home I have a little 5 ton electric splitter for when I just want a few small logs split for the fire places or my firewood stove, and I can say with confidence that being able to split logs inside and not out in the cold has made life a lot easier.
There is one big thing that I should mention here and that is, if you do choose to go electric over gas is to make sure you always have logs cut in advance. The last thing you want to worry about is losing power in the middle of winter and being unable to split logs to use in your fireplace. I mention this for the beginners out there, most seasoned splitters will know to always have plenty of wood split in advance.
The Advantages Of A Vertical Splitter
I have said this hundreds of times and I will continue to say this, make every log splitter have the ability to go into a vertical position. Without a doubt my personal favorite feature on any log splitter, except for the obvious no longer need to split the old fashioned way. Having one which has a vertical position, instantly adds value to your machine. It can turn a machine that can split logs that are 20 inches in diameter, and make them able to split logs that are over 30 inches in diameter sometimes larger depending on the type of wood.
The other real big advantage of having a wood splitter in a vertical position, is how much it will save your back in the long run. Not having to bend over and pick up heavy logs every 20 to 30 seconds, is a great blessing on the back that mine has been thanking me since. It is so much easier to just roll larger logs over to the splitter then having to pick them up off the ground, then placing them back down. While this isn't the greatest feature in the world, your back will thank you in the long run.
Save