I hope you love the products I've recommended below, just a heads up that as an Amazon associate, I earn from qualifying purchases. This means I may earn commissions on products bought via links on this page.
Within these Homelite electric chainsaw reviews I will be digging deeper into the brand that's known for affordability for the common household chainsaw user. Not only will I be reveling the truth as to whether Homelite chainsaws are any good, I will also be putting the spotlight onto Homelite as a company.
In my opinion they don't get the recognition they deserve which I why I think these reviews are going to be super helpful to the first time Homelite buyer. So essentially this buyers guide is not only to help you, but hopefully give you some insight into Homelite as a brand and whether or not you can rely on them for a chainsaw to use around the house.
In the below reviews you can compare the Homelite 9 Amp and the 12 Amp electric chainsaws. Discover which model is best suited for your needs.
About Homelite
Homelite was founded in 1921 and gained notoriety for inventing a lightweight, portable, gasoline powered electrical generator. This was a great thing for a lot of rural areas at the time, who didn't have lines to there homes. They also had a hand in WW2 with there generators helping to provide portable electricity for the troops.
It wasn't until 1946 that they made their first chainsaw, which happened to be an electric powered chainsaw. From here on out they continued to dominate the chainsaw scene, making a one man operating chainsaw. When most at the time were two man, which is strange for people in this day and age to understand.
While now days they mainly focus on making smaller lawn and garden equipment. There chainsaws are still very reasonable, and do exactly what they were designed to do. Saw wood without having to spend $500 on a chainsaw.
A fun fact is that Homelite chainsaws have made a name for themselves in the horror film industry, appearing in such films like The Evil Dead, and the popular Texas Chainsaw Massacre. Making it one of the most recognizable brands on the market. So next Halloween, grab your Homelite and you're half way to scaring the kids!.
Homelite 14 Inch 9 Amp Electric Chainsaw Review



The Homelite 9 amp electric chainsaw is an impressive little unit which packs a surprising amount of power for its size. This is something I noticed in both of the Homelite electric chainsaws.Big punch for a small chainsaw.
With its 9 amp motor it was able to get through some trees 16 inches in diameter, which is quite impressive considering the fact it's powered by 9 amps.
The only downside was that it was dulling the chain, and needed to be replaced after each tree. While you shouldn't do this all the time, it can handle such a job if you absolutely must. Even while replacing the chains is annoying, this is still a very impressive feat for this saw.
Maintenance On The 14 Inch Homelite
This is a very well built chainsaw and you can feel this while operating it. The one thing I will say is that it is a very thirsty chainsaw. You will need to check the oil more often than you would a larger chainsaw, between every 10 to 12 cuts would be sufficient.  I believe this is because the oil tank capacity is only 6oz, while not the smallest tank, I feel a little undersized for what it can do.
One thing that really appealed to me with this chainsaw was its weight. It weighs roughly 9 pounds when you have everything attached and filled. I find this is a great size for walking around your yard and removing tree limbs, or removing smaller trees. This does make it a good size for someone who maybe a little on the older side and can't lift as much as they use to.
What I Like About The Homelite 14 Inch Chainsaw
I was very impressed with the power of this saw, this gives it a pretty good advantage over some of the other top rated electric chainsaws at this size.
The weight was something that really agreed with me, having a saw that is too heavy can be a serious issue for many folks. Especially if you're going to be cutting for hours on end.
The quality of the chainsaw and how durable it is, is very impressive and you can feel how well it is made from just picking it up.
The Specs
Bar Length – 14 Inches
Chain Pitch – .375 Inches
Chain Gauge – .050 Inches
Input – 120 V, Ac Only, 60 Hz, 9 Amps
Weight (without attachments) – 7.8lbs
Homelite 14 Inch 9 Amp Electric Chainsaw

Homelite 16 Inch 12 Amp Electric Chainsaw Review



After getting my hands on there 9 amp model, I was really looking forward to getting my hands on this 12 amp chainsaw. I was extremely happy when I got to use this chainsaw. So much so I have been using this electric Homelite 12 amp over my larger gas chainsaw. It works hand in hand with my electric log splitter as I can pretty much make firewood on the spot.
I'm a big fan of having more power then I should need, which is often the case with this Homelite electric version. It has the power to take down some fairly large trees close to 20 inches in diameter in fact. But I wouldn't recommend doing this all the time as it is a fairy heavy duty job. But you can still take them down when you need to, then fire it up to handle your normal backyard duties.
Simple Maintenance
The one thing I really loved with this chainsaw was how easy it is to clean and replace the bar and oil the chain. By far this is one of the easiest chainsaws I have ever used to do basic maintenance on. So if you have never used a chainsaw before, this is a great starting point to learn the basics in a very easy way. Even if you're a pro who has been cutting for decades, you will be able to appreciate this.
There is one issue with both these chainsaws which I have to bring up. I've found that they do have a tendency to leak oil. So it is best if you empty the oil after use, otherwise you will have oil leak where you store it. A simple fix is when you're done with the saw you can turn it upside down for awhile, to let the unused oil drain out. A little annoying, but only minor when you consider the price point of this saw.
What I Like About The Homelite 12 Amp Chainsaw
At this price point you you will be hard pressed to find a chainsaw as good as this one, and that is something I wasn't expecting and was something I really appreciated. This happens when you own as many saws as I do.
The ease of which you can remove the bar and chain, and put on new ones was a big plus for me. This can be a hassle to do, so making it easier really appealed to me. Great for beginners.
I was really impressed with the power of this 12 amp chainsaw, it was something that I wasn't expecting and I like being surprised with this kind of thing.
The Specs
Bar Length – 16 Inches
Chain Pitch – .375 Inches
Chain Gauge – .050 Inches
Input – 120 V, Ac Only, 60 Hz, 12 Amps
Weight (without attachments) – 8.5lbs
Homelite 16 Inch 12 Amp Electric Chainsaw

Why Choose A Electric Homelite Chainsaw
What Are The Advantages
Most people associate chainsaws with the more powerful gas version. The electric models usually get ignored completely, or often thought of as a nuisance more than anything. I can understand why are lot of people are drawn to a gas chainsaw, but they aren't for every situation.
Having a 50cc gas chainsaw in the middle of a suburban neighborhood will make you the most disliked person in your area. An electric model is so much quieter which yours and your neighbors ears will thank you for.
Not only are electrics quieter, they are also so much easier to start. There is no need for any of the hassle that comes with a gas chainsaw. Even with decades of experience I still come across a gas chainsaw that will be stubborn, and not start easy. This is also really good for people who have shoulder issues, and are unable to pull the cord on a gas unit.
While a lot of people think being limited by a power point is a big negative, and it can be depending on the situation. But in most those situations you should most likely be using a gas saw anyway. Worst case scenario you could use a generator, but that is expensive and not an option for everyone. But most areas you will be able to use an extension lead to reach most the areas you need to cut.
Do You Need Electric Or Gas?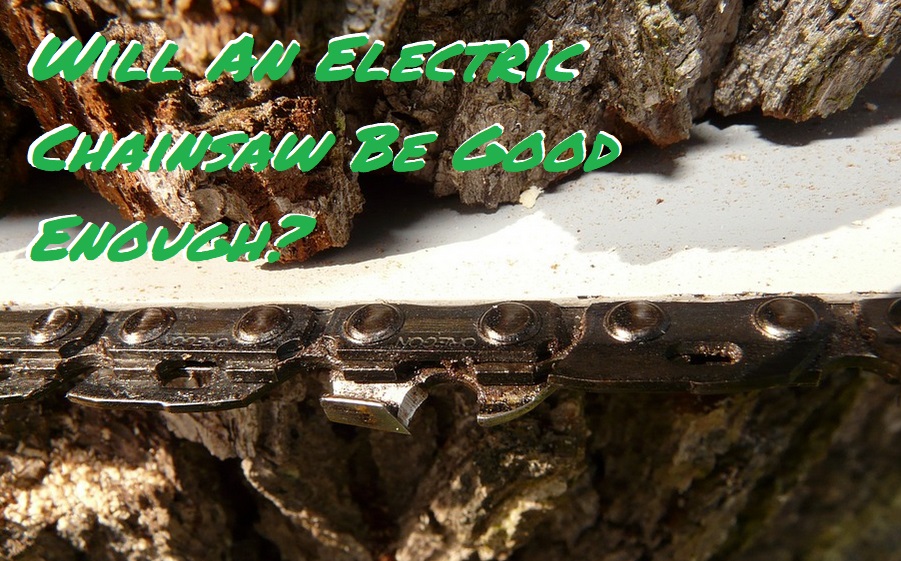 Will These Electric Homelite Chainsaws Do The Job?
This is a question you should ask yourself before going with either chainsaw, and this will help narrow down your choices considerably. There are 2 questions you need to ask yourself to work this question out, what do you need to cut, and where is it located. If you're going to be cutting some really solid hard wood, then you will need to go with gas, if it isn't then electric is a valid option.
This is the biggest downside of the electric chainsaw and that it is limited to how long your extension cord is, or if you have a generator. So if you need to cut far from home then gas is going be what you should go with. If you're closer to house and in your backyard, or around 100 foot then electric is a great option to choose.
The short answer to this is if you're close to home and you don't need to cut something tough then electric is the way to go. If you're far from home or need to cut something difficult then going with a gas powered is the better choice. The one thing I didn't cover here is price, which is something you also take into consideration. If you're on a budget an electric saw is the better option, since they are generally cheaper.
Are Homelite Chainsaws Any Good
An electric chainsaw isn't for everyone, but these Homelite electric chainsaws are very impressive for there size. If you are in the need for a new electric saw, or this is your first you can't go wrong with either of these units. If I had a preference I would go with the larger 12 amp 16 inch model, just because I like to have that bit of extra power. But the 14 inch 9 amp electric is also perfect for doing smaller jobs and really does suit the more casual user. In final you can't go wrong with either, and should choose the one that suits your situation more.