I hope you love the products I've recommended below, just a heads up that as an Amazon associate, I earn from qualifying purchases. This means I may earn commissions on products bought via links on this page.
While log splitters already will save you countless hours and back pain, sometimes you just want to save even more time. But what are the fastest log splitters on the market?. When you are talking about wood splitters and speed, there really is only one option and that is to go with a kinetic log splitter. Compare Kinetic Speeds Here.
With a hydraulic wood splitter whether it is electric or gas powered, you will get a rough average cycle time of about 12 to 15 seconds. While with a kinetic log splitter the average cycle time can be as low as 2 seconds. Whats even more impressive is that one of the machines on this list is getting as low as 1 second cycle times. A kinetic's speed will be so fast that you will find yourself unable to actually keep up with it. Now this is the kind of speed I love.
Comparing Log Splitter Speeds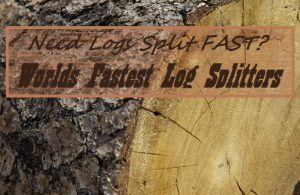 So what are the drawbacks to a kinetic splitter? The main drawback to kinetic type splitters is that many of them don't have the same high power of a gas powered hydraulic splitter. By this I mean, if you need a splitter that is going to get through 20 inch plus logs, then I would recommend on choosing a gas powered hydraulic splitter. Simply for the unmatched power.
I have decided to add on this list the fastest kinetic, gas hydraulic and electric hydraulic splitters because I know some people need more power and some need more speed so I have tried to accommodate all types. On this list I have chosen 3 splitters that are all the fastest wood splitters in there category so there is something for everyone on this 2019 buyers guide.
The Worlds Fastest Wood Splitter In My Opinion
Generac 10-Ton Kinetic Electric Log Splitter


To say that this is the worlds fastest log splitter is an incredible statement, but in my opinion the Generac kinetic splitter is the world's fastest. It has the quickest cycle speed of any splitter I have ever used coming in at just 1 second. Which is just insane. At this incredibly fast speed you will find that the splitter will spend more time waiting on you, then you waiting on it.
Compared to some hydraulic splitters that takes about 12 seconds, the sheer amount of time difference is just incredible. With a machine like this, you could end up saving many hours over the life span of this machine. With such speed you may find yourself worried about the safety of this machine. Which is a good fear to have.  Thankfully the people at Generac have thought about this as well and made the machine require two hands to operate it. Which is the preferred safer method of operating a log splitter.
The only draw back of this machine is that it does lack in the power department. So don't even think about splitting 30 inch logs with a small machine like this. But in saying this, we did find that it could split logs of about 15 inches in diameter fairly easily. But those logs weren't really that knotty compared to some of the rounds we have done in the past.
What I did find with my testing of this machine is that it would be excellent for people who need a splitter for kindling, it just tears through smaller logs for kindling like they're nothing. Since it is so quick I found that I didn't mind splitting logs as much and found I had my fireplace going more often. Which gets cheers all round from the family.
What Makes This Splitter So Fast, Is What I Love
There is no way I don't love the speed of this splitter. I would be lying if I told you otherwise. To be able to have a cycle time of 1 second and split logs that are about 15 inches is just too good to not want. Plus it gives me bragging rights over the boys.
Even tho it weighs about 132 pounds, the Generac 10 ton is still rather small in the grand scheme of things. So it is easy to store around the house or in your garage out of the way. Then when it comes log season, bring it out when you need it.
I personally really like its auto retracting ram, just to make life that little bit easier.
Generac Kinetic Electric Log Splitter

The Fastest Electric Log Splitter
Swisher LS22E 120V Timber Brute Eco Split Electric Log Splitter, 22 Ton


In general when you talk about electric hydraulic log splitters you don't really think of speed and power. What I tent to think about is reliability and the fact you don't require gas to operate. Which eliminates the fear of running outof power in the middle of winter.
With the Swisher LS22E 22 ton electric log splitter, this is something you don't have to worry about. While it certainly isn't as fast as the Generac 10 ton model above, it still has a respectable 13 second cycle time which is quite incredible for an electric hydraulic wood splitter. The next closest to this machine was the Boss Industrial ES7T20 in speed with 14 seconds, but no where near the level of power.
Out of all the electric log splitters I have used, this was the first model that could be used in the vertical position. What this means is that the Swisher wood splitter has an extra level of versatility over other electric powered models. Not just in terms of power but also speed and that is what we are after. Being in the vertical position gives this splitter a lot more power then others so you will find yourself being able to split logs larger then other models in the electric market. I often found myself using this splitter in it's vertical position predominately over it's horizontal position.
There is one thing that I didn't give enough credit to this splitter for having, especially since it is an electric, most electric you will find will only be about 5 to 7 tonnes of force and rarely over that. But the thing that I really appreciate is the fact you can tow this wood splitter, I personally haven't had an electric model I could do that with. Having the ability to tow it around town gave me the ability to be able to help friends and family who don't own splitters.
What I Like
For an electric splitter, it has tremendous splitting power compared to other electric hydraulics on the current market.
The vertical position is just a great addition to any log splitter and thankfully Swisher very smartly designed this machine to exceed in this position. I can't elaborate more about the importance of owning a vertical log splitter if you need big splits. If you want a fast electric, this is the machine to buy.
The extra addition of the tow hitch so I could tow this machine around the streets and take it to my family's house, to help split logs for them was a nice added bonus that I wasn't expecting.
Swisher LS22E 22 Electric Log Splitter

The Fastest Gas Powered Log Splitter Review
YARDMAX YU2566 25 Ton Full Beam Gas Log Splitter


The average cycle time for gas powered log splitters is roughly around 13 to 15 seconds, which is nothing to sneeze at. But the Yardmax YU2566 25 ton gas splitter has an impressive 9.7 seconds which makes it one of the fastest gas powered log splitters on the market from my research. While to a lot of people a difference of about 3 to 4 seconds doesn't sound like much. But when you consider just how many cycles an hour you will do with this machine, you will start to realize just how much time you will save after countless cords over the years. While you could get speeds of 9.7 seconds with this splitter you will find on average you will roughly split at about 10 seconds.
With this beast of splitter you will find you will be able to split logs that are up to 30 inches in diameter quite easily, while in its vertical position. Being able to split logs of that size will be enough for all but the most heavy duty splitting users. This Yardmax splitter also has a vertical position like the Swisher model above, which same as the Swisher gives it great versatility over just horizontal splitters. The one thing I didn't mention above was just how easy it is to split larger logs in the vertical position, You don't have to lift the logs up onto a platform so that makes life easier on your back.
We did have one problem with this machine and that was the pull cord, it ended up getting stuck and not retracting which is a big problem considering that's how you start this splitter. It turned out that the pull recoil retraction unit had broken which is a problem, but there is a single great reason why I didn't write this off as a bad thing. The customer service I got from Yardmax was just superb they sent out a new part out for me after I turned down there generous offer of sending out a completely new engine. That level of customer service was outstanding and warranted me mentioning this in this review.
If none of these machines tickle your fancy, perhaps you should consider flicking through our ultimate log splitter buying guide. From there you can find many more types of log splitting machines and different ton ratings.
YARDMAX 25 Ton Full Beam Gas Log Splitter

How Fast Is Too Fast
Just for some fun, check out this short video on how NOT to split logs at very fast speeds.
Save