I hope you love the products I've recommended below, just a heads up that as an Amazon associate, I earn from qualifying purchases. This means I may earn commissions on products bought via links on this page.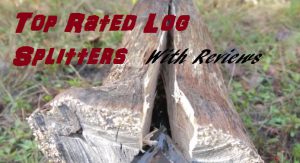 You've finally made the decision to make your winter life easier by getting a log splitter. Taking the manual labor and burden out of splitting logs will feel like Christmas everyday. It's time to retire the trusty ole axe/maul and take charge of the wood pile that's menacing out of control. The next question is which log machine should you get? With so many on the market in 2019, it's hard to know what is the best rated log splitter for your situation. Luckily for you we take splitting wood seriously. So we have done the hard work for you, and found what we believe to be the top rated wood splitting machines on the market.
When looking to buy a log splitter for the first time, there are some questions you will want to ask yourself in order to know exactly what model you will need. Such as: do you want a gas powered log splitter, or an electric? Do you need a 5 ton log splitter or something that's more powerful like a 25 ton log splitter. Is a catcher on the side important to you?. Those are just some of the questions you should ask yourself when looking to buy a log splitter. Since some log splitters can get really expensive, it's best you do a little homework first. After all you don't want to spend your hard earned money on something that just isn't for you.
A Quick Overview
So what you will find on this list will be a variety of different log splitters that range from a 7 ton log splitter up to a 25 ton log splitter. We have chosen three specific models for these reviews, based on a few different things such as how much force it uses, the size of log it can split, if it's gas powered or electric, and the price point, we know not everyone can afford a $2000 plus machine. So it's important to us that a budget model is included. But not budget as in cheap and nasty, this machine is affordable and packs some serious punch.
| | Type | Ton Rating | Our Rating | Check Price |
| --- | --- | --- | --- | --- |
| | Gas | 25 | 9.9 | Check Price On Amazon |
| | Electric | 7 | 9.4 | Check Price On Amazon |
| | Manual | 10 | 9 | Check Price On Amazon |
The Best 25 Ton Log Splitter Review – As Rated By Us

Champion Power Equipment Gas Powered Log Splitter, 25-Ton




First up on our list of the top rated wood splitters is the Champion 25 ton gas powered log splitter. What many and myself included think is the best 25 ton log splitter on the market right now. It just so happens to be made by a very trustworthy company that has been making some of the best quality outdoors power equipment since 2003. This is a brand I have much experience with, so much so that I have reviewed the top 3 Champion Log Splitters in a previous article.
Want to get through lots of cords this season?. Need to get through the larger tougher logs (Knot ridden), that you often need when you heat with wood fuel. Then I highly recommend you consider this 25 Ton machine by Champion. With this machine we have split up to 23 inches in length and a ridiculously large 30 inch in diameter. I would not recommend splitting such logs all the time tho, as it could cause too much strain on the engine. We were maybe pushing the boundaries to see how big we could go. When splitting such logs it's best to do it in bits, you will have to move the log around a bit and even swap it around to split right through on such big logs.
The Champion 25 ton log splitter is gas powered which does have a lot of advantages over the other types of splitters. The biggest advantage to having a gas powered log splitter for me is that there is no need to have an electric outlet in close proximity. Or to have 20 foot long extension leads running everywhere potentially causing tripping hazards. Since it is gas powered you will not have to worry about losing power and not being able to split logs because of the power outage. Which can be quite devastating if you have left splitting the logs until the last minutes. However, we do recommend having logs already split just in case of an emergency.
If you're like some people who do own big acreage of land and need to travel to split some logs, this log splitter does come with a tow-able trailer that has a 2 inch ball hitch with tries that are approved by the department of transport. I still wouldn't take it past the manufactures listing of 40 mph to be on the safe side.
What I Like About The Champion 25 Ton Gas Powered Log Splitter
I personally like the fact it has a vertical position that makes getting through the large logs very easily.
No need to rely on electricity, so you don't have to worry during the colder months.
The ability to tow this log splitter, which is useful if you have family or friends who need logs split and don't own one.
The Only Downside
The only downside to this log splitter is its price, it's the most expensive on this list, and that is because it's gas powered, which are generally larger and more powerful. But when you desire the best, you gotta buy the best. So if you're looking for something a bit cheaper I would recommend one of the 2 log splitters below.
Champion 25 Ton Gas Log Splitter

The Top Rated Electric Log Splitter Review
Boss Industrial ES7T20 Electric Log Splitter, 7-Ton



The Boss Industrial ES7T20 7 Ton Electric Log Splitter is a great log splitter for people who want something smaller then the above gas powered model. It's also a much more user friendly machine for beginners to work with. This is much better suited to people who don't primarily heat with wood, but do still need to get through a decent amount of logs to heat on the occasion. But in saying that, you can still split several cords of firewood with no dramas. But it will just take longer compared to a more powerful gas splitter.
Being an electric powered machine, it does have some advantages and a few disadvantages (which I will go over later in this review), over the gas powered variety listed about. One of the best features of an electric log splitter is since there is no gas, there is no fumes. So you can have this wood splitter set up inside, like in your basement. This way you don't have to brave the cold weather outdoors if you leave the splitting to the last minute.
Just because this log splitter is 7 tons doesn't mean it can't get through some decently sized logs. We were able to get through a log with the diameter of 17 inches. We did have to switch the log around to get it through, but it was possible. As with above just because we were able to do such a large log, doesn't mean you should run every log through that size. The Boss Industrial is much more comfortable with roughly 10 to 12 inch logs. Which is a good size for people who only need a 7 ton log splitter.
Why Choose The 7 Ton Electric  By Boss Industrial

Being able to split logs inside and not outside in the cold, was something I didn't really appreciate until I didn't have to go outside.
The electric motor is extremely quiet compared to a gas powered log splitter.
The lack of fumes, makes it more environmentally friendly and better for the entire families health and well being.
Portable enough to carry from property to property if needed.
The Down Sides
It is highly recommended that if you choose an electric log splitter, that you should always have logs already have logs split in case of running out of power. That and not being as powerful as a gas model are the only downsides to speak of. Oh, wood catchers on the side would be a great add on for this Boss splitter, but I'm yet to come across an electric machine with this feature. *Update: Earthquake has an electric splitter with side catchers. Another area where the gas versions have the upper hand. A good idea if you're going to choose electric is to get a generator down the track or own one already so you will always be prepared.
Boss Industrial 7 Ton Splitter

The Highest Rated Manual Log Splitter Reviewed
Sun Joe LJ10M Logger Joe 10 Ton Hydraulic Log Splitter



We now move onto the Sun Joe LJ10M Logger Joe 10 Ton Hydraulic Log Splitter review. This is what we consider to be the best rated manual log splitter on the current 2019 market.
Who is this manual hydraulic powered splitter for?. Basically what it comes down to is your budget as these types of log splitters can be the cheapest options for those on a budget. If you don't want to potentially spend $1000 and up for a big gas powered log splitter, or even a few hundred big ones for an electric log splitter, then this type may just fit your bill. Which makes this log splitter a great option for those who are on a budget or don't have a lot of money. Also for people whom only need the odd wood split and don't rely on firewood to keep warm during Winter.
The Advantages This Machine Has Over The Other Log Splitters
Being a manual log splitter does have two really big advantages to the two listed above. That is this Logger Joe doesn't require power or gas to run. So there is no need to worry about a power source during the winter months becasue you are the power source. The trade off for that is it won't get through bigger logs like those 2 above, but if you don't need to split 20 inch logs like the Champion, or 12 inch logs like the Boss above. The the Sun Joe is a good alternative to those it will get through logs of about 10 inches in diameter, which is nothing to sneeze at.
By not running on gas or electric, it requires you to use your arms in a back and forth motion to split logs, that you use by two levers, one of them is for high pressure to get through tougher logs, and a lower pressure lever to get through normal logs. It doesn't require a lot of arm strength to operate, we have had some people in there 80s who have had operations on there shoulders this year, still operate it without any issues coming up.
What I like About The Manual Log Splitter
I do really like the fact, I don't need to worry about gas or electricity to run this thing, so I can split logs year round.
For it's size and the fact it's a manual log splitter, it does get through logs fairly easily.
Can split logs up to 8 inches in diameter (We didn't push our luck here) and has a long wood table that can fit 18 inch pieces of wood.
Has wheels for easy mobility
It Isn't Perfect
It won't get through the big logs like the gas and electric powered ones will, and it will struggle with knots in the logs. Sometimes it takes multiple attempts to get through a stubborn round. But overall this is very much a log splitter for someone on a budget,you should consider thinking about if it's worth getting the cheaper option or spend a bit more and make life easier, and get through more logs quicker. But if the odd log splitting is all you are after, the Logger Joe by Sun Joe is our top rated manual splitter at present.
Logger Joe 10 Ton Hydraulic Log Splitter