I hope you love the products I've recommended below, just a heads up that as an Amazon associate, I earn from qualifying purchases. This means I may earn commissions on products bought via links on this page.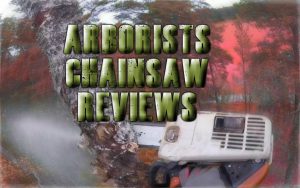 If there is one profession that need the highest quality chainsaws it's the Arborist industry. There's no room for cheap and nasty products here. It's quality all the way. Which is what you will find from the
best Arborist chainsaw reviews
.
The last thing you need when you're cutting at heights with a harness is a unreliable chainsaw, not to mention the dangers associated with using an inferior product. So it is important to find the best Arborist chainsaw you can afford for safety and performance on the job.
An Arborist does more then just remove trees, the tasks made possible by using a chainsaw in this trade has grown expediently. A few of such tasks include; removing the actual tree, pruning, or removing the limbs for prevention. So it is definitely important to have a quality tool on hand. This is for any profession that uses power tools on a daily basis, but especially important in the Arborists industry.
Buyers Guide For The Best Arborist Chainsaws
Time is not something a lot of Arborist can afford. So I've made a table of the best arborists chainsaws on the market. To help save you the time of searching high and low for the perfect tool.
| | Engine | Top Handle | Our Rating | Check Price |
| --- | --- | --- | --- | --- |
| | 37cc | Yes | 9.7 | Check Price On Amazon |
| | 35.8cc | Yes | 9.6 | Check Price On Amazon |
| | 32.2cc | Yes | 9.5 | Check Price On Amazon |
Husqvarna Arborist Chainsaw Review
Husqvarna T540XP
When it comes to chainsaw, it's nearly impossible to not have heard of the brand Husqvarna.  They have marketed their brand extremely well and are responsible for some of the best chainsaws on the market.
So I jumped at the chance to get my hands on the T540Xp, and boy was I like a kid at Christmas. This is an incredible top handle chainsaw, that will get the job done safely and in an efficient manner.
Being one of Husqvarnas pro saw series you will be getting a high quality saw, but that does come at a price. So if you're looking for something cheaper then maybe look at one of the other saws on this list. But if you have the money and can justify spending it on a high quality saw, then this is the saw for you.
How Much Exactly? You can find the exact price on amazon here.
Well Balanced Chainsaw
One thing that is important in an arborist chain saw is that it feels balanced, which is exactly what I found the T540XP to be. It is one of those things that you can only tell from actually using it, it just feels really good to use. It is also really comfortable to hold, this is thanks to it having the ability to set the grip handle in 3 different sizes. Which allowed it fit perfectly into my hand, which made it a lot more comfortable to use for extended periods of time.
It has this ring on it that is designed to let you clip your saw to your harness, which is extremely useful when you're working at heights. It is a heavy duty plastic which is not to bad, but personally I would of preferred a metal ring.
Not only that but it is also really durable which is a necessity for a arborist chainsaw, if you ever meet a arborist who said he has never dropped his saw on the ground they're lying. This chainsaw was designed with arborist in mind which makes it really easy to recommend in my opinion.
It is a very powerful saw with a 37cc engine which puts out roughly 2.4Hp which combined with its 14 inch bar, makes getting though most things easy. It really does respond very fast when you start to rev it, which is great. The thing that did surprise me is that it didn't have much vibration, which my hands were big fans of.
What I Like About The T540XP
The balance and feel of this chainsaw is just incredible, without a doubt the best feeling top handled chainsaw I have ever personally used.
I really appreciated how little vibration this chainsaw had, which is something that I wish all manufacturers showed more attention to.
The ring that lets you attach the saw to the harness is a really nice touch, I do wish it was made of metal like I mentioned tho.
It has a cover that allows you to access the air cleaner and carburetor area very quickly, which makes life easier.
It only weighed around 10 or so pounds when you have it put together completely, which isn't very heavy for a saw of this caliber.
Husqvarna T540XP

Echo Arborist Chainsaw Reviews
Echo CS-355T
Echo is another one of those brands that when you're making a list of the best chainsaws, that you can't leave off the list. They do create some excellent chainsaws and this is one of there best, especially for an arborist.
I found the Echo CS 355T to be a very well balanced saw which made it a pleasure to use, especially when you're climbing all day. It isn't very heavy weighing a little under the Husqvarna above, still weighing about 10 pounds overall. This still makes it one of the lightest saws going around for an arborist.
This is the kind of saw that if you own your own company and have a few guys working for you, that you would buy several for your crew. It was only a little behind the Husky above which really impressed me, and considering it is cheaper is what makes it highly recommended. The combination of the balance, feel, speed, and its price really make it stand out when it comes to top handled saws.
While this version comes with a 16 inch bar you can get a 14 inch bar for it, if you need that little bit more room to move. It is only a little less power then the Husqvarna coming in at 35.8cc, which shouldn't put you off. It does make a little difference but certainly shouldn't deter you from this chainsaw. It still cuts just as well and runs without any issue, I also found that it actually started a little easier then the Husqvarna.
I find it quite difficult to put it into words just how good this saw is, it really stands out once you get to use it. It can easily handle most things you're going to throw at it, and not weigh you down while you're at the top of a tree. It is one of the best chainsaws for an arborist who doesn't want to completely empty there wallet.
What I Like About The Echo CS-355T
For the money you spend on this chainsaw, you will get one of the best arborist chainsaws going around at the moment.
It does have an automatic oiler which is adjustable, which is something I really like and it's not very difficult to adjust at all.
Its ergonomics are incredible and even superiors to the Stihl MS200T in my opinion, you know you're doing something right.
Echo CS-355T

Tanaka TCS33EDTP Review
This is a great little chainsaw that is made for someone who is looking to get into being an arborist, but doesn't have the experience or the money to get one of the saws above. It was designed for jobs like pruning in mind, so it really does deserve a spot on this list.
It is by far the cheapest saw on this list, but that certainly doesn't mean it's bad. You should still consider it even if you're not on a strict budget due to the capabilities of this little tank.
Best Value For Money?
It is still a powerful little saw 32.2cc which is still a decent amount of power. The one thing you have to remember with this saw is that it isn't designed to handle the really big jobs, and when you let it do what it was designed for. You will have a fine top handled chainsaw that is the king of the budget top handle chainsaw.
It is the heaviest chainsaw on this list and doesn't feel as well balanced as the others. It weighs over 12 pounds which is a little on the heavy side for a top handle saw, but certainly isn't to heavy to be a real issue. While it doesn't feel as good as the others on this list, it does have a anti-vibration system. Which does help with user comfort overall, which is a nice touch on Tanaka's part.
It is still an impressive chainsaw that will run the power the entire way down the 12 or 14 inch bar, which is great for an arborist. The one real issue I had with this chainsaw is that it lacks bottom end torque. Generally this won't be a massive issue and really only applies to one handed cutting, which is something you should attempt to avoid. If you're resting the chain against the wood it will struggle to start the chain, so a minor issue but not a deal breaker.
What I Like About The Tanaka
Overall I'm very impressed with this little saw, has a decent amount of power and maneuverability and at its price point, is a great bargain.
One thing that Really impressed me was just how easy this chainsaw was to start, no matter if it was cold or hot. It is one of the easiest starting chainsaws on this list.
It also has an automatic oiler which is just a feature that I personally really like on any chainsaw, and appreciate it on this chainsaw.
It also comes with a 7 year consumer warranty and a 2 year commercial warranty, which is nice to be covered for so long.
Tanaka 12 Inch Gas Chainsaw

What To Look For In An Arborist Chainsaw?
Chainsaws that are designed for an arborist are pretty different from most other chainsaws. With the main and most important thing is that they're a top handle chainsaw. This gives you more maneuverability which is essential for the smaller more compact spaces you will be working in as an arborist. This is what they are designed to do and for this maneuverability you will give up control and ergonomics. What this means is that top handled saws are not designed for ground work, and shouldn't be used limbing on the ground. That is what a rear handled saw is for, and the better option there.
One thing that you should look for in a arborists chainsaw is the weight of it. Since you will be at height with a chainsaw, the last thing you need is some 20 pound monster that you will have to hold for extended periods of time. Not only do they need to be light for how long you will be holding it. But for the extreme cases for when you will need to operate the saw with one hand. This is only in the most extreme cases and is a last resort, but it is a lot easier to do this with a lighter top handled chainsaw.
While it should go without saying it is something that you will need in your arborist chainsaw, and that is power. While they don't need to be the most powerful saws on the market, they will still need the power to remove limbs and trees on the occasion. In my opinion when it comes to power, you should really only use a gas chainsaw. Battery top handle saws do exist but they often heavier and not as powerful, and generally cost more. This is just my personal preference and if you want to research some battery top handled chainsaws on amazon.
Generally you will want a gas chainsaw which are known for being some what stubborn to start at times. So having a saw that starts easily is highly recommended, especially since in some cases you will have to start the saw up a tree. So the last thing you will need is a chainsaw that doesn't want to start while you're up there.
What Brand To Choose?
This isn't an easy question to answer and something that comes down to personal preference. Sometimes the feel of a chainsaw just works for you, and everyone else doesn't like it which is something you see very often. So choosing which brand to go with is very difficult and not just a Husqvarna or Stihl answer.
See The Husqvarna Arborist Chainsaw In Action
There is something that you should consider when choosing any chainsaw brand, and that is the ease to get it fixed or replacement parts. This is something a lot of people forget about when buying a chainsaw, thinking theirs won't break down or they can fix it themselves. While you may be able to fix it, can you get the part?
So there is an advantage with going with a more well known brand such as Echo or Husqvarna, since parts will be a lot easier to find. Or even a dealership nearby that can fix, or a local mechanic who is certified to fix it without voiding your warranty. While these aren't the most important things to think of, they should be considered. If you like it or not your chainsaw will break down eventually, it doesn't matter what brand it is it happens to all chainsaws. So going with a well known brand can help alleviate this problem.
Why Use A Top Handle And Not Use A Rear Handle
This is a question that gets asked quite a bit and I always see people saying it's so you can use the chainsaw one handed. While that isn't technically incorrect, it is something that should only be done in the most extreme cases. One handed operation is dangerous and should not be attempted unless there is no other option. The chainsaw must not be used above shoulder height when using it one handed.
The biggest reason to use a top handle chainsaw is maneuverability, the top handles location is great for when you're cramped up and don't have much room. While the rear handled chainsaw is for being on the ground where you have plenty of room. There is only few reasons to use a chainsaw one handed and should not be attempted by novices. Almost every manual will tell you to two hand your chainsaw at all times.
Overall it really comes down to what they have been designed for, and that is simply top handle is designed for arborists. While rear handled are designed for all the ground work. The top handled chainsaw is really for a niche but important group of people that we need.
Where To Buy The Best Arborist Chainsaws?
While this does come down to personal preference, I personally prefer online retailers such as Amazon, and the Home Depot. This is for a variety of reasons from bad experiences in actual dealerships, with attendants who have only read a brief pamphlet and didn't know the answers to some basic questions. Not to mention the lack of selection and the cost of gas going to the store itself. There is only one case that I don't recommend online and that is Stihl, since they don't sell online which is why you won't see me review a Stihl chainsaw. This is a shame since they have some nice chainsaws.
The Ideal Chainsaw For An Arboriculturist
I really like the 3 chainsaws on this list, they are all well designed and will do the jobs they're required to. But when it comes for professional use it's hard to pass up the Husqvarna or the Echo, they are both very good chainsaws with the Husqvarna pulling ahead.
But it does cost a lot more then the Echo, which is something you will have to decide on for yourself. If you can justify spending that much on the Husqvarna then by all means it is the best arborist chainsaw in my opinion. But if you can't afford it the Echo is also a great choice, it can do a lot of what the Husqvarna can but cheaper.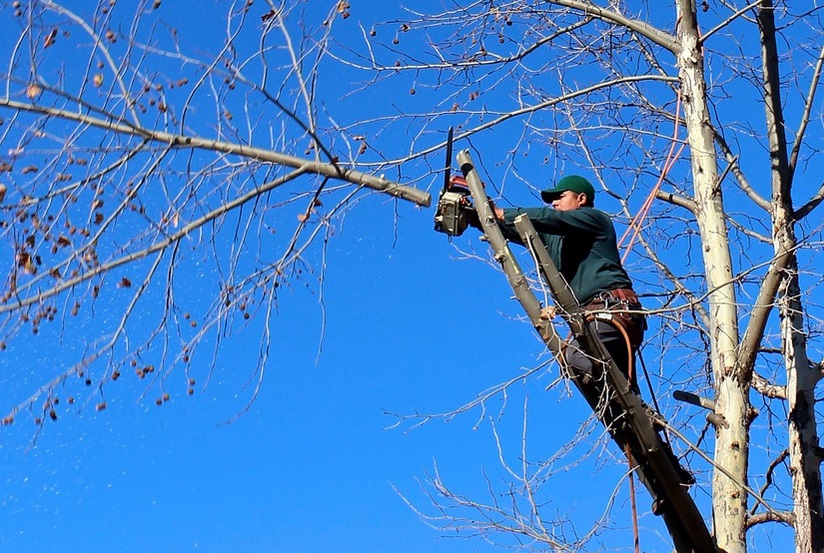 Once You Buy An Arborist Chainsaw, How Do You use It?
Avoid One Handed Use
There are some instances under which one may have to utilize a one-handed sawing technique. One should only employ this technique when trying to cut branches that are hard to reach, as the other hand may be needed to effectively secure one to the tree.
In order to mitigate the risk of kickback to the climber, one must use the saw at full reach at a ninety degree angle. Also, the saw should not go above the shoulder. Despite the design of this tool, this is an atypical technique that can carry with it more potential risks than normal two-handed usage, and it should only be employed when alternative modes of operation are not able to be utilized.
The arborist should be particularly aware of the space in which they are working so that they can avoid being injured by their saw. In order to ensure that one is not needlessly placing themselves in harm's way, calculate the swingback arc of the saw and appraise the thickness of the limb in question, as jams and kickbacks could be incredibly damaging under such compromising conditions. Finally, the use proper cutting and branch removal techniques are also necessary to ensure that the arborist does not lose their purchase.
How To Use An Arborist Chainsaw
There are five basic cutting techniques that can be applied during almost every chainsaw operations while working in the tree canopy. Ensure you are comfortable and have experience using your chainsaw before undertaking new cutting techniques.
1. The Onboard Step Cut
Outboard Step Cut – When cutting lateral branches, one should start with an undercut, a cut that determined the branches angle of descent. The cut should be about one-third of the branches diameter and the tip must remain
unobstructed, otherwise, one is at risk of kickback. The top cut should be at least 25mm outboard of and parallel to the undercut in order to prevent the branch from falling flat.
Inboard step cut – If the branch is rather large, there is a chance that the saw may be taken down with the branch if one does not use the inboard step cut. Like with the outboard step cut, save for the fact that the release cut is to
be made on the side most proximal to the stem.
2. Scarf Cut Free Fall
This cut can be utilized by arborists to direct the the angle and direction of a branches descent. This is optimal when one wishes to avoid various impediments. Cut underneath the branch, around one quarter of its thickness. Cutting it at an angle will allow one to determine the direction of its fall. Make a back cut in line with the scarf cut. Remember to not cut all of the way through, as to keep a hinge that will allow the branch to be turned and directed.
3. Hand-Held Step Cut
This technique is meant to be utilized for small, horizontal sections of wood. Begin by cutting from the top to about one-third of the diameter of the branch. Cut underneath the first cut, staying about 25mm away, overlapping the top cut. The chainsaw should be turned off and placed securely into the harness. The arborist should then use their hands to manipulate the section that has been cut so that it can be broken off and tossed into the drop zone. If the cut was not sufficient, feel free to continue using the saw to finish the job.
4. Vertical Hand-Held Step Cut
The Vertical Hand-held step cut is fairly similar to the hand-held step cut technique described above, but it is meant to be used on portions of the branch that require a greater amount of control, the step cuts are made with the saw vertical. The cuts are of a similar depth, but they are made while holding the wood vertically. This will allow the arborist to hold the section, while still being able to maneuver the saw as needed. When the necessary incisions have
been made, the arborist should take the section of wood and manipulate it from side to side, allowing to eventually break and be cast into the drop area.
5. Scarf Cut Hand-Held
Firstly, a scarf cut must be made at the top portion of the branch. A back cut should then be made to the on the bottom portion of the wood, in line with the scarf cut. This is meant to ensure that a thin piece of wood hinge is
maintained. Like with the other cuts mentioned previously, turn off and secure the saw before attempting to leverage
off the cut piece of wood. When the wood has been removed, throw it into the designated drop area.
Chainsaw Training For The Climbing Arborist
For a more in-depth look at using a chainsaw when you need to climb into a canopy, this hour long video goes into great detail. So if you have the time, I highly recommend watching this video and picking up some tips before you begin your climb. These guys are certified Arborists and know what they are talking about.