I hope you love the products I've recommended below, just a heads up that as an Amazon associate, I earn from qualifying purchases. This means I may earn commissions on products bought via links on this page.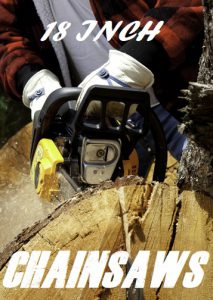 Having to clear to tree limbs and even cut some logs for the fire place can get frustrating, unless you have the right tool for the job. When using a chainsaw, there are certain types designed for certain purposes. In this case we are looking at the best 18 inch chainsaws and providing reviews so that you can make an informed decision as to whether or not this is the tool for the job you currently need done.
Some people don't realize the importance the size of the bar on there chainsaw, and just think bigger is better. But a chainsaw with a 24 inch bar isn't going to be useful when all you're doing is trimming, pruning, and some light cutting.
It is going to be to big and cumbersome and end up costing you more time and money, since generally a larger bar chainsaw will cost you a lot more money which isn't what we want. We want the right tool for the right job at the best price.
What A 18″ Chainsaw Is Handy For
So where does an 18 inch bar chainsaw fit into the overwhelming amount of jobs that a chainsaw can do? This is a difficult question to actually answer because there is no real exact size chart you can just look to.
An 18 inch electric will actually be pretty good at handling a bit of light trimming, and good for removing some small trees, while also removing tree limbs. But A heavy duty gas powered chainsaw is going to be really good for storm clean up and removing some medium size trees, but it can also be quite good at cutting down large trees and making firewood. Just from this brief explanation you can see it can get quite complicated very quickly.
So from my personal experience it's in my opinion that an 18 inch chainsaw is good for most of the tasks, as it just happens to be the right size for most tasks. It's what powers the unit that makes it great at certain tasks. So an electric 18 inch unit is good for trimming and removing small trees, while a gas unit is good at handling medium sized trees and cutting logs to make firewood. So if either of those sounds like the tasks you need done, then it is time to find out what the best 18 inch chainsaws really are, with my reviews.
| | Engine | Our Rating | Check Price |
| --- | --- | --- | --- |
| | 50.2cc | 9.8 | Check Price On Amazon |
| | 40.2cc | 9.5 | Check Price On Amazon |
| | 15 Amp | 8.9 | Check Price On Amazon |
| | 42cc | 9 | Check Price On Amazon |
The Best 18″ Heavy Duty Chainsaw
Husqvarna 450E Gas Powered Chainsaw
The real brains of this machine is its very reliable 50.2cc engine that puts out roughly 3.2hp, which is plenty of power for what this unit was designed for.
The only issue I had when using this machine was when I first started it up. It felt like it took a bit to get really warmed up and disappointed me a little. Especially since I really liked the old 450 model. I had expected more, but this opinion started to change quite quickly once it warmed up. This incredible piece of hardware was able to get through some impressive 34 inch Texan oak logs, and a few logs that were 36 inches in diameter. It is a very powerful chainsaw that after that first initial start up issue, I have had no performance problems with this amazing unit.
What I Didn't Like
There is very little downsides to this unit and what I can think off aren't deal breakers for me and they really shouldn't be for you.
The first issue is small but somewhat still frustrating for me.That is it doesn't come any form of case to protect this unit, and at this price point you want protection. Since this is a Husqvarna you will get what you pay for, a very reliable, powerful chainsaw which is exactly what you want. Tho it is on the more expensive side, so if you're on a budget then I would recommend checking out some of the other chainsaws on this page. But if you want the best tool for the job it is going to cost you upfront, and I believe this unit will pay for itself.
What I Like About The Husqvarna
The Smart Start technology has made a fan out of me being able to start this chainsaw easily was such a great relief for me and many others, and a great improvement over the previous 450 model.
This is a very powerful chainsaw that is going to get through a lot of work for you like it did me, those Texan oak logs didn't stand a chance against this unit.
It only weighs about 11.3 lbs which is about average for this size unit, but I feel it is just the right weight it never felt to heavy even after 3 hours of solid use.
Being a Husqvarna is a big plus for me, they are a brand that have earned there great reputation and this machine really shows that.
This is the latest model, the older model got some great amazon consumer feedback which you can read about here.
Husqvarna now makes Jonsored chainsaws which are of equal quality, but with a smaller price tag.
Husqvarna 450E 18 Inch Gas-Powered Chainsaw

The Best Value For Your Money 18 Inch Gas Chainsaw
Echo CS-400 18 Inch Gas Chainsaw
So I was pretty excited to get use this unit and am happy to report it is a great chainsaw overall. So I was curious to see how the 40.2cc 2 stroke engine on this unit would be, and to now real surprise it is a great engine. While this is a fairly cheap gas chainsaw they didn't go cheap on this professional grade engine.
Echo were smart to put this engine on his unit and the only thing that can hold it back is the EPA. Which has put in certain regulations that hurt small engines, but I find it didn't effect this engine as much as it could of.
This Chainsaw Comes Highly Recommended
While I knew the engine maker of Echo and knew there work, I was still surprised at what this unit could get through. One of the big reasons it is on this list is that it was highly recommended to me by several USDA Forest Service members who maintain hiking trails. When I had several of them telling me just how good this thing was I wanted to check it out myself and it performed just like they said.
It was able cut through oak, ironwood, and even hickory which is an extremely stubborn tree to get through. This thing never stopped no matter what task was in front of it, it easily whether it was cutting down trees, sawing out stumps, limb clean up, and has done a lot of bucking cuts. Any unit that can get through that is impressive in my book.
One of the things that I really like about the Echo CS-400 is just how easy the maintenance is. Which is good news for a lot of beginners out there who don't have a lot of experience doing this. Echo have made it very easy take this unit apart and provide you with a screwdriver wrench combo tool, that has two size socket and a great flat head. With this alone you can handle most of the basic maintenance yourself without much effort. Removing the bolts is simple which makes it very easy to clean this unit, and even easier to tighten the chain if need be.
What I Like About The Echo CS-400
The engine that Echo put on this thing is great and while it sounds a little sluggish when it idles, when it is in high gear this thing just screams performance.
Having some of the most knowledgeable people who depend on this saw for a part of there livelihoods really lets you know just how well made this chainsaw is, and how reliable it is.
Weighing in at 10.1 lbs makes it weigh less than the Husqvarner above, so if lifting is a bit of an issue for you then this could be a great alternative.
It's ability to adapt to almost any task required of it really impressed me, and has set a new standard in adaptability for me.
Echo CS-400 18 Inch Gas Chainsaw

Top Rated 18 Inch Electric Chainsaw
Black+Decker 15-Amp 18 Inch Electric Chainsaw
Being an electric chainsaw it has the same advantages and disadvantages that all electric units have. The biggest disadvantage to me is the need of a power outlet, and having a heavy gauge extension lead just to use them. Depending on where you need this chainsaw this may not be a big issue for you, but if you need to trim some tree limbs or remove a small tree that isn't close this can cause an issue. But they have one real big advantage and that is you don't have to worry about if you can start it up, electric start up a lot easier then a gas unit.
Powerful 15 Amp Chainsaw
But being an electric chainsaw does allow this unit to have its powerful 15 Amp motor, which did surprise me a bit and what it could cut through. I got a mixed bag of results when it came to cutting through some things, it easily handled some trees that were 10 inches wide and this is where it felt most comfortable to me.
Tho I did manage to cut through a 22 inch wide palm tree, this was a bit of struggle and required me to cut it into sections but it go through it. This really impressed me and not something I thought it would get through, but you could certainly tell that the unit didn't like it. So I wouldn't recommend doing that all to often.
Black+Decker have hit it out of the park with this little electric unit, it has plenty of power and does exactly what it is designed to. The need for an extension lead and power outlet can get a little annoying, but not having to worry about it starting up due it being cold or some other reason is a really great selling point. As long as you follow the instructions you will have a very reliable unit for many years to come.
What I Like About The Black+Decker Electric Chainsaw
Not having to worry about this unit starting ended up being one of my favorite things with this unit, not having to pull a cord to start was a nice change of pace.
It was a very useful tool for removing limbs off trees and removing some smaller trees.
Black+Decker 15-Amp 18 Inch Electric Chainsaw

The Best Budget 18 Inch Chainsaw
Poulan Pro 42cc 18 Inch Chainsaw
If you know anything about Poulan chainsaws, you will notice this isn't there classic green color. This is because Poulan have started to make a pro series for there mid range chainsaws. Which is why this is black and gold. one of the reasons I like Poulan chainsaws, is they are owned by Husqvarna. They often share some of there technology on there chainsaws, so you will be getting a great saw here.
While it doesn't stand up to the Husky and Echo above, it will still out cut the Black & Decker. This is thanks to it's 42cc 2 cycle gas engine, which works extremely well with it's 18 inch bar. This makes it ideal for medium duty storm clean up, and felling trees. It also holds up reasonable well, when it comes to firewood. So it's a very versatile chainsaw.
One thing I do like about this chainsaw is that it comes with a carry case, an extra chain, and a built in scrench. While the scrench is useful, it's the case and extra chain that I like. I wish more companies would do this, since chainsaws can be expensive. So protecting them is extremely important. Having an extra chain is just useful, it will mean you won't have to immediately buy a second chain.
What I Don't Like About This Chainsaw
While I didn't have to much drama with this chainsaw, I know a few people have. It does seem to come across as 50/50 if you're going to have an issue. One of the common complaints I've seen is the string for when you're trying to start it. Some people have reported theirs snapping. While the other complaints are how much you have to change the high-low carb settings.
If this had happened to me I would also be annoyed as well, it's understandable. So while this didn't happen to me, it is something I had to mention. The more info you have, the better decision you will be able to make.
Poulan Pro 42cc 18 Inch Chainsaw

What To Look For In Your Chainsaw?
There a lot of things to look for in a chainsaw. This could be the many specs of the saw, to what it can cut, and the brand. While it's all important, there is nothing more important then what it can cut. What good is a tool that doesn't do the job it was designed to do. Sadly there is no real answer to this, only really some rough guidelines.
The bar size of a chainsaw is important which is something I went over before. But what is powering the chain is just as important. There is no point in having a 18 inch bar, and your saw doesn't have enough power for such a bar. This is generally why most manufactures have recommended lengths for there saws. So while you can put larger, and smaller bars on. It's generally best to go with what the manufactures recommend. They test there chainsaws more then almost anyone else, so they know there tools best.
One thing I do see get overlook a fair bit is the chain on your saw. Having multiple chains is always recommended, and something anyone with a saw should do. Having a decent chain will make a world of difference and help give you a nice clean cut. So having a good chain is something else to look for.
How Important Is The Brand Of Your Chainsaw?
I know a lot of people have there favorite brands, such as Stihl, and Husqvarna fans. But how important is the brand of your chainsaw really? There are a lot of manufacturers out there who have all got some quality products. But what happens when the inevitable happens, and your tool breaks down? How easy is it to get your hands on replacement parts, or a mechanic in your area. Who is certified to work on your chainsaw?
This is more my reason on why I think the brand is sometimes more important then people realize. While the bigger brands this isn't to much of a worry, but some of your more unknown ones may not have this. So this should come into your purchase decision. Should you go with the slightly cheaper version, and hope it doesn't break down any time soon. Or spend that little bit extra and not have to worry about getting it fixed.
The most obvious thing about going with a more well known company. Is that in most occasions they spend a lot more time, and money designing there chainsaws. This is also where most the advancement in the chainsaw industry will happen, tho not always the case. This hasn't always stopped a big company from cheaping out on some of there parts. It does make it very difficult in choosing any chainsaw.
My Overall Thoughts
After using so many 18 inch chainsaws over the years and a lot more just recently, I do think it is almost the perfect size for most jobs. However, for smaller tasks you may need a 16 inch chainsaw which is better suited to smaller areas.
The type of chainsaw it is, whether its gas or electric is much more important to me. If you need some smaller tasks that you can get to with an extension lead, then electric is the way to go. But if power and portability is what you're after then I don't think there is any other option then to go with a gas powered unit.