I hope you love the products I've recommended below, just a heads up that as an Amazon associate, I earn from qualifying purchases. This means I may earn commissions on products bought via links on this page.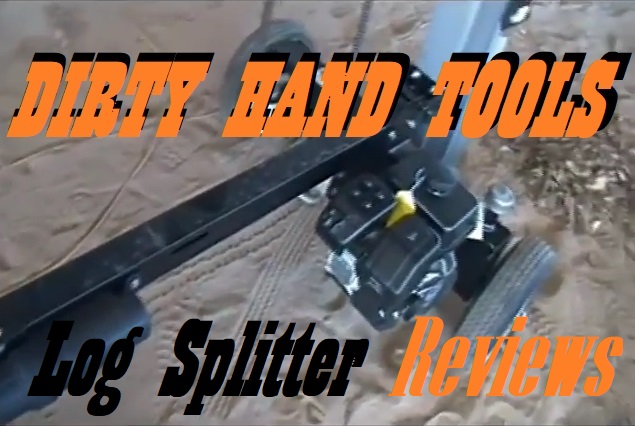 The theme throughout these Dirty Hand Tools log splitter reviews are that they are strong dependable machines. When your company is based in Colorado you know there machines are designed for the ruggedness of the great outdoors. This also applies to there high quality log splitters.
The thing I really like about Dirty Hand Tools apart from there quality, is that they design and engineer all there equipment in-house at there Colorado (USA) base of operations.  When you choose to use Dirty Hand Tools equipment you will get machines that are specially designed for the tougher more difficult jobs.
Dirty Hand Tools is a trade mark for the much larger brand Frictionless World LLC, who have numerous years of manufacturing experience. Frictionless World have been constantly delivering tools with such precision and designed with high quality materials, that makes all there equipment perform at a much higher standard then a lot of other log splitters.  They design there tools to withstand some of the harshest conditions, with there sole focus on designing equipment to make tough jobs easier and more affordable.
On this list you will find what I consider to be the best Dirty Hand Tools log splitters. These reviews are based on my overall opinion on the greater selection of DHT products, personal experience and of course the greater communities reviews and opinions.
Dirty Hand Tools 27 Ton Gas Log Splitter


First on the list is the very powerful Dirty Hand Tools 27 ton gas log splitter that will split all but the toughest of logs. With this impressive machine I was able to split oak logs that were about 28 inches in diameter, I will note that on some of the more knotted woods. This splitter did slow down a bit, but it didn't stop and got through the log okay.
When I put this splitter into it's vertical position splitting became even easier to do. I found it to be in it's prime while splitting vertically. While in it's vertical position I tested it on some 30 inch in diameter logs and got through them pretty easily again. If you have never used a splitter in it's vertical position, then I would highly recommend it. When in a vertical position it is easier to move logs around, and no heavy lifting, just making splitting easier overall. Plus getting through bigger more knotted wood is a dream come true.
This is a pretty quick gas powered log splitter with a cycle time that is about 14 seconds according to the manufactures. But I found it to be quicker due to the fact that you rarely need to run the cylinder all the way through. Generally the log will split in the first few inches then by the time the ram gets further the log splits more, making the cycle time to be really about 10 seconds for me.
Overview Of The Review
I really like how Dirty Hand Tools give you a log catcher, just to make splitting that little bit easier overall.
I'm a fan of any splitter that gives you both horizontal and vertical positions, having this feature just adds value to any splitter.
Having 2 16 inch department of transportation approved tires means you can tow this beast up to 45mphs, which is extremely helpful if you need to split away from your house.
Dirty Hand Tools 27 Ton Log Splitter

DHT Gas Log Splitter Review


The Dirty Hand Tools 22 ton gas log splitter is one of, if not my favorite 22 ton log splitters on the current market. So much so I put up a more in-depth review found here.
This splitter has everything that I require from a 22 ton rating. It is designed extremely well and has plenty of power. But best of all, it doesn't break the bank (Check Price On Amazon).
The sheer amount of work this machine does easily outweighs the costs in my eyes. When most people start looking into log splitters they find that 22 tons is a good area to start, it covers a lot of bases. It has plenty of power to split all but the largest logs, and doesn't cost thousands of dollars.  So I find it to be a good entry level machine for someone who will split several cords a year.
When it comes to the splitting power and the speed of this machine, I have found it to really perform very well in both of these fields. In terms of it's cycle time it does take roughly 11 seconds which certainly isn't the quickest on the market, but it is still very fast for it's size. Once I started testing the splitting ability of this machine I started to really love this thing. While in it's horizontal position I was able to split some hardwood oaks that were roughly 18 inches in diameter, and like the model above it struggled on some more knotted logs, but never stopped. When I put this in it's vertical position it easily got through some of the same oak but they were 24 inches in diameter, which is quite impressive.
Reviewing The 22 Ton Log Splitter Dirty Hand Tools Features
The thing I really like about this splitter is that it comes with a 4 way blade, that will make your life easier splitting larger logs down. Not all machines comes with such a tool, so it's a great feature to have.
I ran through about 6 cords with this splitter and I personally didn't have any problems come up getting through them.
While I was concerned that the Kohler motor is made in China, it ended up proving my thoughts wrong, and being a very reliable motor. The engine is the Kohler 3000 Series, 6.5 HP.
Dirty Hand Tools 22 Ton Horizontal/Vertical Log Splitter

Video Review Of The Dirty Hand Tools 22 Ton Wood Splitter
In this 25 minute long video review of the Dirty Hand Tools 22 ton rated log splitter, check out excatly what to expect when you buy one of these machines. See all the specs and the first time starting the machine. As well as what to do when you assemble the splitter. See just how well this model splits through logs in both the vertical and horizontal position. Once you see the true power behind this model, head over to Amazon to Check Price and availability.