I hope you love the products I've recommended below, just a heads up that as an Amazon associate, I earn from qualifying purchases. This means I may earn commissions on products bought via links on this page.
When it comes to splitting logs at home, there are a few methods us Americans typically follow. The axe, the maul, the chainsaw etc. But by far the safest and easiest way to achieve firewood quickly is to use the best log splitters for home use.
But with so many different types available, it's hard to know which is exactly meant for homeowners . It's especially difficult deciding if this is your first time buying a log splitter to heat your home come Winter. So it's important that you understand exactly what type you are buying, and what it is good for. Will it be suitable to your lifestyle?. This is the main thing to consider, as its your house that needs to be kept warm.
Often a product can be rated as the best in the world by all the folks in the world. But this product may not suit your current circumstances. So it's irrelevant to say the least.  That's why its critical you know what makes a log splitter ideal for home use compared to commercial use for example. That is what I hope to uncover to you today as I share my opinions on what I think are the top rated home owners wood splitters for 2017.
A Comparison Of The Best Log Splitters For Home Use
| | Type | Ton Rating | Our Rating | Check Price |
| --- | --- | --- | --- | --- |
| | Gas | 7 Ton | 9.6 | Check Price On Amazon |
| | Electric | 7 Ton | 9.6 | Check Price On Amazon |
| | Manual | 10 Ton | 9 | Check Price On Amazon |
| | Gas | 25 Ton | 9.8 | Check Price On Amazon |
Choosing A Log Splitter For The Home
There are a lot of different variations of log splitters that range from 5 tonnes , and all the way up to an impressive 65 ton(there are bigger but they generally need a tractor, or are self made). Generally speaking, first time buyers and home owners will be chasing the smallest log splitter for their needs that can easily be stored away during the off season. So on this list I won't be covering anything over 25 tonnes, so if you're looking for something larger, you can find them here.
When looking for a log splitter that is perfect for the average household, there are few things you will need to consider. The most important thing to consider is how much timber you will go through on average each year and especially through the the winter months where you have no option but firewood to keep you warm.  In this buyers guide I will cover 4 different models that will vary in how much timber they can split to cover the various requirements of many American households.
One thing you need to consider when purchasing a log splitter is do you need a gas powered  an electric, or a manual log splitter. All three types all have there pros and cons, and there isn't a one suits all log splitter out there on the market. I have taken the difficult part of finding the right log splitter for home us. By testing and researching dozens of different log splitting machines for countless hours we have come up with what we consider to be the best log splitters for homeowners.
Our Best Log Splitter For Around The House



This Champion 7 ton log splitter is one of my personal favorite log splitters on the current market. Hence why its one our top reviews in this industry. While it won't suit everyone's wood splitting needs, I find it to be the most versatile log splitter on the market. The perfect machine for the home owner in my opinion. I split 6 cords of quite large in diameter logs, very easily with this machine. While I have managed to split up to 22 inches I recommend if you're going to do such large logs, that you start at the edges and work your way in.
While this isn't the biggest log splitter out there, I have found it to be quite a powerful beast considering the size. I found it does more splitting per cubic meter with it's power then some 10 ton gas powered log splitters I've used. Since it is a gas powered log splitter, you won't have to worry about running out of juice to the machine. Provided you are stocked up on gas, you never have to rely on unpredictable energy sources again.
One thing I will mention is this is probably one of the more expensive 7 ton log splitters on the market. But fortunately, in this case the price tag comes with quality. For once being more expensive actually means you're getting more for your dollar and not just buying a brand names popularity. If you're interested in other champion products I have reviews here, or if you want to look into a stronger gas powered log splitter reviews.
What I Like
Every time I use the 90720 I'm always impressed with just how much power, and the size of logs it can split.
I really love the fact I can tow this behind my 4 wheeler, so if I need to split further away then I can do it.
I like how low to the ground it is, so I don't have to lift logs as high to split them.
Compact size and very portable.
Champion 7 Ton 80 CC Best For Home

The Best Log Splitter For Homeowners


Next on this list is the Boss Industrial ES7T20 electric log splitter. I like the Boss Industrial because off of a few solid reasons. The main one being that it's very simple to use. Not everyone has spent hundreds of hours operating a log splitter like myself. So I find that operating the Boss Industrial to be perfect for inexperienced and casual users. I consider the Boss electric log splitter to be the best electric log splitter on the market, due to it's ease of use and how we managed to split up 18 inch in diameter logs which is a whole 8 inches bigger then it's manufactures recommended size (But always adhere to manufacturers guidelines for safety and warranty purposes).
Being an electric wood splitting machine there are a few things you will need to consider to see if this is the right log splitter for you. A couple great advantages to the electric versions are that they have no fumes which you get from gas powered. This means you don't need to be stuck outside in the cold, you can take this splitter inside and not worry about disturbing the family with the fumes. It is also a lot quieter then the gas powered counterparts. So if noise is an issue for you, you won't have to worry about that here. It is highly recommended that if you go the electric route, that you make sure you always have logs split in advance, in case of a power outage and you're stuck without warmth. Or have a back up generator.
The Positives
I really like how I could split inside without having to worry about the cold.
You won't be caught out with having no gas when it's needed.
Having an electric motor it starts up every time and starts very easily.
Boss Industrial 7 Ton Splitter

Easy To Use Around The House Timber Splitter


One of the biggest problems with log splitters is there price tag, it can put a lto of people ff. Even tho they save countless man hours in labor and are worth their weight in gold. But regardless, some folks simply cant afford to hand over large sums of cash.
That's where the Sun Joe manual log splitter comes into the picture. While using a manual log splitter is a lot more physical then it's gas and electric powered counterparts, it's still a whole lot easier then splitting with an axe or splitting wedge and a sledge hammer. This is perfect for people who can't or don't necessarily want to spend over $400 for a log splitter, it just means a bit more work which isn't always a bad thing if you ask my Wife.
This manual log splitter is for people who aren't going through several cords over the winter months, it is for people that who really only need wood to heat there fire place or various other little chores. Being a manual log splitter, it just doesn't have the power to get through massive logs, so if you are planning on splitting logs that are above 10 inches in diameter, I would recommend one of the splitters above or the one below. While it isn't for everyone it does have it's place next to many fire places across the USA.
A Big Plus
Never having to worry about having gas or any power, was a surprising advantage that I didn't occur to me right away.
Not having to break my wallet, like you do with almost all other splitters.
Very reliable machines
Logger Joe 10 Ton Hydraulic Log Splitter

The Best Heavy Duty Wood Splitter For The Home
Champion Power Equipment 25 Ton Full Beam Towable Log Splitter




Last on this list is the most powerful and the most expensive log splitter on this list, the Champion 25 ton gas powered log splitter. I decided to put this log splitter on the list for people who will tear through a lot of cords every year and require something with a lot more power then those above. With this powerful machine we managed to split logs up to 36 inch in diameter in the Champions vertical position. Which is one of my favorite features on this log splitter. There won't be too many logs that the average household will struggle with this log splitter. If any in all honesty.
A great feature on this particular splitter is it has these two catchers on the side, for when you split a log so the logs don't fall onto the ground. This is a back save for anyone who suffers back pain regularly. Less bending over to pick up the split wood and less chances of inuring yourself. Just be aware that it can be a little difficult while in it's vertical position, not a big problem just a bit of warning. While the manufactures said you can tow this at 45 mph, I wouldn't recommend going above 40 mph and if you need to do some highway driving, it would be best to use a trailer. With the exception of commercial users, the Champion 22 log splitter would benefit all houses that need to split logs on a regular basis. Intended for the heavy duty user.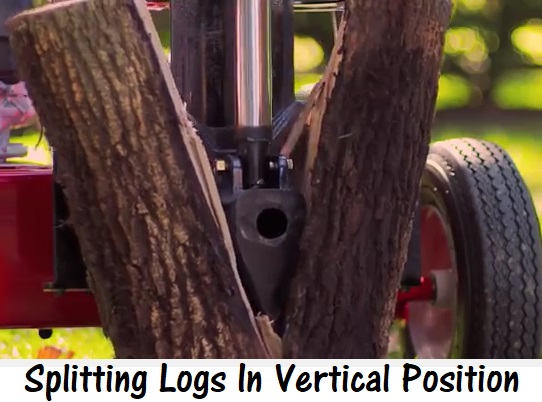 My Favorite Features
I really love the horizontal and vertical positions you can put this log splitter in.
The 2 catchers on either side of the splitter, was a great quality of life improvement that I wish every splitter would now add.
The ability to tow this splitter around town with my truck, so I could help family and friends with there log splitting.
Reliable starting engine. Works a treat even in the colder temperatures.
Made by one of the best companies in the business.
Durable and typically have a long life span making them really good value for money for frequent users.
Champion 25 Ton Gas Log Splitter

Save