I hope you love the products I've recommended below, just a heads up that as an Amazon associate, I earn from qualifying purchases. This means I may earn commissions on products bought via links on this page.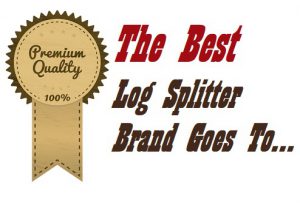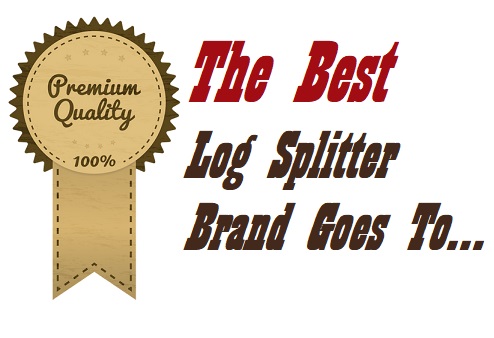 With so many different log splitting companies in the USA, it can get somewhat overwhelming for people to know just
who makes the best log splitters
. When it came to researching just who made the best, I had a few qualities that I personally thought were much more important then others. First and foremost the company has to produce quality machinery, the last thing you want is a log splitter that is just going to breakdown. Cutting corners with inferior parts is simply not good enough.
The next thing and one I consider to be of quite severe importance, and that is top level customer service. There have been times where after having a log splitter shipped to me, that something went wrong in transport and companies have tried to get out of replacing or fixing the issue. Then I've had other companies who have gone above and beyond, by offering to replace the entire splitter, when all I needed was a simple part. This has always stood out in my mind when deciding on which brand to trust. Which therefor gives me the confidence to personally recommend that companies products to friends and family. Word of mouth online goes a long way these days.
Why Champion Is One Of The Best Brands
The Champion Power Equipment company has been around since 2003 and have slowly worked there way, to being one of the leading power equipment companies on the market. They have managed to work there way to the top and stay there, by making some of the most powerful and most reliable pieces of machinery on the market. One thing I like about Champion is that they design and engineer there products in the USA, keeping more locals employed is always a great thing in my eyes. Champion have expanded there headquarters to several places in the USA and have now started to expand into Canada.
Over the years I have used many different Champion log splitters. I am impressed with just what they can do. Myself personally I have never had any issues with there log splitters, but I know that some people have. And from everyone I have talked to, customer service has been outstanding. The log splitters themselves have always provided enough power and have always been very reliable for me, if you operate a log splitter smartly and look after it, it will last you a lifetime. If you would like to read some reviews on the best champion log splitters on the market, you can find my reviews here.
Champion Power Equipment 25 Ton Full Beam Log Splitter
7 ton log splitter
, and this 25 ton monster. There is a lot of reasons to like this log splitter and it does a lot to make you like it as well.
The first thing with this log splitter is just how powerful it is. You will find you will be able to split any logs, no matter how hard the wood is when they are about 12 inches in diameter. Once you start to get bigger you will find that you will still find this splitter will get through them, but it won't be as comfortable as the smaller logs. But this is where the vertical position comes in handy.
Thankfully this Champion has a vertical position, which means on those bigger logs you now have a solution to splitting them. The vertical position is a feature not all machines boast. It is when the splitter can operate vertically and come down on the log from above. This is a great feature and one that I always recommend.
When it came to splitting logs in this vertical position there wasn't much I couldn't get through, most of my logs were about 24 inches. But I have a few test logs that were 36 inch pine logs, and I was able to get through these logs fairly comfortably. If it was a harder type of wood, I would of had to started on the edges of the logs and started work my in. So this Champion splitter certainly has plenty of power to suit almost everyone's needs.
The other thing I really liked about this splitter is just how easy it is to tow around my acreage. It has a 2 inch ball coupler that easily connected to my Honda ATV. So I could go further onto my land and split logs away from the house. The tires are fairly rugged and are approved by the department of transportation, so you can tow them up to 45mph, but I wouldn't recommend going above 40mph. This is very handy if you have family members or friends who need some logs split, but don't have there own splitter.
Champion 25 Ton Log Splitter (100326)

Why Ariens Is One Of The Best Brands
The Ariens company are a company that takes pride in presenting the best possible image. Which in my eyes means they have something to lose if they don't constantly produce great equipment. The thing with the Ariens company is that they are mainly known for snow blowers and lawn mowers, but when you are known for being the "lawn mower of the white house". So I can understand some peoples concerns about putting this company on the list, but I feel there quality will speak for itself.
If you create a product that the white house itself uses, and you are known for, to me that speaks about the quality of there products.
They're based in Wisconsin in the USA and provide hundreds of jobs across the United States, keeping jobs local is an important thing. They have worked extremely hard at getting and maintaining there reputation as one of the most reliable names in the power equipment market, every time you get the Ariens name you get over 80 years of experience. In my personal opinion the Ariens company produce some of the most reliable equipment on the market, and there log splitters continue the trend. To find out more about Ariens log splitters, you can find my top 3 Arien Log Splitter reviews here.
Why Yardmax Is One Of The Best Log Splitter Brands
Yardmax are a fairly young company, only starting in 2015 but you shouldn't underestimate this young company. The first thing I have to admit about this company is that there products aren't manufactured in the United States. So if this is a issue for you I recommend one of the companies above. Normally this would be a bit of an issue for me, but the Yardmax log splitters I have used myself, have been nothing but great quality and design.
I believe the reason there products are better then what you normally expect, is that they have there own factory that they oversee, so they can keep an eye on the quality. This is especially important when you deal with large items like a log splitter.
One thing I do appreciate, is that there customer service is some of the best service I have personally ever had. I had an issues with the ram not retracting on one of my splitters, and Yardmax immediately offered a replacement splitter. The thing that really stood out for this particular issue is that, my machine was out of it's warranty so they didn't have to do what they did.
With that simple gesture in my eyes have made Yardmax one of my personal favorite companies, and I have no issues with recommending there great products. Up until I had that issue my splitter had no problems what so ever, it split everything I threw at it. So if you would like to read some more of my Yardmax reviews, you can find my top 3 Yardmax Splitters here.