I hope you love the products I've recommended below, just a heads up that as an Amazon associate, I earn from qualifying purchases. This means I may earn commissions on products bought via links on this page.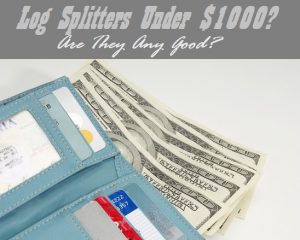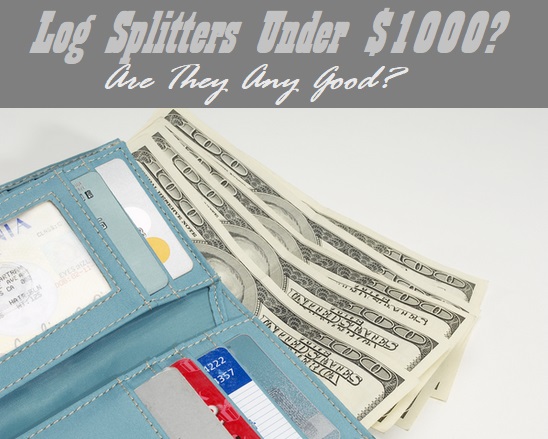 When many people think about purchasing a log splitter for the first time, the general consensus is that it's going to cost them an arm and a leg. Or needing to remortgage the house.  This is simply not true. There are many great wood splitters that don't cost several thousand. In fact I've compiled this buyers guide for of what I believe to be the best log splitters under $1000 or thereabouts. On this list I have chosen a gas powered splitter, electric splitter, and a kinetic splitter because one model doesn't suit everyone, and everyone has there own personal wants and needs.
There is one thing you will need to remember when looking at log splitters that are under $1000, and that is there will be some features that will be missing off of these splitters. That doesn't mean these splitters are bad by any means of the imagination, the one thing that will cause some people concern is how much power will this splitters have? If you're looking for splitters that are going to be splitting logs that are 30 inches in diameter then this list isn't for you, but I do have other reviews that will help you which you can find here.
Quick Overview Of The Below Log Splitters
| | | | | |
| --- | --- | --- | --- | --- |
| Type | Gas | Gas | Electric | Electric |
| Ton Rating | 25 Ton | 7 Ton | 10 Ton | 7 Ton |
| Vertical Split | Yes | No | No | No |
| Our Rating | 9.5 | 9 | 8 | 7.5 |
| The Cost | Check Price On Amazon | Check Price On Amazon | Check Price On Amazon | Check Price On Amazon |
The log splitters on this list have been chosen not just because of there price, but because of what they offer at there price point. I like to think of it as more value for the dollar, then say a specific dollar amount. Because as we know, a $5 toy may very well be better than a $50 toy. So it comes down to more than just monetary value.
They made it onto this list because they are durable and are designed extremely well and are very easy to operate, and they will just make your life easier in the long run. After countless hours of researching and test a lot of different types of log splitters, these are my top 3 recommendations for the best log splitters if you are looking to spend close to or over $1000.
Most Powerful Wood Splitting Machine For About $1k?
YardMax 25 Ton Dual Cradle Half Beam

The Good
Best value for money
Powerful 25 ton rating
Vertical and horizontal positions
USA Brand Briggs & Stratton 6.5HP engine
Heavy Duty design and tyres
Very easy to assemble
4 way wedge and dual log side cradles
Much much more...
The Bad
Reports of engine mount bolts loosening over time. Easily fixed tho.
With a tight budget of about $1000, it sure isn't going to be easy to pick up a high powered machine. But as they say, 'never say never'. So after pushing my research to the max, I found the YardMax 25 ton log splitter. Now if you can pick up this beast for around $1000, you are doing very well. It has been under that price in the past, not by much. But even at more than 1k, this splitter is worth it's weight in gold.
The Yardmax 25 ton comes with some pretty awesome features. Considering the price, I don't think you can get better.
Quick Overview Of The Features
Find me a more powerful log splitter in this price range?. You can't!.
Boasts vertical splitting position as well as horizontal – Means you can split downwards onto much larger logs
Due to the hydraulic components, this splitter has an incredible cycle time. Compared to something like a Troy Bilt, the Yardmax has incredible cycle times. 9.7 cycle time on a 25 ton is supreme.
Half beam model compared to a more bulkier and heavier full beam. Yet boasts the same amount of power.
Extremely simple to assemble.
High quality machine that makes short work of the big box models
USA brand engine Briggs And Stratton 6.5HP engine
Side log cradles on either side to catch the split logs from falling to the ground
This is just some of the powerful benefits of owning a 25 ton Yardmax. As you can see, there is a lot of value especially considering it wont cost you thousands like some of the other big models do. Yet it does match them in quality, performance and shear reliability. If you can spend about one thousand dollars on a log splitter, this is the machine I would highly recommend.
Yardmax 25 Ton Half Beam Gas Log Splitter

Can You Buy A Gas Log Splitter For Under $1000
Champion 7 Ton Compact Portable Log Splitter Review



It's not very often you find a high quality beast like this at the price point it is. Normally I would expect to spend a lot more than $1000 on a big brand like Champion.
The Champion Power 90720 7 ton rated wood splitter is one of my personal favorite log splitters on the market for many different reason, one of the reasons is the brand behind the splitter and that's Champion. Champion have been producing some of the most reliable machines for the past 14 years and will continue to be a power house within the industry for the foreseeable future. So you know when you choose a Champion product you will be getting a quality machine that is reliable and will last you many years.
While this splitter won't be splitting the biggest logs on the market, it is still a great buy. I found myself able to split logs that are about 22 inches in diameter, which is an incredible size for such a small splitter. Tho when it does come to splitting such large logs, you may find yourself needing to start splitting the logs from the outside edges and work your way in. Or you may have to swap the log around and start splitting from the opposite side, this is a very basic bit of information that everyone who wants to start splitting logs will need to know.
It certainly isn't the quickest log splitter on the market with a pretty slow cycle time averaging at about 19 to 20 seconds, which I will admit is a bit slow but still easily beat splitting logs the old fashioned way with an ax. Another great thing about this wood splitter is just how portable it is, while it can't be towed by a car or ATV it does have a very convenient handle with never flat tires. So when you're moving it around your yard or where ever you're operating your splitter you don't have to worry about your tires becoming flat. Want More Portable Options?
What I Like
I really like how much power this 7 ton splitter has, it splits logs that some 10 ton splitters I've used have struggled to split.
It's a very portable log splitter for something that can't be towed, the handle makes it easy to position the splitter into the right spot to start splitting.
After splitting about 4 cords the splitter didn't have any feeling of slowing down at all and only ever struggled on really knotted wood.
Get a more in-depth Champion 7 ton review here.
Champion 7 Ton 80 CC Best For Home

How Fast Is A $1000 Log Splitter?
Generac 10-Ton Kinetic Electric Review



If you have never used a kinetic log splitter before then you will be shocked at how fast kinetic splitters are, and how fast this particular Generac kinetic log splitter truly is. While the Champion splitter takes roughly 20 seconds to have a full cycle, this Generac splitter has an incredible time of 1 and a half seconds.
That speed is just unbeatable and in my opinion it is one of the fastest wood splitters on the market. The amount of time you will save with this is splitter is something I really do enjoy. I would be doing a great disservice to this beast of a splitter if I didn't mention it's number one attribute.
With that kind of speed you must be thinking there are some serious drawbacks to this splitter, and honestly there really isn't. What you sacrifice is a bit of power which can be a cause for concern for some people, but you will still be able to split logs that are roughly about 14 inches in diameter depending on the wood you're splitting. If you have particularly hard wood or some really knotted wood, then choosing the Champion above might be better suited, gas hydraulic splitters are still some of the strongest splitters on the market.
This is a pretty small splitter which makes it great if you don't have a lot of room and need to store it, which is made even easier by its handle. The handle makes it easier to maneuver around where ever you decide to store it or where you will be splitting your logs. The one thing I should mention is that this kinetic splitter is electric, so it doesn't have any fumes so if you want to split inside and out of the cold that is an option.
What I Like
The speed of this splitter is just insane, what would normally take me a few hours to split was cut down to easily half the time, which left me free to do other things.
While it isn't the most powerful splitter on the market, I felt what it could split and fast it could split them more then made up for it's lack of splitting power.
Being able to store this splitter inside my garage and out of the way, and easily wheel it out for when I needed it was a very nice quality of life improvement
Because it's electric powered, I can set it up in the garage and split wood no matter how cold it is outside.
Generac Kinetic Electric Log Splitter

Does $1000 Buy You An Electric Log Splitter?
Introducing The Boss Industrial 7-Ton



This is one of my favorite electric log splitters on the market. ANy of my long time readers will know how highly I praise this machine. It's by no means a newbie around here. The Boss, is often the first log splitter I recommend for first time users due to how easy and safe it is to use.
So once you do get it, you will see just how easy it is to set up. In fact, I would be surprised if it took a complete beginner more than one hour to assemble. Then it's as simple as plugging it in and putting a log on it and operating the levers to start splitting. It really can't get any easier then when it comes to splitting logs. It is a great little splitter if you only need a few logs to help during some of the colder months, or occasionally use a stove that requires wood. Not recommended for commercial use is my main point here.
In a lot of ways this is a really great splitter, it has been a very reliable unit since I've been using it. If you're looking for a splitter that can split massive logs then this isn't for you, this is the cheapest splitter on this list and sadly the power is where it got sacrificed. I wouldn't recommend splitting any hard woods or very knotted woods with this splitter, especially not any bigger then 10 inches in diameter. If you need to split logs that are softer you will have a much easier time and can split logs that are about 14 inches in diameter which is about the same as above, just not anywhere near as quick.
The one feature that I really like about this wood splitter is that it has a 1 lever operating system, compared to most others 2 lever system. This isn't the biggest deal for a log splitter, but I really liked being able to guide the log I was splitting on the top of the splitter. It is just a nice quality of life improvement on this little work horse, and should be on all smaller splitters in the future.
What I like
With how simple it was to use it is a great entry level splitter for beginners and people who have only a little bit of experience.
Being an electric splitter I liked being able to split inside and out of the cold outside, something I really like during the colder months.
It is a very handy unit when it comes to splitting logs into kindling, you can split logs into thin pieces to use for your wood burning stove, or fire place.
Boss Industrial 7 Ton Splitter

Guide To Choosing The Best Log Splitter For You
Buying a log splitter for the first time can seem like a hefty investment on your behalf. That is becasue it is. Unless you are buying an electric or a small gas model, prices can well top $1000. But how is a beginner meant to know what size and brand to trust?. In this short video below you can see a few of the types of log splitters available at splitwoodclub.com. Enjoy.
Save