Top 4 Best 16 Inch Chainsaws Reviews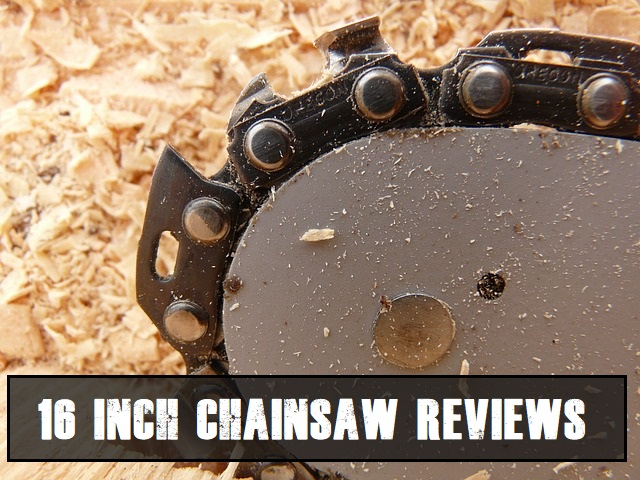 More people are relying on chainsaws now more than ever. The necessity of having a tool that's a bit more well rounded is also required. Which is why I have these reviews for the best 16 inch chainsaws on the current market.
But why buy a 16 inch saw when there's plenty of 18 inch chainsaws readily available?. There is a very simple reason for this, and that is a 16 inch chainsaw is the perfect size for most small jobs around the home. In my opinion if you have a backyard with some trees in it, then you need a chainsaw. Why work harder and make life more difficult when a chainsaw can handle those simple tasks quicker and easier.
A 16 inch bar chainsaw is within that perfect range for what it can actually do. It can handle those smaller tasks very well, while brave enough to tackle the slightly harder tasks. If you need to remove some small to medium trees or do some trimming, then an 16 inch chainsaw is perfect for those tasks. If you need to remove some large trees and cut up firewood then it can also handle the job, but may not be as efficient as a larger size bar.
Buying A 16 Inch Bar Chainsaw
When looking for a new 16 inch chainsaw or any chainsaw for that matter, there are a few things to consider. The first thing to consider is how experienced you are with using chainsaws, which will help choose how your chainsaw is powered. If you have no experience and you're close to a power source, I would consider an electric chainsaw. The big advantage to an electric chainsaw is that they're easier to start, and they require less maintenance then a gas chainsaw. Tho a gas chainsaw is generally more powerful in my opinion. So if you're experienced, I would recommend a battery or gas chainsaw.
A lot of modern chainsaws come with extra features such as auto oiling, self sharpening, and a few other features. Depending on your experience with chainsaw use, some of this features may interest you enough that, paying that little bit extra is worth it. Having a self sharpening system may not be worth the extra, if you know how to sharpen it yourself. These are only small features which could save you money down the track.
Do You Need A 16 Inch Chainsaw
This is a question you will need to ask yourself, and work out what you need to cut. Depending on what tasks you need to do, might mean you can save yourself some money and possibly go for a smaller chainsaw. If you only need to do some light trimming and pruning then most likely you could go with something smaller. But if you need to cut up some firewood, then you might have to go up in size. This is something you will need to work out before you begin your search. I find that cutting down medium size trees, and storm clean up to be the right jobs for an 16 inch chainsaw.
One thing to consider is that you can change the size of the bar on the chainsaw. So getting a chainsaw that has an 16 inch bar, and then getting a separate 10 or 18 inch bar can save you some money. You won't have to buy another chainsaw for those smaller jobs, which is something that I really like about chainsaws. Anything that gives you options is good in my books.
With that in mind it is time to get into these reviews for the best 16 inch chainsaws on the market.
16 Inch Chainsaw Reviews
WORX 16 Inch Electric Chainsaw
Some of you may not know who WORX are, but they are a brand that pride themselves on quality on a budget. That is exactly what this incredible 16 inch bar electric chainsaw is. It is packed with features that all chainsaws should come with.
The Worx is powered by a 14.5 amp electric motor, which gives it plenty of power to get through most of the jobs you need done. Being an electric chainsaw has the advantage of starting up easy and usually on the first go. Tho this does mean you will need some heavy duty power leads to use this chainsaw.
The two features on this chainsaw that I really like, and they are something you should think about when purchasing a chainsaw.
Auto oiling and
auto-tension system
Both of these features are time savers and massively reduce the amount of stress. While most chainsaws come with some kind of oiling system, being an auto system makes life so much easier. But it is the auto-tension system where this chainsaw shines for me. While it isn't really that difficult to tighten a chain, having a automatic system do it for you is all that much better.
For an electric chainsaw this machine packs a fair bit of punch from its 14.5 amp electric motor. With a bit of common sense when cutting, this chainsaw could cut through an 16 inch oak tree which has fallen over after a storm. While being careful at the pressure points and cutting from either side was the main reason it got through it, it still impressed me with being able to cut through it. So overall a very impressive chainsaw that won't break the bank either.
What I Like About The WORX
The 15 amp electric motor really surprised me with just how much power it has, and what it can cut through.
The auto-tension system is a really nice quality of life improvement, that removes the hassle of having to tension the chain yourself.
It roughly weighs around 12 lbs which isn't too heavy to carry around while cutting tree limbs.
There is an option for an 18 inch version of this chainsaw, with a 15 amp motor, for about the same price, which is a nice option if you need more heavy duty tasks done.
Worx WG303.1 16 Inch Electric Chainsaw
Heavy Duty 16 Inch Battery Powered Chainsaw
DEWALT 16 Inch Battery Powered Chainsaw
If you have ever used a power tool then most likely you would have heard of DEWALT. A worldwide renown brand in the power equipment industry.
While they are known for there quality, they are also known to be very expensive. So if you're on a budget then this might not be the chainsaw for you. Tho this DEWALT is a high quality chainsaw that I feel does earn what you will pay for it up front, with it's sheer work ethic.
This chainsaw is packed with quite a few quality features. It has the usual auto oiling system which every chainsaw should really have in my opinion. But it is its tool-less tension system, and a bar tightening knob which I find very useful.
I like not having to get extra tools out to tighten a chain. And having the bar tightening knob is only a small quality improvement, but it is this small attention to details which sets Dewalt apart from the crowd.
Powerful & Heavy Duty
The Dewalt is a powerful battery chainsaw that has a lot of grunt considering it's a battery powered chainsaw. It's powered by a 60V 3.0AH battery which let me tell you, holds a decent charge. However a flat battery is the only issue you will run into if this is your first battery chainsaw, always making sure to charge the battery before use. I would recommend getting a second battery for this chainsaw if it is going to be your main chainsaw.
What I Like About The DEWALT
Using this chainsaw I was able to cut down a 20 inch white oak tree, which was impressive for a 16 inch chainsaw.
I really liked not having to get my tools out when I needed to tighten the chain. While I like the automatic chain system of the WORX, being tool-less is also very useful.
This is one of the highest quality battery powered chainsaws on the market, and just operating this chainsaw was a pleasure to use.
DEWALT FLEXVOLT 60V MAX Chainsaw
Husqvarnas 16 Inch Chainsaw Review
Husqvarna 440E 16 Inch Gas Chainsaw
I don't think you could make a best chainsaw list and not include the famous Husqvarna brand. It would be like making a list about camping gear and excluding Coleman, it's just not right.
When a company has been around for as long as Husqvarna, it is hard to not take notice. Which says something about the rband, tools and the quality of equipment. Husqvarna have some of the finest power tools on the market. The 440E chainsaw is no different, it is one of the best chainsaws out there.
There is a huge advantage to going with a brand like Husqvarna; that is if it does ever breakdown, there is a good chance that there is a Husqvarna partnered mechanic to fix it. So you won't have to wait weeks or even months for parts to get shipped in.
Some Powerful Features Of The Husky
While this isn't the most feature packed chainsaw on this list, it is one of the most reliable and powerful chainsaws on this list. This is thanks to its 40.9cc engine, that puts out 2.4HP. Which is a decent amount of horse power for such a small engine.
Reduced Vibration
What I like about this chainsaw is how it was designed for minimizing vibration while using. While this doesn't sound like much to some, after several hours use your hands will thank you. Mix this with it only weighing roughly 11 lbs makes this a joy to use over extended periods of time. This is something that I really appreciate being someone who uses chainsaws a lot.
With one full tank of fuel you can get about 2 hours of use.  Which is very efficient when you need to travel far from home to cut trees down. While 2 hours of use is about the average time per tank of gas, pushing this chainsaw to its limits will reduce the amount of time. I would recommend using ethanol free fuel to help save the carburetor, which is something you should do with all quality gas chainsaws.
What I Like About The Husqvarna
While it isn't the most feature packed it was just a joy to operate this chainsaw, which does make work feel like less of a chore.
The power of this chainsaw is impressive and was able to cut through a 22 inch oak tree easily.
I really liked how fuel efficient this engine was, and being able to get 2 hours from one tank was great.
One of the most reliable and trustworthy brands in the field.
Husqvarna 440E 16 Inch Gas Powered Chainsaw
Remington

16 Inch Gas Chainsaw Review
The Remington 16 inch chainsaw is a powerful workhorse that I find is great value for money. Coming in close to half the cost of the Husqvarna and DEWALT.
The question is what do you sacrifice with this cost cutting? The answer is surprisingly not as much as you would think, it is surprisingly high quality in terms of design. The biggest drawback is when you do have an issue, finding replacement parts can be difficult. It can also be difficult to start in colder months, even tho it is meant to be a quick start saw.
One of the things that I do really like about this chainsaw is that it comes in three different bar sizes, 14, 16, and 18 inches long. All three of these are identical except the bar which is something that I like, having extra options is great in my opinion. When you mix these options with the 42cc engine, you do have a surprisingly powerful little chainsaw. With this kind of power it was easily able to get through some trees that were 20 inches in diameter, as long as you cut them correctly.
While myself personally didn't have this issue, I have read a few people have had this issue. That is this chainsaw does have a tendency to leak oil quite a bit, so it is a good idea if you plan on not using it for a while. That you drain the saw of oil and gas, which is something to keep in mind.
What I Like About The Remington
For its price it is a great chainsaw, that doesn't cut back on quality as much as I was expecting.
The fact you can get it in 3 different sizes is something that I like personally, as I have said having more options is great.
Remington Rebel 16 Inch Gas Powered Chainsaw
My Final Thoughts
When it comes to chainsaws having a 16 inch one can only help improve your tool shed. All of the chainsaws on this list are worth looking at if you're looking for a new chainsaw. I highly recommend spending the extra bucks on the Husqvarna as it's hands down the best.
They all have there own markets that targeting, and they excel at what they're targeting. The Remington and WORX are both great budget chainsaws that will do more then there price point would make you think. The DEWALT and Husqvarna are just incredibly well designed, and both operate extremely well. But if I had to pick a favorite it would have to go with the Husqvarna, which purely personal preference. Over all it just felt the best while operating and is backed by one of the biggest names in the business.