I hope you love the products I've recommended below, just a heads up that as an Amazon associate, I earn from qualifying purchases. This means I may earn commissions on products bought via links on this page.
With more and more people turning to firewood for there heating, finding the best chainsaws for cutting firewood is becoming more important. Having the right tool for the job will certainly make your life easier, the last thing you want is something that won't cut through what you need.
But what is the right chainsaw for the job? This is a difficult question to answer since there is many things that you need to take in consideration. In this buyers guide I will be going over what you need to look for when buying a chainsaw to cut up logs into firewood. Followed by what I consider to be the best chainsaws for cutting firewood in my opinion.
What To Look For In The Best Chainsaws For Firewood
Manufacturer
The manufacturer is a very important thing, for a variety of reasons. One reason the right manufacturer is important is quality, brands such as Husqvarna and Stihl have made reputations in making great chainsaws. Husqvarna Chainsaws are certainly my number one choice when it comes to performing many tasks, including firewood.
Tho that does come with a higher price tag so that is something to consider. The other reason finding the right manufacturer is key to a good chainsaw, is parts. No matter how good your chainsaw is, or no matter how well you look after it. Fact is tools breakdown and need to be repaired, so having a manufacturer that has parts that are easily accessible is important.
Engine
This is a pretty straight forward thing and doesn't need much of an explanation. Having a decent engine is extremely important and one of the most important things to look for in a chainsaw. Since the engine is the thing that will be doing most of the work, it is crucial to find a chainsaw with the right engine for your needs.
Having a 35cc engine isn't going to do a lot if you need to cut some firewood that is 22 inches in diameter. Something in that size range is going to require an engine that is around 60 to 70cc. Luckily for you, we have chosen the chainsaws with the best engines to perform cutting firewood like it was knife going through butter.
Size Of The Bar
The size of the bar is almost as important as the engine, since it also will be one of the deciding factors in what size log you will be able to get through. The fact is certain size bars are better at certain jobs compared to others. Anything bar under 16 inches is going to excel at trimming and pruning, and smaller logs. 16 to 18 inch bars are a great middle ground that will handle most things, except the larger logs. To handle those large logs you're going to want a bar that is over 20 inches, which will cost you more.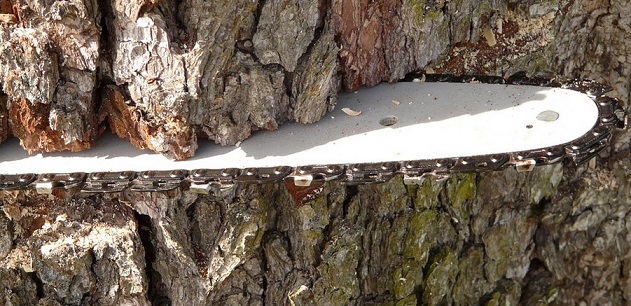 Type & Size Of Wood Used
This is a tough question to answer, and I can mainly give more of a guide line then precise numbers. You will always come across that stubborn log. This is where the engine size is important, a engine that is between 30cc to 45cc will easily handle logs that are 12 inches and under.
To handle logs up to 16 inches you will want something a bit more powerful, more around the 50cc mark. After this is where your engines need to start getting more powerful, the larger logs require more power. Anything under 22 inches will require a chainsaw that has at least 60cc engine, and anything above that will require an engine with 70cc. As I said these are more guidelines and something to consider.
Budget
How you much you are able to spend will effect just what you will be able to cut. Chainsaws are expensive, especially if you need to cut those massive 22 inch logs. The question you will need to ask yourself, is do you need a chainsaw that can handle the more large hard wood logs. If you don't you can save a lot of money with a reliable $200 unit. The price difference between those chainsaws and the next level down can be close to half the price. Tho they can still cost upwards of $500 so it is still expensive.
My Highly Recommended Chainsaws
Since there are so many chainsaws on the market that have a variety of features, it certainly can be overwhelming to find the best one for your needs. So I have saved you the time by putting in countless hours of research and testing, to find out what the best chainsaws for cutting firewood really are. So read on below to find my highly recommended units.
The WORX Saws Through Firewood
It's Electric, But Don't Let That Fool you

This surprisingly powerful Worx 18 inch chainsaw is one of the highest rated small chainsaws going on the market.  I really wasn't sure what to expect with this chainsaw, but found myself being pleasantly surprised.
It has a powerful 15amp motor that will easily handle those smaller logs. This chainsaw is perfect for people who only need to cut logs that aren't bigger then 12 inches in diameter. But it also really excels at removing tree limbs and some lite pruning if the need rises. It is very versatile that is perfect for home owners. The engine combined with the 18 inch bar is like a match made in heaven in my opinion.
Advantages Of Using The Work Chainsaw With Firewood
Being an electric chainsaw has a few advantages over gas chainsaws, but it does come with one disadvantage. The advantages of an electrical chainsaw is that you don't have to rely on gas or charging a battery to use it, just as long as you have a power outlet. That combined with how easy they start, there is no need to put your shoulder out pulling on a cord like a gas unit.
The disadvantage is that you do need a power outlet, and some heavy gauge extension lead. So if you need to cut really far away from home, you will either need a generator or a lot of heavy gauge extension leads. A little frustrating at times, but not a deal breaker for me.
This chainsaw comes with a few of my favorite features on a chainsaw, and they are there auto-tensioning system, automatic oiling system, and its built in chain brake. While having to do those first two manually isn't difficult, it does make life easier and quicker. This is a great quality of life improvement that I'm a big fan of, and hope more chainsaws include them. The chain brake combined with the low kickback bar makes this unit one of the safest chainsaws to operate. This is especially useful to people who aren't as confident using a chainsaw.
What I Like About the WORX 18 Inch Electric Chainsaw
I really like the 15 amp motor on this chainsaw, it gives it plenty of power to handle those smaller logs that it was designed for.
Safety is important when operating a chainsaw, so its low kickback bar and the built in chain brake were great additions, they will give first timers peace of mind.
Being a electric chainsaw means it is very quiet, especially compared to a gas chainsaw. Which mine and my neighbors were thankful for.
The auto tensioning system, and automatic oiling are both really useful, that will make your life easier.
Perfect size chainsaw for cutting firewood.
Gas Powered Firewood Chainsaw
Is It Overkill?


Remington Really knocked it out of the park with this chainsaw. It is a very powerful chainsaw at a reasonable price. Which is great for those who are on a bit of a tight budget and don't want to sacrifice too many features.
It has a very powerful 51cc engine that works exceedingly well with its 18 inch low kickback bar. These two combined together are easily able to handle those smaller tasks which are required for cutting firewood. Overall size of the logs I found the Remington handled logs that were 16 inches in diameter very comfortably. So if that is about the size you need cut I would highly recommend this chainsaw in particular.
Powerful But Heavy Chainsaw
There is something I really need to mention about this chainsaw and that is its weight. It is a very heavy chainsaw weighing roughly 18 to 19 pounds. This is something to take into consideration since you will have to hold it for a while when operating. While the weight is certainly a bit off putting in the beginning, I got use to it pretty quick after a few cords. This does lead into something that I do really like about this chainsaw in particular. That is the way Remington designed the handles to be anti-vibration, which makes a fairly noticeable difference compared to some of the other units on the market. This helped reduce the usual arm fatigue quite a bit.
One thing that I really like about this chainsaw is how easily it starts up. It didn't require a lot of pulls to start thanks to the Quick Start technology Remington put on this chainsaw. Even after 3 years of use this chainsaw still started really easy, and only needed to have the chain replaced. That is to be expected at that age tho, but the engine being so reliable is a big selling point for me.
Overall this is a great chainsaw that has a lot or power and reliability, which is how it beat out many other units for this spot on this buyers guide.
What I Like About The Remington 51cc 18 Inch Gas Chainsaw
The engine is so reliable and starts so easily, that I couldn't help be impressed even after three years of fairly heavy use.
Cutting through 16 inch logs like butter made this an easy choice for being one of the best units in this price range. Which is very handy for the hard wood used for fire places.
One thing that I like about this unit is that it comes with a heavy duty case to protect the unit, which is an important thing for all chainsaws. I wish more companies would include them instead of having to go find them yourself.
The anti-vibration handles were a nice touch, that made operating this heavy chainsaw a lot more comfortable.
Husqvarna Was Built To Cut FireWood
Husqvarna 460 60.3cc 20 Inch Gas Chainsaw


There was no doubt Husqvarna was going to make this list, they make some of the best chainsaws on the market and the 460 is one of them. This is a very powerful chainsaw that is hard to find any faults with in my opinion.
Thanks to its very powerful 60.33cc engine and 20 inch bar there won't be much you can't get through. It will only be the most difficult logs you won't be able to get through. But you will be able to cut through logs measuring up to 22 inches in diameter. This is a big selling point for me, since some of the logs I need to cut are 20 inch oak logs and this thing tore right through them.
See The 460 Rancher In This Video Review
A Well Balanced Chainsaw
Something that really impressed me with this chainsaw is just how lightweight it is for something so powerful, not only is it light but well balanced as well. It isn't as heavy as the Remington above which is a great thing, when you have this kind of power. It only weighs about 14 lbs so it certainly isn't the lightest saw. But like the Remington above, it has very little vibration in the handle when operating. Which is a nice touch when you can be cutting for hours with this chainsaw, it really helps reduce the normal arm fatigue.
If you fell trees and cut a lot of firewood this is the chainsaw for you, it is one of the most reliable and powerful you can find. It is great for people who have acreage and want to reclaim some of that land back from the trees. Especially being backed by Husqvarna a company that has over taken Stihl in my opinion. The only downside to this unit is that it doesn't have any sort of auto tension system, tho it is easy to access the panel where you need to tighten the chain. Just be careful to not over tighten the unit. While it doesn't have all the features as some other units, it is the amount of power it has that makes this unit really stand out.
What I Like About The Husqvarna 20 Inch Gas Chainsaw
The 60.3cc engine is just so powerful it is hard to pass up, and one of the main reason it was chosen to be here.
While the weight of this unit is still a little on the heavy side, it is still very comfortable to hold and operate.
Being able to cut through my 20 inch oak logs for firewood, without any issues was a great bonus and something I really like.
Most Expensive Chainsaw For Cutting Fire Wood
Husqvarna 576XP 73.5cc 28 Inch Gas Chainsaw

The Husqvarna 576XP is a powerful beast of a chainsaw, there are no other words to explain it. Its 73.5cc engine will dominate what ever you throw at it, which is exactly what it is designed to do.
There is one thing you need to consider before even looking at this chainsaw, and that is the cost. This is a very expensive chainsaw that you should only really be looking at, if you don't mind spending such a high amount.
This is more of a specialist saw that is made for some heavy duty tasks, that easily out classes anything on this list. With only the 460 getting anywhere close, but costing half the price. This is something I had to mention, since not many will be able to or willing to spend this kind of money.
As I said above this unit was made to handle the largest logs that most other units will struggle to get through. This is the biggest selling point of this chainsaw, cutting through any logs you put in front of it is a nice feeling. Not having to worry about if I can cut through something is a nice quality of life improvement. This chainsaw is designed to cut logs over 22 inches in diameter, which is not something everyone will need. But for those who do it does it with ease, that makes this chainsaw worth it in my opinion. It is a great chainsaw for bucking up firewood, just has an expensive price tag.
One thing to note with chainsaws is you should always wear ear protection, and this is even more so with this particular chainsaw. It hits as high as 118 dB which is insane, and you must protect your ears at this level. This is expected with this professional grade saw. Since this is a professional grade saw it is extremely quick, making some jobs that use to take hours, take only minutes. Which having all that extra time is a real advantage, but again the price is the issue for most people. Tho everyone I know who has owned this unit, has never complained about it and only talked about how good it is.
What I Like About The Husqvarna 576XP 28 Inch Chainsaw
This is a professional grade chainsaw that makes short work of anything you put in front of it, which is a big selling point for me.
The 73.5cc engine is great and provides plenty of power, which again is the thing this chainsaw was designed to do.
Should last for a long time if well maintained. Beast of a tool.
Why Use A Chainsaw For Firewood
Most people I've met in my life when they talk about chainsaws, it's for felling a tree. Not to many people seem to think of them as tools for cutting up firewood. They'd rather do it the more difficult way, using a wedge and maul, or an ax. Or the more expensive but much easier hydraulic, or kinetic log splitting options.
This is part of the reason why I started to do this review, since I believe chainsaws are amazing for cutting firewood. They can make collecting firewood easier.
Time Saver For Smaller Tasks
It can make it far less time consuming if you only want to cut a little bit. Instead of getting out a log splitter. It will easily do the job faster then a wedge and maul, and be far less physically tiring. There is nothing wrong with doing it the old fashion way, there's a reason why we still do it. It's a good cheap alternative.
For me cutting down on time I'm doing chores is a big plus. Saving time leaves me free to do other things.
Easier On The Body
This is another one of those factors that is getting more important, the older I get. Not having to swing a maul or ax, has really helped my body as I got older. Kind of wished I started using a chainsaw to cut my fire wood earlier.
While I have used a log splitter for quite a few years as well, lifting the large logs has also taken its toll. Now days I will use a combination of both when I have a lot to prepare. Using the chainsaw to cut the larger logs, then the splitter to handle them when they're smaller. Tho when I do this I'll make this a whole day job, and will get someone to help to make it go quicker.
Can Be The Cheaper Option
While not always the case, using a chainsaw for firewood can be cheaper option. Depending on your budget, getting a chainsaw can be a lot cheaper then a log splitter. Considering the cost of some of the log splitters on the market, that cost thousands. Spending $600 on a chainsaw seems a lot better.
If you're a on real small budget then an ax and maul isn't a bad idea. You could also get a smaller and cheaper gas chainsaw. Tho this will mean you won't be able to cut some of the larger logs you will need. So there are some downsides.
Alternatives To A Chainsaw For Firewood
If you want to get your firewood ready and a chainsaw is outside your budget, or you don't want to use a chainsaw. There are two main alternatives in my opinion. If you've spent any time around cutting wood, then there's a good chance you've heard of them both.
Maul, Wedge, And Ax
This is one of the oldest and most reliable ways to cut your wood. It's also one of the most physical demanding. This isn't such an issue you're a healthy young person, and if you are. Then this is a good cheap alternative to using a chainsaw or a log splitter. Tho if you're not so capable for a variety of reasons then this isn't a great option.
Log Splitters
This is one of my favorite options, but can be very expensive. So it's not for everyone, but if you have the budget for it, and you don't want to use a chainsaw, or a maul. A log splitter is a great option, and can't take a lot of the physicality out of it. So this is a great option if you have the capabilities.
The biggest issue with a log splitter is the upfront cost. Which is why they're not for everyone, and renting them will slowly outweigh the cost of owning one. If you can justify it and don't mind the chore taking a bit longer. Then a log splitter will make a big difference to your life.
My Final Thoughts
Choosing the right chainsaw for your needs is such a difficult thing, since you can always end up with a lemon. Or you come across that one stubborn log that makes your 60cc beast struggle. This is something that can always happen so even tho I stand behind all the chainsaws on this list, this will happen to even them. They all excel at there particular tasks, that made them all earn a spot as the best chainsaws for cutting firewood.
If I had to pick my favorite on this list I would have have to go with the Husqvarna 460. As much as I like the 567Xp, I personally don't need that kind of power for cutting firewood. Where as the 460 will get through everything the average homeowner needs to cut including wood for the fire place. To complete the firewood process, a fireplace log splitter is ideal for breaking the logs down into more manageable pieces for the fire place.