I hope you love the products I've recommended below, just a heads up that as an Amazon associate, I earn from qualifying purchases. This means I may earn commissions on products bought via links on this page.
In this day and age when people think of chainsaws they will think of the more well known Stihl, Husqvarna, and Echo brands. Which is a bit of a shame when such a great brand like Jonsered falls through the cracks. Especially since some of the best chainsaws are by Jonsered. They make some great reliable saws that don't get the recognition they deserve. So I wanted to find out more about this brand, and share what I find out about who makes Jonsered chainsaws and where they are made.
This is something that I normally do before I review one particular brand, I like to learn about the company itself. But I felt Jonsered deserved a bit more special treatment since they rarely get the accolades they deserve. Especially since they are responsible for a lot of the blue prints, that almost all modern chainsaws use to this very day.

Quick Links To Info On This Page
The Story Of The Jonsered Brand
The beginning of this company was something a little different to how they ended up, starting as a textile mill in 1832 by the Scotsman William Gibson. He founded this company in the small town of Jonsered in Sweden, which is where the name comes from. Tho it wasn't until his sons took over that the company started to produce woodworking machines. The company was actually known as Jonsereds Fabrikers AB and were well known for there canvas sails they made. Which gave the company a very good reputation, which is something every company needs.
The Beginning Of Jonsered Chainsaws
It wasn't until 1954 that Jonsered started producing chainsaws, with there very first being the called the Raket, or Rocket in English. This was the worlds first easy one man chainsaw, which is still a basis for a lot of the modern units to this day. This makes a lot of sense when you consider Sweden is 75% forest. And for many years was the home to some of the finest lumberjacks, who were some of the toughest people who worked hard. So this creation by Jonsered was crucial to the success of the chainsaw in mine and many other eyes.
After The Success Of The First One Man Chainsaw
After the success of the Raket which was mainly exported to North America, they also tasted success creating the tarpaulin. It wasn't until 1969 that the company had decided to start shutting down its textile section, and focus purely on the engineering industry. Who the main target was people within the forest industry, while they kept the tarpaulin within the company itself.
The Downfall Of The Jonsered Company
Sadly in 1975 they became a subsidiary of the Asken company who ran into financial trouble just 3 years later. Tho thankfully they were bought by Electrolux in 1978 who had just acquired Husqvarna that very year as well. Which is who took over the production of the chainsaws, which you can imagine two juggernauts of chainsaws together. Tho by 2006 Husqvarna had become big enough that they managed to separate from Electrolux and take the rights to making Jonsered chainsaws with them. The company itself now focuses on designing tents and tarpaulins.
So Who Makes Jonsered Chainsaws?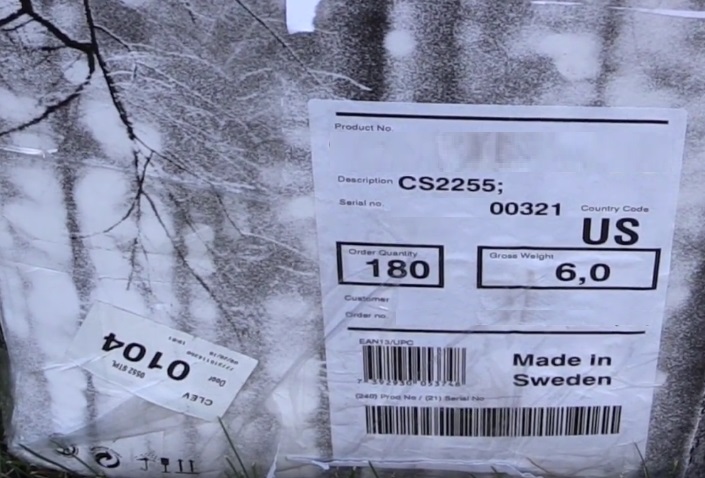 The thing that makes this confusing is that the brand has kind of split. There is the group that is responsible for the tarpaulins and tents who have the name of Jonsered. Then there is the chainsaw section that is owned by Husqvarna, who do all the manufacturing and put them out under the Jonsered name. So I can understand why some people find it so confusing, and why so many people want an answer to this question.
Having the experience and knowledge of Jonsered and then adding Husqvarna to that equation, really makes some exciting things happen in the chainsaw world. Which is something that I am all for, I like it when these companies work together. Always a chance for the next big thing for chainsaws to happen. And with the original inventors of the one man chainsaw on your side, you couldn't help but back them for it.
Jonsored Chainsaws have made an impact and will always make an impact in this industry.
Where Are Jonsered Chainsaws Manufactured
This is one of the harder questions that was a lot harder to find then I was expecting. But that is just how it is in this day and age, with every company worried about being called cheap for being made in China. To find out I went directly to Jonsered themselves and got a not so surprising answer.
Which was that they manufacture in 20 factories in 10 different countries, Which include Sweden, Norway, and the US. As you can see they didn't exactly say what the other 7 countries are, which if I had to guess 2 of them would be China and Japan. But that is just speculation and I wish I could give a 100% answer. But the information isn't there to give.
My Overall Thoughts On Jonsered Chainsaws
I will forever be grateful for what the Jonsered brand has done for chainsaws, with there single man chainsaw design in 1954 changing the landscape of chainsaws for the better. And now that they are being made by Husqvarna, I'm happy with what they are doing.
They are making some quality saws that you can read my Jonsored reviews here. Tho I do regret that I won't get the chance to use a chainsaw made by the original company, that helped build the current landscape all those years ago. But they are definitely a name we shouldn't forget and should add along side those obvious brands like Stihl and Husqvarna.