I hope you love the products I've recommended below, just a heads up that as an Amazon associate, I earn from qualifying purchases. This means I may earn commissions on products bought via links on this page.
When you want a top quality chainsaw you will need to spend a fair bit of money, so I want to find what are the best chainsaws under $400 dollars. When you're spending this kind of money you will want a great unit that is reliable and get through what ever task you throw at it.
A cheap an inferior chainsaw can frustrate you to the point of tossing it across the yard. But chainsaws around the 400 dollar mark are in a league of their own. Thankfully most chainsaws at this price point are generally really good, and the more well known brands make some of there finest products at this level.
With so many chainsaws on the market how do you tell what the best ones are? This is a difficult question that I hope to answer here today. The difficulty of the question lies with what you need the equipment to do. If you only need to cut some small trees and tree limbs then you most likely won't need such an expensive model. In this case a chainsaw under $200 would be more appropriate.
But if you're planning on cutting some trees that are around 24 inches in diameter, then you will want to spend that bit extra on a chainsaw. Since it can be such demanding work on the unit itself, you will need it to have a great reliable engine that doesn't overheat. A cheaper model wont have the engine capabilities to perform such heavy duty tasks.
Since you will be spending so much money on these chainsaws I felt it was imperative that these chainsaws are the best in there class. So I have done countless hours of research and testing finding not only the best chainsaws, but the best value for your hard earned money. So with that in mind read on below to find out, just what are the best chainsaws for around $400 dollars.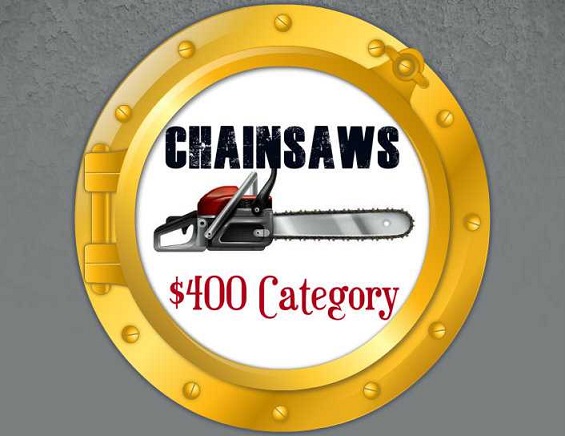 The Best Battery Powered Chainsaw Around $400


Dewalt are a market leader when it comes to power tools, making some of the finest tools on the market. A worldwide brand with a high reputation for quality, durability and longevity.
Thankfully this transfers to there chainsaws as well, which is good for all of us. This is a very powerful chainsaw thanks to its 40V max lithium ion XR brushless motor. I know some people will be concerned by the fact it is a battery powered unit. But at this price point the difference between a gas and battery unit isn't what it use to be, they are very similar. The biggest difference is still that you need to charge the battery before use, so you still have limited use with a battery.
Thankfully if you have other Dewalt tools with the same battery, you can interchange them which is pretty helpful. Tho there seems to be some confusion on this, so I thought I should clear it up since I see it so much. That is no you can't use the 20V battery with this unit, it needs to be the appropriate 40V one. The same goes for the charger, it can't charge the 20V. I see these question every where so I had to put it down here in case you didn't know. Tho the best thing about this battery is it's more designed for a professional landscaper level, so it holds it charge a lot longer then other similar models.
One thing to note on this chainsaw is its weight, which is its only downside for me. This unit weighs about 18 pounds which is quite heavy, and can get very tiring with extended periods of use. This is easily the heaviest chainsaw I've used, so if you want something a bit lighter then I would recommend one of the other chainsaws on this list.
Notable Features On The Dewalt
The low kick back 16 inch bar and chain are the Oregon brand who are one of the best manufactures for chainsaw chains in my opinion.
This chainsaw has a auto oiling system which is something I like, you should always oil your chain when using a chainsaw.
The 40V lithium 4AH battery holds a lot more charge then I expected, tho if you're doing a more intensive task it won't last as long.
Its tool free chain tension feature is a life saver, and a massive quality of life improvement.
Dewalt 40V 16 Inch Chainsaw

Dual Battery Operated Chainsaw By Makita


This is a very interesting chainsaw and it wasn't what I expected when I first picked it up. The first thing to note about this chainsaw is that it uses two 18V 5.0AH batteries to operate it, compared to most other units only using one. This has its advantages and disadvantages I found.
The advantage is pretty simple is that this chainsaw is very powerful, which is great, something I really like. Tho it does come with a disadvantage that I have to mention, and that is it doesn't hold the charge as long compared to the Dewalt. So while this isn't a deal breaker for me, it something I should mention.
This chainsaw will easily handle the little tasks with little to no effort, thanks to its two battery systems. Tho it can't take down larger trees like the unit above, but it can easily get through trees that are about 12 inches in diameter. Which is exactly what Makita designed this chainsaw for, so if you have a lot of yard work to do, this unit is great. It is as powerful as a 33c gas chainsaw and easily out perform a 15 amp electric chainsaw, so it is one of the stronger battery units in my opinion. One of the other reasons that this chainsaw excels at such small jobs is that it only weighs about 12 pounds. So it is very easy to carry around.
This chainsaw does cost a lot of money, and it is a lot of money to spend for the smaller tasks. But it is a very solid and reliable chainsaw, which easily makes up for it in my eyes. I don't know how many times I've seen people go the cheapest option, then find out the unit can barely get through a 5 inch tree limb. So overall this is a great chainsaw that has a lot of power, but it does cost a bit more than you may imagine and the battery could hold a longer charge. To see other models available don't forget to check out the best Makita Chainsaw Catalogue.
*On a side note there is an option to get it with 4 batteries, so you can have two charging while using the others which is useful.
Notable Features On The Makita
At first I was a bit hesitant with the two battery systems, but when it was cutting through things so quickly. It easily removed any concerns I had in the beginning.
Being a light unit is a great advantage for this unit, especially when you combine it with the 14 inch bar. It allows this unit to be very versatile and get into those cramped spaces.
The Makita also comes with a tool free tension system, which allows you to make chain adjustments easily.
Makita 18V X2 14 Inch Chainsaw Kit

Can You Buy A Husqvarna Gas Chainsaw For Under $400?


If you have ever used a chainsaw then you have most likely heard of Husqvarna, in particular the 450 model. Which is renowned as one of the best chainsaws ever made in my opinion.
So when I found out they were making a new model (the 450E) I just had to try it. I was hoping they didn't make too many changes to the formula of the 450, which thankfully they didn't.
The biggest difference is the new smart start system. Which if you ever had one bad thing to say about the old model, it was it was difficult to start. Thankfully this new system has taken all those issues away, and made one of the best chainsaws on the market even better.
How Much Power Does $400 Buy You?
The first thing to note on this chainsaw is its powerful 50.2cc, 3.2hp engine that runs like a dream. There really isn't a lot this chainsaw couldn't get through for the average home owner. The bar is 18 inches which is a little long for some of the more cramped up jobs, but it wasn't a big issue. This is easily the most powerful chainsaw on this list, so if you do need some bigger jobs done this is a great unit for them. The thing that surprised me with this chainsaw is that it is the lightest one on this list, weighing only 11.3 pounds. Which makes carrying very easy, and your arms don't get very tired after extended periods of use.
There is one downside to this chainsaw that I was a little disappointed in, and that is it doesn't have the tool free tensioning system I was lead to believe it had. It has the normal nut and screw driver system, which left me a little disappointed. Not that its difficult to adjust the chain, just takes a little longer to do now. Tho this is only a minor set back on the best chainsaw for around $400 in my opinion, and shouldn't turn you off of it.
Notable Features On The Husqvarna
The 50.2cc, 3.2Hp engine is amazing, it runs so smoothly and sounds great when its idling, or revving high while cutting. It also has a clear level indicator to tell how much fuel you have in it, which is a nice improvement.
The new smart start system is a shoulder saver, and I found it took about half the pulls of other gas chainsaws on the market.
It is very well designed in how it handles vibration, it is quite the improvement on some of there older models to me.
Husqvarna 450E 18 Inch Gas-Powered Chainsaw

Pushing The Husqvarna 450E Series To The Limit
This short video shows demonstrates just what you can expect from the 450e series. A must watch if you have large trees.
My Final Thoughts
Spending $400 on a chainsaw isn't for everyone, and there certainly are chainsaws that cost even more then these chainsaws. But you can't really go wrong with any of the units above, they all are great at what they do.
But if there had to be one that I consider to be the best out of them, it has to be the 450E. It has so much power, it is reliable and the Husqvarna is a brand you can trust. As the saying goes if its an orange chainsaw you can't go wrong, and now husky have fixed there starting issues of the old model. The best just go better in my opinion. So I hope I have been of some help, and you managed to find the right unit you were looking for.