I hope you love the products I've recommended below, just a heads up that as an Amazon associate, I earn from qualifying purchases. This means I may earn commissions on products bought via links on this page.
When it comes to splitting logs on a daily basis, there's no denying that it's a very physically and intense job. The labor intensive lifting of logs to the intense focus needed when splitting for hours on end.  It's no wonder more an more people are looking for the best log splitter log lifts to take some of the grunt work out of this necessary chore.
Naturally I was extremely excited when I got to use a log splitter with a log lift attached for the first time. I can't put into words how much I love these things and wish I had gotten one sooner. While your young you think this kind of thing is pointless or think 'I'll never need that', boy I couldn't have been more wrong. But once you get a bit older and the body starts to go, you start to realize that maybe you were wrong.
Don't make the same mistakes I did as a younger Man, that is my best advice. So to assist you with buying a log lift log splitter I've complied this guide for both people without a current log splitter and for others that seek a log lifting alternative you may have never seen before. One of these machines is very expensive so I found an alternate machine that costs less but has a sacrifice of splitting power to make the difference, and for people who only need a log lifting device, I've sorted what I believe to be the best in terms of functionality and pure reliability.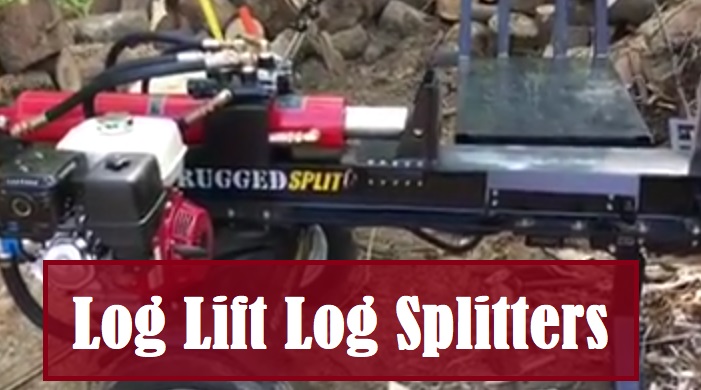 Log Splitter With Hydraulic Log Lift



This RuggedMade log splitter is a pretty impressive machine that does a lot of things right with little wrong in my opinion. The only downside to this machine is a completely personal one for me, and that is it's a 22 ton machine. My personal preference is larger machines that are in the 35 ton range, so this isn't really a downside for the machine itself. This thing still does have a lot of power and got through a variety of logs quite easily, it wasn't until it got to some pretty large logs that it started to struggle.
If the log was about 12 inches in diameter no matter the type of wood, this thing went through it with ease and that was what I expected for a 22 ton machine. When I started to up the log sizes I was constantly impressed with what this machine could get through and how easily it did it. It went through some hardwood oaks that were pretty knotty quite easily, and other splitters in this range have struggled on for me in the past. So I was impressed in that regards. It wasn't until I started to push the logs to be about 24 inches in diameter that this splitter started to struggle, it did manage to go through the logs but it did force the splitter to slow down. Which is to be expected on a machine like this.
There is something that this log splitter does that not many do, and I believe most splitter should add it in the future. When RuggedMade designed this machine they cleverly added a catching table at the end of the splitter. While this really is just a small addition it makes a pretty big difference when splitting for hours on end.
After splitting several logs you no longer have to bend over and pick all the pieces of wood of the ground, while this may seem like small thing, it is still an improvement that I like. Especially if you suffer from any sort of back pain, you will fall in love with this catcher very quickly. Some of the big expensive log splitters DON'T have this feature which makes the Rugged Made a no brainer for me.
About The Hydraulic Log Lift
But the best feature on this splitter is of course its hydraulic log lift that just makes life so much easier while splitting. If you have two people splitting, it makes it even easier. The thing that I really like about this log lift is that you can set it up on either side of the machine. What this means is that if you only have one person operating it you, you can put the lift on the side you will operate. This cuts down on time wasted from less walking around. Or if you have two people operating you can set it up on the opposite side, and one person working either side which cuts down time dramatically. This is the ideal situation.
RuggedMade 22 Ton Log Splitter With Log Lifter

Commercial Log Splitter With Log Lift


The first thing I need to say about this splitter is that it is expensive and if you're on a budget either look at the review above or below if you only need a lifting device. But if you're able to or willing to spend a lot of money on a log splitter then this thing is a worthy beast for it.
The 37 ton Northern Tools log lift splitter is certainly a commercial built monster of a machine. It has a lot of things going for it that really impressed me on the initial use. First and foremost is just how much power this thing has. Being a 37 ton splitter you expect it to split anything you throw at it, and that is exactly what it did. It made a complete joke of some Hickory logs that were 25 inches in diameter it just went right through them, and hickory is some of the hardest wood out there.
While having all that power is great and all it wouldn't matter if the engine itself couldn't handle it. Thankfully Northern Tools made the very smart design choice and put a Honda GX390 engine on this machine. I know a lot of people won't even look at a log splitter if it doesn't have a Honda engine on it, and this model in particular is certainly one of there most reliable. There is a lot of good reasons that people prefer this motor and most of those reasons are why it costs more, it's extremely reliable starting first time without any worries, and it provides plenty of power for the machine.
How Good Is The Heavy Duty Log Lift?
The log lift itself is almost a necessity when you have a splitter that can split logs that are 30 inches in diameter, so I believe it was a good decision to include it on this machine. The thing I like about this particular log lift is just how high its carry capacity is compared to other machines. It has a carry capacity of 340 lbs which is pretty heavy and hopefully you shouldn't have to ever put that much on there, but I like that it is prepared for such heavy weights.
The only downside to this splitter for me is it doesn't have a tray or table at the end of it like the RuggedMade does, not having to bend over and pick up all the pieces wood on the ground is a small thing but something I would of preferred.
The Best Non Hydraulic Log Lift


While this piece of equipment isn't an actual log splitter it is still designed to be a tool that can make life easier when it comes to lifting and splitting logs on one. The reason I chose to put this on the list is I know not everyone can afford an expensive log splitter, but they still need something to help them lift logs.So to cheapen to expense, grab a log splitter under $1000 and use this log lifting tool to keep under budget.
Or maybe you don't need to lift logs that are 20 30 inches in diameter and you only need to lift logs that are 12 inches. Then I highly recommend this LogOX 3 in 1 multitool. If you're unable to lift logs due to say an injury, a disability, age, or you just want to make your life easier then this is a decent tool to help you get the job done.
About This Log Lifting Tool
The thing that I didn't expect the LogOX to do was actually help with many different aspects within the log splitting sector. I'm a bit old fashioned and cut my own trees, so having all the abilities this thing has was very useful for me. Using this tool to roll some of the trees I had cut down into a better field with a flatter surface was useful. Then the ability to jack up a log of the ground made it easier for me to cut through the log into smaller pieces, which then in turn let me use the last feature of this piece of equipment. And that is then carrying those logs and putting them on my own log splitter. While there is certainly easier ways to do all this, they generally cost a lot more then what this handy tool will cost.
After using this tool for awhile I genuinely feel this should be in a lot of peoples sheds, it has a variety of things it could do and most of them are helpful for everybody who is working wood. The timberjack was especially useful when it came to using a chainsaw to cut a log, there was no worry of burying the chain into the ground damaging my tool. The only downside is that it can only handle logs that are about 12 inches in length, so larger logs will still be an issue.
LogOX 3 In 1 Forestry MultiTool

Should You Buy A Log Lift For Your Splitter?
Not having to pick up logs and lift them to waist height especially if they are larger logs is an feature to have. Adding that ability to a log splitter does generally remove the need for a vertical log splitter. For me that's the main advantage to a vertical machine is that you don't need to lift logs as high, so the lift removes that advantage.That is unless you need to split very large rounds, this is when the vertical position comes into its own.
But there is one pretty big disadvantage to a log splitter with a lift, and that is definitely the cost of one of these machines. Some of these machines can cost an extremely high amount that a lot of people just can't justify, which is very understandable with the cost of living going up every year. But with the amount of time saved, reduction in pain and all round good health, these best log splitter log lifts make for a very wise investment.
Homemade Log Lift