Rugged Made Log Splitter Reviews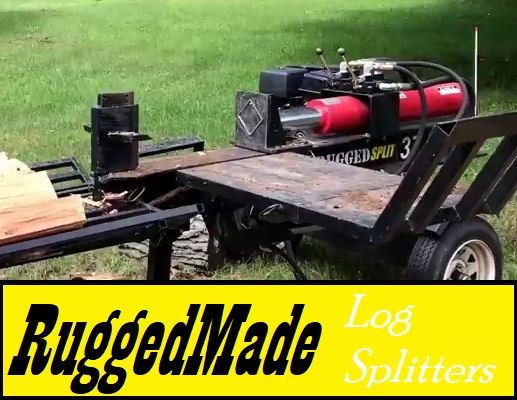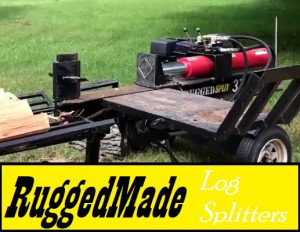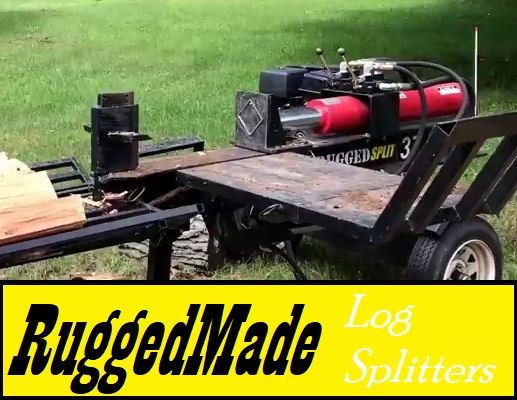 The Rugged Made team is built up of outdoor specialists whom love there outdoor power equipment. But not just any outdoor products, they sure love tackling the heavy duty stuff. This really shows in there log splitters, they are designed to go beyond just being tough. Which is what we will demonstrate in these Rugged Made log splitter reviews.
One of the main things that really stands out to me about this company, is the fact they have a stock replacement parts ready to go. This doesn't mean there machines are always breaking down, but what it does mean is that they know the importance of always being ready for anything. I know I've had a few occasions where something has gone on my splitter and it takes weeks to months to get another part. This not only costs me time but it also costs me money. This is something RuggedMade are proudly trying to rectify.
A Little About The Company
RuggedMade (Or Rugged Made however you want to say it) were founded in Boston in the year 2007 making them a decade old, which is quite the impressive feat in this day and age. And while they have expanded into other kinds of power tools such as compactors and concrete saws, it's there log splitters that really stand out to me. They are some of the highest rated in the wood splitting industry, constantly making quality machines out of premium components. The have made a name for themselves showing just how important it is to understand your customer, from the everyday home user and the person who sells firewood for a living. These reasons are why RuggedMade have made quite the impression in there decades journey, shipping to all over the United States.
Compare RuggedMade Log Splitters Here
| | Ton Rating | Engine CC (CM3) | Features | Our Rating | Price Checker |
| --- | --- | --- | --- | --- | --- |
| 37-Ton Horizontal/Vertical Gas Log Splitter | 37 | 310CC | Electric Start, 4 Way Blade | 9.2/10 | Check Price Amazon |
| 22-Ton Push Through Gas Log Splitter | 22 | 212CC | 11 Sec Cycle time, 2" Hitch, Pull Or Electric Start | 8.8/10 | Check Price Amazon |
| 22-Ton Push Through Gas Log Splitter | 22 | 212CC | Log Lift & Catcher, 18" logs | 9.3/10 | Check Price Amazon |
| 37-Ton Horizontal Gas Log Splitter | 37 | 420CC | Log Lift & Catcher, 15 HP | 8.9/10 | Check Price Amazon |
How Good Is The RuggedSplit 37 Ton Log Splitter?
I'm just going to come right out and say it. I really like this machine it has everything I look for in a log splitter. First and foremost it has the power to get through what ever you throw at it. This machine is so heavy duty that it got through everything that got put in front of it. (humans excluded) It was able to get through some of my knottiest and grainiest wood I have, with some of these pieces being 30 inches in diameter.
I didn't feel 30 inches was quite big enough for a 37 ton machine so I put it into its vertical position, and put some much larger oak logs underneath the splitter. This logs were about 40 inches in diameter and very knotty, and this machine just kept on plowing right through them. This is the main advantage of having a log splitter with a vertical position.
Reviewing The Rugged Made Features
One of the the features I really liked about this splitter is that it has an electric start. Which is extremely useful and made this splitter start on the first try every time for me. I can't count the amount of times I've had to keep trying to start my log splitter and getting no where, so having this feature is great. If you are ever presented with an electric start piece of power equipment like a log splitter or a lawn mower, jump at the chance. Having this also reduces the risk of injury due to kick back on some more inexperienced log splitters, so it might just one day end up saving you a hospital bill.
These two next features aren't the biggest things, but are both important if you ask me. In fact I'd go as far to say they should be on every log splitter. The first thing is the ability to tow this machine. Log splitters that get into the heavier weights and ton ratings should always have the ability to be towed, and thankfully this splitter does. The next thing is its 4 way wings that make splitting a lot quicker. Instead of splitting in two, you're splitting into four. Not the biggest thing in the world but it did make my splitting experience a lot easier, which is always appreciated.
RuggedMade 37 Ton Log Splitter
I Review The RuggedMade 22 Ton Wood Splitter With Log Lift
I was really excited when I got to use this machine. I was kind of like a school kid with candy. I was that pumped!.
I haven't had the pleasure of getting to use too many log splitters with a log lift. And boy has it turned me into a massive fan. It's really great not having to lift heavy logs up onto the splitter. Adding a lifter really does make this quite a good splitter for people who have bad backs from ageing, or who have had a previous injury.
While this isn't just for people who have bad backs, it does certainly make life easier if you do. There is one downside to having this log lift tho, and that is you lose the ability to be a vertical log splitter. Which does mean you will lose on how big of a log you can split, tho I believe the having more energy from not having to lift heavy logs is a pretty good trade off.
How Much Power Does This Rugged Made Wood Splitter Have?
For a 22 ton wood splitter this machine has a surprising amount of power and got through some logs I didn't think it was capable of. It got through any log that was 12 inches in diameter very easily. Even some of the more knotted wood didn't worry this beast.
I then moved up to logs that were between 18 and 24 inches and diameter and got a range of results. It got through the 18 inch oak logs I put through it very easily, but these particular logs weren't very knotted. It wasn't until I got to the 24 inch logs that this machine started to have some trouble, while it got through the logs. It did slow down on really knotted parts but it never stopped which surprised me, it did impress me with these results.
A wood splitter that has a 22 ton rating is what I consider to be a good entry level for the average log splitting user. They have plenty of power to get through most logs and generally won't break the bank. Sadly since this 22 ton machine comes with a lift it does drive the price up, so if you're specifically wanting a 22 ton log splitter that won't break the bank, there are more potions available.
RuggedMade 22 Ton Log Splitter With Log Lifter
Rugged Made Log Splitter Dealers
Being a relatively young company in the USA, Rugged Made can be found in a few locations. But finding them can be hit and miss. If you search online you can find them available to buy on Amazon.com (Link takes you to the RuggedMade products available on amazon), which includes their replacement parts which is extremely handy. Who doesn't have a amazon account or Prime right?.
So take advantage of this convenience. Ruggedmade dealers also include on their actual website where you can choose from various models available. .
When The Power Lift Comes In Handy
If you're dealing with some seriously big rounds, you're going to have a hard time managing them on your own. That is unless you have a lift built into the log splitter like the RuggedMade. As deomnstrated below in this video, check out how easy it is to get a 31 inch log on top of this log splitter using the lift.