I hope you love the products I've recommended below, just a heads up that as an Amazon associate, I earn from qualifying purchases. This means I may earn commissions on products bought via links on this page.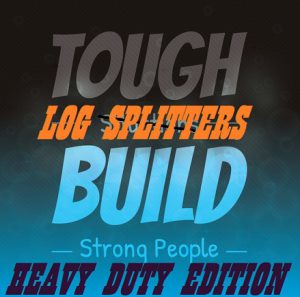 When it comes to powerful outdoor equipment you don't get much tougher than the best heavy-duty log splitters in 2018. But not all created equal in terms of size, power, and capabilities, so what log splitter really is built for heavy-duty use?.
To be classified in this league a wood splitter has to be extremely durable and be able to split some of the toughest tasks in front of you. They need to be able to handle some of the more rugged conditions the US can throw at them.
The machines on this list are what I consider to be some of the toughest machines out there.
In these reviews of the heavy-duty log splitters, I have chosen 3 from different ton rating categories. Each ton rating has its own useful attributes, but all have one main component in common. Built tough!.
That is what I am about to enlighten you on. Not all machines are built for frequent and tough workloads. So while a 7 ton may have less tonnage compared to a 22 ton, it may actually be more heavy-duty than you realize.
This is because it was built to handle more cords per year, but just not massive logs. Which is where a 22 ton may be more beneficial. But again, it has to be built to handle a hard day's work splitting hard large rounds of logs.
Reviewing The Best Heavy Duty Log Splitter


The NorthStar 37 ton log splitter is one of the most heavy-duty machines on the market and is my personal favorite 37-ton machine. There are a lot of reasons to love this machine, and the simplest reason is just how much power this thing has.
With the NorthStar, I split many cords with varying degrees of logs, hard and soft, small and large. This splitter got through all of them very easily. I put some 35-inch elm logs through this thing, and it barely skipped a beat.
If you have ever split elm logs before, you know this can be a very difficult wood to split. And with how easy this machine did it, has certainly shown just how heavy duty this log splitter really is.
I really love the engine they put on this machine which is the Honda GX270, which is a highly sought after engine for a log splitter and for good reason. This is without a doubt one of the best engines I've had the pleasure of using.
It provides plenty of power and is extremely reliable from my experience with it. No matter how cold or hot it was, the engine always started on the first and second pull for me. The thing that really makes this engine shine is its idle down feature, which means you can let the engine idle while loading a log, to save fuel, and to reduce the noise. I wish more log splitters would add this feature, the fuel it saves may seem minimal, but it adds up over the many years you will own this beast.
Fast Heavy Duty Log Splitter

Most of the log splitters on this list are hydraulic splitters which are known for their toughness but being a little on the slow side in my opinion. How about a machine that's just as, if not more powerful then most log splitters on the market, but also faster then them as well.
If you've never heard of a kinetic log splitter then allow this 42-ton model from Power King is your first introduction to them. With 42-tons of force and a cycle time of 3-second, yes you read that right, a 3-second cycle time you will be done with splitting your wood before you know it.
When Speed And Power Combine!
The 7Hp 208cc Kohler pro engine is a powerful engine for a kinetic log splitter and plays a large role in where this splitter gets its power from. Splitting 23-inch wide hardwood logs is something that splitter is capable of doing easily which is a nice advantage for heavy-duty wood users.
I just want you to remember that you're combining these extreme levels of force with a 3-second cycle time. I would highly recommend having someone help you when splitting if you're using this machine as one person will struggle to keep up. It's not often you can have two people splitting logs and it is almost a necessity.
Clever Design To Make You More Efficient
How many times have you been splitting wood and the logs keep falling either side so you have to stop what you're doing and pick them up? It's something I've had to do many times and is a minor inconvenience that is eliminated with this Power King log splitter.
The clever design has a wood tray connected to the splitter so your logs won't fall to the ground. This makes splitting even quicker and works really well with larger wood since you can store the bits of wood on the end when you split a log. Split a piece of wood in two, then split one of those into 2 while the other piece is on the end, etc.
Doesn't Require A 4 Way Splitting Wedge
Often one of the biggest complaints I see with log splitters is the lack of a 4-way splitting wedge which is something I can understand, they're extremely useful. In my opinion, you don't need a 4-way splitting wedge with this kinetic splitter since the cycle time is so fast it makes up for the lack of one.
Is There A Downside?
If I had to criticize this log splitter it would be the lack of vertical splitting capabilities that hydraulic splitters offer. This does mean having to lift heavier logs onto the splitter which might be difficult for some people and could be a dealbreaker for them.
Apart from that issue, I can't find to many downsides with the splitter itself. It does have a high upfront cost which might also be an issue but when you're getting into this splitting range, spending this kind of money is fairly normal sadly.
One Of The Sturdiest Wood Splitters There Is



There is one thing that sets the Dirty Hand Tools brand apart from other log splitting companies, and that is they are based in Colorado. If you have ever been there, you know you have to build things to be rugged. And this rugged way of life is really apparent in their log splitters. Especially the 22-ton machine.
I really like this machine by Dirty Hand Tools, it has plenty of power for its size and is extremely tough and reliable. It comes with a heavy-duty Kohler engine which may cause concern for a few people since it's made in China.
Which is a valid cause of concern after seeing some of there work, but that is not the case here? This is an extremely reliable engine with the power to get through logs bigger than other 22 ton machines.
When it came to splitting logs and testing out how strong and heavy-duty this machine was, it had a variety of results with most of them being good. It was able to split 30-inch madrone logs with some being a bit larger, and this 22-ton machine actually got through them. While this was in its vertical position it is still a very impressive feat, that not just any 22 ton could do.
When I used this in its horizontal position it was still able to split some pretty impressive things that others would struggle with. In this position, I ran some oak logs that were between 18 and 20 inches in diameter and this splitter got through them, but it did slow down a little but never stopped. Which is why I rate the Dirty Hand Tools as a heavy-duty wood splitter like no other.
A Tough Strong 7 Ton Log Splitter



When you think about heavy duty you most likely won't think about a 7-ton machine, but the Champion Power Equipment is in a league of its own at the lower ton rating. While you won't be splitting 30-inch hardwood logs with this splitter, you will be able to split some pretty impressive logs.
With this machine, I was able to split some 20 inches in diameter logs that were some douglas fir, which I wasn't really expecting from such a small splitter. I did try some harder and larger logs, but this log splitter couldn't get through them. Curiosity got the best of me, so I had to push the limits with this wood.
I did find that this splitter is really good at splitting logs down into a smaller size for the fireplace. So if that is a big thing for you, this machine excels there.
One of the things I really liked about this splitter is just how small it is, being so small makes it really useful if you don't have a lot of room. It is really easy to store away in your garage or shed and doesn't take up a lot of room. While this isn't a big thing for some, it was still something I appreciated.
It is quite low to the ground which most might consider being a negative aspect, but I believe it to be a positive in this situation. Normally being low to the ground would be an issue, but since this machine can split quite large logs for its size. This means you don't have to lift the logs as high which means less work in the long run.
Does It Get Any More Heavy Duty Than This 200 Ton Monster!
What Makes A Log Splitter Heavy Duty
Robust and reliable engine. This is where all the action happens so it's critical
4-way splitter attachment to produce results faster
Powerful ton rating to provide enough force to split the larger rounds of logs
Heavy-duty tires are a must for wheeling over tough terrains
Sturdy well designed construction. Having a weak frame is not going to end well.
Having both horizontal and vertical splitting options allow you to have a greater range in logs you can split.
Typically gas-powered to produce the most effective results.
Do You Need A Heavy Duty Log Splitter?
It's no secret that having a heavy-duty log splitter will make most wood user's life easier but that doesn't mean you really need one. I started off going with something that was more heavy-duty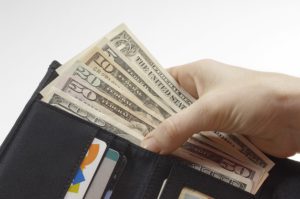 then what I needed since I personally like having more power then I need in case I come across a log I can't split.
But not everyone is like me and not everyone is in a position where they can spend thousands for a just encase moment which I can understand. So working out if you need a heavy-duty log splitter can end up saving you a decent amount of money which is something I think we all can appreciate.
What Are You Splitting?
Without a doubt, one of the most important questions you need to ask yourself is what you will be splitting. This can help you work out just how much power you will need when you're purchasing a log splitter. So this is one of the first things I recommend looking into before your purchase.
Will you be splitting hardwood or softwood, and how large will the logs be are the main things you need to work out. Even tho something like an Aspen wood is a softwood when it gets to 24-inches in diameter you're going to want a log splitter that has around 27-tons of force.
Yet if you're splitting a Beechwood but it's only 6-inches in diameter then you will need a 7-ton log splitter. From these two small examples, you can already see how much of a difference this makes. A 27-ton log splitter will cost well over $1000 – $2000 while you can pick up a decent 7-ton log splitter for under $1000.
That's a massive saving that I think a lot of people would really prefer the extra money going into something a bit more enjoyable. The one thing with wood splitting is that you're rarely dealing with perfect wood and sometimes your log splitter just won't split it even tho it should.
So if your several thousand dollar log splitter won't split a log I wouldn't worry too much as it happens from time to time, wood is tricky.
Know Your Budget
You might have noticed I've mention finances a bit during all this and that's for good reason. Log splitters are expensive tools and not everyone has the money lying around ready to throw it at a splitter. So having a budget in mind and being prepared to make some sacrifices when splitting wood is a good idea.
What I mean by being prepared when splitting wood is to have a splitting maul, or ax ready to go encase the smaller splitter you bought isn't able to split your wood. This small investment can be the difference some time and can save you some money down the track.
One option that some places offer is finance and can be a good option for people who don't have the upfront cost. This, of course, will depend on your situation if it's a good idea or not and only something I recommend if you can afford it.
Do You Want To Be Prepared
I touched on this only briefly up above on what I'm like when it comes to tools in general. I like being prepared for what's going to be thrown at me, well as much as reasonably possible. So I don't mind going with a larger splitter then I need for the times when the only wood I have one hand is something large, knotted, and a hardwood.
If you're the same it's something I would consider looking into if possible as the amount of times I've had friends and family ask me to split their wood because their splitter is too small is high. Again as with everything else on this list, as long as you can afford to do so, it's worth doing.
My Final Thoughts On Heavy Duty Log Splitters
Heavy-duty log splitters are incredible machines with a price tag to match them which is always going to be their biggest downside in my opinion. If you took the price tag out of the equation I would tell everyone to get one because they make splitting logs that much more enjoyable.
Not having to worry about can it split this log or having to pre-split the logs beforehand is something that I think a lot of people will appreciate. This means spending less time splitting wood and more time doing something you prefer like having a cold one around a fire.
I don't think you can go wrong with any of the splitters on this list as long as they suit your needs on what you want to split. The power King really stands out from its speed and power and the NorthStar stands out for its reliability and consistent power which makes it hard to beat in my opinion.