I hope you love the products I've recommended below, just a heads up that as an Amazon associate, I earn from qualifying purchases. This means I may earn commissions on products bought via links on this page.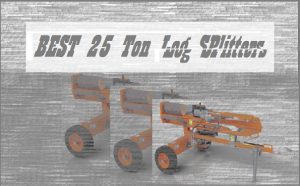 There are a number of reasons to own a 25 ton log splitter. But with so many options on the market, it makes it difficult to find out what are the best 25 ton log splitters on the market. I have spent years using log splitters and after so long it is my personal opinion that 25 ton is about the right amount of power. It will suit a beginner up to the most experienced wood splitter.
One of the main reasons to own a 25 ton splitter is that they are designed to be a jack of all trades, and will suit almost everyone. The only type of person a 25 ton won't suit is if you barely use a cord of wood a year, for that I would recommend a 5 ton splitter.
My Recommendations
With a 25 ton wood splitter you will get a lot of features that just aren't on smaller models and have enough power to split the most stubborn of logs. Once you get to 25 tons, most models will have the ability to be put into a vertical position. Which means they are able to split logs larger then the manufactures recommendations.
The next feature that starts to appear at the 25 ton mark, is the ability to tow your log splitter with a car or your ATV. The ability to be able to tow your splitter is a really great feature. Especially if you need to split logs further out then just your backyard, or need to help a family member split logs because they don't own one. So with all being said, below are reviews on what I consider to be the best 25 ton log splitters on the current market.
| | Ton Rating | Our Rating | Check Price |
| --- | --- | --- | --- |
| | 25 Tons | 9.7 | Check Price On Amazon |
| | 25 Tons | 9.5 | Check Price On Amazon |
| | 25 Tons | 9.4 | Check Price On Amazon |
My Top Rated 25 Ton Log Splitter On The Market
Champion Power Equipment 25 Ton Full Beam Towable Log Splitter




The Champion Power Equipment 25 ton full beam log splitter is one of my personal favorite log splitters. Not just within the 25 ton range either. I find it to be an extremely reliable machine that runs very smoothly. The amount of force behind this splitter is quite incredible for a 25 ton splitter.
How big are the logs the Champion can tear through?.
Given the fact this is a horizontal and a vertical splitter, I find it is very difficult to give a 'Maximum' size of log. So I can only say what I was able to test. With this splitter I was able to split logs that were about 25 inches in diameter, which is very impressive and if you wanted to split larger you would have to move up in ton ratings to be able to do it.
In my full Champion 25 Ton Review you can find out just how much larger the logs I got through.
With this log splitter being able to be towed it will require some decent tires, and thankfully Champion have done that. With there department of transportation approved tires meaning that you can tow this Champion up to 45mphs. tho I wouldn't recommend going over 40mph just to be on the safe side. If you're towing it over uneven ground it would be best to go even slower to avoid any potential accidents. But all things considered, I like the fact Champion have put some heavy duty tires on this machine.
There is a nice feature that this Champion splitter has and that is, it has these to log catchers on the side. This is so when your log gets split it doesn't just fall to the ground. Instead the catcher is there to save you from repetitively bending over to pick them up. While this is only a small feature, it adds a nice quality of life improvement that I believe should be on all log splitters in the foreseeable future.
What I Like
The Champion 25 ton splitter had one of the surest engines I have ever used, very rarely did I need more then 1 pull to start this splitter. Maintenance is quite easy as well.
I really liked the two catchers that are bolted on to the side of the splitter, it isn't a big deal but it did mean less bending over which made it easier on my back.
It's a very efficient log splitter while the manufactures state that it has a 12 second cycle time, I find it was more about 10.9 seconds which is pretty quick for a 25 ton splitter.
Champion 25 Ton Gas Log Splitter

The Best Southland 25 Ton Log Splitter
Southland Outdoor Power Equipment SLS20825 25 Ton Gas Powered Log Splitter



This log splitter is Southlands first 25 ton wood splitter, and I must say. They have knocked it out of the park with this model. It has plenty of power and it didn't struggle on any of the logs I threw at it.
Plus the workload, oh the workload of this Southland.  I found it easily got through a full cord of 24 inch oaks in about 3 hours or so. That was in it's horizontal position and like the Champion above, the vertical position gives the splitter a lot more versatility in terms of power. While in it's vertical position we easily split logs that were 30 inches in diameter with the added bonus of not having to lift the log up onto the splitter. But this does involve a lot of low to the ground work tho.
When it comes to cycle time the manufacture states it has a 17 second cycle time, which is about right. However I found it to be just a tad bit quicker. It is still quicker then splitting the old fashioned way with ax or a splitting edge and a sledge hammer. So it isn't the fastest splitter on the market but it is still respectable. Fastest doesn't always mean best either.
Like the model above this Southland 25 ton log splitter comes with tires that are approved by the department of transportation, so you can go up to 45 mphs but again I don't recommend going over 40 mph with this splitter. Being able to tow your splitter to where your log pile is a great benefit, considering the reason behind a log splitter is to make your life easier so having that ability is great overall.
What I Like
The engine on this log splitter is manufactured in the USA which means that you're going to get a reliable and sturdy product.
For Southlands first log splitter, it is really a great splitter that has me extremely excited to see what they will produce in the future.
Both vertical and horizontal features
A true workhorse
The Best Southland 25 Ton Log Splitter

The Best 25 Ton Log Splitter For Your Money
YARDMAX YU2566 25 Ton Full Beam Gas Log Splitter



The Yardmax YU2566 25 ton log splitter is quite the impressive splitter. It has a lot of power and is able to split some very hard woods. I also found it ;likes the challange of getting through some really knotted timber. With this splitter I was able to split some pretty big logs in it's horizontal position, logs that were 25 inches in diameter. But these weren't hard wood logs.
While in it's vertical position I was able to split logs that were roughly 35 inches in diameter. Some of those logs were pretty knotted I must say and needed a few attempts to get through. But we there in the end. When it comes to some of the larger logs, I found it best to start splitting from the outside and work your way in.
There is one feature that this splitter comes with that I really like. That is the 4 way wedge on the ram itself which made splitting larger logs a whole lot easier. I know other splitters have this feature, but this has been the best I have used in a while. When you add the 4 way wedge with the auto retraction system, it makes this log splitter a lot quicker then other 25 ton splitters on the market.
There is one thing I have to mention about this splitter and I was quite unlucky for it to happen. Every now and again the engine would just stop on me, there wasn't any sputtering it just stopped. And after pulling it apart and trying to find the problem, I found the pull recoil unit had been the source of my problems. After this I spoke to Yardmax and I'm happy to report there customer service was exceptional, within a couple of days they had sent me a new part and had even offered to send me an entirely new unit. That level of service really stood out to me and I had to mention it here, good customer service goes a long way.
What I Like
The customer service I received from Yardmax has turned them into one of my personal favorite companies and I will be looking forward to review there other models.
The Yardmax YU2566 also comes with two catchers on the side so there is less bending over while in the horizontal position.
I was really impressed with the Yardmax 4 way wedge, it really cut down on splitting time and left me with time to do other things.
YardMax have instructional videos (See below) on how to assemble this 25 ton log splitter. Very handy indeed.
YARDMAX 25 Ton Full Beam Gas Log Splitter

How To Assemble The Yardmax 25 Ton Log Splitter
Save