I hope you love the products I've recommended below, just a heads up that as an Amazon associate, I earn from qualifying purchases. This means I may earn commissions on products bought via links on this page.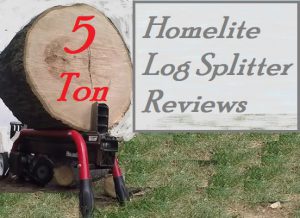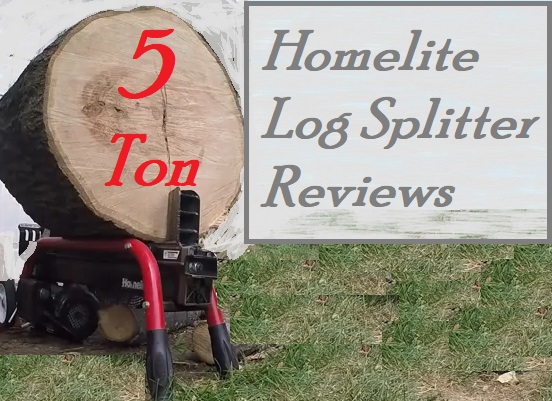 When you think of the brand Homelite you don't normally think of log splitters and you would be right to think so. The company only does one log splitter that I am aware of. The question that needs to be answered is just how good is it? So the following is my Homelite electric log splitter review. Below I hope to answer the question is the log splitter any good, and just how does it stack up to the other
5 ton electric machines
on the current market.
First a little about the Homelite Corporation which first started out as the Home Electric Lighting Company before being abbreviated to Homelite. The company first started with making gasoline powered electrical generators back in 1921, making it possible for rural areas at the time to have the convenience of electricity. It wasn't until about 1946 that the Homelite started to produce outdoor equipment with there first chainsaw, which was an electric model. Eventually the company started to expand further  into its power equipment line and started to include string trimmers, leaf blowers, and hedge trimmers.
The thing with the Homelite Corporation is there ability to consistently bring out machine after machine that are dependable, and that are built to last. They have built a career out of making electrical products, so I am curious to see what the Homelite Corporation can bring the log splitting field. If it continues the way there 5 ton log splitter has gone, then I for one am excited at the future from this company. So let's see just how well their first log splitter performs.
Quick Links To Info On This Page
5 Ton Homelite Electric Log Splitter Review
The first thing I test on all my log splitters is just what can the piece of equipment split, this is generally the question that most people want answered. Being a 5 ton splitter can often have many different results, I've used 5 tons that struggle on a log that's 10 inches in diameter on a softwood like fir. 5 Tons is generally considered rather low in terms of ton rating.
Log Splitters in 2018
have a greater variety of ton ratings to suit the more power users.
Then I've used a 5 ton that has gotten through a 20 inch log that was oak. This machine fell into the later of those two which was a nice surprise. I was able to split some black oak that were 20 inches in diameter. These were dry logs and not wet so that does make it easier, and still means it had split over double its recommendation. So this 5 ton splitter has a surprising amount of power which impressed me greatly.
The Advantages Of Using The Homelite Wood Splitter
Being an electric splitter gives this machine some really great advantages, and of course a few disadvantages. One of the biggest advantages is how it doesn't cause any fumes, so during the cold months you can split from the comfort of your own home and not have to deal with the cold outside. You also don't have a loud gas engine running so it makes splitting a lot more quiet, which is something that I consider to be a good thing.
The biggest disadvantage of an electrical splitter like this is, if you need to split far away from your house. You aren't left with a lot of options, it's either get a heap of heavy duty extension leads, or get a generator which can be very expensive. But considering this is a 5 ton machine, the chances of anyone taking this out into the woods is pretty slim. It's designed for home use by home owners that don't need to split several cords a season.
The machine weighs about 105 pounds which is pretty normal for this size of splitter. The machine does come with two handles that make it easier to move around your yard, or for wheeling back to your storage area. It is a fairly small machine being about 20 inches in length, making it very easy to store away in your garage, and bring it out when you need it. When you combined the smaller size and the quietness of this splitter, I think it is excellent for people who live in very close proximity to other people.
What I Like
For a 5 ton electric splitter it has an incredible amount of power, and only really struggled on really knotted logs.
The price (Check Price On Amazon) is quite appropriate in my opinion.
Being an electric powered splitter and giving you the ability to split inside with fear of fumes, is such a great bonus that I really like. Not having to deal with the cold is a good thing in my eyes.
It was very easy to maneuver around and didn't require much room to store away, and can be stored upright.
It is built extremely well and was designed with safety in mind with it's two hand operation, I know not everyone likes this feature but I personally don't mind it.
Homelite Electric Log Splitter

The Homelite Electric Log Splitter In Action
In this video review, check out just how well the Homelite can split through these massive logs.