I hope you love the products I've recommended below, just a heads up that as an Amazon associate, I earn from qualifying purchases. This means I may earn commissions on products bought via links on this page.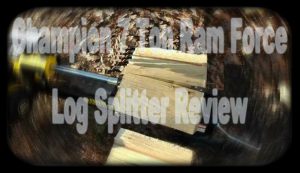 The Champion 7 ton log splitter is the smallest gas powered log splitter on the market as far as I know. Which I think puts it in an unique position compared to other smaller non gas powered models. Since most wood splitters at this size are generally electric, owning this 7 ton beast gives you a huge advantage over the competition. Why is this?. Well in these Champion 7 ton log splitter reviews you will find out that it's not as expensive as higher ton rated machines and also has much more power than most electric splitters in the same field.
There are two things that give this gas machine an advantage and they are they don't require electricity to run, so there is no need to fear if you lose power and can't split logs to keep your fires burning. The second thing and this is coming from my personal experience is that gas log splitters tend to just be overall stronger splitters.  A 22 ton electric will struggle on a log that this Champion gas powered splitter will get through easier.
But just being the smallest gas powered log splitter isn't the only thing going for the Champion, there is quite a bit going for it that makes it a pack leader. Apart from being designed and engineered by one of the most reliable companies with Champion Power Equipment who are responsible for making some of the top selling log splitters on the current market. Champion are well known for making smart design decisions when they create their tools. I'm thankful they do, since some of the heavy duty splitters cost quite a bit of money and a simple design flaw can be seriously costly.
This Champion log splitter is known as a push through wood splitter, which is something that I have come to prefer over the years. If you don't know what a push through log splitter is, it is quite simple and very easy to explain. What this means is that the splitting wedge is mounted on the end of the log splitter, on it's I-beam. Then the ram pushes the log into the wedge which splits the logs into pieces the end up at the end of the log splitter. Which I really like for me it means reduced chances of any logs falling off and onto to my feet, so it just makes the splitting experience a little safer.
Pros & Cons For The 7 Ton Champion
Champion 7 Ton Log Splitter

The Good
Best gas option you can buy for under $1000 or so.
Fastest of the Champion models at 180 cycles per hour.
Easy assembly and only took about 1 hour.
Four stroke 80cc engine
Automatic return. Just hit the leaver and it returns
Compatible with weather resistant cover by Champion (sold separately)
Small enough that it doesn't take up too much space in the shed.
Can split larger logs than what other comparable machines do
The Bad
Low to the ground
Doesn't offer vertical position
Not tow-able
Uses more hydraulic fluid then specified
Everything You Need To Know About This Champion 7 Ton Wood Splitter

The most important aspect to look at when you're thinking about buying a particular log splitter is what type of engine does it have. This 7 ton unit comes with a 80cc Champion OHV 4 stroke engine which really looks like a Briggs & Stratton engine to me. This engine does have a surprising amount of power for its size. It is comparable to a 2.4 hp engine, which generally you don't measure log splitting engines in terms of HP, but thought I should mention it for the people who do want to know.
The engine does make this a pretty quick log splitter for its size, which I wasn't expecting. While the manufacturers state that it has a 20 second cycle time, I found it to be a little quicker and more around 19 seconds which is pretty good for this size. Certainly not the quickest log splitter, but that isn't this models selling point.
Features Of The Champion Power Equipment 7 Ton Ram Force
The first thing you will notice about this unit is that it is very low to the ground come in at 18.1 inches, which is very low to the ground. This can be a good thing but can also be a bit of a bad thing. The advantage of this height is that you don't have to lift the heaver logs as high as you would with a normal size splitter. The downside to this height is that there is a fair bit of bending, so if you have a bad back then I would either consider putting this on a bench, or getting a larger log splitter. I still find that bending over to use this splitter is still a lot easier then having to swing a maul over and over.
What Size Logs Can It Split
Now one of the questions that most people want answered. That is, what size logs can you split with this log splitter? This is a tough question to answer since there are so many variables to take into account. Such as log density, soft/hardwood, how knotted the log is, how large the log is, and just how many types of wood out there.
The manufactures state that this splitter can only split logs that are 10 inches in diameter, which is low balling this machine to me. Because I have split some logs that were between 14 to 18 inches in diameter that were fir rounds, which isn't the hardest wood in the world. In terms of the max log length you can split that is roughly 19 inches which I think is a pretty good size, tho I do wonder why they didn't make it 18 inches, since that is the average size people need their logs to be.
How Portable Is This Log Splitter
This is a very portable wood splitter for its size, being such a small splitter does mean it can't be towed by a pick up which is a pretty big downside for me personally. The unit weighs roughly 143lbs so not exactly light. Which can still be difficult for people to actually lift it, so I would recommend a two man lift if you're planning on lifting it onto the tray of your pick up.
But apart from that downside it does come with two 10 inch never flat tires and a handle to drag it around, which does make it really easy to get into the right splitting position. It actually moves around really well when you're dragging it around by the handle.
Overall, the Champion 7 ton ram force log splitter is one serious splitting machine. When you consider the cost, the amount of power it offers and the quality engine it becomes evident that's its a pretty special machine. One that if you don't want to spend more than say $1000, is certainly the best out there in my opinion.
Champion 7 Ton 80 CC Best For Home

Video Review
Champion 7 Ton Weather Resistant Cover Review
The One Accessory You Should Get For Your Champion 7 Ton Log Splitter
This is one of those things that I didn't think I'd need, since I know I'm responsible with my log splitters. I always store them away and rarely will I leave them outside. But I will admit I can get worried about my tools, since they can get expensive. So I thought I'd try the cover and was impressed. Not only does it protect the log splitter thanks to its water-resistant polyester exterior, it also makes it look really nice, which the wife likes. No longer an eyesore in her words.
Being a cover there really isn't a lot to say, it looks nice and is very simple to use. It's as simply as putting it over your log splitter, making sure you cover your engine and beam, then pull on the draw string. I know it's not for everyone but I found it made a nice addition.
Champion 7 Ton Weather Resistant Cover

Why You Should Choose Champion For Your Log Splitting Needs!
There are a lot of different manufacturers out there which makes difficult to know who to go with. There are a lot of good brands out there, so why should you go with Champion? One thing that I believe Champion has over other companies, is how easy they are to find. Unlike some brands which can only be found in certain stores. This usually means you can only get them repaired in a few places, which I think is a big advantage for Champion.
While I really like Honda engines on my log splitters, I like that Champion make there own. So when coming to get them serviced they know there own engines best. This does have a tendency to make finding spare parts a little more difficult, while easier at the same time. While there may not be a lot on the market, they should be easy to find.
One thing that I have seen throughout the years, is how often companies try and focus on the 20 ton range and completely ignore smaller log splitters. This is just one more reason I like champion offering this amazing 7 ton, but also 25, 22, and 37 tons. I will always support a company they gives me options, it shows that they want to provide for more then one kind of audience.
These are just few of the reason that I highly recommend Champion log splitters. This is all without even mentioning that there products are made to an extremely high standard, that have excellent reliability for me personally. Tho there will always be that case of one getting a lemon, and should cloud your judgement on all there quality log splitters.
Other Champion Splitters
To me Champion Power Equipment have cornered the market in making the most common requested size for everyone's log splitting needs. Ranging from this small beast of a splitter to all the way up to a monster 37 ton unit. So if you're interested in learning more about there other Champion splitters then I have reviews for there 37 ton unit here. If you 37 ton is overkill for you then I have you covered with my reviews for the Champion 22 and 25 ton units here. With whatever you need Champion have you covered!