I hope you love the products I've recommended below, just a heads up that as an Amazon associate, I earn from qualifying purchases. This means I may earn commissions on products bought via links on this page.
When it comes to splitting large and tough wood, the bigger your log splitter the better. That is why within these Troy Blit 33 ton log splitter reviews you will find if it's pure power is up to the task. Having such a powerful machine will make life so much easier when it comes to the chore of splitting wood. No need to have the worry that your splitter won't get through the toughest of tough logs. But apart from just being a powerful unit this machine has many other features that earns it a spot in almost every ones garage. But this of course comes at a price, how much exactly?. Well it varies, but you can check the price on amazon to compare.
Below in my review for this heavy duty splitter, I will cover many of the advantages of this machine. While also providing enough information that you can make an informed decision.
But First, A Bit About Troy Bilt
One of the things I like to do when I review heavy duty equipment such as a log splitter, is find out a bit about the company. I think it's important to know exactly what they are about and whether they make all round high quality tools. I want to know if the brand is a 'hit and miss' kind of brand, or one they constantly produces reliable and quality gear.
So Troy-Bilt are an American company that have there headquarters in Valley City, Ohio, with manufacturing locations in many different ares in the USA. They originally started making landscaping equipment and ever since have lead the pack in rototillers, that has made them one of the most trusted brands going around. To me this is a very good thing. If they make such reliable equipment in the farming industry, they know just how important it is to make quality tools, which this shows in there log splitters.
With this in mind I started to do countless hours researching and testing there 33 ton log splitter to find out just how good of a machine it really is. Below you will find my full review for the Troy-Bilt 33 ton wood splitter, so read on to find my opinion on this impressive unit.
Troy Bilt 33 Ton 277cc Briggs & Stratton Engine


The first thing I like to do with every new wood splitter is test out the splitting capabilities the engine provides.  Not just how big of a log it can handle, but also how much it will split (Without causing a meltdown), and how well there engine will hold up.
The engine itself is a 277cc Troy-Bilt overhead valve engine, which is a pretty mean engine that does look awfully like it was built by Briggs & Stratton. Briggs & Stratton being an American company is also a huge plus for this splitter in my opinion.Buying local and keeping the jobs local is the way to go.
Which depending on who you are this might be a good or bad thing, I know a lot of people want there log splitters to have Honda engines. And I can understand why they are incredible engine makers, but this engine on this unit makes up it's lack of name power (in the splitting industry) with sheer ability. Not only does this engine provide a lot of power it makes this log splitter insanely quick for its size, coming in with a cycle time of roughly 15 seconds. Which in comparison to the 5 ton log splitter (Earthquake) we recently reviewed is is extremely fast. 20 seconds for an electric or 15 seconds for a much more powerful gas model?. You do the math.
What Kind Of Logs Can The Troy Bilt 33 (
TB33LS

) Ton Split?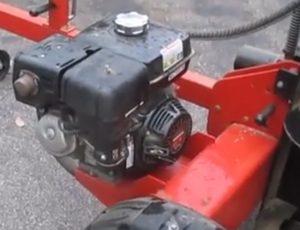 When it comes to splitting with this unit there really isn't a whole lot to say, it is going to get through practically every log you throw at it. You have a 33 ton log splitter that has a vertical position and you're going to split everything, whether it's 20 to 30 inch wide hickory or elm, this machine is going to split it. It might slow down on the occasionally knotted log but it will split it. So if you're like me and like not having to worry about if your log splitter will split certain logs, then I highly recommend this unit.
Thankfully this unit has a 2 stage pump which is a great thing, I wouldn't even look at a log splitter if it came with a single stage pump since they waste so much time. If you're unsure to as what this means I don't blame you. It can be quiet confusing if you don't know. But what it essentially means is that 2 stage pumps are like having two pumps assisting with the workload which are ideal for log splitters, which is why they are the most commonly used. Which makes sense since they were specifically designed for log splitters.
Is the Troy-Bilt Portable?
This machine is very portable which is a necessity for a machine this size, there isn't much point to being such a large machine if you can't transport it in my eyes. This unit is very easy to tow which is great, it has a 2 inch ball hitch that should fit on most tow balls and this is backed up by two 16 x 4.8 inch tires. These tires allow you to tow this big unit up to 45 mph on the road which is extremely helpful. If you need to tow it over some off road areas I would highly recommend going much slower then this and taking your time, log splitters are expensive and the last thing you want to do is damage it.
What I Like About The
TB33LS

Troy Bilt
First and foremost I loved how this machine would get through any rounds I threw at it, never having to worry about the size of log is something that I will always really like.
Speed, speed, and more speed, if you can't tell I love how quick this splitter is, being able to get through such large logs so quickly has made like easier and made splitting logs less of a chore.
This machine comes with 2 log trays, one on either side and while this isn't unique to this splitter I still found them useful when it came to holding logs while splitting smaller pieces.
The Downsides Of This Unit
There weren't a lot of downsides to this unit for me and the main one is that it is a bit on the expensive side, which can be an issue for some people. Budget constraints are a ever present issue for the average American family, so forking over this much of your hard earned money can be a bit of an issue. The second downside for me is the engine, and while it is a very solid engine and it didn't give me any dramas. I really like my log splitters to actually tell me what they actually are and who built them, even if it is Briggs & Stratton who I personally like, I would like for the manual to actually say.
Lastly, because this machine can power through almost any log, the problem lays in getting the log into position. That is if you are using the horizontal position of course. If you are using the vertical, you can just roll the log into position. But for horizontal, I would have loved to see a log lift addition. This would have made this the ultimate splitting machine.
Troy-Bilt 33 Ton Log Splitter

The Alternative To The Troy-Bilt Unit
While this is a great splitter that I would recommend to practically everyone looking for a heavy duty splitter, I know not everyone might like this option as it can be quite pricey. So you may want to know more about some of the other heavy duty splitters and compare features, price, ton ram force etc.
For this I have you covered. If you're interested and want to do some more research, you can find what I consider to be the best 35 ton log splitters currently are. If you think 35 tons is to much and you want something smaller that still has plenty of power, and will get through a lot of larger stubborn logs, you can find my reviews for the best 25 ton wood splitters here.