I hope you love the products I've recommended below, just a heads up that as an Amazon associate, I earn from qualifying purchases. This means I may earn commissions on products bought via links on this page.
With more and more people turning to wood for there heating and cooking, wood splitters are now becoming more popular then ever. Which is why I get asked all the time "what are the best 5 ton log splitters?". Now with more new people joining the wood splitting group I've realized one thing. A lot of these new people don't need these expensive heavy duty machines. I find that a good entry level is about 5 tonnes. Provided you don't need to split copious numbers of cords every season. So here at the splitwoodclub I have taken it upon myself to go out and research and test every 5 ton splitter I could get my hands on to be able to review them so guys and gals can benefit from my research.
Power is the one thing that I know a lot of people have concerns with when it comes to such small splitters. Do 5 ton log splitters have enough p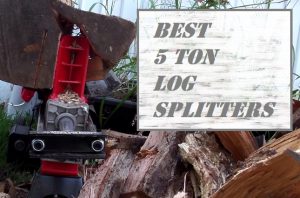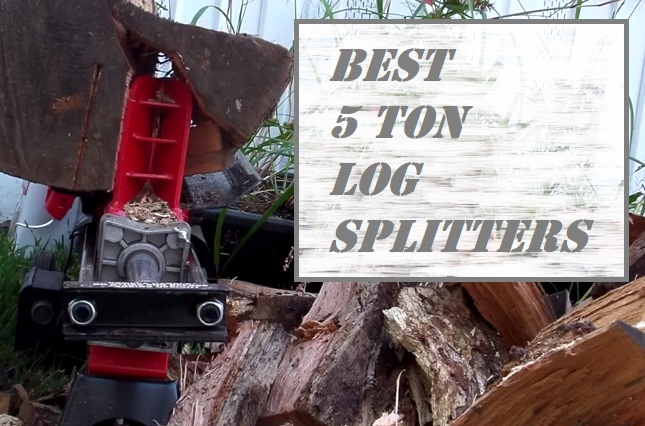 ower to split the knottiest logs. Sadly I have to say no they don't have that level of power, but the target audience isn't someone who needs something so strong. The target audience of a 5 ton log splitter is someone who is only going to need roughly at maximum one or two cords of wood a year, or someone who needs kindling for there wood stove or fire place.
This doesn't mean that the 5 ton splitters can't split larger logs, it just means that it's not going to split the larger more difficult logs to split such as pecans. Tho you will find that it will split larger logs if they're easier like ash or cedar, so it really depends on the type of logs you're trying to split. So if you think a 5 ton splitter is for you then read ahead for this 5 ton wood splitters buyers guide for 2019.
The Best 5 Ton Electric Log Splitters – Top 5
| | Log Tray, Stand | Our Rating | Check Price |
| --- | --- | --- | --- |
| | Yes | 9.9 | Check Price On Amazon |
| | No | 9.5 | Check Price On Amazon |
| | No | 9.2 | Check Price On Amazon |
| | No | 9 | Check Price On Amazon |
| | No | 8.8 | Check Price On Amazon |
The Best Electric 5 Ton Log Splitter
Yard Max 5 Ton Electric Splitter With Stand And Log Tray
The first log splitter on this list is the incredible Yardmax YS0552. I have to say I was extremely impressed and surprised with just how good this machine is for an electrical splitter.



The First thing you will notice about this Yardmax log splitter is how it comes with a stand and a log tray. This is something that is very rare at this price range, and ton rating. Both of these attachments are very hard to pass up and make it difficult to use any other 5 ton splitter after using this one with them. Not having to put the log splitter onto a table, or leave it on the ground and hurt the back with all the bending over. This is really useful if you have back problems and can't handle the constant bending over, and especially useful if you can't lift the log splitter up onto a table by yourself.
While the stand is extremely useful you can't pass up the log tray that also comes with this unit. The advantage of the tray really comes into its own when you need to start splitting your logs into smaller pieces. Once you split your log, normally the log will fall to the ground, which is not only dangerous but will cost you time. Especially when you need to then pick the pieces up and split them again, this is where the real advantage of this tray comes in. After you split the log they end up on the tray which gives you the ease of just reaching and moving them, instead of bending over and picking them up. To me this has become invaluable, and something I want on any splitter I use from this day forward.
Apart from the great extras Yardmax  put on this unit, there is still plenty of other things that make this in my opinion the best 5 ton log splitter on the market. The 15 amp motor puts out quite a bit of power and gives it quite a decent cycle time of 16 seconds. This is pretty quick for an electric unit that isn't a kinetic splitter. But it was the power of this unit that really impressed me, and made it a personal favorite wood splitter for me. While this splitter can take logs up to 20.5 inches in length, it was the diameter of some of the logs that really surprised me. It was able to get through some red oak that were 15 inches in diameter. If you know anything about red oak you will know it is fairly easy to split, but the thing with these logs was that they were green. Which makes them quite a bit tougher then if they had been cured properly.
Why I Like The Yardmax 5 Ton Wood Splitter
The stand that came with this unit has been so useful and has really taken a lot of the bending out of splitting logs. This has made it so much easier on my back, and makes me highly recommend it to people who do suffer with bad backs, and need a log splitter.
Like the stand the log tray is also a very great feature, that should be on all splitters from now on. Not having to pick logs up off the ground after splitting, and just reaching over to get them made life so much easier. Also not having to worry about if a log dropped onto my foot and do any damage was a nice bonus.
This is one of the faster electric log splitters on the market in my opinion, which is very useful. It means you don't have to spend as much time working splitting logs, and leaves you more time to do something you enjoy.
Even tho it has a stand and tray it is still very easy to move around, due to its 7 inch wheels that made moving it extremely easy.
Yardmax 5 Ton Electric Log Splitter

How Good Is The Boss Industrial 5 Ton Electric Log Splitter
Boss Industrial EC5T20 5 Ton Electric Log Splitter

One of the things that impressed me the most with this splitter is just how much power it has for a 5 ton electric splitter. This is because of it's incredible 1.8hp motor. Most people who have used as many splitters as I have know that lack of horse power can be a big problem with such small devices. With the Boss Industrial I was able to split logs up to about 20 inches in diameter, but this logs were very dry and not very knotted pine. Pine can be a difficult wood to split but mainly when it's wet.
One of the things I really liked about this particular splitter is that it has a one hand operating system, so when you're splitting a log you can use one hand straightening the log or keep it from moving. A lot of splitters have a two hand system which is safer of course, but if you're careful with a one handed system there is nothing to worry about.
Another great thing about this splitter is the fact it is quite lite coming in at about 104 pounds, and it has wheels and two small grips to help wheel it around. It is also a fairly small machine and it should fit in most peoples trunks, so if you need to help some family split some logs or make some kindling, this splitter has the ability to do so.
What I Like
I was really impressed with how strong this splitter is, and how it also doubled with it's ability to split wood into kindling.
The one handed operation system is a useful feature that I wish more splitters would have, it just makes life that little bit easier.
A nice quality of life feature on this splitter  is the auto retract ram, which isn't a massive deal for some but still nice.
Used to cut 3 cords in one season: fir, hemlock and alder.
Boss Industrial EC5T20 5 Ton Electric Log Splitter

Check Out The 5 Ton Boss Wood Splitter In Action
Keep an eye out for the size of the log towards the end of the video. Incredible for a 5 ton machine, or beast should I say.
The Most Portable 5 Ton Log Splitter On The Market
Dirty Hand Tools 100481 5 Ton Electric Log Splitter



The first thing most people want to to know when it comes to log splitters, and that is just what can they split? I'm happy to report that the Dirty Hand Tools 100481 5 ton electric wood splitter has plenty of splitting power for your everyday use. With this wood splitter I was able to split logs up to 20 inches in diameter, but I wouldn't recommend that to often I would recommend splitting smaller logs. I would split 18 inches at maximum and if you need to go bigger, it would best to split the log starting from the outside and work your way in. In all honesty, if you need to split larger logs than I recommend you read Gas Vs Electric Log Splitters and see whether a more powerful gas machine is better suited.
The thing that makes this splitter really stand out is just how portable this splitter is, it weighs in just under 100 pounds making it the smallest on this list. The two rubber handles on this splitter are longer then the other two on this list. Which I find it makes it even easier to wheel around your house. Being such a small splitter also makes it perfect for putting into your trunk, or on the back of your truck so you can transport it around. Due to it being smaller and more compact makes it perfect for people who don't have a lot of room in there house, as it is very easy to store away.
I feel I have to write this next bit, but I get a lot of questions asking about this for this particular splitter. And that is can you mount this splitter into a vertical position to split larger logs, and the answer is quite simple and that is no you can't. You should never use a splitter in a vertical position if it wasn't purposely designed for it. Vertical Log Splitters are a whole different ball game designed to split the largest logs known.
What I Like
For an electric hydraulic splitter it is surprisingly quick with a 20 second cycle time, which may seem a little slow to some people but it just works for this particular splitter.
The length of the two rubber handles make moving this splitter around a lot easier, because you don't have to bend as far while wheeling it around.
When we used an extension cord of about 25 feet we didn't have any power issues, tho the further away it is the stronger the gauge so if you have a 30 foot lead I would recommend a 14 gauge wire.
Dirty Hand Tools 5 Ton Electric Log Splitter

The Most Reliable 5 Ton Electric Log Splitter In 2019
HICO 5 Ton Electric Log Splitter



This is certainly not the strongest wood splitter on this list, but the HICO 5 ton electric log splitter has some other great things going for it.But first I will talk about it's power. While it is the weakest splitter in terms of power on this list, it still certainly able to hold it's own for people who don't really need to split a lot of wood during the year.
With this splitter I was able to split logs that were about 16 inches in diameter but they were fairly soft logs I must admit. It did struggle on some of the harder woods out there. Tho it was able to get through some rock maple and beech logs which are some of the hardest woods in Maine, so if you're familiar with them you should get an idea from that.
There is one thing that put this splitter on this list and that is just how reliable it is, it's 2 horse power electric motor didn't skip a beat in the whole time of testing this splitter. While this is one of the best features of an electric splitter, it was even more noticeable on this HICO splitter. Another thing that sets this splitter apart from the rest, is that it has these built in log cradles so the logs don't come sliding off while splitting. While the product page does say it only requires one hand to operate, it is wrong this splitter does require you to have two hands to operate, which isn't a deal breaker but a little disappointing.
What I Like
As with the other splitters on this list, I like the addition of the rubber handles with it's 6 inch tires for easy portability and will fit into most peoples trunks and trucks.
This splitter also has a auto retracting ram which as stated above is just a great quality of life improvement that all splitters in this day and age should have.
You won't have to worry about having the right electrical current as it uses the standard household current.
HICO 5 Ton Electric Log Splitter

Feel The 5 Ton Force Of An Earthquake
Earthquake 5 Ton Electric Log Splitter



The Earthquake 5 ton electric splitter is a quite a powerful unit, with a name like Earthquake you would have to be right? This is one of the stronger units on this list which is something it really needed to have, since it does have a few disadvantages. But first I will go over how powerful this electric unit is. It can take logs that are 20 inches in length which is good, considering the average log length that most stoves can take is 18 inches. The logs that I ran through this splitter were silver maple logs which are a fairly strong wood. This unit was able to split logs that were 13 inches wide, and a few that were even larger. This is something that really made this splitter stand out to me, and one of the reasons I couldn't leave it off this list.
While its splitting power is what makes this unit so great it, it does have one or two disadvantages which I have to mention. One of the biggest issues that I have with this unit is how that the ram pushes the plate into the wedge. This can cause the log to split and throw pieces of wood towards you. This can be very dangerous so you should always be wearing some eye protection. The second issue isn't dangerous but can be very frustrating and something that needs to be addressed. Is that a lot of people do have some issues with the engine and getting it started. This can be for various reasons, but one of the main ones is that people don't read there manuals. There is a simple vent that needs to be opened that most people don't which causes the issue for a lot of people. Apart from that is that is people need to check the hydraulic oil and see if there is enough in there.
This is a great log splitter if you're on a budget, but it does have those few issues because of it. This is always the danger if you go with a budget model, but it can happen if you spend thousands and you get a lemon. But because of this I thought it was important to go into a more in depth review of the Earthquake 5 ton unit.
What I Like
The power of this thing is just impressive and not something that a electric 5 ton unit should be able to do. So the power is definitely the best thing about this log splitter.
As long as you follow the manual and do everything right, this is a great log splitter. This is something you should do with every log splitter you get, but I thought I should mention it since some don't.
For its price point it is great value for money, and very useful if you're on a budget.
Earthquake 5 Ton Electric Log Splitter

My Recommendations
While all the log splitters on this list are great, and all deserve to be on this list. There were two that really stood out to me as leaders of this group. This doesn't mean the other units are bad, but maybe for a slightly different audience then myself. The unit that I consider to be the best and recommend to everyone looking for a 5 ton unit, is the Yardmax. The Yardmax stood out for not only its power and speed, but also all the features that it has. The tray and stand are great and really make life a lot better. The next unit is the Earthquake electric 5 ton splitter, which is a nice little splitter. While it did have a few issues it was its price point that made it stand out, it is great if you're on a budget and still want an electric log splitter.
Save