I hope you love the products I've recommended below, just a heads up that as an Amazon associate, I earn from qualifying purchases. This means I may earn commissions on products bought via links on this page.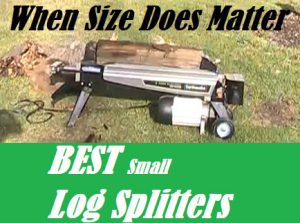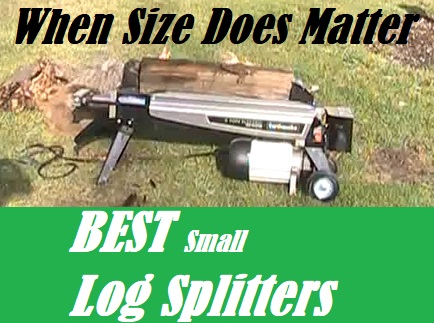 One thing a lot of people have to worry about now days is a lack of space, so having a large bulky log splitter in the way isn't really very convenient for a lot of people. But you still want to rely on heating with logs or use your firewood stove, so what is your best option. Buy investing in one or many small log splitters, you are investing in a very rewarding Winter. That is if you use the splitter for the home fireplace.
However, you could use a splitting maul but that takes a lot of physical effort and it isn't the best on your back in the long run. So what I would suggest and a lot of people are turning to are tiny log splitters, which don't take up anywhere near as much space as a larger unit. Which will really help in giving you more space for other things.
This does bring up the question on just what are some of the smallest log splitters on the market? This can be a very difficult question to answer since there a lot of different sizes and models, which can get a bit overwhelming when you first start looking. So I have done all that research for you, saving you hours of potential searching online. We have done the hard part of researching and testing to find out just what the best small log splitters! So if you're still interested and want to find out our recommendations then read on below to find out just what are some of the smallest log splitters going around.
*Note. If you are looking for log splitters with a low ram force ton rating, check out our top rated 5 ton splitters.
The Best Small Log Splitter
Generac K10 Kinetic 10 Ton Log Splitter


The Generac K10 is one of the biggest surprises out there for myself and many others, this is a small wood splitter that has a surprising amount of power for its size. Which is what I like about it, when you go with a smaller log splitter you will be losing a fair bit of power compared to a larger unit. So the K10 is a great middle ground and one of the strongest and fastest units out there.
The K10 can handle logs that are 16 inches in length which is a good size, tho I wish it was 18 inches since that is the size of my stove. The manufacturers state that it can split logs that are 12 inches in diameter but I found it to be a bit larger depending on the type of log. It got through some 16 inch wide pine for me with very little effort.
Compact And Portable
I found this unit to be very easy to move around with its two wheels and steel handle. The unit weighs roughly 132 pounds so it isn't the heaviest unit going around, but if you plan to put it in the back of your pick up or something I would recommend a second person to help lift it. It isn't a very large log splitter with a length of 49 inches, width of 11.9 inches, and a height of 24.5 inches. This make it very easy to store away inside, which is really useful since it is an electric log splitter. Which means it doesn't have any fumes so you can split from the comfort of inside and not have to deal with the weather outside.
Now the best feature of this unit that makes it the best small log splitter on the market is just how quick its cycle time is. While most hydraulic log splitters can vary quite differently in time from anywhere between 13 to 30 seconds a cycle, which isn't to bad depending on the splitter. But a kinetic log splitter is different since the way it splits is by storing energy in its flywheel, then releasing that energy in one big burst. This makes kinetic a lot quicker and when I say a lot I mean it. This kinetic unit is possible the fastest unit out there at this very moment, with its incredible cycle time of 1 second. The K10 has a bigger 22 ton gas unit that has a cycle time of about 3 seconds. However it isn't as small as the K10. To read about both models, view our Generac log splitter comparison article. You can imagine how much time this has saved people over the years compared a hydraulic unit.
Generac Kinetic Electric Log Splitter

The Smallest Gas Powered Log Splitter
Small But Powerful

For quite a few years this Champion 7 ton log splitter has been a personal favorite of mine, so I maybe a little bias towards it. It has been such a reliable machine that has never let me down that has started on its first or second pull, no matter how cold it was. This is thanks to its 80cc Champion OHV (Over Head Valve) engine, which is actually quite a small motor but it packs a fair bit of power into this unit. Tho being a hydraulic log splitter with this smaller engine does mean it is a lot slower then the Generac above. This engine gives this unit a cycle time of around 20 seconds depending on the log size.
While the Generac has speed on its side, the Champion has power and can easily split larger logs the Generac couldn't. While the unit above could handle logs that were 16 inches wide, this workhorse out did that and did it fairly easy if I must say. This 7 ton unit put some much larger units I have used to shame with what it could split. This impressive beast manage to split several logs that were 22 inches in diameter that were not fully cured Douglas Fur which is a red pine. This is something that was completely unexpected, even after a full cord of this logs the worst thing that happened was that it got caught up on a few particularly knotty logs. So if you are after some splitting power this is the monster unit for you.
Tho one of the most important reasons for you is the size of this log splitter and just how heavy it is. This is a fairly simple question to answer but a very important one. This unit is a little bit heavier then the unit above which is expected since it has the gas engine and hydraulics as well, which gives it a weight of 143.3 pounds. The thing that is surprising is just how small this unit is coming in at 53.1 inches in length, 18.1 inches in height, and 23.6 inches wide. So it is slightly larger then the unit above, but it is still one of the smallest gas log splitters in my opinion.
Champion 7 Ton 80 CC Best For Home

Smallest Electric Hydraulic Log Splitter
Boss Industrial ES7T20 Electric 7 Ton Log Splitter



The Boss Industrial 7 ton electric log splitter is one of the best electric hydraulic units going around in my opinion, while it isn't the strongest or quickest unit out there. It is one of the most reliable wood splitters out there, there was never any issue with this unit compared to a lot of others. Apart of this is due to the fact it is electric, since with an electric unit there is far less maintenance to worry about compared to a gas powered unit. So if you're not the most mechanically minded person out there then this is a great unit, that doesn't require a lot of knowledge to look after. Also it is very simple to use since it is only a single lever operation, so it is great for beginners.
It is a very easy unit to store away and it weighs the least amount out of any of the splitters on this list, which is really useful if you plan to move it around. It has a weight of 121 lb which certainly isn't the heaviest, but it does give it some decent stability when you're rolling it over some unstable ground. This is the smallest log splitter on this list as well with a length of 39.5 inches, height of 20 inches, and a width of 13.5 inches. So if you are really needing to save some space this unit would be a good option since it is so small.
This is a surprisingly quick and strong electric unit, while it isn't as fast as the kinetic unit above, it is quicker then the champion coming in roughly at 15 seconds for its cycle time. This is actually very fast for an electric unit since they have a bit of a reputation for being quite slow at time. This is the middle of the pack in terms of splitting force it doesn't come anywhere near the Champion units consistency in splitting such large logs. It did split a few softwood pine logs that were 20 inches in diameter which is pretty good, but it couldn't do it all the time. Which is why I think it was much better to be splitting logs that were 13 to 14 inches in diameter. This unit can take some impressive lengths which is very useful for people who have stoves that are bigger then normal, with the ability to handle logs that are 20 inches long.
Boss Industrial 7 Ton Splitter

My Final Thoughts On Compact Log Splitters
The three units on this list are all great and I stand behind my choice of putting them there. To decide which is right for you really comes down to your personal needs so if you need a fast and decently strong unit, then the Generac is great. But if you need more power and speed isn't that big of an issue for you then you can't go past the Champion. The Boss Industrial is a great middle ground between the other two units and is extremely reliable like all good log splitters should be, so it still isn't an easy choice.
There are a few other types of small log splitters out on the market that may not be as strong or quick, but they are a bit cheaper and that are the manual operated, and foot operated log splitters. Those types of splitters are still very good and are also quite small so they maybe a good option for you, if you are one a budget.