I hope you love the products I've recommended below, just a heads up that as an Amazon associate, I earn from qualifying purchases. This means I may earn commissions on products bought via links on this page.
Swisher make log splitters did you know that?. You would be forgiven if you were not too familiar with their machines up until this point. More famous for lawn mowers, since that is one of there main strengths. But within these Swisher log splitter reviews you can see that they not only tried their hand at creating log splitters, they mastered the art.
I'm going to cover two of there finest and see just how well Swisher have done compared to some of the more established brands in the industry. To be honest, Swisher isn't a company I knew a lot about before getting knee deep in logs split by their machines. However when I do reviews, I believe it is important to know a bit about the company first.
A Little About Swisher The Brand
The first and foremost thing about Swisher is that they are an American company with there office located in Warrensburg, Missouri, with a lot of there products being made right here in the USA. Being from Missouri you just know that there products are designed to handle some pretty rough environments.
One of the things that caught my curiosity with the Swisher brand is the man who started the company. Max B Swisher, who was a very impressive man who accomplished a lot in his lifetime, and his company benefited from his ability. Because of him the term zero turning radius is still used today, with him being the creator of the system. With someone like that at the head of the company it makes sense that they have been around for over 60 years, and been manufacturing leaders for many years. Now I hope to find to see if Swisher have put this same level of effort into there log splitters, and I have reviewed two of the best swisher log splitters on the market.
The Best Swisher Electric Log Splitter (
LS22E

)


First on this list is the surprisingly strong and reliable Swisher LS22E log splitter. Being a 22 ton log splitter and electric well is just simply amazing if you ask me.
The first thing I noticed is that this is a very heavy duty electric log splitter. Like anything good in this world, this Swisher has some amazing pros and of course a couple cons. Firstly it being an electric log splitter has the advantage of you not running out of gas while splitting, which is quite a great advantage.
But if you have no power, you can't use without a backup generator (Which I highly encourage if you are dependant on firewood). But overall, I think it balances out in the long run. This log splitter can be towed which is a great feature but being electric it has the issue of you can't operate it if you don't have a power supply. So if you do plan on going electric and want to split away from home, then I highly suggest having a generator.
How Much Splitting Power Does This Swisher Boast?
In terms of splitting power this machine is pretty strong being a 22 ton version. But how does a 22 ton electric compare to the gas variety?. Well I was able to get through some nice solid logs that I didn't quite it expect it to do. It could handle some fairly hardwoods that while they weren't the biggest logs they were some of the harder woods, like dogwood and elm. This logs were 12 inches in diameter which this splitter got through. But the thing that sets this apart from a lot of other electric splitters is the fact it has a vertical position as well, which if you have ever used a log splitter you know how useful that is. In this position I could split some nice hard oak logs that were 20 inches in diameter.
The one thing that I really liked about this is that I could do it from the comfort of inside my garage, being electric there is no fumes. Overall I would put a gas powered machine like the 25 ton Yardmax as more powerful, but with gas comes extra costs, more maintenance and of course the fumes. So I still believe this 22 ton is well suited to many users regardless of home owner or commercial.
One thing that I really liked with this wood splitter is that it is very quiet, while its not the quietest on the market it certainly a lot quieter then many log splitters. Which I found this to be a nice change of pace from the norm. It was something I wasn't prepared for at first (after years of being around noisy machines), but grew to really like after several cords of splitting. While being quiet and a strong splitter something I had forgotten to mention is just how quick it is. Most electric log splitters are fairly slow unless its a kinetic splitter, but this is one of the fastest electric with a cycle time of 13 seconds. Which is certainly fast enough to keep the most pedantic axeman happy.
Swisher LS22E 22 Electric Log Splitter

Swisher 28 Ton Gas Powered Wood Splitter Review


The second this list is the incredibly powerful Swisher 28 ton log splitter. One that I find will suit all but the most heavy duty user. Unlike the model above, this machine is the more common gas powered log splitter. Which has some great advantages and very few weaknesses if you ask me.
One of the biggest advantages is that you have as much power as you do gas. So as long as you have gas you can continue to split as much as you like. So you don't ever have to worry about a power outage, as long as you have gas. The only real disadvantage you have with a gas powered log splitter is that you have to split outside due to the fumes, which isn't really that big of a disadvantage.
What Size Logs Can You Expect To Split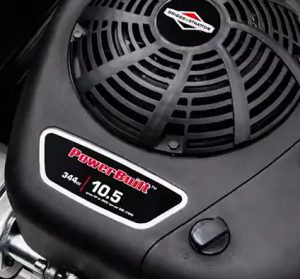 The American owned Briggs & Stratton engine provides this piece of equipment with plenty of power to split even the most stubborn of logs. I found the gas model to splits logs that are almost twice the size as the electric above. With softwoods this splitter could handle logs that were 24 inches in diameter which is about the max most splitters at this size. But for me it was the hardwoods that made this splitter shine. It took me back when I was getting through logs that were between 18 to 20 inches in diameter in its horizontal position. Which is quite large when you consider it's only the horizontal position.
But as with the electric splitter above, its the vertical position where size of the logs starts to not be an issue. Even more so with this tough 22 ton splitter. Being able to split oak logs that were 30 inches in diameter, with only a little bit of slow down was simply mind blowing to say the least.
'Overall, It's Great With Minimal Concerns'
As with most other splitters of this size it can be towed on the road, but only up to 45mph which is the maximum you should go. I wouldn't recommend going over 40 on the road and even lower if you're towing it off road. The last thing you want is to do damage to such an expensive piece of equipment. One of the features that I really appreciate are the two steel log catchers with one on either side that are attached, they are a small quality of life improvement that I really like. Not having to bend over and pick the split logs of the ground is really useful and something that should be most splitters.
When all is said and done, Swisher have out performed their selves with these two log splitters. It's honestly very hard to fault these machines. Even the price is quite adequate for what you actually get. So go ahead and read some more consumer reviews for these jaw dropping Swisher log splitters.
Swisher 28 Ton Log Splitter

Want More Swisher Power?
If the idea of splitting logs regardless of width excites you, then prepared to be amazed by the 34 ton Swisher log splitter. This powerhouse of a log splitter has just been added to our list of top heavy duty machines going around. Check it out.